How I Finally Solved a 10-Year-Old Genealogy Mystery in 10 Minutes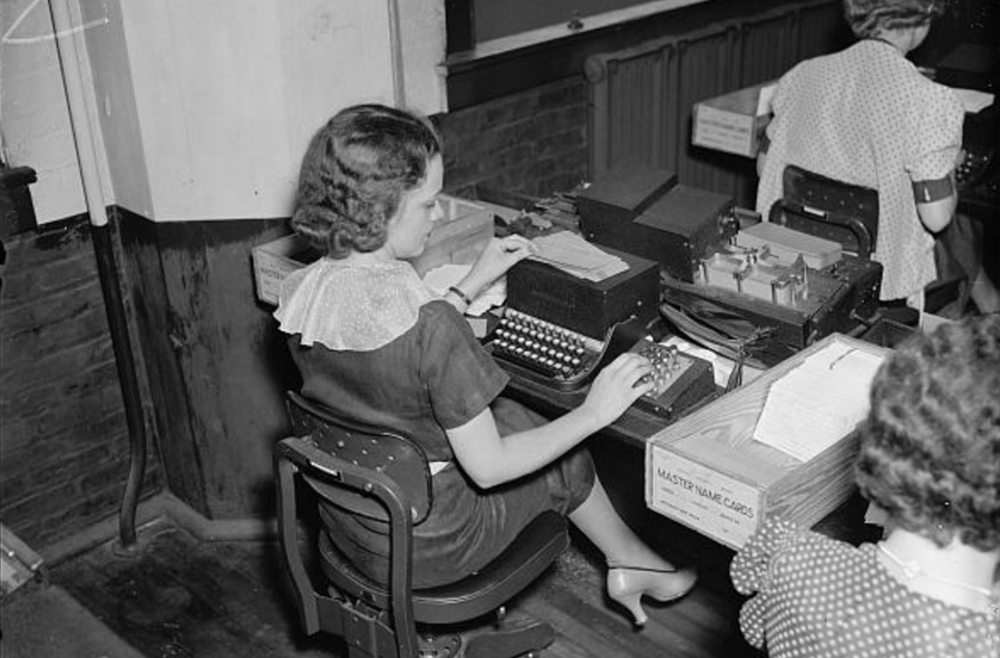 I've been doing family history research for 20 years and, like everyone, I've encountered a few brick walls. Although I have been successful in breaking most of those down using solid research techniques, one or two remain. One in particular has haunted me for more than a decade – the parents of one of my 3rd great grandparents. Unable to locate this information I have had to leave this branch of my tree undeveloped.
After years of research I have collected a good deal of information on this family, but several details of my 3rd great grandfather's life have eluded me. Because he was Romanichal and he and his family traveled widely around the U.S. after immigrating from England, I have faced increased difficulty locating certain documents I needed. My inability to locate this information has left me in the dark about this important part of my family's history, and I had honestly begun to wonder if the records I needed existed at all.
That's why, when I took it upon myself to understand the updated Discoveries tool from MyHeritage (which can be accessed by signing up here), I wasn't overly hopeful about the potential results. I have not used MyHeritage extensively before and expected, at best, to spend a large amount of time learning this new system and, at worst, to uncover only repeats of the records I had already added to my tree.
Please note that we have partnered with MyHeritage and that we may receive compensation if you decide to use their site. This helps us support our site, while providing you with useful and honest information you can use to build your family tree. 
However, it took less than 10 minutes from the time I uploaded my family tree to make a discovery that will allow me to break down this brick wall once and for all. And, within an hour, I had discovered several more fascinating records that I had not seen in the past. Talk about productive research.
The process of getting to this point was actually a lot simpler than I expected. Below, I have outlined how I went about it and how you can take advantage of a MyHeritage free trial to explore this helpful research tool without upfront cost.
First, we should discuss briefly what the Discoveries tool is. If you are familiar with Ancestry's "Hints" feature, you could compare it to that – a feature that automatically searches for records related to people in your family tree to save you time and help you overcome research hurdles.
However, it became clear to me very quickly that the MyHeritage Discoveries tool was quite different, both in the way that it searched for records and the way it delivers them. This is a good thing, because it means new records are revealed even if you've done years of research.
If You'd Like to Give This Tool a Try, Here's How to Do It
Step 1 – Gain Access to MyHeritage's Family Tree and Records
To give the MyHeritage Discoveries a try there are just a few simple steps you need to follow. First, head over to this link and sign up for the 14 day free trial period (the link will open in a new tab or window so you can keep this how-to open.)
This will give you access to everything MyHeritage has to offer, including a downloadable and online family tree, 7.2 billion records and all of their tools. MyHeritage is a paid subscription site, but their monthly fees are very reasonable when compared to some other leading services. So, if you decide to keep using the service after 14 days we think you'll be pleasantly surprised by the price.
Once you have completed sign up, you should be automatically taken to your new "family site" as they call it. If you are not sent directly there simply visit the MyHeritage site and login or follow the link they send you in email. Of course, if you already have a MyHeritage complete subscription, there is no need to complete this step.
Make Instant Discoveries in Your Family Tree Today
Imagine adding your family history information to a simple program and getting hundreds of new discoveries instantly. MyHeritage is offering 2 free weeks of access right now to their extensive collection of 7.2 billion records, as well as their matching technology that instantly connects you with new information. Simply sign up using the link below to start making new discoveries right now.
Step 2 – Upload Your Family Tree
MyHeritage makes it very easy to upload a current tree to your site. If you do not already have a tree developed, or prefer to manually enter the information into their system, then you can build a tree from scratch as well.
To upload your tree you will need a GEDCOM file. This is the standard file format for family tree information transfer. We downloaded ours from Ancestry for this purpose, but you can export a GEDCOM from any family tree program. This is generally found under File > Export.
On Ancestry, this option can be found by selecting Trees from the menu in a family tree, selecting Manage Trees, clicking on Manage Tree under the tree you want to export and looking for the green Export button in the right sidebar. We have an article dedicated to how to do this here if you would like a walk though.
Please note that exporting a GEDCOM does not export records as well. But it does export citations for all of your sources.
Once you have a GEDCOM file on your computer, look for the Family Tree rollover in the MyHeritage menu. Roll over it and select Import GEDCOM.

You will be taken to a screen where you can upload your GEDCOM file. When the upload is complete (this takes less than a couple of minutes in most cases) you will be given a message telling you that your tree is processing. An email will be sent when it is ready. For us, this happened almost immediately. Follow the email link to your family tree or find it by rolling over Family Tree in the menu again and selecting Manage Trees. Select your new tree to see how it looks.
Step 4 – Set Your Privacy Level
This is a good time to set your privacy level for your new tree. Click on your name in the upper right hand corner and select Privacy. Then look through the privacy options presented. Here you can control access to who sees your tree, whether you want to allow MyHeritage to share your tree in their searchable trees collection and other options.
You will need to have the Smart Matches box checked under "Content" to see Discoveries, but you do not need to allow inclusion of your tree in "MyHeritage historical search engines" if you do not feel comfortable with others having access to your information.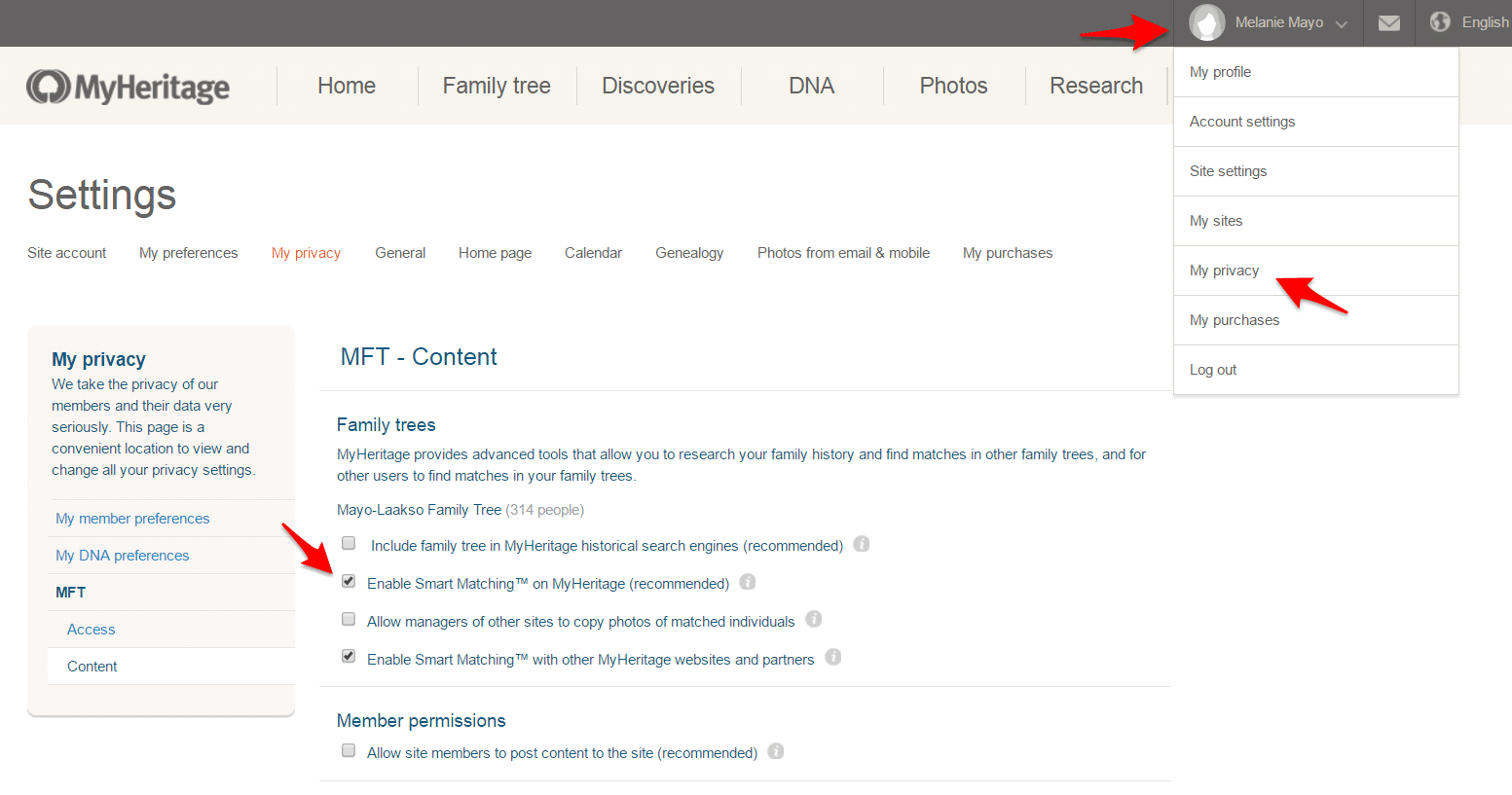 Step 4 – Make Some New Discoveries
Once you review your tree to make sure it looks accurate and set your privacy level you can jump right into Discoveries. To do this simply roll over Discoveries in the menu bar.

You will see that you have three options, the first is Matches by People. This will show you a list of discoveries by individuals in your tree. The second option, Matches by Source sorts these discoveries by the source they come from – such as the 1910 US Census.
The third option, Instant Discoveries, is not something we will be covering here since it would require an article by itself – but it is a tool that allows you to add family tree data to your own tree in batches. We caution you to be very careful with features that allow you to copy and paste information from other trees without very carefully examining each added person and detail. You can read more about why we think this is something to be very cautious with here. This advice also applies to adding records to your tree before you are sure that they are an accurate addition.
We found the Matches by People to be most intuitive. Click on this option. You will now be presented with a number of new discoveries, sorted by individual. You can choose to view all matches, or just Record or Smart Matches. Smart Matches will match you with other family trees, Record Matches will match you with records from the MyHeritage (and partner) collections. Here's what it looks like.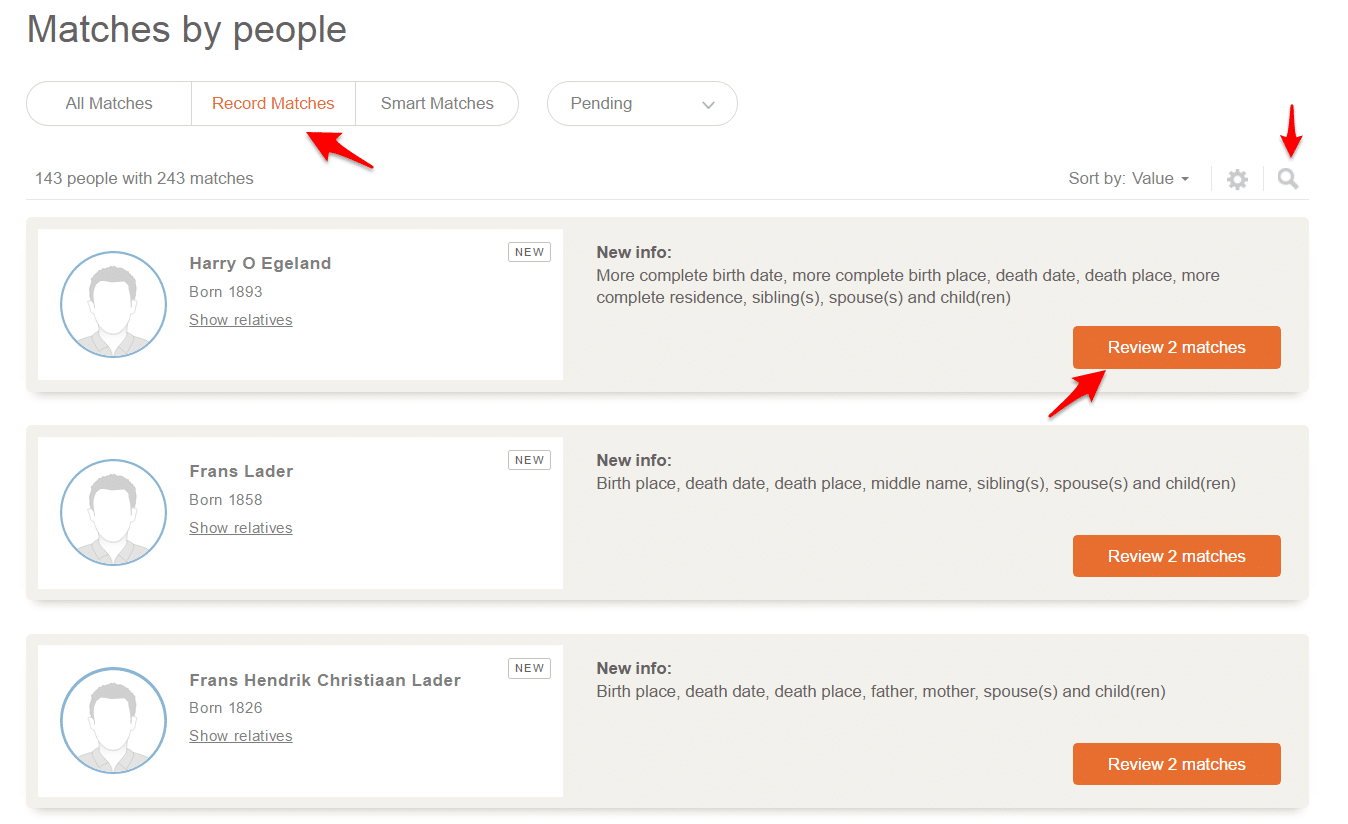 You can also search for a specific person using the provided search function.
Once you have found an ancestor that you would like to review, simply select "Review Matches" and you will be brought to a screen where you can review all matches and choose which ones to delete or review. When you review a match you will be brought to a page where you can review the information with any transcribed information and the original record displayed in full. I really like how the actual record is presented here for review before you are asked to add it, or information from it, to your tree.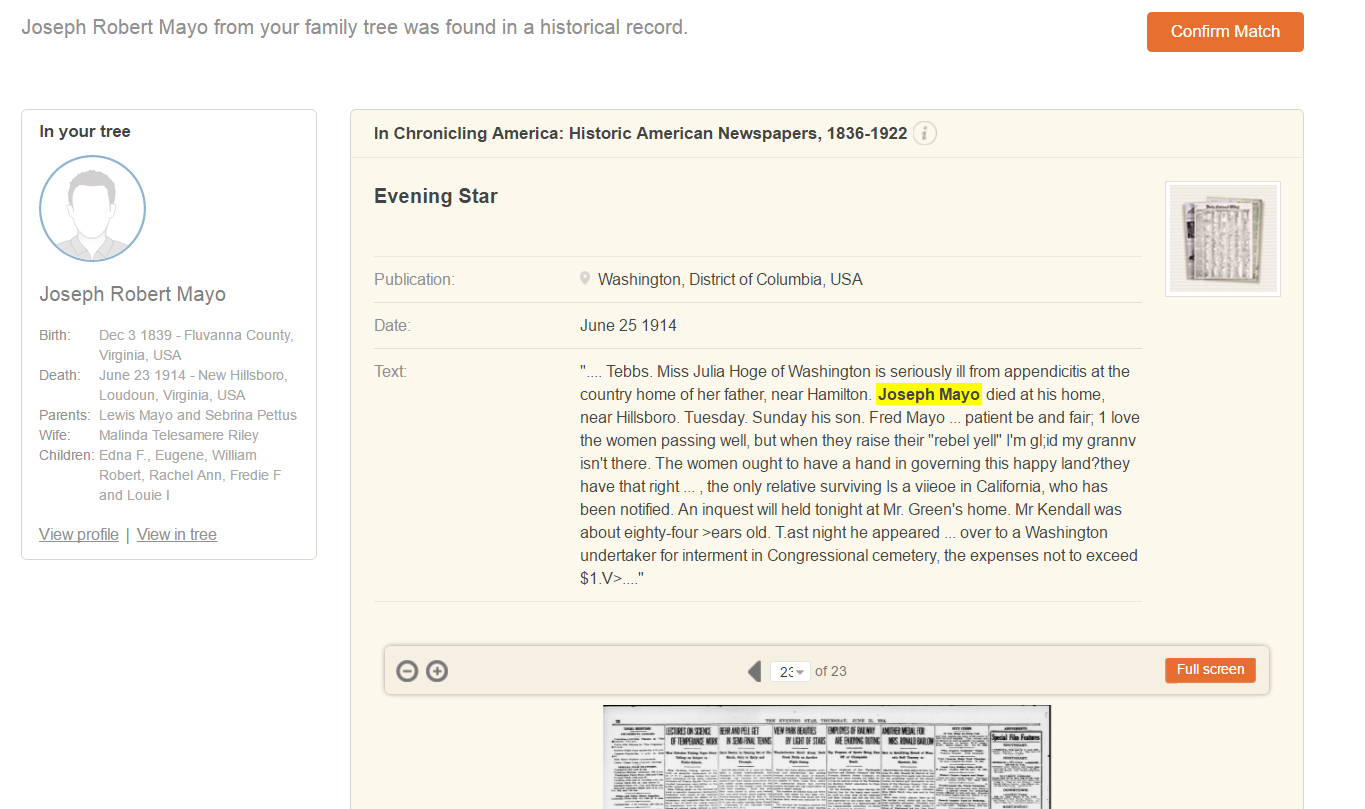 You can click on a record to view it full size and can easily download it to your computer, which is always recommended. Use the arrow button on top to download to your computer.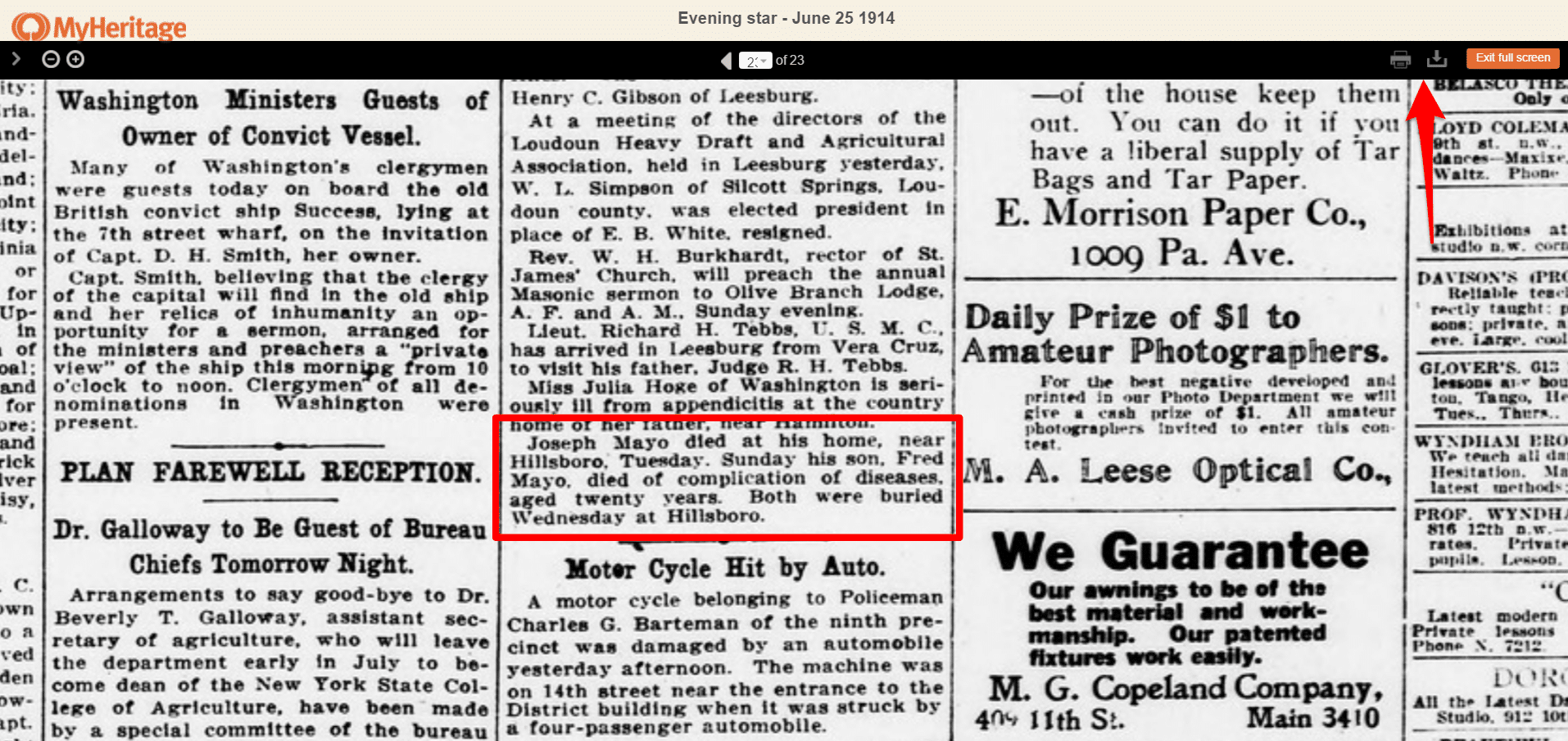 If you decide that this information should be added to your individual, simply Confirm Match and you will be taken to a page where you can "extract" information from this record directly to your tree while adding the record and citation.
I did find that many of the Discoveries came from otherwise free sources on the internet, such as FamilySearch Trees and the US Census. One of my major discoveries after I uploaded my tree was the record shown above for Joseph Mayo, another 3rd great grandfather. This record actually came from the Chronicling American collection which we have covered extensively here.
It is a free collection and, had I ever looked in this database specifically for Joseph I may have discovered it on my own. However, we all know that one of the greatest challenges of family history research is time. Although I have used Chronicling America many times with great success, I do not have the time to search for every single one of my research targets there. MyHeritage's Discoveries engine did some of the work for me – connecting me with a record I had no idea existed. In this way the Discoveries tool acts a powerful search partner for free and paid resources.
You can also view record discoveries and search for additional records from the profile page of any person in your tree, a very convenient feature. In fact, it was in this way that I discovered the record that broke down by decade old brick wall – a Missouri Certificate of Death that never came up in my research before. It provided exact birth and death dates and, most exciting, parental information for this elusive ancestor. I'll be building off that information for a while.
Now, you're ready to give these Discoveries a try for yourself. You can sign up for a 14 day free trial here.
By Melanie Mayo, Family History Daily Editor
Get Our Genealogy Articles by Email Each Week
Stay up to date on our newest articles by subscribing to our free weekly newsletter.