Lewis Mosey: Civil War Survivor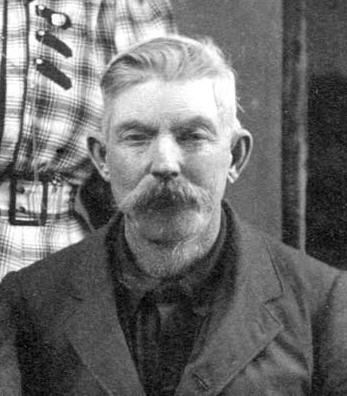 My husband has a great-grandfather who fought in the Civil War and lived to tell about it (although barely).  His name was Lewis Alpheus Mosey (1843-1925).
A few years ago I found Lewis' Civil War Pension Index Card and 1890 Special Veteran's Census Schedule on ancestry.com.  The census said that he had a "rifle wound in hip left" and was a "prisoner at Libby."  I was intrigued!
Eventually I obtained his Civil War pension file from the National Archives, and it was well worth the $135 it cost me.  It was a treasure trove of information.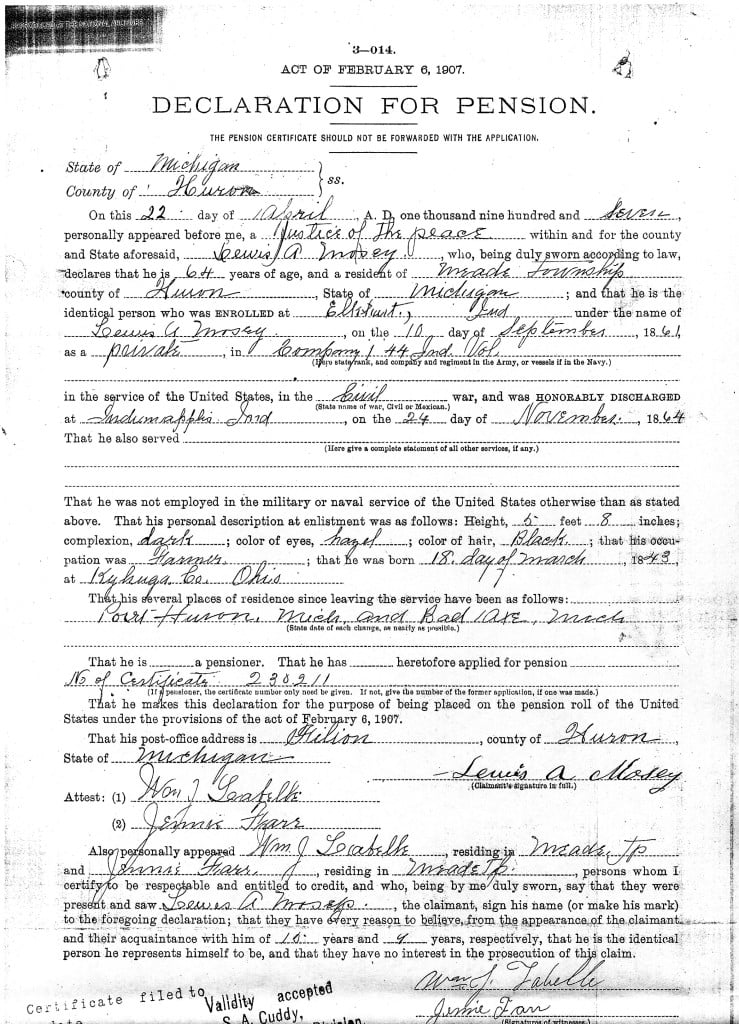 Lewis Mosey enlisted on September 12, 1861 for a three-year tour of duty.  On February 15, 1862, during the Battle of Fort Donelson, he received a rifle wound in the hip.  He rejoined his unit in April or May of 1862 but was then captured on December 31, 1862, during the Battle of Stones River.
But his bad luck was just beginning…  On his way to the infamous Libby Prison of Richmond, Virginia, the train derailed, and he was further injured while jumping from the car.  He was released from prison on February 3, 1863 as part of a prisoner exchange, but was hospitalized again in April for an ailment he had developed in prison called "fistula" (internal injuries), perhaps from the train accident.
Upon his recovery, he was not well enough to fight—but not injured enough to send home.  So he was assigned to hospital duty (the Invalid Corps) in Indiana for the remainder of his time in the army.  He was discharged on November 22, 1864.
After the war he married the sweetheart of his youth, Hanna Wilkinson, and they settled down first near his parents in Allegan County, Michigan, and then near hers, in Huron County, Michigan, and they had five sons.
Shortly after Hannah's untimely death from cancer in 1898, Lewis married Ruth Leeper, a widow.  Apparently this was 'love on the rebound' and Lewis lived to regret it—he and Ruth divorced, according to his pension records.
Lewis was married a third time in 1904 to Sarah Armstrong Brooker (shown here with him, center), but this marriage was not a long one.  In a 1915 pension application, written in his own hand, he says, "I am alone in the world, that is I have no wife and but 2 children, Willy and Rowland Mosey by first wife."  He also says that his other three sons ("Mark, Johnnie, and Mark") have died.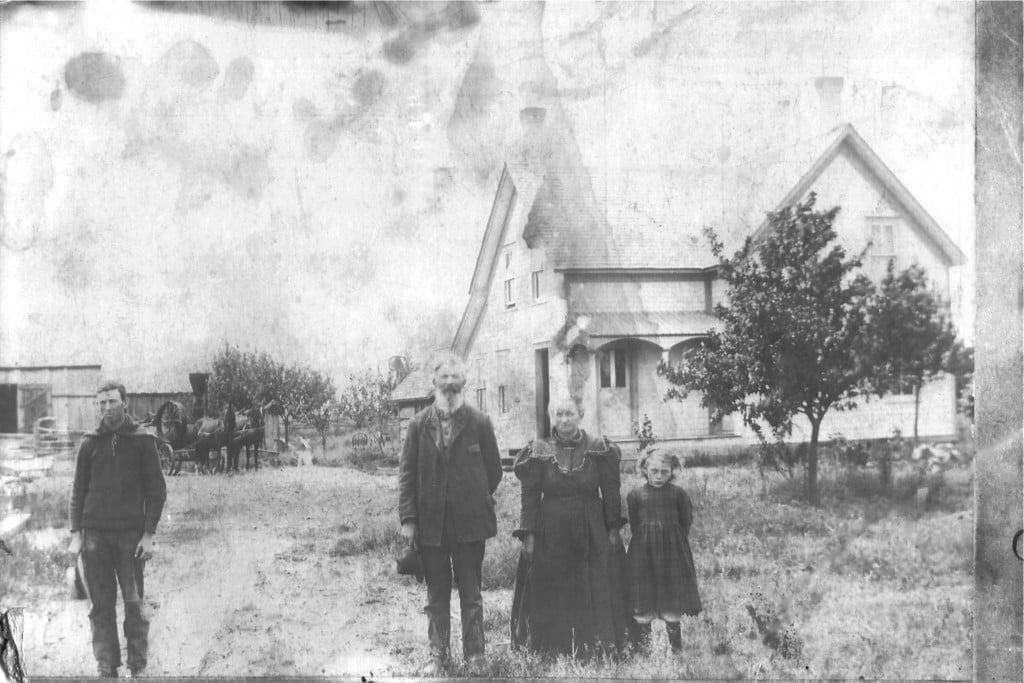 His grandson Norman told me that in his later years, Lewis lived alternately with his two surviving sons, William and Rowland, to whom he had given his land, and the census records bear this out.  Lewis died in 1925 at his son Rowland's home and was buried in Huron County, Michigan.
Make Instant Discoveries in Your Family Tree Now
Imagine adding your family tree to a simple website and getting hundreds of new family history discoveries instantly. MyHeritage is offering 2 free weeks of access to their extensive collection of 7.7 billion historical records, as well as their matching technology that instantly connects you with new information about your ancestors. Sign up using the link below to find out what you can uncover about your family.
In the end, Lewis was a survivor.  He lived into his eighties and was the patriarch of a family that, three generations later, gave me my husband—who, when called upon to do so, also served his country.
Susan Wallin Mosey is the administrator at an elder law firm in Aurora, Illinois. When she's not at work she likes to do genealogy for fun and profit. Storytelling is one of her favorite aspects of genealogy, as can be seen on her blog, Pages from the Ancestry Binders. Another special interest is Amish genealogy. Sue has been doing genealogy as a hobby for about 20 years and has been putting together ancestry binders for others since 2011. She is a member of the Association of Professional Genealogists and the National Genealogical Society. Sue lives in Yorkville, Illinois with her husband Gary. Her website can be found at www.ancestrybinders.com and she can be reached at swmosey@comcast.net.
Get Family History Daily's Articles by Email Each Week
Stay up to date on our newest articles by subscribing to our free weekly newsletter.