Never Trust a Document – or an Aunt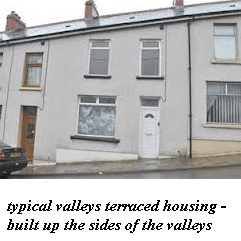 Hello chaps,
When I was a teenager, my Aunty A (whose real name was Annie Jane, but she'd never admit to it – and whose husband, I understand, didn't tell her for months that he'd registered their baby daughter's name as something other than they had agreed – fancy calling your child, in all innocence,  by a name that isn't her's….) told me she was 39. Since she was six years older than her sister, my mother – and since my mother was 24 when I was born, I didn't even need to count on my fingers to work this one out. It has been a long-standing fact in the family ever since, that Aunty A is STILL 39.   Officially.  Oh yes.
My cousin-with-another-name is in her 70s now, but no matter, I know my Aunty A's age. She is wearing well…..for 39.
I thought I'd witter on this time about Aunts and their preference for living in a world slightly distanced from reality. One of my favourites is Aunty Margaret-no–better than-she-should-be. If it wasn't for the censuses I'd know even less about Aunty Margaret, so this is going also to be about 'why you should never accept information on a census record at face value'.  Something that any fule kno.
I first come across Aunty Margaret in Aberdare, Glamorganshire, South Wales; she is on my gt-grandparents' Census form for 1881. She is living with them, and appears as 'aunt' and 'married' and '34' and 'dressmaker' and 'born St Davids, Pembrokeshire', along with Alfred, 'cousin' aged 11. They are crammed into a little terraced house, along with my gt-grand-parents and their three children all aged under six.
This was in the days when I had recently retired and just taken up tea-drinking and digestive biscuit-munching and family history as my main hobbies. These days I have to squeeze them in among all the other things I've found to do – no bad thing, in the case of the biscuits (what are called 'cookies' I believe, in the Americas).
Here she is, under '12 Union Street' – 1881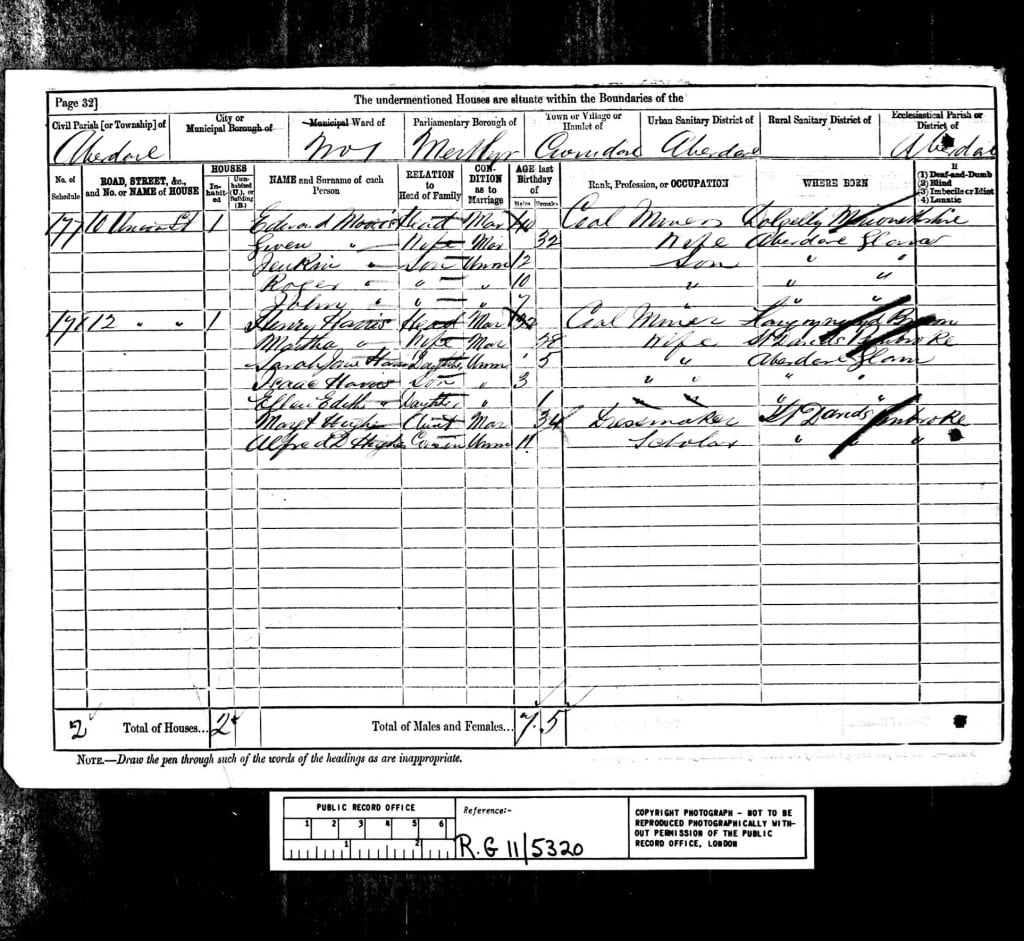 So, not knowing anything about Aunty Margaret, except that she was 34 and married and from St Davids in West Wales, I started to track her down. Well, it turned out that she was from St Davids, all right…..
By 1891, Aunty Margaret has moved out of my gt-grandparents' cramped little terraced  house. In fact, so have they, and they have moved to another cramped little terraced house around the corner, which is even more cramped since they now have six children. Aunty Margaret and Alfred are a few hundred yards away, and she is still a dressmaker born in St Davids, but now she is 'single' and in the last ten years she has aged 16 years, to become '50'. Alfred, model of probity, has aged exactly ten years. He is a coal-miner, and they have a young lodger in the house.
"Oh, this is getting interesting", I thought to myself, back in those early days. "I wonder what happened next to this aunt whose chronology is independent of the usual passage of time, and whose marital status exhibits such fluidity?"  (At the time, I was reading a lot of Dickens, and it was rubbing off)
I moved on to the 1901 census. Here she is, in another street in the same area. Alfred is still living with her, and still a coal-miner. Aunty Margaret is still 'single' and now has aged a mere fourteen years over the latest decade. They seem to be more comfortably established, as they have a 4-roomed house to themselves, and Aunty Margaret is not working at her trade of dressmaker any more.
Make Instant Discoveries in Your Family Tree Now
Imagine adding your family tree to a simple website and getting hundreds of new family history discoveries instantly. MyHeritage is offering 2 free weeks of access to their extensive collection of 7.7 billion historical records, as well as their matching technology that instantly connects you with new information about your ancestors. Sign up using the link below to find out what you can uncover about your family.
Next door, is my now-widowed gt-grandmother and the younger ones of her seven children. I am ridiculously pleased to see Aunty Margaret and gt-gran still supporting one another. (You may remember my gt-gran Martha from the business of the Strange Birth Certificate, if you read my first blog in this series;  and poor soul also appears in the case of the Wrong Baptism Date and the Wrong Gravestone Information in the second blog.  She is happily absent from the third blog.)
1901 – Aunty Margaret at 24 Mill Street, and gt-gran Martha at 25 Mill Street, next door  (house numbers in Aberdare were usually consecutive)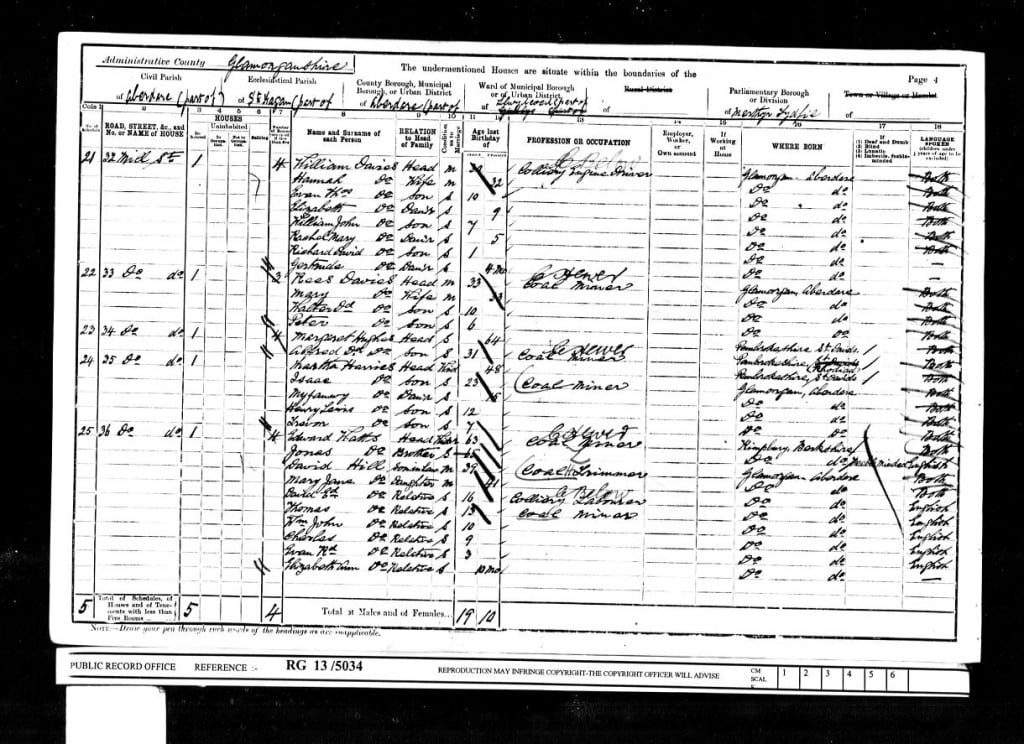 I had to wait a few years before the 1911 census was available online, so in the meantime I tracked Aunty Margaret back to her earlier life in St Davids, West Wales. She was the youngest sister of my gt-gran's mother, so therefore  'aunt' to gt-gran Martha, though only fifteen years older.
Back in 1841 when the first useful census is taken, she is at home with her parents and siblings, aged "3" (her age actually is four at the time of this census, so maybe the business of age-shaving was something Aunty Margaret grew up with – anyway, I'm not blaming her for it in this census, as I don't imagine she had much input into the answers in 1841).
By 1851, she is still at home, and "14."
By 1861, she is at home, a dressmaker, and "22" –the age-shaving begins in earnest now, it seems; just two years taken off, but it's the start of a slippery slope.
In 1871, she is the only adult in a house near St Davids, and with her are baby Alfred, just seven months old, and some of the children of her sister Sarah, who is many miles away in the coal-fields of South Wales. Sister Sarah is the mother of my gt-gran Martha, whose life became entwined with Aunty Margaret's. So it looks like a close-knit family, who were to continue to give each other help and companionship over the years. Aunty Margaret, by the way, now admits to being "30" – she has aged only 8 years since the last Census; so the age-creep continues. She is "unmarried".
Here's the 1871 Census sheet – the relevant entry (5 Rhodiad) is a total mess: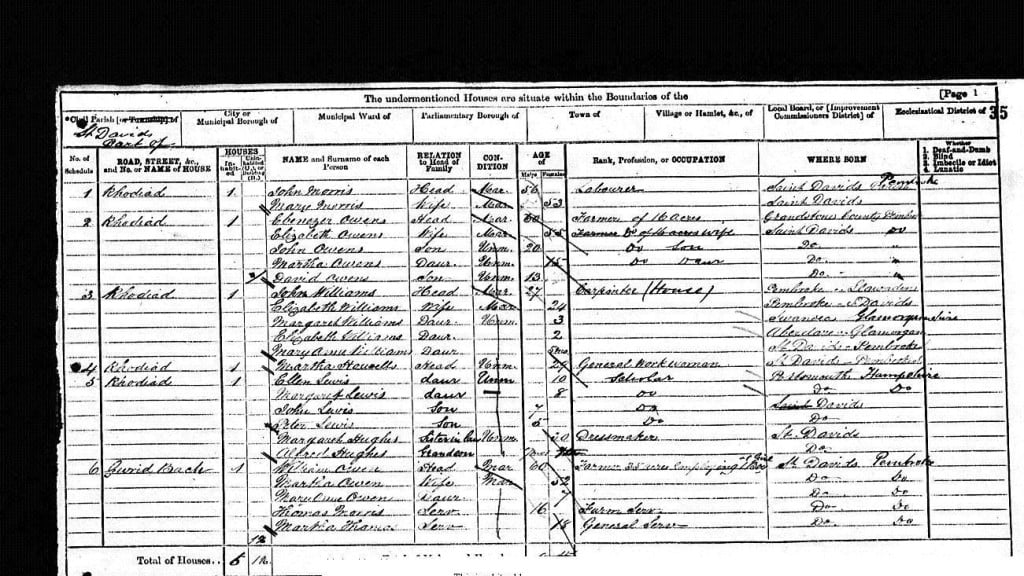 The enumerator, James Davies, has put no 'Head' (Martha Howells, 29, is actually living next door); and the children are recorded before the only adult; and the relationships make little sense – Sarah's children are recorded as "daur" or "son",  Aunty Margaret is "sister-in-law", and Alfred is "grandson". Not up to the standard expected, Mr Enumerator Davies!  Aunty Margaret has got into a bit of a tizz giving the information, and Mr Davies hasn't sorted it.
When at last the 1911 Census became available online, I checked Aunty Margaret's entry. It is the first census where the writing of householders, as opposed to census officials, is shown, and son Alfred has completed it. Somebody, I assume Aunty Margaret, has crossed out 'single' and put in 'widow' (the writing is different from Alfred's).
Alfred has entered his mother's age as 74 – spot on, Alfred. It's the first time since 1851 (60 years previously) that Aunty Margaret's correct age has gone onto a census list.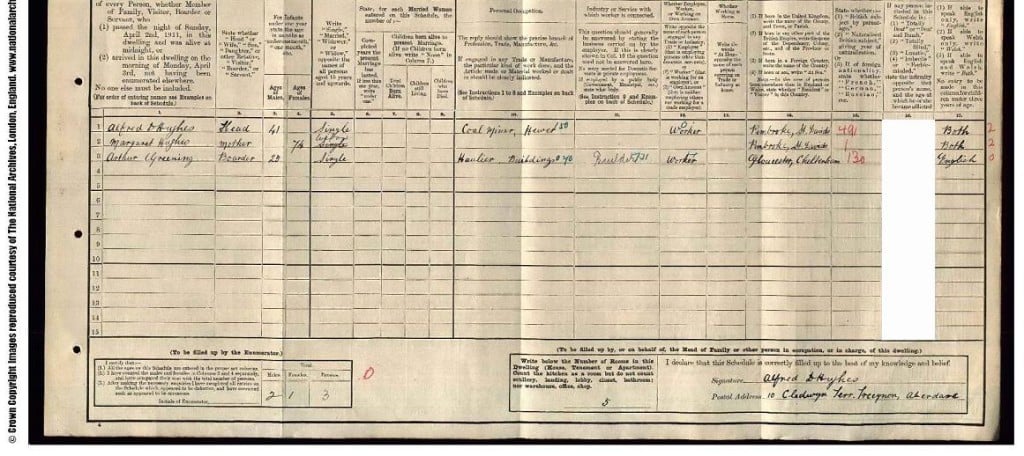 So, at the end of this trail, I'm clear that Aunty Margaret never married; and unfortunately Alfred's baptism isn't in the Parish Register.  I could of course buy a Birth Certificate and try to discover his father, but this would cost £9.25 and the chances of a father's name being recorded aren't great. So I haven't bothered.
But I have found out exactly when Margaret was born, because in 1847 her father had an accident on Milford Dock in Pembrokeshire when his legs were crushed by a mass of stone being loaded into the 'True Bess'.  Five weeks later, he petitioned Trinity House for relief (presumably hoping for an invalidity pension), and, among other things, cited Margaret's date of birth as 22 February 1837. He says he is now effectively crippled, and has four children still at home, one a 'cripple' (nor Margaret).
The Corporation of Trinity House responded by saying that, at 66, he was too young for them to help his family.
Trinity House was granted a Royal Charter by Henry viii (he of the six wives) in 1514 and still has "the well-being of seafarers" as one of its 'prime concerns'…..
My ancestry is mainly Welsh, though I live in England now. When you meet an Englishman, he asks, "What do you do?" but when you meet a Welshman, he asks, "Who do you belong to?". The Welsh have an atavistic need to slot you into the tribe. I have taken up genealogy in my retirement, mainly because it allows me to sit down for long periods of time, whilst drinking tea and eating digestive biscuits. While I could do this staring into space, I have retained enough dignity in old age to require an excuse. Family history is also my perfect pastime, in that it allows me to peer into other folks' lives without the public taint of nosiness; and since those other folks are my own family, sometimes the facts uncovered shed light on those half-forgotten whispers and mutterings overheard in my youth. Reason three for indulging in this hobby? The cousins-of-sorts I meet along the way. Infinitely generous with their information and their encouragement, even with their friendship and their accommodation. And the last reason, of course, is that I just can't help myself - the pleasures of the detective work, the joy of discovery, the satisfaction of joining-the-dots....I am in thrall to the most solitary of pleasures, because sadly NOT EVEN MY OWN FAMILY is at all interested in my passion. And that last reason is why I am tickled pink to be writing a blog.
Get Family History Daily's Articles by Email Each Week
Stay up to date on our newest articles by subscribing to our free weekly newsletter.