Nick Thorne of The Nosey Genealogist | Featured Genealogy Expert of the Week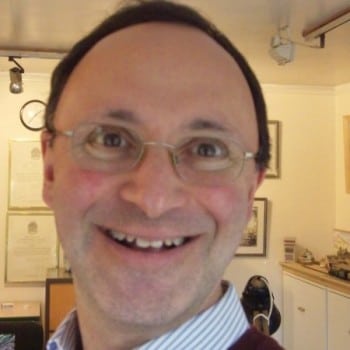 We're starting a brand new Featured Genealogy Expert series on Family History Daily this week. For this series, we've asked a variety of family history experts to answer the same five questions so that we can all learn from their years of experience.
Each has provided helpful tips, a selection of favorite resources and more. We'll be posting answers from one expert each week, so keep your eye out for some great upcoming information!
We're beginning our expert features this week with answers from Nick Thorne, The Nosey Genealogist, who specializes in research in the British Isles.
Many thanks to Nick for taking the time to share this information! Enjoy.
1. If you could share just one piece of advice with fellow family historians, what would it be?
Learn about the various smaller record sets and other resources in which your elusive ancestor may be found by reading around the subject, or by doing a course such as the one I compiled for Family History Researcher Academy on English family history.
2. What do you think is the biggest pitfall new family historians need to watch out for when conducting research?
Making the assumption that the person found in the records, who happens to have the correct name, is actually their ancestor and not someone that simply shares the same name.
3. Can you share three of your favorite family history research resources?
(i) – TheGenelaogist.co.uk for British Census and birth marriages and death family history research
Grow Your Tree With Our Online Genealogy Course
Did you know that Family History Daily offers a
popular and
affordable
, self-paced online genealogy course that can help you with your research? Move past the basics and learn advanced research methods easily with our one-of-a-kind lessons, step-by-step guides, helpful hands-on activities, fun challenges and engaging discussions.
You'll Discover:
where to find billions of free genealogy records online
The Google search tricks that can help you find your ancestors
how to research dozens of special topics
where to find free online genealogy tools
how to break down brick walls with simple, proven strategies
how to use DNA for genealogy research
and much more...
(ii) – local record offices and archives and
(iii) – English & Welsh Tithe Maps from The National Archives available on TheGenealogist.co.uk These records and accompanying maps were created in a period from 1837 to the early 1850s as a result of one of the largest surveys into the usage, ownership and occupation of land in England and Wales since the Domesday book.
4. Aside from research resources, what's the most important tool that you use as a genealogist?
The brain, to think about what you have found and be aware of inconsistencies that point to it being the wrong person you have unearthed in the records. Also intelligent research requires lateral thinking to consider collateral lines and other documents that may unearth that elusive ancestor.
5. Please tell us about your most exciting personal family history discovery.
When I was starting out and had no idea about any of my ancestors, to discover that before 1630 one line of my family descended from Lords and Ladies who lived in various castles that could still be visited today.
Find more from Nick Thorne on his blog Help Me With My Family Tree or on Facebook.
Image: "Preparation for point rationing." Washington D.C. 1943. Library of Congress
Get Our Genealogy Articles by Email Each Week
Stay up-to-date on our newest articles by subscribing to our free weekly newsletter.