The Dawes Act Turns 126 Years Old: Discovering Native American Ancestors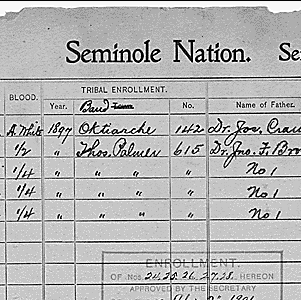 On February 8th 1887…
the Dawes Act, also known as the General Allotment Act, gave authorization to the President of the United States to survey Native American lands for allotment to individuals.
The stated objective of the Dawes Act was to stimulate assimilation of Indians into American society. Individual ownership of land was seen as an essential step. The act also provided that the government would purchase Indian land "excess" to that needed for allotment and open it up for settlement by non-Indians. Read more.
In 1893 a new Indian Office appropriation bill organized the Dawes commission, named for proponent Senator Henry Laurens Dawes, and began to collect applications from members of five southeastern tribes: Cherokee, Creek, Choctaw, Chickasaw, and Seminole.
Tribe members were entitled to an allotment of land, in return for abolishing their tribal governments and recognizing Federal laws. In order to receive the land, individual tribal members first had to apply and be deemed eligible by the Commission. Read more.
Between 1886 and 1914 more than 250,000 Native Americans applied, with more than 100,000 being accepted between the years of 1898 and 1914.
The applications taken during this time were compiled into the Dawes Rolls (Dawes Commission Enrollment Records) and are still used today as a basis for tribal membership into the five named tribes.
The Dawes rolls are vital to family historians because they contain critical information for discovering details about Native American ancestors in a time when such records were scarce.
Enrollment cards (also called census cards) include residence, roll numbers, names of family members, relationships, ages, sex, degree of Indian blood, enrollment date, place and number, parents and their enrollment date or place, spouses, divorces, children or grandchildren.

Applications for enrollment include affidavits, vital records, letters, questionnaires, and decisions mentioning relatives, dates, and places.

Letter logs include name, address, date of the letter, file number, date received, subject, and action taken. Letters are with the applications.
If you think you may have an ancestor that could be found in these rolls visit Family Search or the National Archives for more information about what they contain, where to find online indexes and how to access the records themselves.
We'd love to hear from anyone who has found an ancestor in these rolls.