The 2019 St. Patrick's Day offer from Ancestry and MyHeritage has now ended, however you can take advantage of 2 weeks of free research on Ancestry here and 2 weeks of free access to MyHeritage here.
---
Saint Patrick's Day is all about celebrating your Irish roots, and what better way to do it than by researching your ancestors from the Emerald Isle.
Make Instant Discoveries in Your Family Tree Now
Imagine adding your family tree to a simple website and getting hundreds of new family history discoveries instantly. MyHeritage is offering 2 free weeks of access to their extensive collection of 9 billion historical records, as well as their matching technology that instantly connects you with new information about your ancestors. Sign up using the link below to find out what you can uncover about your family.
Luckily, some big genealogy research sites have made more than 150 million Irish records free this weekend. Read on to find out how to access these collections today.
Free Irish Genealogy Records for the St. Patrick's Day Weekend
Please know that we have partnered with all of the companies mentioned on this page to bring you information about their services and we may receive a fee to support our work if you choose to take advantage of these offers. 
Ancestry's Free Irish Records Offer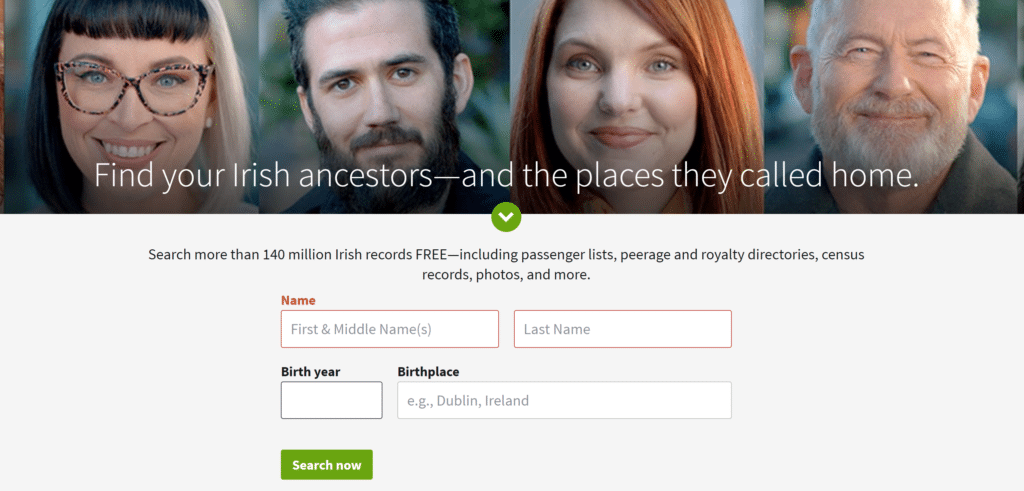 Ancestry has made their entire collection of more than 140 million Irish records free until the end of the day on March 18th to celebrate St. Patrick's Day. This access period means that you will be able to search, view and download the records, including the original images, at no cost.
For those of you that don't have an Ancestry World Subscription this is a great time to add to your family tree. Just be sure to download the records to your computer, as well as adding them to your Ancestry tree. Otherwise, once the free weekend ends, you will no longer have access to these records. Read more about that here.
To view the Irish records start your search on this page. Once you enter in the name of an ancestor you will be asked to create a free account with Ancestry. After completing this step you will be able to view the available records and conduct more searches.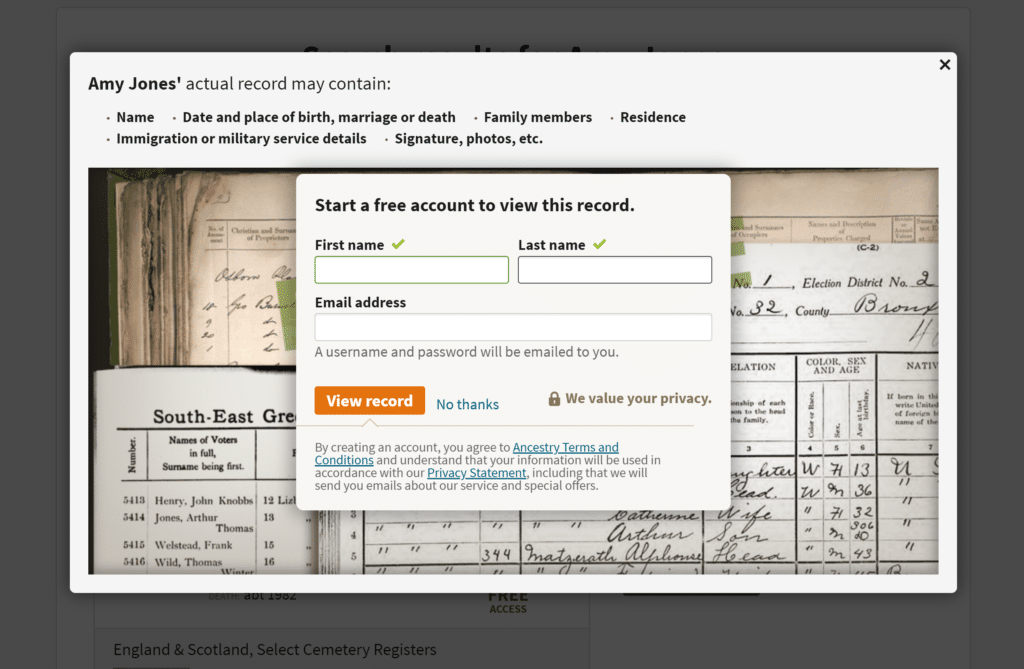 Remember that, although the account is free, Ancestry will email you with offers to buy a subscription if you sign up for this special St. Patrick's Day weekend event. To change what emails Ancestry can send you look for the Email Settings area in your account (click on your username in the upper right hand corner and select Your Account to find these settings).
MyHeritage Free Irish Collections for Saint Patrick's Day

MyHeritage has also made their Irish records free this weekend and is even extending the access through March 20th. Unlike with Ancestry, there is no requirement to create an account when searching or viewing these collections.
9 Billion Genealogy Records Are Free for 2 Weeks
Get two full weeks of free access to more than 9 billion genealogy records right now. You'll also gain access to the MyHeritage discoveries tool that locates information about your ancestors automatically when you upload or create a tree. What will you discover about your family's past?
While they don't have quite as many Irish records to offer (just under 14 million) they do have some unique collections, so don't miss your chance to access all of these records at no cost.
You can find the free collections a couple of ways. You can visit the card catalog here and then use the filters on the left to sort by location. Choose Europe and then refine further to Ireland. This will list all of the Irish collections for you and you can search them individually.
If you prefer to search all of the Irish collections at one time, simply use the SuperSearch on MyHeritage's site. SuperSearch will present all matching records to you and you can access the ones you like. If you don't have a subscription with MyHeritage you will only be able to view records included in this free weekend (those from Ireland). If you encounter a collection that asks you to sign up you are trying to access a collection that is not included.
Find SuperSearch by rolling over Research in the top menu and selecting Search All Records.
Get 30 Days of Genealogy Tips Free
What might you learn with 30 days of expert genealogy research tips delivered straight to your inbox?
Subscribe below and you'll receive one helpful genealogy tip every day for thirty days. Easily discover new research techniques, record collections and resources. You'll also receive our free weekly newsletter so that you can stay up-to-date on our newest articles.
This is a FREE offering from Family History Daily to help you with your research. Unsubscribe at any time.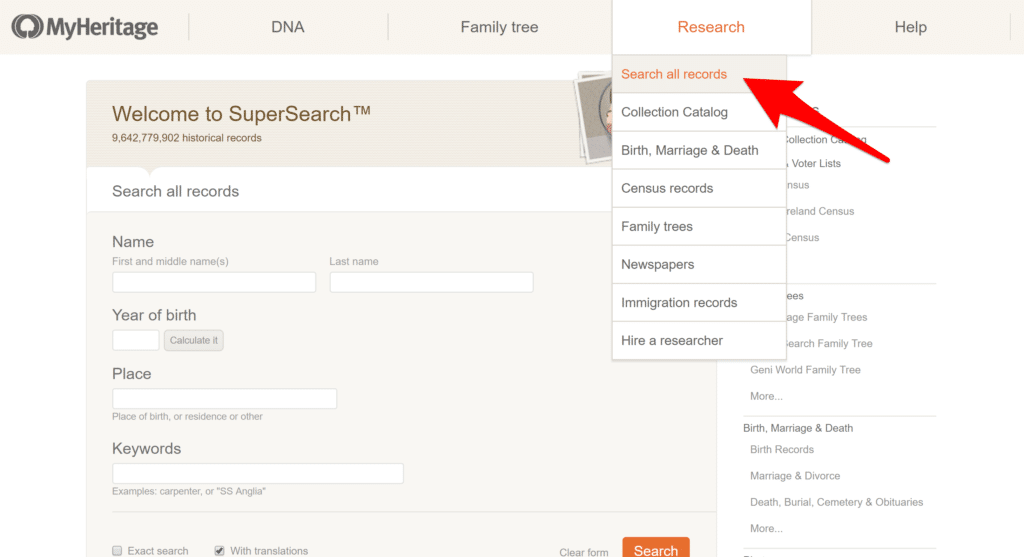 Findmypast Free Irish Records
So far, Findmypast has not announced a free access weekend for St. Patty's Day. However, given their one-of-a-kind Irish collections, some of which are always free, they can't be left out.
You can find out which collections they always provide at no cost here – including 7 million Roman Catholic Parish Records from Ireland. Of course, they also offer a free trial if you want to take advantage of more of their collections.

Family History Daily offer numerous articles about finding and using free genealogy records online, including our popular guide 50 Free Genealogy Sites to Search Today. You can discover more no-cost collections here.
Happy researching!
Image: Michael's Lane, Dublin City. National Library of Ireland on Flickr