Locating the names of parents is one of the most important jobs of any family historian and we all spend a great deal of time looking for records to do just that. But, as we all know, it's not always an easy task.
Parents can be surprisingly elusive — mysteriously missing from key documents. In addition, verifying that we have actually found the correct parents for an ancestor can be an even bigger challenge, especially if our ancestor had a common name.
To locate the correct parents for our ancestors we must find a source that is reliable and that lists enough information for us to be sure that we have the right person. Since we know that we can locate parents in vital records, this is often the first place we look. Marriage records can be especially helpful in accurately connecting to the next generation since a person's spouse and parents are often listed on the same document and because, often, the parents were still alive when the record was created. This can mean more reliable information.
Death records, such as a death certificate, transportation of corpse or a will often also list parents and the information can then be verified via other sources, such as a birth record. Of course, the information found on marriage and death records should be backed up with additional sources since parents' names (and especially spellings and maiden names) can be incorrectly listed.
Make Instant Discoveries in Your Family Tree Now
Imagine adding your family tree to a simple website and getting hundreds of new family history discoveries instantly. MyHeritage is offering 2 free weeks of access to their extensive collection of 18 billion historical records, as well as their matching technology that instantly connects you with new information about your ancestors. Sign up using the link below to find out what you can uncover about your family.
To further verify the information we find on vital records, or to locate parental information when a vital record is unavailable, we need to look to additional sources.
Luckily, there are several lesser used records that often list parents. These sources will likely need to be used in combination with one another, and along with other sources, to create a complete and accurate parental determination, but they can be a huge help in our journey to add another branch to the family tree. At the very least, they can usually provide valuable clues to help us extend our search options.
Here Are 5 Less Common Places to Locate Your Ancestors' Parents
1. With Adult Children in Census Records
You probably already use the census to find parents. By finding a child listed with their parents when they are young we can add all kinds of wonderful information to our tree and start to build a clearer picture of what our ancestors' life was like. But what many people overlook is that parents can often be found when the "child" is an adult as well. If you are unable to identify the correct childhood census records for your individual do to lack of information, try more closely examining the census records you already have for them as an adult.
The first, and most obvious thing to look for is a mother or father living with the adult child — but, less obviously, parents and siblings may be living next door or in the same neighborhood. Look closely at the page your ancestors are found on, and on the pages before and after, to examine a neighborhood.
Looking for a matching surname makes sense, but also look for people with shared first or middle names as this may point to family relationships. Although you will not be able to determine a parental relationship using this method alone, potential matches can be researched more closely to see if they may fit.  Just make sure that you find solid sources for any possible connections — use assumptions only as clues to give you more research options.
In the example below you can see our target family at the top of the page. If we had simply recorded this information and moved on we would have missed the parents, listed with two siblings, living nearby. Of course, we had to do some additional research to verify this connection but the names gave us the information we needed to find just that.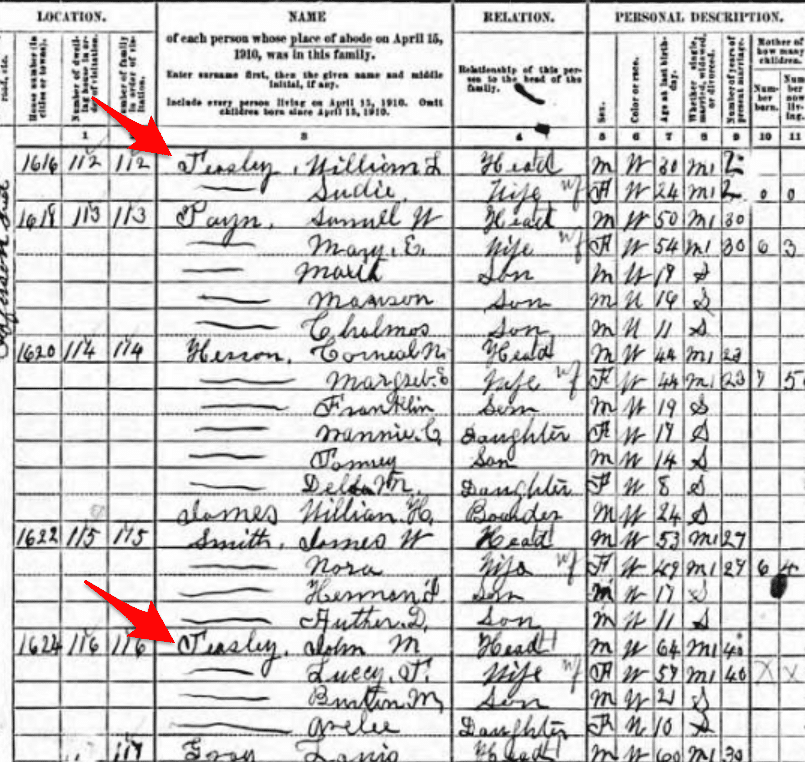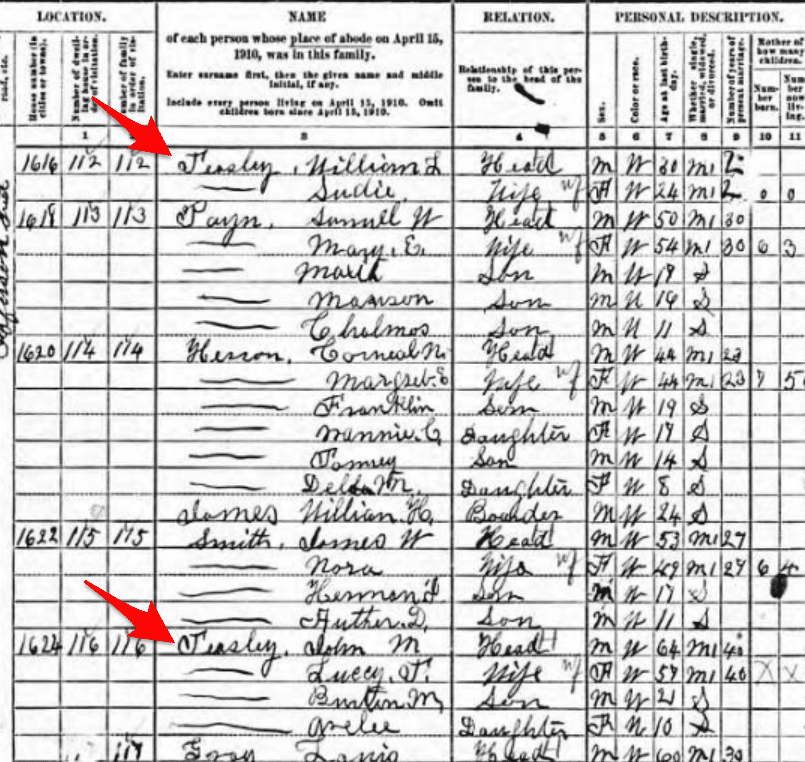 2. In City Directories
City Directories are probably one of the most helpful, and perhaps simplest, record sources to locate parents in when you cannot find them in more traditional sources. Many towns and cities completed directories every year and, often, you can find these directories online or at a local historical society or library.
18 Billion Genealogy Records Are Free for 2 Weeks
Get two full weeks of free access to more than 18 billion genealogy records right now. You'll also gain access to the MyHeritage discoveries tool that locates information about your ancestors automatically when you upload or create a tree. What will you discover about your family's past?
Because directories were organized by surname, if you can find your ancestor you can very likely locate related individuals quite easily — even if they were not living in a neighboring house. Individuals' addresses, occupations and, sometimes, relationships to one another are listed. And because directories were published more frequently than the census you can often find information you need in those missing years.
Use the names you find listed along with your ancestor as clues to extend your research. Don't assume that people with the same surname were related  – they very often were not —  but do follow up on these people and see if you can find a connection.
Below is an example of a directory from 1906 in Manchester, New Hampshire. The red arrows show those people who are clearly related to each other based on their surname, address and occupation – one of them is the widowed mother to our target person, Josephine. Some additional research and verification proved these connections and provided a whole new family line. Further examination of the names in the list, and similarly spelled surnames, revealed other relatives as well.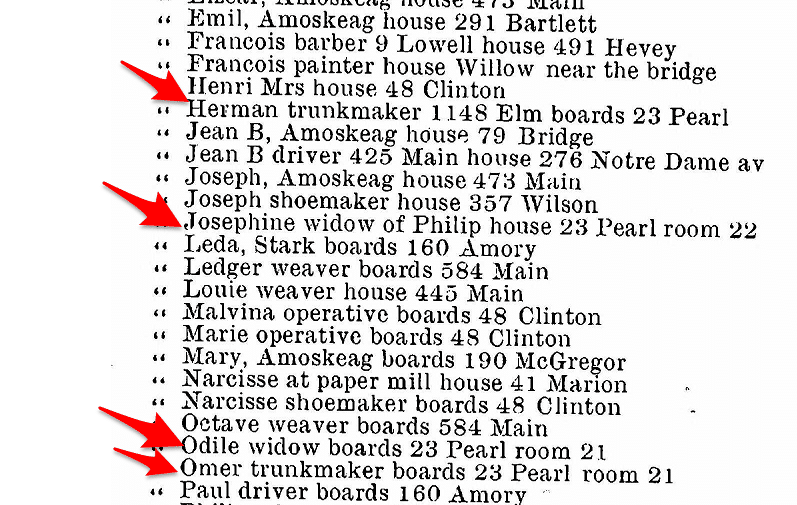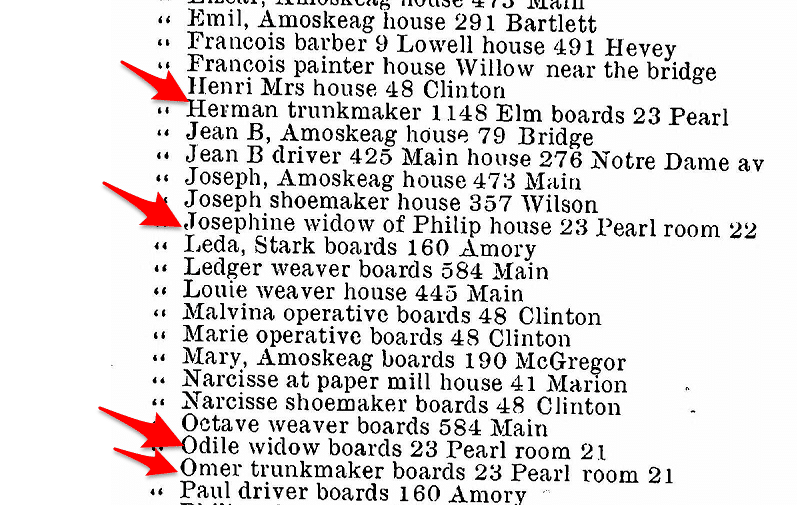 You can read more about city directories for genealogy research and find some free places to locate them online in this article.
3. In Newspaper Entries
Birth announcements, marriage announcements, obituaries, community events and the community notes section can all be places to find your ancestors' parents names. Newspaper research requires a special kind of dedication and it may take some time for you to learn the tricks if you have never attempted to use this resource in your family research before.
The first step to locating your ancestors is to find out what newspapers were being published in your family's community during their life. Do to so, try looking on local historical or genealogical society websites. If you are researching in the USA use the Chronicling America database to find out what newspapers were being published. Chronicling America offers many of these papers online for free as well and others can be found through their own individual archives online or via various online newspaper archive collections. You can locate free newspaper collections here.
Remember that when you are searching newspapers you need to be flexible and use the tools available to widen or narrow down your searches as needed. Use keywords intelligently and learn what special options are available to complete advanced searches. Finding people in an old paper is seldom as easy as typing in a name and hitting search — you will have to dig, but the rewards are very often worth the time.
This local "nuggets" section from an 1890 Indiana newspaper shows an example of how parents can be found in unexpected places. Although this listing only provides the father's name, it is enough to set us off on the right path.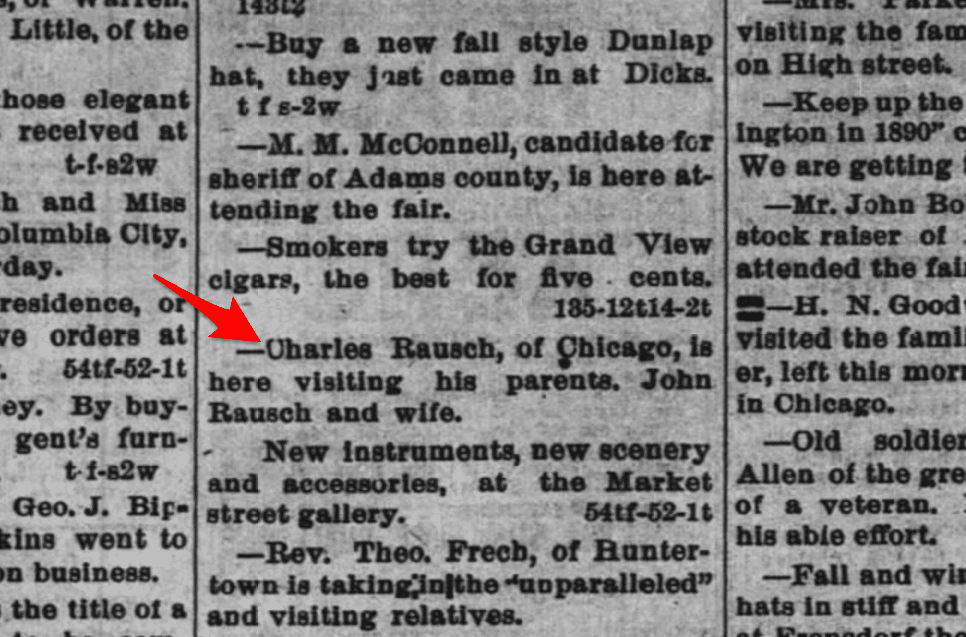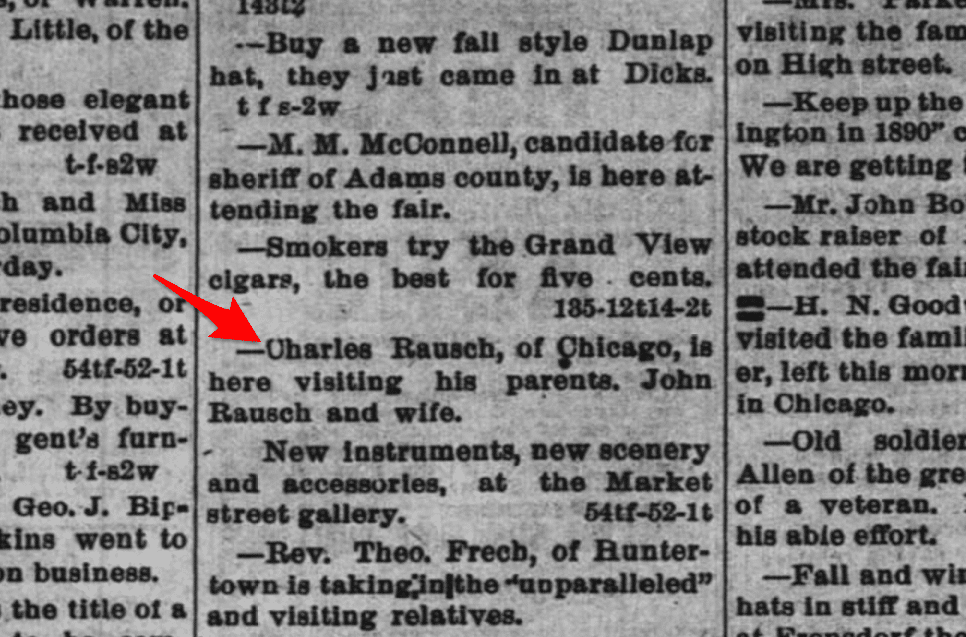 4. In Land Records
Especially if you are researching ancestors pre 1900, land records can be your ticket to a parental connection. Sometimes parents are mentioned during land transfers within families or they owned land nearby. If parents cannot be found, siblings or other relatives might be listed. These people can lead to the parental information you need.
General Land Office Records from the Bureau of Land Management is a great place to start in the US. You can read about their free online collections here. Some individual states also offer land records online, such as this large collection from the University of Virgina. Look for additional records for your ancestor's region by searching for historical societies, state libraries and other archives online.
As with newspapers, this type of research can require a good deal of time and effort, and more than a bit of creativity. But if you are stuck trying to find parents you may be able to break through with a land patent or grant.
Note that many land records can be difficult to read — take the 1733 Virginia Land Grant seen below as an example – so take the time you need to familiarize yourself with these records, and old handwriting, before diving in.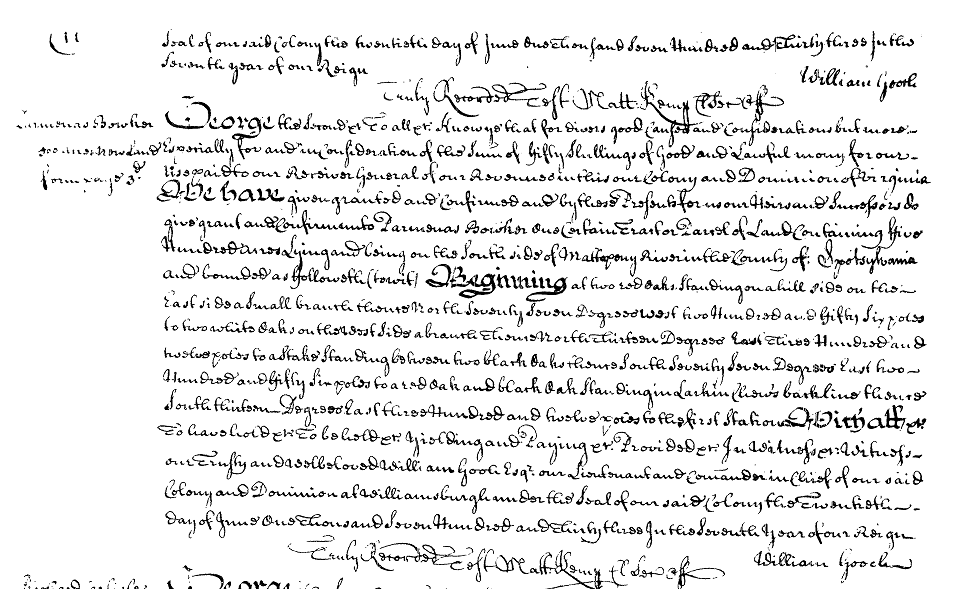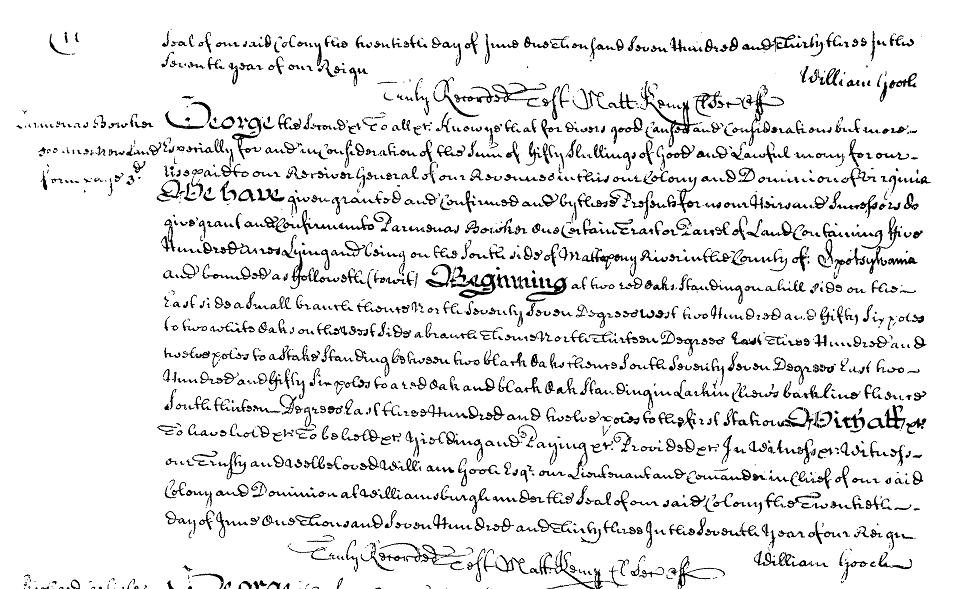 5. In Old Books
We recently wrote about the importance of using old family books in family history research. From published pedigrees to town histories, old texts can sometimes provide generations of names for you to follow up on.
You can read about how to use old books for genealogy research, and where to find them for free, right here. Just remember to always verify the information found in these texts since mistakes were often made.
This pedigree of the Adams family was found using The Digital Public Library of America, a free resource.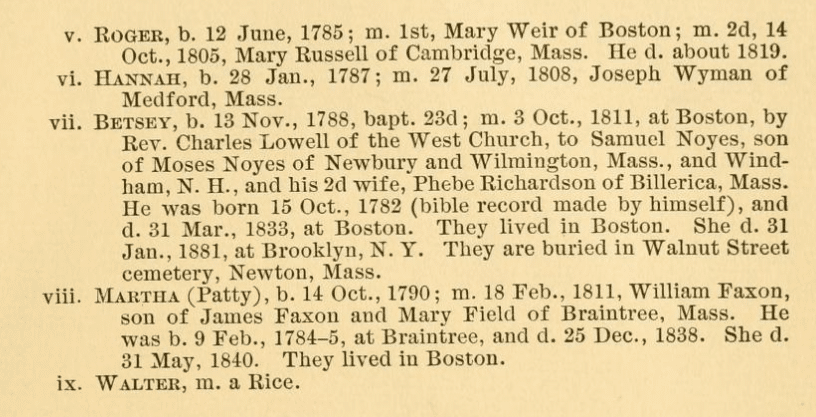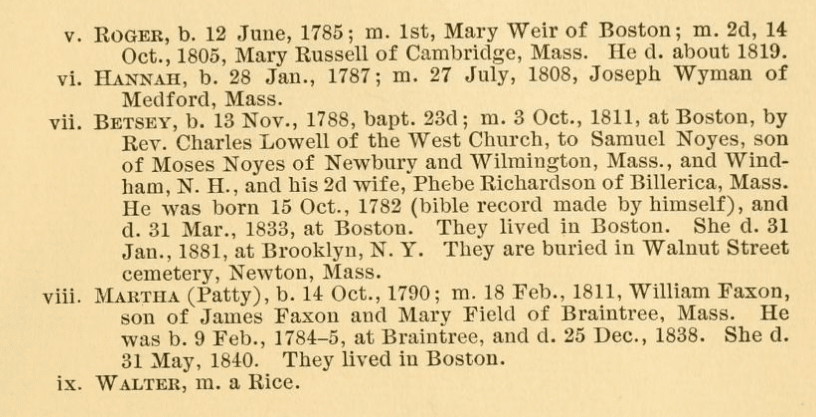 Always Know the Records!
Most importantly, get to know the records of the area you are researching so that you have a wide selection to choose from when tracking down parents. Use the FamilySearch Wiki collection and other helpful free online resources to educate yourself. Don't limit yourself to those more common records, such as birth, marriage and death, or you may find you develop a brick wall you have a hard time breaking down.
~ By Melanie Mayo, Editor, Family History Daily
Image: "The Arnao family of berry pickers in the fields of Truitt's farm. This is an Italian family coming from Phildelphia and now ready to go to Carmel, N.J. to continue picking. The family consists of: 1 child 3 years of age, 1 child 6 years of age, 2 children 7 years of age, 1 child 9 years of age, 1 child 10 years of age, 1 child 11 years of age. All of whom pick. Location: Cannon, Delaware." Library of Congress