By Alexandra Mendez-Diez
Even when we find what we're looking for in historical archives it can often feel like there is something missing from the results. A big part of why we conduct genealogy research is to get to know those that came before us, and to feel more connected to where we come from. And while learning facts definitely helps us accomplish that, there is only so much connection that can come from names and dates alone.
That's why it's so wonderful when we find family history sources that contain some narrative of the actual lives our ancestors lived. However, these sources from the past tend to be few and far between. We can't all be blessed with the apocryphal box of 150-year old ribbon-tied, hand-written love letters, and even the few of us who receive those sorts of precious gifts will find the box will only tell the story of a couple of individuals from our family tree.
A helpful way of getting to know the day-to-day existence of those who came before is to turn to old cookbooks. When you know the region, time period and demographic reality of a relative from the past, you can extrapolate to determine the sort of cookbook that would apply to the time and place where they lived. And from there, you can experience the very same dishes of food that they once ate. It's a small window that lets you get to know the 'meatier' facets of the lives of your ancestors in a way you can truly sink your teeth into.
Make Instant Discoveries About Your Ancestors Now
MyHeritage is offering 2 free weeks of access to their extensive collection of 18 billion historical records, as well as their matching technology that instantly connects you with new information about your ancestors.
The Digital Public Library of America offers a portal of nearly 700 cookbooks filled with old American recipes  – with over 400 of the books with publication dates before 1921. And Hathitrust's Early American Cookbooks Collection contains more than 1400 selections with dates ranging from 1800-1920. Both places are a great place to start. You might even get lucky enough to find recipes from your own community.
Here is a Selection of 7 Interesting Old American Recipes from Cookbooks in the Collections Mentioned Above
Try cooking up one of these in your own kitchen!
1. Strawberry Macaroon Ice
Slade's Cooking School Recipes, 1920, combined the recipes of 25 cooking school teachers with a common cookbook conceit: a longform advertisement for a brand of ingredient. In this case, each page includes a little jingle about why Slade's baking products and spices are superior to all others. Here's one of the selections from this book. You can see the rest at the link above.
To 1 1/2 cups fresh strawberry juice or syrup from a jar of canned strawberries, add 1/2 cup cold water, the juice of one lemon, a few grains of salt and sugar to taste; turn into a brick mould. Dilute 1/2 pint heavy cream with 1/3 cup milk and beat until stiff. Add 1/3 cup powdered sugar, 2/3 cup macaroons or macaroon drops dried and pounded, 1/2 tablespoon Slade's Vanilla, and a few grains salt. Pour on to the strawberry mixture to overflow the mould; cover with buttered paper, then with the tin cover. Pack in equal parts of ice and salt and let stand three hours.
2. A Cure for the Dyspepsia
Who wouldn't want a book titled, 600 miscellaneous valuable receipts, worth their weight in gold? In order to provide such valuable information, the 'receipts' from this 1860 book aren't just culinary, but also include a number of home remedies, representing 30 years of knowledge of the author, John Marquart of Lebanon, PA.
18 Billion Genealogy Records, Free for 2 Weeks
Get two full weeks of free access to more than 18 billion genealogy records right now. You'll also get the MyHeritage discoveries tool that locates information about your ancestors automatically when you upload or create a tree. What will you discover about your family's past?
Take 1 ounce pulverized rhubarb. 1 ounce caraway-seed. 1 tablespoonful grated orange-peel. Put these into a decanter with 1 pint of best brandy, shake it well together, and keep in a warm place. Dose.—1 tablespoonful in the morning, fasting, and at night going to bed. Shake the mixture well before taking it.
3. How you may use Left-over Cereals
While we've all had oatmeal or cream of wheat at one time in our life or another, during wartime, when food was tight, whatever was left in the pot could not go to waste. So here's a novel way of eating leftover hot cereal the next day. This recipe from a WWI cookbook, Choice War Time Recipes, published in 1918 by the Harvard University Library, was dedicated to: "the women of the Allied Nations — whose needs we aim to meet."
Before cold enough to harden, pour in greased baking-powder can, even top, and cover. When cold, remove from mould, cut in half-inch-thick slices. Fry in pan to golden brown, having enough fat in pan to keep from sticking. Serve with syrup or jelly.
4. Whortleberry Boiled Pudding
This book, A domestic cook book: containing a careful selection of useful receipts for the kitchen by Malinda Russell, published by the author just after the Civil War in 1866 in Paw Paw, Michigan is believed to be the first devoted cookbook written by an African-American. Here's just one of the fascinating recipes available in her collection.
Eight eggs, one quart sour milk, two tablespoons lard, flour to make a stiff batter, a little salt. Sprinkle them with dry flour, rub them well, mixing them with the batter; scald the bag, and sprinkle it with dry flour; turn it in, leaving room to rise. Boil with or without a ham; eat with cream sauce or wine
5. Eggs with Dried Beef
We often think of Crisco as a food that came from war-time rationing or depression cost-saving measures, but the product was popular at least 10 years before the start of the Depression. This 1919 Cincinnati cookbook, Recipes for Everyday: A timely addition to the Crisco library of household helps, and published by Procter & Gamble co., uses the ingredient.
Pick half a cupful of dried beef in bits, discarding all white threads. Melt one tablespoonful of Crisco in a saucepan, add the beef and stir and cook two or three minutes; add three-fourths a cupful of water, milk or tomato puree, and heat to the boiling point. Divide the mixture among four shirring dishes, break an egg above the mixture. Mix four tablespoonfuls of cracker crumbs with one tablespoonful of melted Crisco and one-fourth a teaspoonful of salt and sprinkle over the eggs. Cook in a moderate oven until the egg is "set." Serve at once in the shirring dishes.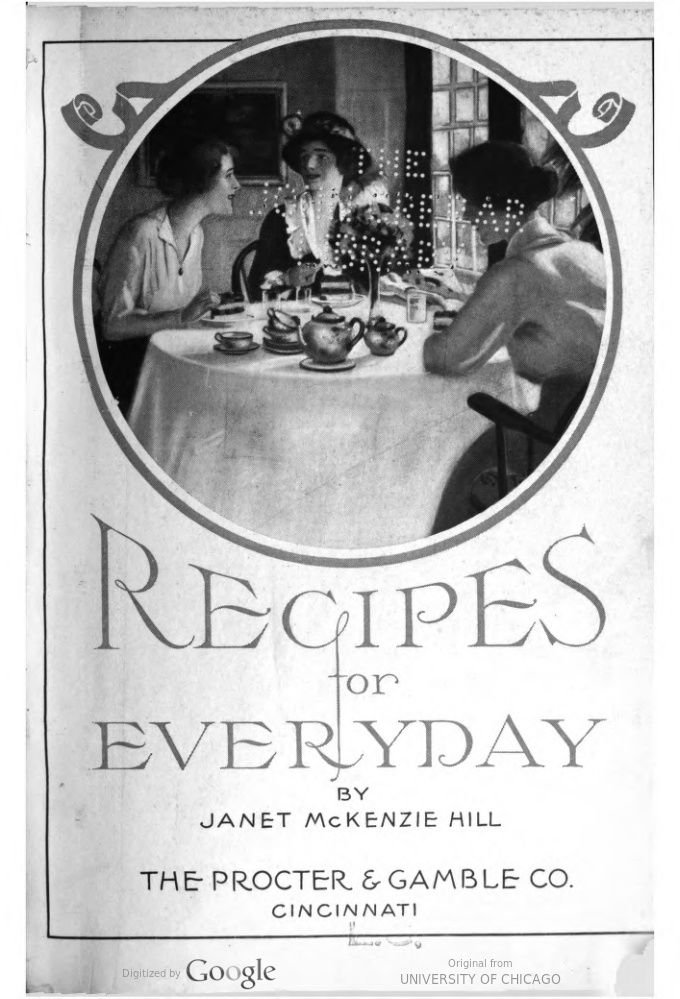 6. Shrimp Wiggle
This 1910 cookbook, Popular Recipes, originally cost 25 cents and still served as an extended advertisement for its publisher, the Armour Co. Here's one of the interesting selections from its pages.
a teaspoonful Armour's Extract of Beef, a teaspoonful salt, 1 tablespoonfuls butter, 3 cupfuls milk,  2 tablespoonfuls flour, 1/2 teaspoonful paprika, 1 cupful shrimps, 1 cupful canned peas
Directions for Preparing: Melt butter and add flour, with salt and paprika, stirring constantly; then pour on gradually the milk as soon as the sauce thickens. Add Extract of Beef, and shrimps broken in pieces, and the peas drained from their liquor.
7. Junket
Published in 1890 by the First Presbyterian Church Ladies' Society of Owensboro, KY, this recipe comes from the "Deserts" section of Woman's wisdom: a collection of choice recipes.
Take one-half pint fresh milk, heated as hot as can be agreeably borne by the mouth (about 115 degrees F.), add 1 teaspoonful of Fairchild Bros. & Foster's Essence of Pepsine, and stir just enough to mix. Let it stand till firmly curdled; may be served plain or with sugar and grated nutmeg.
These are just a tiny sampling of the many amazing old American recipes that are freely available online. Many of these cookbooks make fascinating reading in their own right, but using them as a window to explore the world of the past opens up entirely new possibilities in our research.
Are there any recipes that you have from your own family history that have been passed down to you directly, which you now cherish each time you make it?  What do you regularly cook that you would most love to leave for the generations that come next?
Related Helpful Articles:
How to Use Hathitrust for Genealogy
Family History Research With The Digital Public Library of America
About the Author: Though Alexandra Mendez-Diez has not invested a great deal of time into researching her own genealogy, on her father's side, a few well-placed phone calls to Miami once led to her discovering and meeting long-lost teenage second cousin twins in Havana. And while she would like to look further into the less common spelling of her second apellido to find out if it is as she suspects a direct link to Sephardic Jews from Spain, she's been much more preoccupied with researching the genealogy of James Joyce's fictional character Molly Bloom from Ulysses. This has taken her to Granada in the South of Spain, where she spent several months sorting through early 20th century hand-written court archives in search of Molly Bloom's mother, a woman who never lived (hazard of being fictional), but could have.
Image at Top: Student cooking in homemaking apartment in Lodge, 1917. Cornell University Library. Flickr Commons.