by Donna Streetenberger
The U.S. Federal Census is, arguably, one of the best record collections in existence when it comes to gathering information about your American ancestors. The standard information – including family relationships, occupations, ages, years of immigration etc – can be extremely valuable to a family historian.
Most of this information is very easy to find, as long as you can locate your ancestors in a particular year. But, there are some pieces of information in the census that aren't easy to understand, or even find – either because they are presented in a confusing way, are hidden or buried, or because people are simply not aware that the details exist at all.
Below you will find the most valuable examples of this hidden information to help you improve your research.
Make Instant Discoveries About Your Ancestors Now
MyHeritage is offering 2 free weeks of access to their extensive collection of 18 billion historical records, as well as their matching technology that instantly connects you with new information about your ancestors.
Family History Daily also has a quick reference guide on the U.S. Census that will help you learn what details can be found in each and every census – including special schedules. Read it and bookmark it for easy reference.
Deciphering the Mysterious Circled Xs on the 1940 Census
You may have noticed the circled Xs that appear in 1940 census records. They were completely new for that census year and, although the meaning of them is explained on the census itself, it is tucked away and many people overlook it.
At first these Xs seem to be listed next to the head of household, but this is not always true. Reviewing a page further, one can see that they often appear after other family member's names instead.
These Xs actually represent the "name of person furnishing information," as described in the descriptive area of column 1. If you missed this information don't feel bad – it is incredibly common.
With the 1940 the U.S. government decided that the name of the person the census taker had spoken with was important. And we're glad they did, because knowing these details can help us better understand the information we find. 
Importance of Knowing the Identity of the Informant
Knowing who the informant was for a census record is invaluable to researchers because it helps to verify the information seen on the record. Depending on who the informant was, the details provided could be more or less accurate. 
18 Billion Genealogy Records, Free for 2 Weeks
Get two full weeks of free access to more than 18 billion genealogy records right now. You'll also get the MyHeritage discoveries tool that locates information about your ancestors automatically when you upload or create a tree. What will you discover about your family's past?
In some households, a child may have provided the information if their parent or guardian was not home. Or, for those living in boarding houses, the owner of the house may have given details about those who lived there. You can see this in the image below. A lodger is highlighted, but see who provided the information.
Obviously, a source like this may be less reliable than an adult family member.
On the other hand, for people living in hotels, the enumerator would actually try to speak with each person residing in the hotel since the hotel owner, or manager, could not possibly know all the information required. You can see a sample of this below. 
1940 Census for people residing at the Hotel Victoria in San Francisco.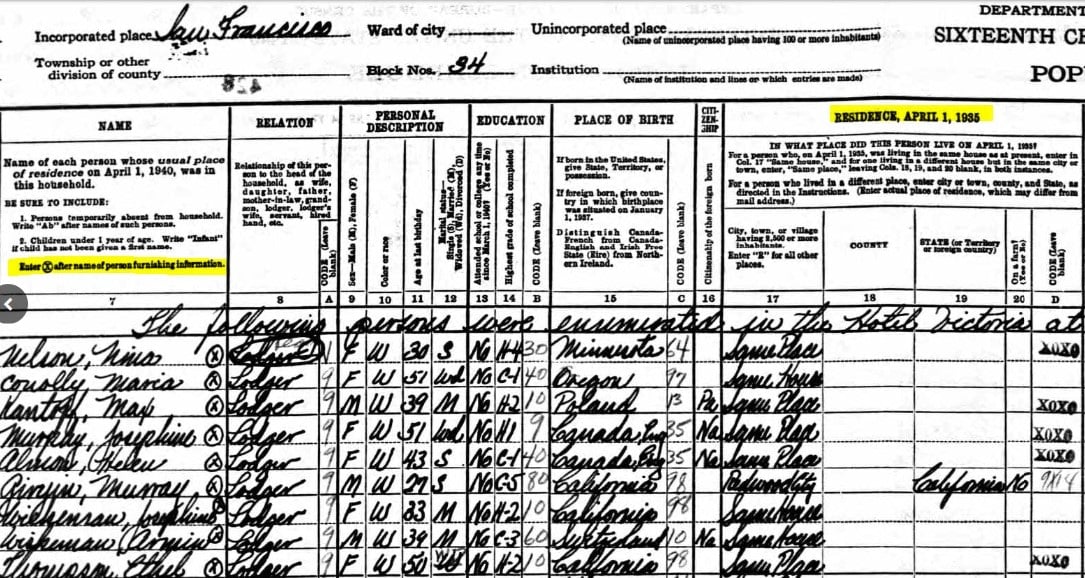 This certainly increases the weight we can put on the provided information – showing how valuable the simple circled Xs can be.
Family History Daily has an interesting article about how enumerators were directed to collect information and how that can influence the results you find here, This Information Will Make You Question Every Census Record You've Ever Collected.
The Hidden Location of Missed Individuals
Ever looked up a family in the census only to find that one of the expected individuals was curiously missing? If you expected to see a person living in a particular household in 1940 and they were not there, the middle or end of the census pages for a specific geographic (or enumeration) district are the place to look.
The middle and the end of the Enumeration District pages for the 1940 Census contained a list of families not initially at home when the enumerator came by, or individuals who were skipped or forgotten. Or, you may see a list of those who were transient and living in temporary housing such as a camp or hotel.
The people listed at the Hotel Victoria, in the photo above, were found in the middle of the Enumeration District pages for San Francisco.
Here is an example of the final page of an enumeration district in Georgia. You will see in the first screenshot that the enumeration has ended (blank space) but when we click to the next and final page we see that several more individuals are listed. These people were skipped and not added to the proper location with their household. Look at their household number in column 3 to find where they belong.
End of District
Final Page With Missing People

So, if you are missing a member of a family in the 1940 census check the last page, and also sometimes the middle where there is a break from the normal order, or where streets or neighborhoods end.
You can do this by looking for the page numbers of the census (top of the census image on FamilySearch and bottom on Ancestry) and entering in the page number you desire. Especially check the last 2-3 pages to see where the enumeration ends and look directly after that.
Supplemental Questions in the 1940 Census
The supplemental questions at the bottom of the census record (for 5% of the population) were new to the 1940 Census and highly anticipated by researchers because of the additional information that could be learned.
If your ancestor's name happened to fall on the lines specified with "Suppl Quest," no matter what their age, additional questions were asked and displayed at the bottom of the page.

The supplementary questions on the 1940 Census were:
Name

Person's father's birthplace

Person's mother's birthplace

Person's mother or native tongue
Questions asked only to veterans:
Is this person a veteran of the United States military forces; or the wife, widow, or under-18-year old child of a veteran? 

If so enter "Yes."

If the person is a child of a veteran, is the veteran father dead?

War or military service: 

Enumerators were to mark "W" for World War I; "S" for the Spanish-American War, the Philippine insurrection, or Boxer Rebellion; "SW" for both the Spanish-American War and World War I; "R" for peacetime service only; or "Ot" for any other war or expedition.
Social Security Questions (for persons 14+ years old):
Does this person have a federal Social Security number?

Were deductions for Federal Old-Age Insurance or railroad retirement made from this person's wages in 1939?

If so, were deductions made from all, one-half or more, or less than one-half of the person's wages or salary?

What is this person's usual occupation?

What is this person's usual industry?

What class of worker is this person?
Questions for all women who are or have been married:
Has this person been married more than once?

Age at first marriage

Number of children ever born
We have a complete rundown of this "hidden" information and how to find it in this article.
Codes Added After the Enumerator's Visit
Some columns on census records contain codes which were not completed by the census takers. These areas were identified as "CODE (Leave blank)" and were added later.
Note: 1910 and 1920 census records contained occupational codes while 1930 contained occupational codes, language and nativity codes, and "Indian Codes." The 1940 census contained occupational codes as well as miscellaneous codes.
While they don't provide any new information not already on the census record – they do provide additional details regarding the data gathered by the census taker and can help explain confusing information – especially if handwriting is difficult to read or a document is faded or torn.
Thankfully, you can find a wonderful tool here that will allow you to crack these codes quickly and easily.

Write down a code of interest and use the tools on that page to decipher it.
For example, some of the miscellaneous codes in the lettered columns on the 1940 Census records shown above can be deciphered for Maria Conolly, the 51-year-old widower from Oregon, living at the Hotel Victoria.

For more help understanding what information can be found in each census year read The Ultimate Quick Reference Guide to the U.S. Census for Genealogy. You'll especially want to explore the information about Supplemental Schedules, which can contain even more details you might not realize even exist about your ancestors.
And don't forget, FamilySearch offers every census free of charge online. Find them in their online record collection index here.
Also read:
Donna Streetenberger is a professional genealogist and freelance writer. She has enjoyed helping people find their elusive ancestors for over twenty years. With a background in technical writing, she enjoys old world genealogy research coupled with new technology. She has published numerous articles, online and in print, about genealogy research and history. Find her at ResearchingAncestry.com.
Image: A census taker conducts an interview for the 1930 census. Census.gov.