How many times have you (in the nicest way possible) cursed your ancestors for not adding details to the back of their family photographs? Wouldn't you love to know who's included, what they were doing, and, perhaps most importantly, when the photo was taken?
Family historians have always struggled with this challenge, and we've had to rely on a variety of manual methods and contextual clues (like picture type, hair and clothing) to arrive at a "best guess" of what's being shown in the image and when it was captured.
That is, until now. MyHeritage, one of the most technologically forward-thinking genealogy companies out there, recently introduced PhotoDater™. As the name implies, this tool can examine a photograph and provide an estimated date range for when the image was made, and it's free.
Please know that Family History Daily works with companies we love (and use ourselves) to sometimes bring you information about services we're excited about. If you click on links to these services we may receive a small commission, which helps support our work. 
Make Instant Discoveries in Your Family Tree Now
Imagine adding your family tree to a simple website and getting hundreds of new family history discoveries instantly. MyHeritage is offering 2 free weeks of access to their extensive collection of 18 billion historical records, as well as their matching technology that instantly connects you with new information about your ancestors. Sign up using the link below to find out what you can uncover about your family.
Access with a free account: You do not need a paid account with MyHeritage to use this feature (as of now). However, you will need a MyHeritage family site. To sign up for free, visit this page, scroll to the very bottom and click "sign up for free." We provide a how-to for finding and using the photo dater feature below. 
Access with a free trial: To get a free trial subscription which allows access to all of their records and additional features without cost for 2 weeks, click here. Then follow the step-by-step below. 
Access with a current paid subscription: Just log into your MyHeritage account and follow the instructions provided in this article.
When was this picture taken? It's in the AI
PhotoDater relies on artificial intelligence (AI) to evaluate clues in photos, including "clothing, hairstyles, facial hair, furniture, and other objects that are characteristic of a particular decade."
These are among the same clues family historians have always used to place a family photo in a date range. The problem with that manual method, however, is that it takes time and a good deal of research to figure out, for example, what years men were most likely to sport a goatee, or when women wore skirts with bustles or tops with puffed sleeves.
Sure, there are some extremely detailed resources out there that cover fashion, architecture, and hairstyles trends over the years, but not everyone has the time or the patience to seek them out.
The creators of PhotoDater trained the tool to recognize these specific clues using dated photographs found in open-source repositories like the Library of Congress. (MyHeritage has disclosed that it did not use images uploaded by its users for this process). Like other AI-powered programs, the algorithm behind PhotoDater stored this date-specific data and gradually learned to recognize these details in other images in order to provide an estimate of the photo's date.
How to Find PhotoDater in Your MyHeritage Site
To get started using PhotoDater, log into your MyHeritage account on a laptop or desktop or create an account (see instructions at the beginning of this guide).
18 Billion Genealogy Records Are Free for 2 Weeks
Get two full weeks of free access to more than 18 billion genealogy records right now. You'll also gain access to the MyHeritage discoveries tool that locates information about your ancestors automatically when you upload or create a tree. What will you discover about your family's past?
This photo feature is not yet available on mobile web browsers, in the MyHeritage app, or in the new Reimagine app, which Family History Daily recently tested out for you. 
Unlike some of the other amazing MyHeritage photo options, you won't find PhotoDater as an option in the "Photo" dropdown in the main menu yet either. However, your first step to use the tool is to open the "Photo" dropdown and select "My Photos."
This will take you to a gallery of all the photos you've uploaded to your MyHeritage family tree site. If you haven't yet added any photos, it's easy to upload them. Just click the orange "Upload" button, and either select image files from your computer or drag and drop them into the window.
The more images you have in your MyHeritage gallery, the more you can use PhotoDater to help you date them! And, remember, you can easily snap a picture of or scan old photos (or even negatives) you have at home with your phone or digital camera and then upload them. 
PhotoDater Has Some Limitations
Before you delve into the magical world of dating your old family photos, it's important to understand a few of the feature's limitations. First of all, not every pic is eligible to be dated. According to the MyHeritage blog, the tool can only estimate dates for images "that do not already have a date in the metadata, that include people, and that are actual photographs, not documents or gravestones."
So, for example, if you need help estimating the date of an old letter, or when a picture of an ancestral home was taken, the tool will not be able to help. Also, photographs that are scratched, torn, out of focus, or otherwise of poor quality may not work.
Tests conducted by MyHeritage concluded that the tool provides an accurate estimate in 60% of the photos it scans. In this case, "accurate" means an estimated date that is usually within five years of the actual year the photo was taken. 
Let's try it out on some old pictures!
If a photo in your gallery doesn't fall within any of the above limitations, the PhotoDater tool should automatically start to generate an estimate when you click and open the image.
Don't be alarmed if the estimate doesn't show up immediately. The first time you open a photo, it will take a few moments for the tool to do its work. When this dating tool does arrive at an estimated date for the old photo, though, you'll see it above the image, just below the title.
Clicking the "Estimated [Year]" box reveals even more detail about the estimated date PhotoDater produced.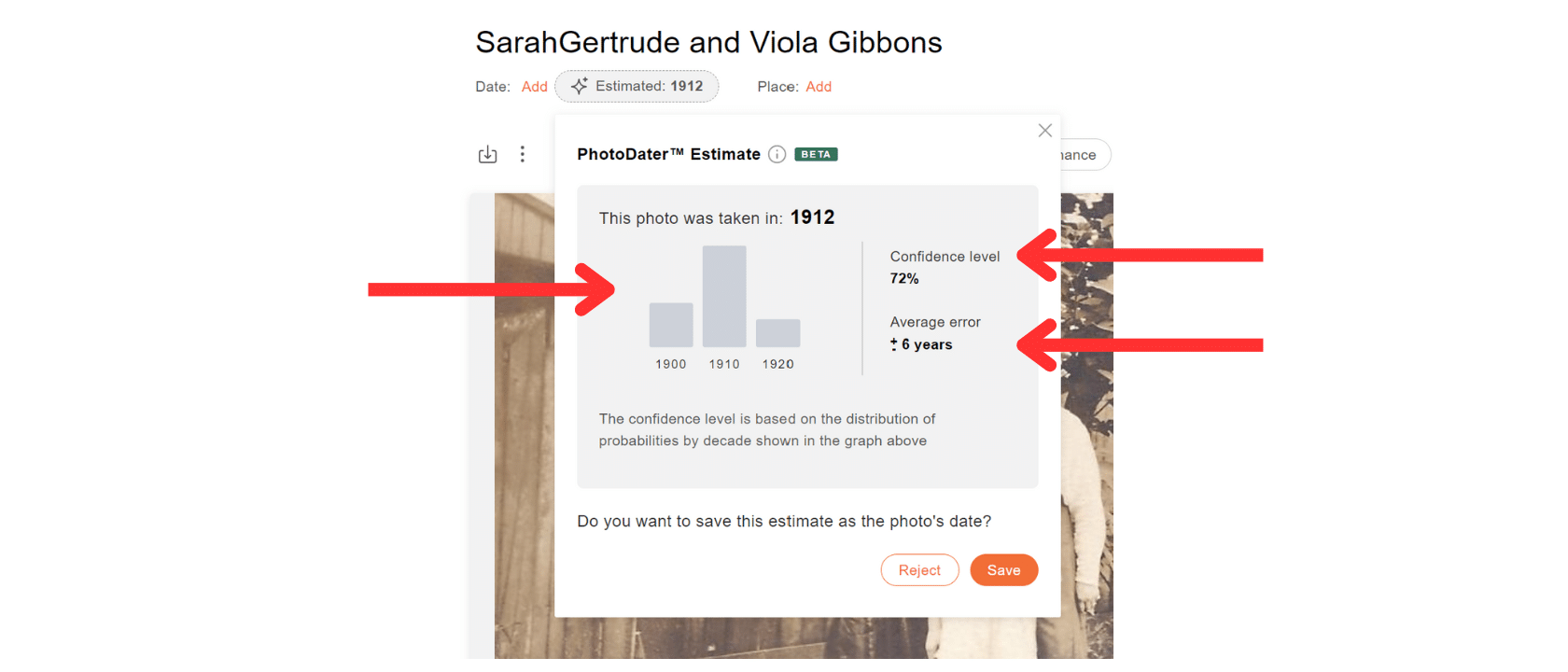 For this photo, the bar graph shows three decades in which the photo could have been taken: the 1900s, 1910s, or 1920s. The tool is most confident, though, that based on the clues in the image, the photo was taken in the 1910s. 
Additionally, the graphic indicates a 72% confidence level that the photograph was taken in 1912, with an average error range of six years. This means the image was most likely snapped between 1906 and 1918. 
Wondering how accurate it was in this case? Well, the notation on the back of this picture says it was taken in 1918, which is just within the 12-year range.
PhotoDater was even more accurate with another photo taken in 1945. The Estimate box (which doesn't include a bar graph in this instance) shows the accurate year (1945), with an 86% confidence rate and an average error range of five years. 
When you use PhotoDater to provide an estimated date for a photo in your MyHeritage gallery, the resulting response is not automatically saved to the image. However, if you're confident in the estimate, clicking the orange "Save" button will add the estimated date to the image's metadata. If you later find a more accurate date for the photo, you can always update this information.
Putting all the Photo Tools to Use
PhotoDater is just the latest photo-related tool MyHeritage has introduced since 2020. A few of these features — like the ability to animate a person's image, make them "speak," or place their likeness in a historical costume or setting — have been so innovative and revolutionary that they've "gone viral" outside of the genealogy community. 
The animation tool, as well as the repair, colorize, and enhance options, are conveniently available in the same window where you'll find the PhotoDater estimates. (To learn more about enhancing and colorizing images, check out Family History Daily's review of MyHeritage in Color and the Photo Enhancer tools here.) 
And don't worry; if you've already colorized, enhanced, animated, or repaired a photo in your MyHeritage, their newest tool can still perform its magic. It works just as well on newer, color photos as it does with older black-and-white images. According to MyHeritage, it will provide estimates for photos as early as 1860 and as recently as 1990.
More Ways to Estimate Dates of Old Photos
MyHeritage PhotoDater is an incredibly exciting tool, and like other technology driven by artificial intelligence, it will only get smarter and more accurate as the years go by. However, because it does currently have some limitations and can provide a wide estimated date range with a sometimes-low confidence level, it's best not to rely solely on it to accurately date your old family photographs.
MyHeritage recommends using this feature as a "valuable clue" to further your family history research, and we wholeheartedly second that suggestion. There are several other methods for estimating the date an image was taken, as well as determining who is in the photo, and where they were at the time.
Family History Daily's Bridget Sunderlin shared several of these ideas in her article "4 Simple Steps to Help You Decipher Old Family Photos," which you can read here.
For example, asking older family members about the photos or making an educated guess about the age of a person you've identified in the image can help you get closer to the "who, what, when, where, and why" answers you'd love to have for all the old photos in your collection. You can also derive hints from modes of transportation (horse and buggy? 1940 Oldsmobile Custom Cruiser?), commercial buildings, signs, posters, toys, and other non-human components included in an image.
There are also clues in the type of photograph you're examining. Photography and image development techniques have evolved exponentially since the first photographic image was taken in 1826, and since photography went mainstream in America in the 1880s. Knowing that the daguerreotypes, tintypes, and stereographs in your collection were most likely created prior the 1870s, when those methods were popular, can definitely help you with your date estimation. 
Using all the tools at your disposal, including all the fun features created by MyHeritage, will help you to leave a more detailed photographic history of your family tree for your own ancestors to enjoy … and appreciate!
Thanks to Patricia Hartley for this review.