Dad's College Letters – Part One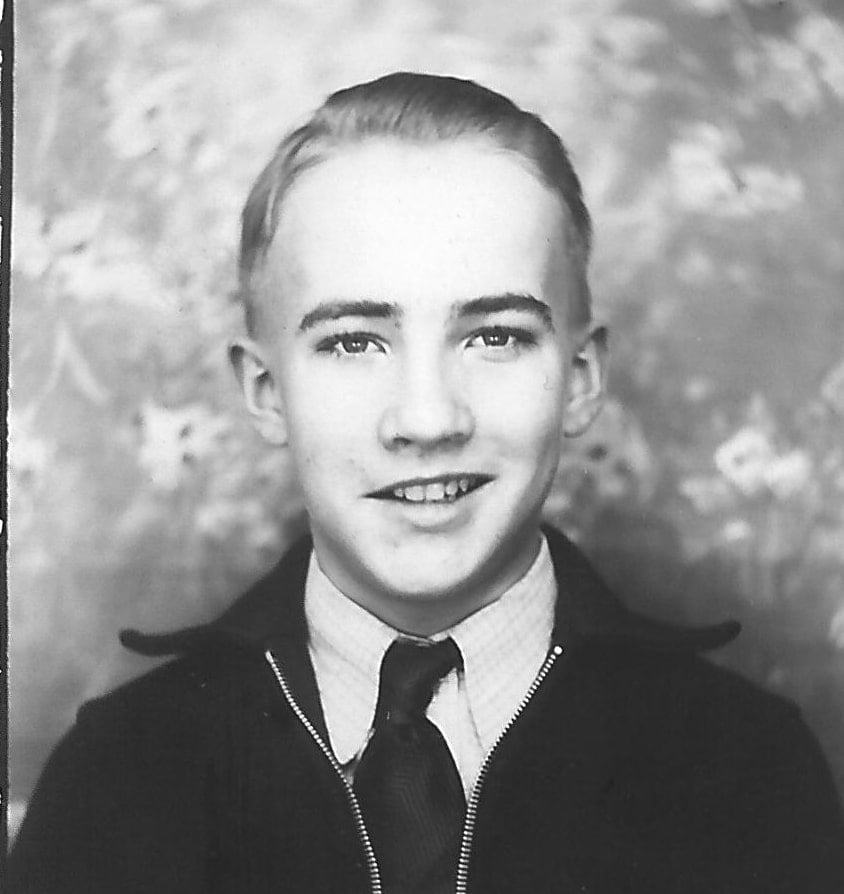 Find Dad's College Letters Part Two Here
My dad, Robert Milo Wallin, would have turned 90 this coming week.  He's been gone 20 years now—I had only 38 years with him on this earth…  His sense of humor was one of my favorite things about him.
Dad skipped a couple of grades in school, so he started college (University of Nebraska, ROTC scholarship) at age sixteen.  I have the letters he wrote home.  I can see from those letters that his sense of humor developed early.  Here are a few quotes:
On the subject of money—always high on a college kid's list, then as now:
"I should pay my rent and those shoes I bought in North Dakota are about shot, so I could sure use a little of the 'root of all evil'…"
And  this:   "Dad, you said to say how long before I needed money—but Mom wrote and said she was in the dough and she would heel me.  So if she gets rid of a lot of money in a hurry, you will know why."
During a scarlet fever epidemic:
"There's about all the room you want in the classrooms now.  Our accounting class looks like Lee's army after the Battle of Gettysburg."
On his personal contribution to the Cornhusker football program:
"Carl and Gomer just came in.  Gomer is considered the best freshman football prospect this year.  He's not too brilliant—his sister and I keep him in school.  She is a nurse and furnishes the money; I am merely the invisible force that keeps his English grades up.  He's improving, though; by the end of the semester I hope to have him where he can tell the difference between a noun and a verb."
On trying to do his civic duty:
"I am beset by worries.  The Bandbox Laundry went bankrupt, proprietor fled town, and the joint folded up—and folded two of my best shirts with it.  The shirts are over there, but nobody has a key, and they can't locate the proprietor.  I told the County Attorney that I would be more than happy to put a brick thru a window and walk in and unlock the door for him, but he declined my help."
Make Instant Discoveries in Your Family Tree Now
Imagine adding your family tree to a simple website and getting hundreds of new family history discoveries instantly. MyHeritage is offering 2 free weeks of access to their extensive collection of 7.7 billion historical records, as well as their matching technology that instantly connects you with new information about your ancestors. Sign up using the link below to find out what you can uncover about your family.
To be continued…
Susan Wallin Mosey is the administrator at an elder law firm in Aurora, Illinois. When she's not at work she likes to do genealogy for fun and profit. Storytelling is one of her favorite aspects of genealogy, as can be seen on her blog, Pages from the Ancestry Binders. Another special interest is Amish genealogy. Sue has been doing genealogy as a hobby for about 20 years and has been putting together ancestry binders for others since 2011. She is a member of the Association of Professional Genealogists and the National Genealogical Society. Sue lives in Yorkville, Illinois with her husband Gary. Her website can be found at www.ancestrybinders.com and she can be reached at swmosey@comcast.net.
Get Family History Daily's Articles by Email Each Week
Stay up to date on our newest articles by subscribing to our free weekly newsletter.