Dad's College Letters – Part Two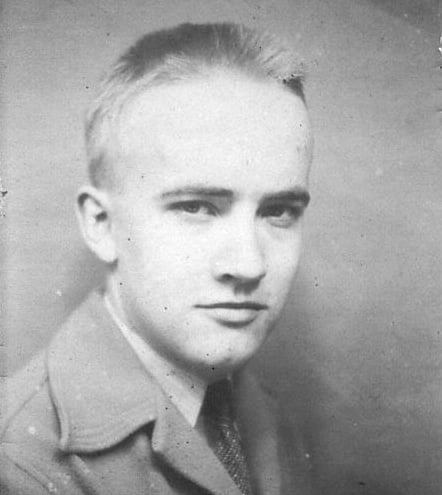 Find Dad's College Letters Part One Here
More gems from my father's letters home during college:
On being a role model:
"I was given the privilege of being made a voluntary Civil Defense Military Instructor, to teach Boy Scouts elements of mayhem and elementary & advanced treachery.  I get a kick out of the starry-eyed respect they have for me."
Medical advice for his mother:
By the way, Mom, what's the matter with your back?  Old rheumatiz got ya?  Maybe you should lose some weight.  If Mrs. Lambert [my landlady] was there she'd cure you—or kill you.  She has an electric massager that she can train on anybody that complains about a pain.  I'd just as soon have a nice gentle burst from a machine gun as be on the business end of that contraption."
And then there's the on-again, off-again story of Bob and Betty…
"Betty and I had a big fight today.  She started it, so I'm going to let her cool her heels for 3 or 4 days.  I can get 4-to-1 odds off of anybody in the house that she'll call up and apologize within 72 hours.  Boy, is she going to eat dirt then!"
"Betty has been very nice to me this fall, asks me to picnics, etc.  Sometimes I go and sometimes not.  I don't give a hoot for her, but she's a good cook, and who am I to turn down eats?"
"B. and I are all fixed up.  She was so extra nice to me last week that I decided she must want something.  So I asked her to the Military Ball (I have to go, you know), and that must have been it, since she is ornery as ever again now."
"I am taking Betty to the Military Ball, since that will put me in good stead with Col. Murphy, who is a good friend and employer of hers…  Besides, she's got more class than any other girl I know.  Not as pretty as Avis, though…  Also, Betty has a car."
Thanks for the grins, Dad!  I miss you!
Make Instant Discoveries in Your Family Tree Now
Imagine adding your family tree to a simple website and getting hundreds of new family history discoveries instantly. MyHeritage is offering 2 free weeks of access to their extensive collection of 7.7 billion historical records, as well as their matching technology that instantly connects you with new information about your ancestors. Sign up using the link below to find out what you can uncover about your family.
Susan Wallin Mosey is the administrator at an elder law firm in Aurora, Illinois. When she's not at work she likes to do genealogy for fun and profit. Storytelling is one of her favorite aspects of genealogy, as can be seen on her blog, Pages from the Ancestry Binders. Another special interest is Amish genealogy. Sue has been doing genealogy as a hobby for about 20 years and has been putting together ancestry binders for others since 2011. She is a member of the Association of Professional Genealogists and the National Genealogical Society. Sue lives in Yorkville, Illinois with her husband Gary. Her website can be found at www.ancestrybinders.com and she can be reached at swmosey@comcast.net.
Get Family History Daily's Articles by Email Each Week
Stay up to date on our newest articles by subscribing to our free weekly newsletter.