Sture Wallin, Soldier and Baseball Player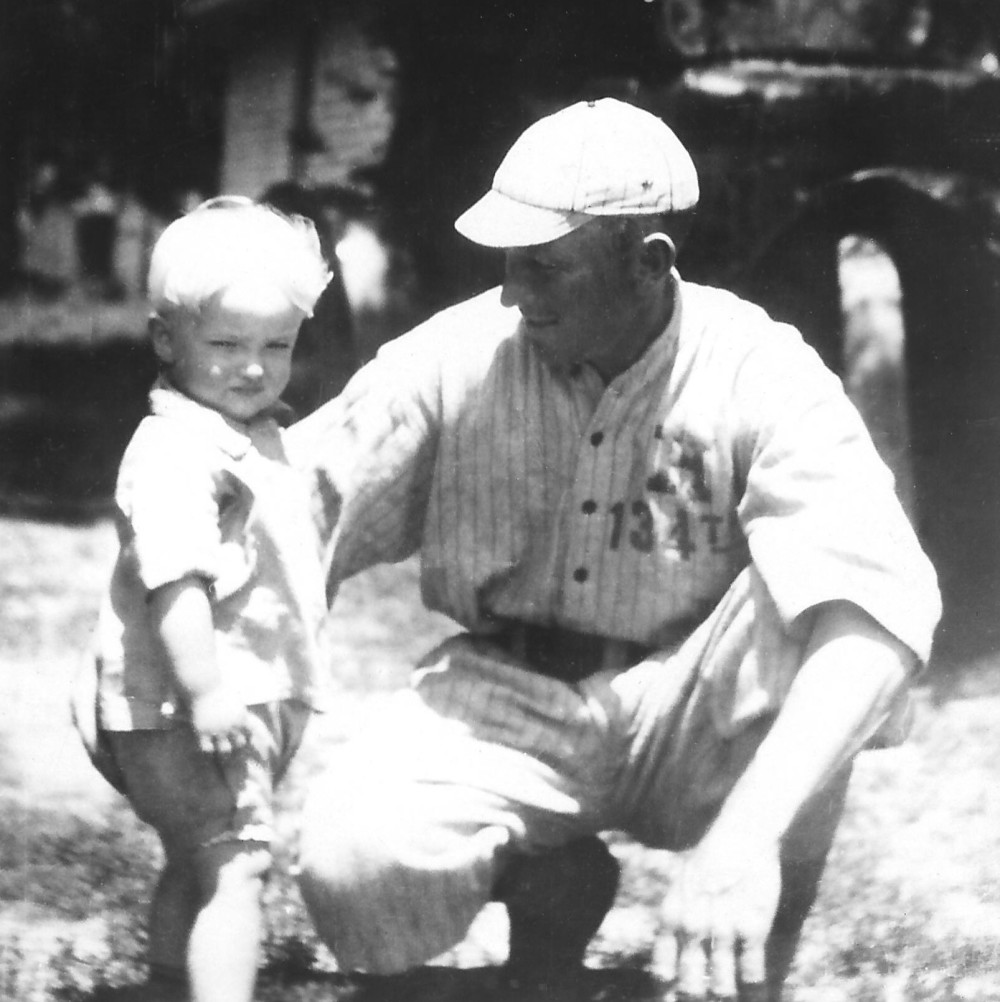 My grandfather, Sture Nels Wallin (1892-1979) was a Nebraska farm boy, son of Swedish immigrants.  But somewhere along the line he developed a love—and a talent—for baseball.  He was a left-handed pitcher and third baseman who played baseball while in the U.S. Army in Europe at the end of WWI—and later, after he returned home, in the county leagues of rural Nebraska.
This photo shows Grandpa and his firstborn son (my father) around 1925.  Years ago, my father, Robert Milo Wallin, wrote out some memories of Sture and his baseball career:
"Dad always played baseball, usually third base, and always he would hit cleanup (fourth).  There were county leagues in those days, and games were every Sunday afternoon…  He had played in the army as well, having been chosen to one of two teams out of the whole American army in France to travel to Italy and other countries for exhibition games after the war was over (1918-1919).  He was in fast company there, and I can remember him mentioning friends who were then in the Major Leagues in the 1920s.  He played baseball and fast pitch softball until 1936 that I can remember, which would have made him 44 years old."
I can recall Dad saying that after Grandpa Sture came home from the war, he had the opportunity to try out for two professional baseball teams—one of them the St. Louis Cardinals, and I don't remember the other one.  But by then Grandpa had been courting Grandma for seven years, and it was time for him to choose between her and baseball—and so he married his sweetheart and settled down on a Nebraska farm.
But he never gave up baseball…  My Aunt Janet, the only one of his children still living, told me recently that she remembers going to her father's baseball games as a small child in the 1930s, at the baseball field in Chapman, Nebraska, which was their home field.  She said she paid little attention to the games, though, preferring to wander around the stands and allow the spectators to make a fuss over her and buy her treats.
One of Grandpa's uniforms survived all these years, and today it is a treasured possession of one of his grandsons, my cousin Brian.
Susan Wallin Mosey is the administrator at an elder law firm in Aurora, Illinois. When she's not at work she likes to do genealogy for fun and profit. Storytelling is one of her favorite aspects of genealogy, as can be seen on her blog, Pages from the Ancestry Binders. Another special interest is Amish genealogy. Sue has been doing genealogy as a hobby for about 20 years and has been putting together ancestry binders for others since 2011. She is a member of the Association of Professional Genealogists and the National Genealogical Society. Sue lives in Yorkville, Illinois with her husband Gary. Her website can be found at www.ancestrybinders.com and she can be reached at swmosey@comcast.net.
Get Family History Daily's Articles by Email Each Week
Stay up to date on our newest articles by subscribing to our free weekly newsletter.