Four Reasons Not to Write Down Your Life Story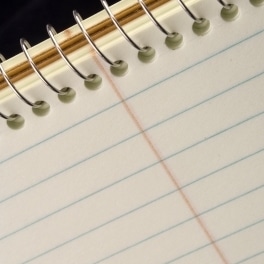 Most of my father's life story is lost forever.  I always meant to write it down, and he always said he would do it—but when we finally made time to do it together, he died not long after we started.  I would give a king's ransom to know more details about his life before we kids came along.
I've heard lots of reasons for not writing down your life story…
1.  "I don't know what to write about."
A good list of questions solves that problem.  Those kind of lists are all over the internet and in books at the bookstore.  I have one which I give to clients and family members.  If a person starts with a good list, then it's as simple as this:  (a) write down your thoughts about each question that interests you; (b) skip the ones that don't; (c) throw in anything else that you think of along the way; and (d) the job is done!
2.  "I'm not a very good writer/speller."
That's like saying, "I'm not a very good mechanic, so I'm not going to drive a car."  The fact is, we get help with the things we're not good at.  One of my favorite things is editing.  That means taking someone else's rough thoughts and "cleaning them up" and "making them pretty."  Everyone knows someone (or can hire someone) who is good at that.   But if you don't, write down your story anyway!  A rough diamond is much better than no diamond.
3.  "I never did anything interesting, so it would be boring."
My mother's life consisted of growing up on a farm, getting married, and being a housewife for the rest of her life.  My husband's mother's life was the same.  But when people who love them read the life stories that I helped them write, those stories are more precious than gold.  Details that may seem boring to the writer, are fascinating to us who didn't live in those times.  And so often, the better we understand our parents and grandparents, the more we love them.
4.  "I'm not a very good typist."
In the computer era, good typists are a dime a dozen.  Every child can type these days.  If you can write, someone else can type!  So write down your story, or dictate it to someone, or type it if you can—but don't let it be forever lost.
So please, grandmas and grandpas, mothers and fathers, write out your memories for us!  It doesn't have to be perfect or professional—just do the best you can.  We want to know what has made you the person you are.  We want to see the world as you saw it, before we were born.  We want to walk a mile in your shoes.  We don't want these stories to die with you.  Share your lives with us!  We want you to.
Make Instant Discoveries in Your Family Tree Now
Imagine adding your family tree to a simple website and getting hundreds of new family history discoveries instantly. MyHeritage is offering 2 free weeks of access to their extensive collection of 7.7 billion historical records, as well as their matching technology that instantly connects you with new information about your ancestors. Sign up using the link below to find out what you can uncover about your family.
Susan Wallin Mosey is the administrator at an elder law firm in Aurora, Illinois. When she's not at work she likes to do genealogy for fun and profit. Storytelling is one of her favorite aspects of genealogy, as can be seen on her blog, Pages from the Ancestry Binders. Another special interest is Amish genealogy. Sue has been doing genealogy as a hobby for about 20 years and has been putting together ancestry binders for others since 2011. She is a member of the Association of Professional Genealogists and the National Genealogical Society. Sue lives in Yorkville, Illinois with her husband Gary. Her website can be found at www.ancestrybinders.com and she can be reached at swmosey@comcast.net.