The 1950 United States Federal Census is set to be released by the National Archives and Records Administration on April 1, 2022. Use this guide to discover how to find and use these fascinating records in your family history research.
Nearly every family historian researching in the United States will agree that the decennial census records are a starting point for pretty much every genealogical quest. And why wouldn't they be? Every ten years since 1790, census-takers have diligently documented where our ancestors lived and who lived with them.
From 1850 on, they gathered additional details, including the names and ages of the individuals within each household, their occupations and birthplaces, and much, much more. Because of this, census records serve as benchmarks, pinpointing particular ancestors' locations and family status in the timeline of their lives.
The latest one, the 1940 census, was released in 2012.  Since that time, we've had the opportunity to comb through that census hundreds (or maybe thousands) of times and learn all we can about our family members who were enumerated therein. The 1940 census gave us a glimpse into the lives of our ancestors, who were at the time mere months away from the life-changing events of World War II.
Make Instant Discoveries in Your Family Tree Now
Imagine adding your family tree to a simple website and getting hundreds of new family history discoveries instantly. MyHeritage is offering 2 free weeks of access to their extensive collection of 18 billion historical records, as well as their matching technology that instantly connects you with new information about your ancestors. Sign up using the link below to find out what you can uncover about your family.
The 1950 census, on the other hand, will offer a post-war snapshot of our families and their communities and is expected to be even more accurate and complete than previous enumerations. However, there are few things you'll want to know so that you're adequately prepared when the big day arrives. 
First, here's what you'll learn from the 1950 census
Researchers have become accustomed to the population schedule of each new census (since the 1850 census, at least) containing at least a little bit more information, or at least a few new or reworked questions, than the previous version. Unfortunately, due to enumerator labor costs and other factors, officials weren't able to expand upon or even replicate the scope of the 1940 census in 1950.
The 1950 census included more sample questions
However, while the number of questions asked of all persons actually decreased from 1940 to 1950, one section of the census actually increased: The so-called "sample" questions.
You may recall that the bottom of each page of the 1940 census includes two additional lines offering additional details about two of the individuals enumerated on that particular page. The 1950 census expanded this section to include six individuals, or 20% of the folks listed on that 30-person page. Every fifth person on the page answered these extra questions. This means there's a better chance your family members might be included in this sampling.
According to the U.S. Census Bureau, the 20 questions asked in the 1950 census population schedule were:
Name of street, avenue or road where the household is located

Home or apartment number

Serial number of dwelling unit

Is this house on a farm (or ranch)?

If no, is this house on a place of three or more acres?

Corresponding agriculture questionnaire number

Name

Relationship to head

Race

Sex

How old was this person on his last birthday?

Is this person now married, widowed, divorced, separated, or never married?

What State or country was the person born in?

If foreign born, is the person naturalized?
Persons 14 years of age and over were also asked:
What was this person doing most of last week – working, keeping house, or something else? 

If the person was "keeping house" or "something else" did the person do any work at all last week, not counting work around the house? (Including work-for-pay, in his own business, working on a farm or unpaid family work)

If the person answered "no" was he looking for work?

If the person answered "no" even if he didn't work last week, does he have a job or business?

If the person was working, how many hours did he or she work in the last week?

What kind of work does the person do? What kind of business or industry is the person in? Class of worker the person is (private or government employment, own their own business, or working without pay)
If a person was included in the sample section, they also answered most or all of the following supplemental questions:
For all ages:
18 Billion Genealogy Records Are Free for 2 Weeks
Get two full weeks of free access to more than 18 billion genealogy records right now. You'll also gain access to the MyHeritage discoveries tool that locates information about your ancestors automatically when you upload or create a tree. What will you discover about your family's past?
Was the person living in the same house a year ago?

If no,, was the person living on a farm a year ago?

If no,, was the person living in the same county a year ago?

If no…

What county (or nearest place) was he living in a year ago?

What state or foreign country was he living in a year ago?

What country were the person's mother and father born in?

What is the highest grade of school that the person has attended?

Did the person finish this grade?

Has the person attended school since February 1st?
For persons 14 years and older:
If the person is looking for work, how many weeks has he been looking for work?

Last year, how many weeks did this person not work at all, not counting work around the house?

Last year, how much money did the person earn working as an employee for wages or salary?

Last year, how much money did the person earn working at his own business, professional occupation, or farm?

Last year, how much money did the person receive from interest, dividends, veteran's allowances, pensions, rents, or other income (aside from earnings)?

If this person is the head of the household: last year, how much money did his relatives in this household earn working for wages or salary?

If this person is the head of the household: last year, how much money did the person earn working at his own business, professional occupation, or farm?

If this person is the head of the household: last year, how much money did the person receive from interest, dividends, veteran's allowances, pensions, rents, or other income (aside from earnings)?

If male: did he ever serve in the U.S. Armed Forces during World War II, World War I, or any other time, including present service

If the person worked in the last year, is there any entry in columns 20a, 20b, or 20c?

What kind of work does this person do in his job? What kind of business or industry does this person work in? Class of worker

If ever married, has this person been married before?

If married, widowed, divorced, or separated, how many years since this event occurred?

If female and ever married, how many children has she ever borne, not counting stillbirths?
As you may have noticed from this list, the sample questions contain information that was asked of all individuals age 14 and older in 1940, such as income, previous residence, and highest grade of school attended. What a wealth of data you'll gain if one (or more) of your ancestors is included in the sample question section!
And here's another thing to wish for: If your family member was the sixth person in the sample question section (line 29 in the enumeration listing), you'll learn even more about them, as that person was asked a few additional questions, as highlighted below!
A blank 1950 census form:
This census also improved coverage
Many of us have ancestors who seem to have disappeared from the face of the earth in at least one census. For example, even though my grandmother should have been living with her parents on January 1, 1920 (the enumeration date of the 1920 census), she's not listed with them, and is nowhere to be found in the county — trust me, I've searched line by line.
For the 1950 census, officials put into place procedures to improve coverage. As a result, all but one percent of the population was enumerated from April 1 to June 30, 1950. Enumerators received more extensive training, received a map of their enumeration districts, and were assigned crew leaders to help them handle "problem cases." Census officials made a concerted effort to identify American citizens living abroad, including those in the military, as well as transients, travelers, and tourists.
Lastly, results were compared to rates of population change to vital and immigration statistics to identify any anomalies, and officials conducted a post-enumeration survey by re-interviewing a sample of 22,000 households. These procedures give me hope that I'll find my grandmother and her family in the census exactly where they're supposed to be!
There is so much more to be discovered
Although family historians will immediately focus on the population schedule — the pages where our family's names and personal information are enumerated — there are other components of the 1950 census that offer additional fascinating and helpful facts about what life was like for our ancestors post-World War II.
The National Archives has already summarized and made available summarized data from various 1950 non-population schedules.  For example, the 1950 Census of Housing reports provide general characteristics of an area's dwellings, including details like the number of homes with hot and cold-piped running water inside their structure and how many people with flush toilets had to share them with other families. Here's a snippet of one page of the report for 10 cities in South Dakota in 1950: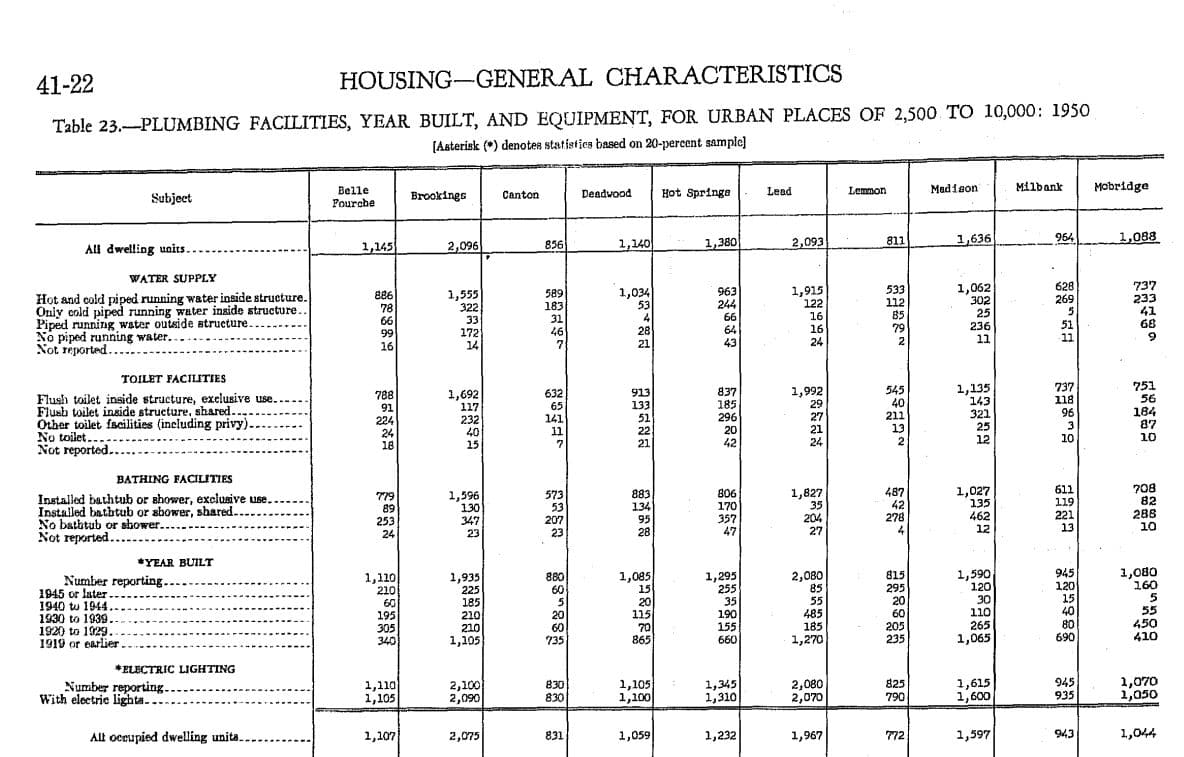 Other reports from the various 1950 census agricultural schedules offer information on an area's farms, including details about irrigation, drainage, crop specialties, and more. Links to all available reports from 1950 non-population schedules are available on the National Archives website.
Unfortunately, the original questionnaires containing our ancestors' specific agricultural and housing responses have been destroyed and were not imaged. But genealogists can glean quite a bit of information about the conditions in the states and counties in which our families lived and farmed from these detailed reports.
After all, putting our family members' information into this context provides a much richer illustration of their lives than simple dates and facts can offer — and telling their stories is one of the best parts of being a genealogist!
How can I access the 1950 census, and when? 
While we would all love to log on to our computers at 12 a.m. on Friday, April 1, 2022 and find our family members in seconds using a site's search tool, that's probably not going to be your experience. Indexing the census to make it searchable takes months of volunteer work.
But, there's a surprise, for first time you'll want to visit the National Archives before any of the mainstream genealogy sites for the fastest search access to these census records. And some of that access will be almost immediate.
According to a December 2021 notice, the National Archives will make the 1950 census — more than 165 terabytes of data — available for bulk download on April 1. Sites like Ancestry and FamilySearch are expected to upload this data on April 1 and make it available to users as soon as possible. If the process works like it did in 2012 with the 1940 census, these sites will initially present the data as "image-only" and not searchable. As mentioned, indexing the entire census to make it searchable by name will take time and the efforts of armies of volunteers and/or staff members.
Interestingly, though, the National Archives has also created a "new, dedicated 1950 Census website" that should become available on April 1, 2022 that will have search capabilities. The site "will include a name search function powered by an Artificial Intelligence/Machine Learning (AI/ML) and Optical Character Recognition (OCR) technology tool." This means that if a page of the census is legible (and we've all seen those that are anything but), this technology should be able to transcribe names that users can then find through the search engine — immediately, without having to wait for a full indexing.
This is an extremally exciting advancement and could change the game when it comes to gathering information from this and future census releases! Users will be able to submit corrections to help the Archives update this first draft, too, which will in turn improve the OCR tool's accuracy. We can't wait to see how it works! Ancestry also intends to employ similar technology to the 1950 census records on their own site.
Enumeration districts will be key
Of course, there will be errors due to misspellings, hard-to-decipher handwriting, smudged pages, and probably even issues with the AI/ML and OCR transcriptions. So whether you access the 1950 census on the new National Archives website (the URL has not yet been announced) or on a site like FamilySearch or Ancestry, you'll have the best chance of finding your family if you're familiar with enumeration districts.
Beginning with the 1880 census, each official census-taker has been assigned one geographic area, or enumeration district (ED), to canvas. As a result, EDs are integral to the organization of the census pages. To find your relatives, you'll first locate the census records for the state in which they lived, then the county, and then the ED, which is identified in the heading of each census page. This helps to drastically narrow down the number of pages you'll need to search to locate your target person or family.
So how do you know which ED to search? Since the 1930 census, each ED within a state has been assigned a two-part number; the first part of the number identifies the county, with the second part of the number identifying the district within the county. Here's the ED from the 1940 census page where my grandparents are listed:
Pinpointing the correct ED for your family members is easier if you have a street name or address, or at least an idea of which area of a county or town they lived. This information can be procured from a variety of records, including city directories, old letters, obituaries and newspaper notices, or even their address in the 1940 census. 
Genealogist Stephen P. Morse, PhD created a phenomenal resource, the One-Step website, to aid in identifying EDs in the 1940 and 1950 census records. Using Morse's drop-down options, you simply select a state, county, and city to access maps from the National Archives and/or maps Morse created. EDs are clearly outlined and numbered on the maps, so if you are familiar with the area, you should be able to identify the ED number for your family.
For example, I know my grandparents lived on West Tuscaloosa Street in Florence, Lauderdale County, Alabama in 1950. To find their ED, I chose the appropriate drop-downs on the One-Step website: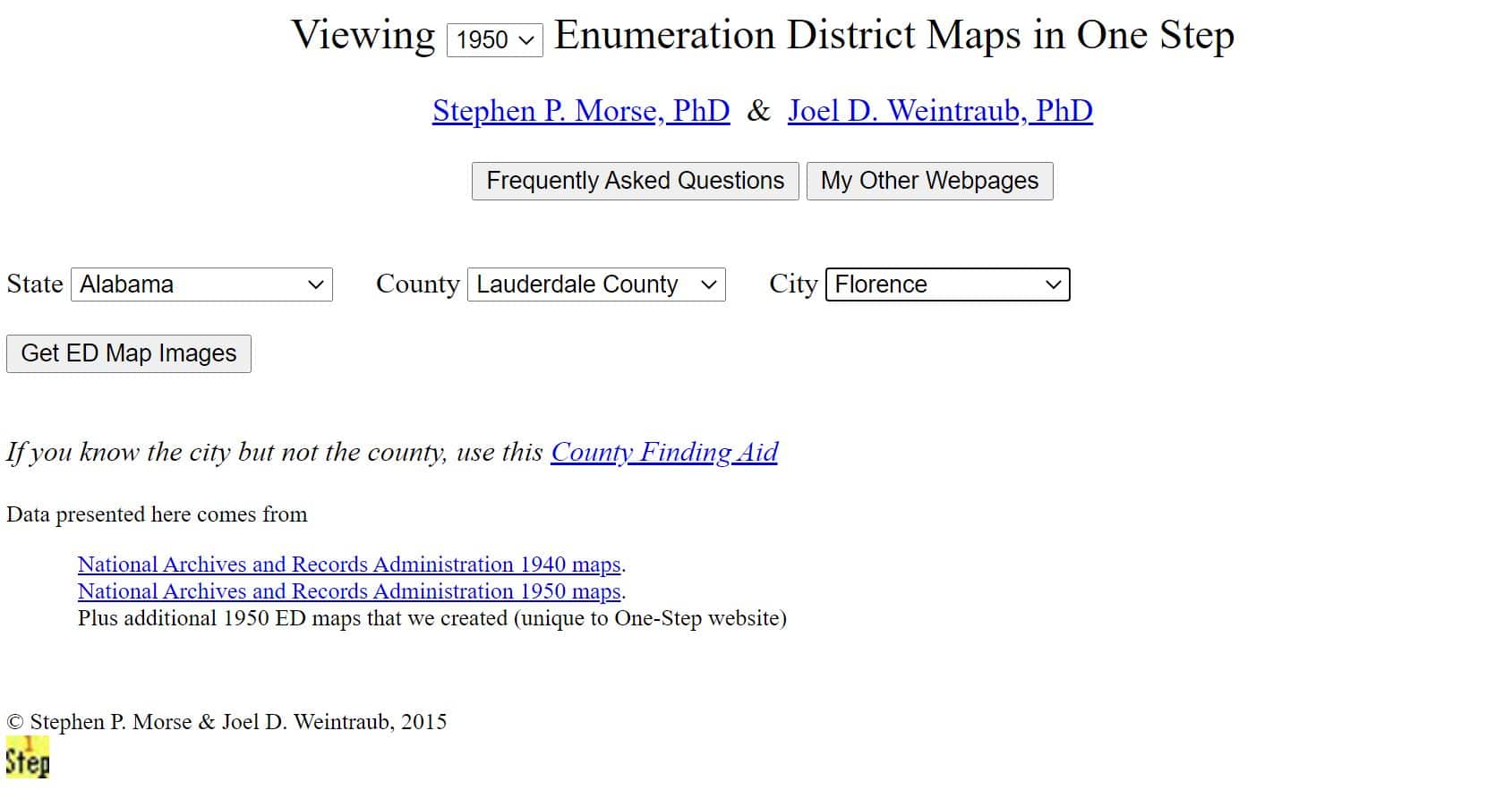 Instantly I was offered a couple of map options, and I chose the National Archives viewer. Using the viewer's tools, I zoomed in on the area where my grandparents' home was located: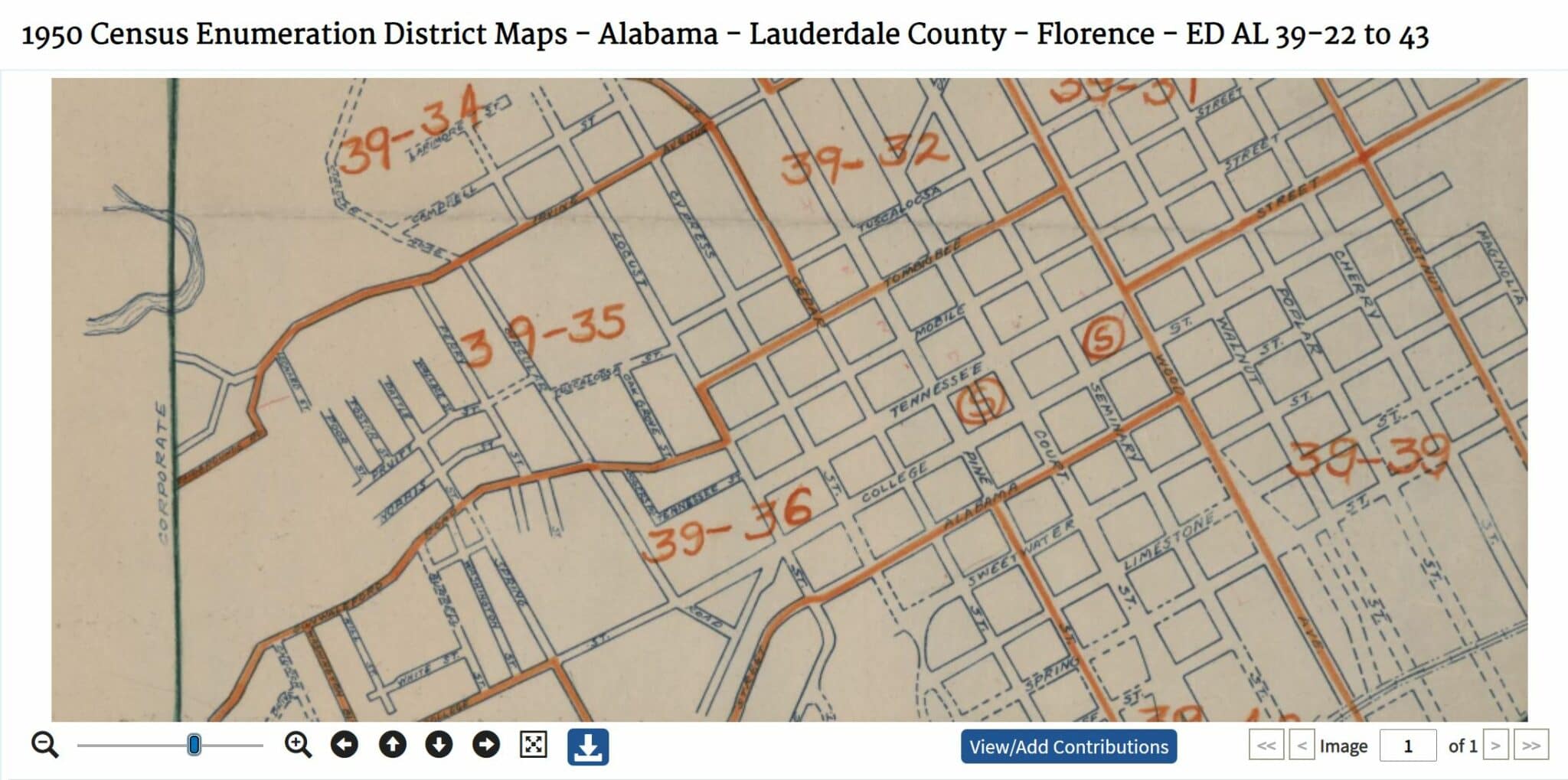 Tuscaloosa Street actually spans several EDs, but since I know the cross streets for their address (a detail that's usually included in city directories), I can see that their home was in ED 39-35 — 39 being the county's designation and 35 the census-taker's assigned area. On April 1, I should be able to find ED 39-35 fairly easily on any of the sites displaying the 1950 census images.
You may be wondering if the One-Step tool would help you identify EDs for rural areas — and the answer is YES! If your ancestor lived outside the city limits, you'll just select the appropriate area on the drop-down screen.
Here's the map for Lauderdale County, for example:
Once you're armed with your relative's enumeration district information, locating them in the pages of the 1950 census will be so much easier than searching for them line by line! 
What's Next? Keep an eye on the National Archives 1950 census page for a countdown to release, educational videos, blank forms you can study now and more. Also check out Family History Daily's census section and guide to every U.S. census by year to educate yourself on best practices and uncover tips for making the most of census records.
Thank you to Patricia Hartley for creating this guide. Patricia has been researching family history for over 30 years and has an M.A. in Public Relations/Mass Communications from Kent State University.
Image at top: "1950 Census Being Tabulated." National Archives. ca. 1950.