Genealogy reference books have long been a valuable part of family history research. Providing help and how-to on a huge range of topics, the best selections will take any genealogist on a journey of discovery.
But with an ever-growing assortment of online reference information for family historians it is easy to overlook the many fascinating and well researched genealogy books on the market today. So, we've done our research and put together a list of the some of the most interesting reads for family historians that we could uncover.
Many of these aids have been written to provide valuable insider information from top experts and seasoned pros: helping both beginner and advanced genealogists take their research to a new level. From books that help us make sense of the advanced technology behind online research, to those that provide tips for digging through dusty old records across the sea, these selections have it all.
Whether you love to curl up with old-fashioned paper and ink, or prefer the convenience of an ebook, you won't want to miss these fascinating guides.
Make Instant Discoveries in Your Family Tree Now
Imagine adding your family tree to a simple website and getting hundreds of new family history discoveries instantly. MyHeritage is offering 2 free weeks of access to their extensive collection of 18 billion historical records, as well as their matching technology that instantly connects you with new information about your ancestors. Sign up using the link below to find out what you can uncover about your family.
We may earn money to support our work when you choose to buy books linked to from this page. 
7 Fascinating Genealogy Books You Don't Want to Miss
Published in August, 2013, this genealogy book is the newest of the bunch. Author George G. Morgan teaches classes in genealogy librarianship for the National Institute for Genealogical Studies at the University of Toronto, is the author of How to Do Everything: Genealogy and the co-host of the popular genealogy show The Genealogy Guys Podcast. Advanced Genealogy Research Techniques covers a variety of family history software programs, modern tools, social networking and DNA advances to help to uncover and organize your family history.
This book is the companion guide to the hit show Who Do You Think You Are? that premiered on NBC and is now being aired on TLC. Written by renowned genealogist Megan Smolenyak, it is designed to help beginning family historians on their journey to uncover their roots. Step-by-step instructions on a wide range of topics, from old photos to online resources, make this book a great starting point for those new to genealogy.  Also check out the Who Do You Think You Are? Genealogy Encyclopedia.
18 Billion Genealogy Records Are Free for 2 Weeks
Get two full weeks of free access to more than 18 billion genealogy records right now. You'll also gain access to the MyHeritage discoveries tool that locates information about your ancestors automatically when you upload or create a tree. What will you discover about your family's past?
Published in 2011, this book will help you "use the web to trace your roots, share your history and create an online family tree."  Looking for help understanding the census, choosing secure ways to share your family tree, or discover new information using online forums and databases? Targeted toward beginning genealogists, this book covers it all. Expert genealogist Kimberly Powell helps you navigate the confusing world of online genealogy, including a good deal of information on uncovering free family history resources.
Just the title of this book will get most family historians excited. Many of us have wonderful collections of old family photos but, aside from tacking them on to members of our family tree (if we know who the people in the photos are), we have no idea how to uncover their real value–the stories behind the images. This new genealogy book from internationally recognized photo identification expert Maureen Taylor will help you do just that.
Whether you're looking for help cataloging and digitizing old family photos and heirlooms, or need tips on how to preserve valuable family treasures for generations to come, this book will walk you through it step-by-step.  Learn how to archive images, memorabilia and genealogy records with genealogist and writer Denise Levenick.
Rather than help you take a journey of discovery into your own family's past, this new book from historian François Weil will help you understand the "pursuit of self-knowledge and status through kinship ties" that have long driven America's love of genealogical research. "Family Trees provides a revealing window into four centuries of cultural transformation. A sweeping and eloquent account of how a present-minded, future-facing people look to their personal past to understand who they truly are." (Steven Mintz, Author of Huck's Raft: A History Of American Childhood)
Simple is stupendous. This handy book promises "quick facts and timelines of American History to help understand your ancestors." With a breakdown of major political, social and military events from each period of American history, as well as information on corresponding census dates and immigration trends, this smart guide will help you get a handle on history and provide a frame of reference for each of the ancestors you're researching.
Special Interest Genealogy Books You May Also Want to Check Out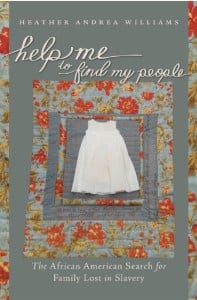 Image: "African American woman, half-length portrait, facing left, reading book" bet 1890-1920. Library of Congress
Originally published in Oct 2013, updated March 2018