I have two projects right now. Well, I have a lot more than 2, but these are on the top of the literal paper stack. The first are my son's applications to high school. It's a huge undertaking; one I frankly wasn't prepared for. We live in a large city, one with many, many options for education. That's both good and bad. We've scheduled tours, testing, shadow days, auditions, you name it. And it only makes me wonder how much crazier this will be in 4 more years when he's ready for college (not to mention the 2 after him)?!
Directly under the 2013 High School applications is my grandmother's (Holly Guthrie's) 1930 High School memory book. Project #2 is identifying her high school mates for the Unclaimed Ancestor blog. Holly was the valedictorian of Mullin High School in Mills County, Texas in 1930. And to my never-ending delight she kept a memory book. Nearly every page is full of photos, newspaper clippings, notes from friends, complete with a best friend and a high school sweetheart. It is truly priceless and contains photos that I'm sure other families will be thrilled to have as well. I discovered it, like all great finds, accidentally.
Make Instant Discoveries in Your Family Tree Now
Imagine adding your family tree to a simple website and getting hundreds of new family history discoveries instantly. MyHeritage is offering 2 free weeks of access to their extensive collection of 9 billion historical records, as well as their matching technology that instantly connects you with new information about your ancestors. Sign up using the link below to find out what you can uncover about your family.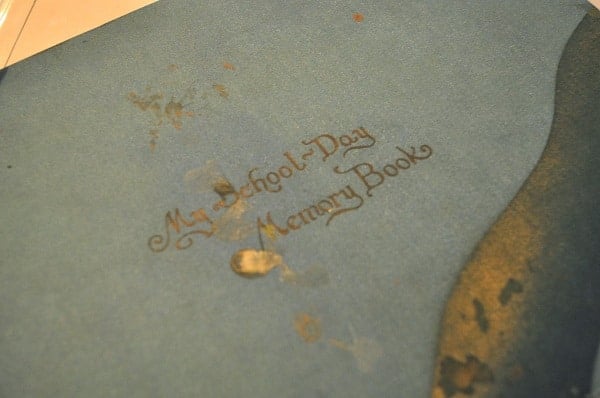 My mother and I were cleaning out my grandfather's house after his death. Holly had died 6 years earlier, but after 40+ years of marriage you don't throw anything away! So, with wild abandon, mom and I were tossing things to the wind. Before you judge me too harshly, keep in mind that as a young adult of the depression my grandfather loathed to get rid of anything. Everything might be used someday! Literally 3 gallon-sized bags of old rubber bands, stacks and stacks of magazines he was never going to read; the man was on the verge of hoarding.
In my grandmother's less cluttered area was the carefully protected memory book; pages falling out but otherwise in great shape. I find myself constantly re-examining this book. Every time I find a new clue about the kind of fun-loving yet studious 18 year old my grandmother was. I may have more than the normal amount of mom trepidation on how to help prepare my 14 year old for a more adult world. Holly's memories help me remember how important these years are for growing, for living, for experiencing all that non-mom stuff that helps a teen become an adult.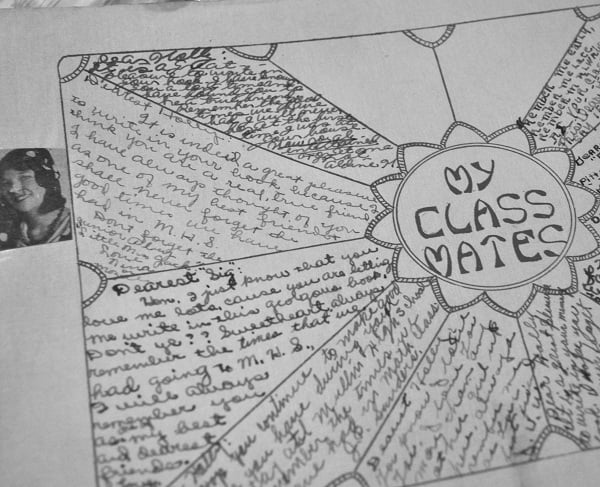 And as the stress of applying to and paying for college will begin soon enough, it helps to remember that Holly's parents were farmers with little more than an eighth grade education in what is still considered the middle-of-nowhere Texas. Yet they managed to send all 11 of their children to college. In the meantime, I will settle for my son having half as much fun as his great-grandmother. (maybe minus the high school sweetheart.)
Jodi Bash is a genealogist living in Houston, Texas with her husband and three children. She is founder of Family at Your Fingertips and is passionate about finding creative and tangible ways to connect with family history. She runs two blogs: Unclaimed Ancestors is an effort to connect old photos with descendants, and a way to scratch the ever-present research bug! A more personal blog at Family at Your Fingertips explores family heirlooms and the love of history. Jodi has been researching family history for over 15 years, and is a member of the Association of Professional Genealogists. She is the Director of Communication for Covenant Church in Houston, holds a B.A. in History and English from the University of Texas at Austin, a Masters in American History from the University of Houston, and an M.B.A. from Rice University. You can reach Jodi at [email protected] and follow her on twitter via @famatfingertips.