The End at the Inn: My Griner Ancestors and the Mysterious Death of Merriwether Lewis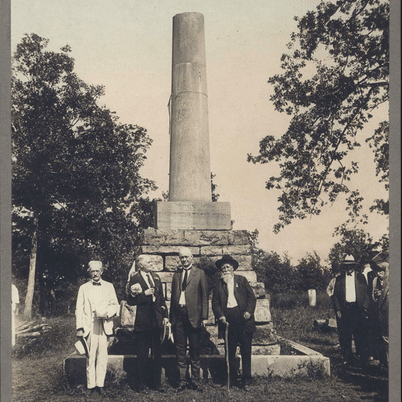 Robert Evans Griner (1767_1827) eloped with Priscilla Knight (1774-1848).  They migrated to what they thought was north of Duck River near Hickman County Tennessee that in those days was the border of lands of the Native American Chickasaw Nation, and there they built a cabin.  The United States Army troops advised them that they were in violation of the treaty and had to move.  They destroyed their cabin in Maury County Tennessee, and on the advice of the troops they moved to the well traveled Natchez Trace a post road from Nashville to Natchez.  Robert constructed an inn, "Grinder's Stand", about 1800.  My 3rd Great Grand Uncle had a place for travelers and the local Native Americans to buy spirits, food and lodging.  Livestock and slaves lodged in the other buildings on the frontier compound.
The Robert Evans Griner family prospered at the Griner's Stand.  Their family, servants and slaves grew as they operated the well-visited inn about seventy miles from Nashville.  In October 1809, Meriwether Lewis, Captain of the famed Lewis and Clark expedition, Governor of the Louisiana Territory, as well as, a private secretary to President Thomas Jefferson rode alone into the environs of "Grinders Stand" on his way to Washington City to finish his memoirs of the expedition. Historians say that the thirty-eight year old Lewis favored his mother in being attractive, intelligent and benevolent.  On the contrary his traits exhibited from his father were of extreme melancholia that subjected him to extended moods of deep depression.  That is one reason why President Jefferson sent his extraordinary private secretary on the expedition to the great Northwest.
That October evening the world changed for the world renowned Meriwether Lewis.  Historians agree from interviews that all that day he was weighted with an intense melancholia.  His traveling companion among others was Mr. Neely, an Indian Agent testified to this.  Lewis had insisted that he be allowed to go ahead for some miles and then the other members of the party could follow.  Mr. Neely feared for the safety of Lewis in that there were people on the way who would harm his person.  But Lewis persevered  and proceeded ahead over the warnings of danger anyway.  However, his Indian guide and Spanish body servant followed not too far behind.
As Lewis arrived at the rude backwoods inn Priscilla Grinder and her children were there alone as her husband was hunting.  She thought she could not give shelter to Lewis because her husband was not there.  Lewis persuaded her to allow he and his approaching party to occupy a detached cabin and she would not be bothered.  Mrs. Griner heard firing about three o'clock in the morning.  She heard groaning outside the cabins hearing the words, "It's hard to die."  She could hear the sounds of a gourd scraping the water bucket.  She was terrified.  She did not dare go out until broad daylight to see what had happened.  By this time her husband had gotten home and the mail rider, Robert Smith, and they made a search of the grounds and found the body of Meriwether Lewis lying under a tree near the house.  It seemed that there was a bullet that passed through his chin and out the side of his skull.  Additionally, there was no trace of his servant, scout, horses or personal possessions.  But another theory was explored, that Griner had murdered him.  Griner was arrested, tried and found not guilty at an inquest in Savannah, Tennessee.
It is said that Lewis was a very large man and a carpenter made a large casket from a Chestnut Oak.  From an article by Col. Robert Melvin Cooper, courtesy of the Davidson Historical Society, it states that special nails had to be forged because of the thickness by Robert Cooper and his brother.  Stones were placed to mark the place of burial of Meriwether Lewis.  In 1848, the Tennessee Legislature placed a monument over his grave designed as a broken shaft.  The special forged nails, a piece of uniform, and a skull with a hole through it identified the grave almost lost to time and memory.
Image: Meriwether Lewis National Monument on the Natchez Trace Parkway | Tennessee State Library and Archives
Elmo Len Holmes is a native of Dyer County, West Tennessee--now residing in Sugar Tree, Decatur County, Tennessee. He enjoys contributing to the local newspaper where he writes a weekly genealogy column and gives genealogy workshops. Elmo is an active genealogist, historian, author and churchman, and a graduate of the University of Tennessee and the University of Memphis.