by Janet Meydam
Do you have a family tree mystery that might be solved by a medical record? I do. My grandfather had an aunt who immigrated from Norway to North Dakota in 1915. She was married in 1917 and our records show that her husband died around 1920. We cannot find records of her after her marriage in 1917, but oral family history says that she may have spent some time in an asylum.
I may have a chance to find her if I can locate the right set of hospital records. In the past, hospital records were very difficult to access but thanks to recent changes in the law you may now be able to track down these elusive records. Let's talk about why medical records are now more accessible and how to use them as a family historian.
How to Use Hospital and Asylum Records for Genealogy Research
---
What about HIPAA?
The Health Insurance Portability and Accountability Act (HIPAA) was initially passed in 1996 and it established legislation to regulate access to electronic medical records. Part of that regulation stipulated that an individual may have access to his or her own medical records and that anyone else must have written permission from that person to gain access. Upon the individual's death, the record was sealed permanently and anyone without legal permission from that person's estate could not be granted access.
Make Instant Discoveries in Your Family Tree Now
Imagine adding your family tree to a simple website and getting hundreds of new family history discoveries instantly. MyHeritage is offering 2 free weeks of access to their extensive collection of 18 billion historical records, as well as their matching technology that instantly connects you with new information about your ancestors. Sign up using the link below to find out what you can uncover about your family.
This created a huge problem for many people, including those with hereditary medical conditions, medical researchers, and genealogists. Because of numerous complaints, the Department of Health and Human Services (HHS) revised the law in 2013. The revision limits the period of protection for the records of individuals who have died to 50 years following the date of death. This is a big improvement from, well, never!
The law clarifies what constitutes a protected record for libraries, archives, and historical societies who may have acquired hospital or medical records from various sources. Many of these collections are now accessible to the public.
Where to Find Old Hospital Records and Other Medical Records
Just because HHS changed the law doesn't mean that you can go online and find any record you want. There are still state and local regulations that govern the release of medical records and their publication online. These rules are gradually changing based on the federal law revision, however, and slowly access to these records is becoming easier. Many old hospital records are now available online, and many more can be viewed in person.
Hospitals themselves are not good places to contact regarding old records. Modern hospitals only hold their medical records for a certain period. In addition, the hospital that your ancestor stayed at may not even exist anymore. This is especially true for old asylums and sanatoriums, as these facilities were phased out in the 1970s or earlier. These records are now held by state and local historical societies, libraries, archives, and other organizations.
If you know the location of the hospital or medical facility you wish to search, visit the website for the associated state or local historical society and search their catalog to see if the records you want are held there and if they are accessible online. If the set of records you want has not been digitized, you will need to view the records in person. Check to see if you need to fill out an application to view records, as these laws also vary by state.
Hospital records are not the only records that might contain medical information pertinent to your ancestor. Old death records may list the cause of death. Veterans pension records, court records, old newspaper articles, and census records may also provide information related to health status.
For example, according to oral family history, one of my husband's great aunts developed postpartum depression after giving birth to her second child. Her depression was so severe that she did not recover, and her husband had her committed to an asylum.
This family story is documented by the 1920 U.S. Census record, which shows the aunt listed as a patient in the Northern Hospital for the Insane in Oshkosh, Wisconsin, and the 1930 U.S. Census which lists her as a patient in the Marathon County Asylum in Wausau, Wisconsin. While these records do not provide a lot of detail, they do document that she was a patient in mental health hospitals for many years.
18 Billion Genealogy Records Are Free for 2 Weeks
Get two full weeks of free access to more than 18 billion genealogy records right now. You'll also gain access to the MyHeritage discoveries tool that locates information about your ancestors automatically when you upload or create a tree. What will you discover about your family's past?
In addition to individuals sometimes being listed as a patient in a hospital or asylum, health information can sometimes be found in the U.S. census. You can read more about that in this guide. In 1880 a special schedule was even taken to track "Defective, Dependent, and Delinquent Classes" and may provide additional details about an ancestor's medical history. This schedule can be accessed through Ancestry.com with a paid subscription but is not available for free online. Please note that Family History Daily may earn a small fee to support our site if you follow a link to Ancestry on this page and subscribe to their services. 
Free Online Resources That Can Help You Locate an Ancestor's Hospital Records
Searching individual archives can be time-consuming and frustrating, so an easier route is to utilize free genealogy websites to access old hospital records. Here is a list of a few sites that provide access to old hospital and medical records, indexes of records, or information on how to view records in person.
Genealogy Trails History Group
This website is run by volunteers and offers transcribed records from all 50 States. All the information included on the site is accessible free of charge.
The site has a search function that will pull up direct links to records from all of the site's databases. To access the search engine, go to Genealogy Trails and scroll down the homepage. When you get near the bottom you will see links to additional pages. Click on the link that says Search our Sites and this will take you directly to the site-wide search engine.
If you prefer to browse records held by a state historical society, Genealogy Trails also offers a couple of additional helpful links. Starting again on the home page, scroll down past the general information to the section where the data links begin and click on the link that says Miscellaneous Data.

This link will take you to a resources page that includes links to all the state archive, historical society, and library websites. Another link found on this page gives an extensive listing of old terms used for illnesses, which is very useful when reading and interpreting old medical records.
Digital Public Library of America
The Digital Public Library of America (DPLA) is based in Boston, Massachusetts and provides access to digital copies of books, photos, videos, and audio records from all over the United States. Their recently redesigned website makes it easy to search through these works. To start, go to DPLA and type your keywords into the search bar.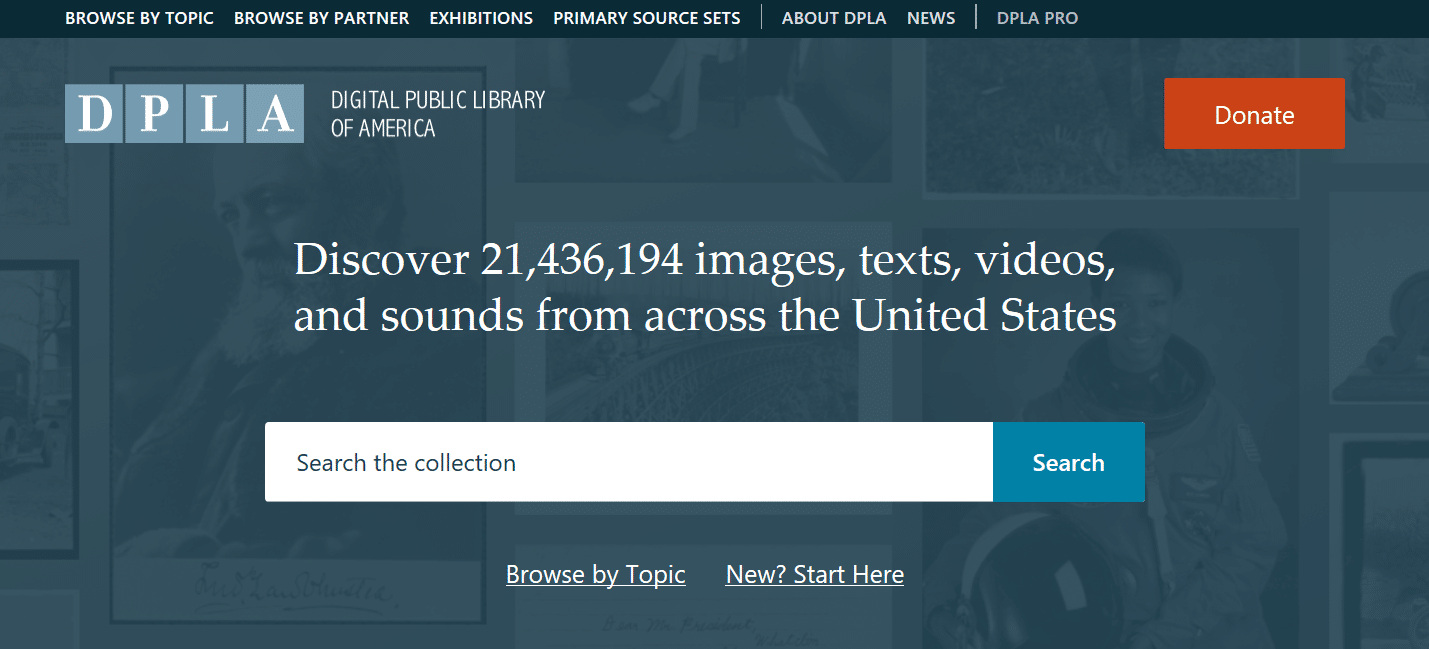 The terms "hospital records" and "medical records" will yield search results in the thousands, so you may want to refine your search by state or city. You can further refine your search results by using the links in the toolbar on the left side of the screen.
DPLA links to digitized documents in public libraries and archives located in the United States, but some of these holdings pertain to locations in other countries, so it pays to check here if the records you want are international. Read the Family History Daily Guide to using the DPLA for genealogy here. 
Cyndi's List
Of course, this go-to genealogy reference site has a list of links related to historical medical records. You will need to sort through these to find the links that pertain to the hospital records you want to locate. The links you will find are specific to locality and not all localities are included, but there is enough here to make it worth the search.
To locate hospital records, go to Cyndi's List and search for the category Medical & Medicine.
Once here, browse the category index for links to the area you want to search. The categories that include the most records for individuals are Hospitals, Asylums & Sanatoriums, U.S. Civil War Medicine & Hospitals, and Locality Specific. These categories include many indexes and registers from hospitals, asylums for those with mental health diagnoses, and tuberculosis sanatoriums.
Most records list either admissions or deaths and many of the records are free to access. Some records are searchable. Look for the little links within the individual web pages as some records have been recently digitized due to the changes in the HIPAA rules regarding old medical records. You will also find records from other countries included in this listing.
FamilySearch's Medical and Hospital Records
FamilySearch, the genealogy website for the Church of Jesus Christ of Latter-Day Saints, has a few online records pertaining to hospitals. To find these, go to FamilySearch and click on the Search link at the top of the screen. You will need an account if you don't have one, but it is free to register. Once on the Search page, go to the Find a Collection search tool and type in the keyword "hospital".
Read more about why you should take advantage of individual collections on genealogy search sites here. 
The search results here included the United States, Freedmen's Bureau Hospital and Medical Records, 1865-1872.
Although FamilySearch has only a limited number of medical records available online, they have much more extensive collections available at their main library in Salt Lake City, Utah or at local Family History Centers. These records are in the process of being digitized so, if there is a volume you want to access, just waiting for it to come online may be your best bet. (FamilySearch discontinued microfilm distribution to local Family History Centers in 2017.)
The website does include links to the physical location of collections that are not yet online if you just can't wait. FamilySearch also includes a link to WorldCat so you can search for the records you want at other libraries or archives. Again, the most productive keyword is "hospital," with over 2000 search results.
Read about how to use ArchiveGrid from WorldCat to locate offline genealogy records easily.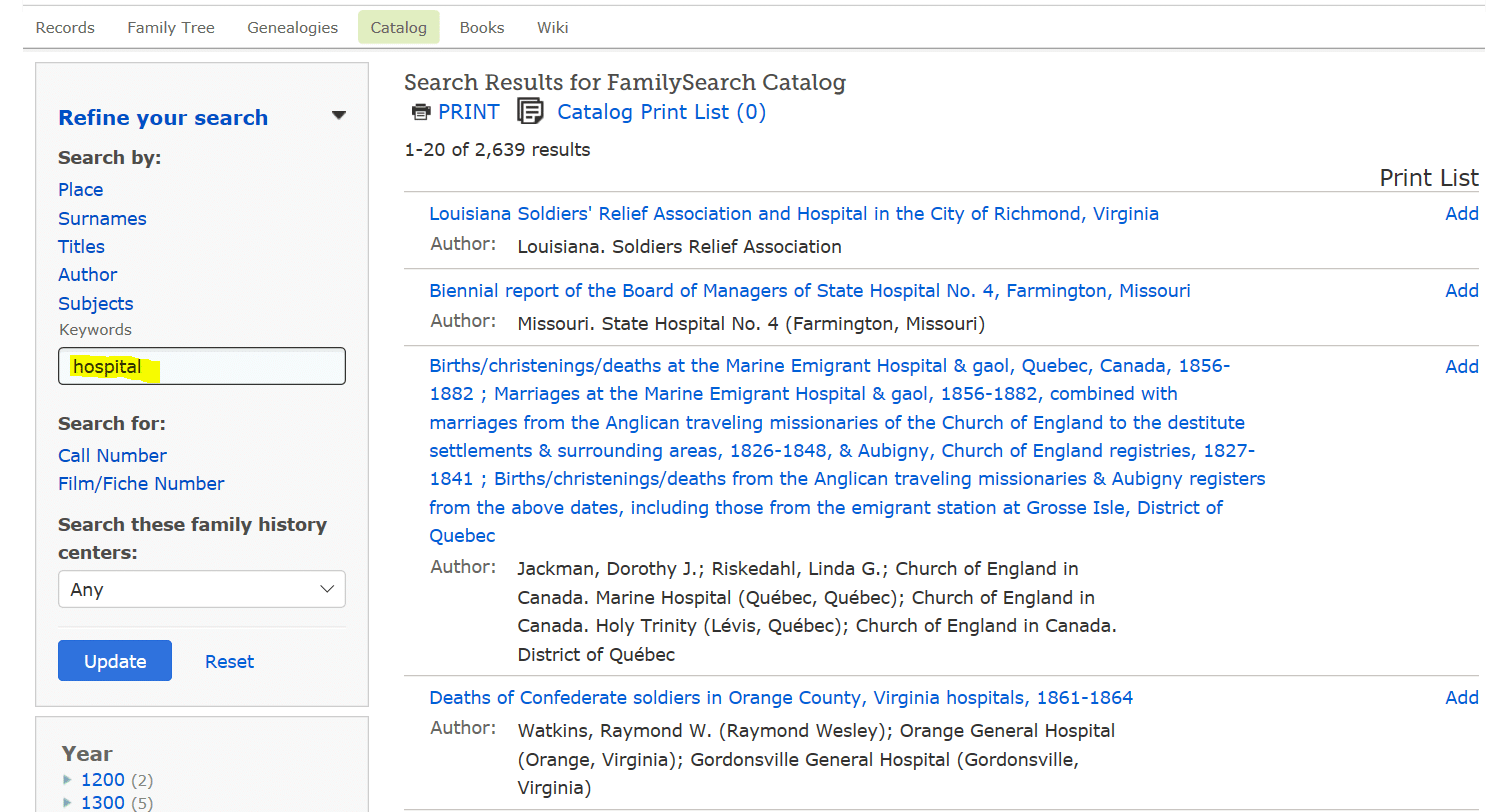 ---
For records in the UK view the Hospital Records Database from The National Archives.
---
Asylum Projects
Asylum Projects is a wiki page dedicated to the history of asylums of all types. The project includes historical information on mental hospitals, sanatoriums, state training schools, reform schools, poor houses, poor farms, and orphanages.
The site includes a page on how to access genealogical information. To get there, go to asylumprojects.org and click on the link that says Genealogical Requests in the sidebar on the left side of the page.
The information given on this page encourages researchers to seek out information themselves and provides many links to former asylums. These links lead to either online access to old records or information on how old records can be viewed.
Asylum Projects used to host a genealogy forum, but this function has been moved to their Facebook page. If you cannot find the information you need related to one of the asylums included in this project, you can post a query here. There is a link to the Asylum Projects Facebook Page at the bottom of the main page.
As you can see, if you do a little digging, you can locate many resources that contain hospital records. Unfortunately, I have yet to find my grandfather's aunt, but I will use these resources to keep searching. Hopefully, the information provided here will help you to find leads on your elusive missing ancestors.
You might also like:
The Important National Death Registers That Many Family Historians Miss
The "Secret" Codes on Death Certificates That Can Tell You How Your Ancestors Died
Janet Meydam is a freelance writer who has over 40 years of experience in genealogy as a hobby. Her knowledge includes researching many different records from the United States, Germany and Poland. She is also a co-author of her parents' family history book "I Come from a Long Line of Dilleys." Janet works as an occupational therapist. She and her husband Tim have three adult children and live in Wisconsin.
Image: Patient in bed with nurse, diet and prescription board,1890, Hall, Susan; Perry, D L (1976). Crumpsall Hospital 1876-1976. Littleborough: Upjohn & Bottomley. Wikimedia Commons.