Finding death certificates for our ancestors is a critically important part of family history research. These important records contain information about when and where our ancestor lived and died and often include names of a spouse, parents, witnesses and, of course, a cause of death.
But the causes of death on death certificates are notoriously hard to read. Certainly, the more we research the better we get at deciphering the meaning of these sloppily written medical texts, but, very often, we are still left scratching our heads. Luckily there is a "secret" code on many of these documents that can help you make sense of this information and more fully understand how your ancestor passed.
Let's review a 1920 North Carolina death certificate for a man by the name of Daniel Adams. This document, like so many, is difficult to read due to the less than clear handwriting of the person who completed it.
In fact, the index for this record on Ancestry lists the first name as Savill, apparently due to the inability of the transcriber to read the document, which is what we originally also listed here. Thanks to the keen eyes of our commenters this possible error was pointed out to us and after some more research we confirmed that the name should, in fact, be Daniel. We have corrected his name throughout the article and additionally submitted a correction to Ancestry. It is a good lesson in how easy it is to misread a handwritten record, even when you have been doing so for decades – and how often indexes and transcriptions contain incorrect information, which can mislead us if we are not very cautious. 
Make Instant Discoveries in Your Family Tree Now
Imagine adding your family tree to a simple website and getting hundreds of new family history discoveries instantly. MyHeritage is offering 2 free weeks of access to their extensive collection of 18 billion historical records, as well as their matching technology that instantly connects you with new information about your ancestors. Sign up using the link below to find out what you can uncover about your family.
The cause of death is particularly hard to decipher. But take a look at the number that is circled underneath this information. You have no doubt noticed codes such as this on death certificates in your own records.
This often overlooked number comes from the International Classification of Diseases (ICD), or the International Statistical Classification of Diseases and Related Health Problems as it is now known in full – and is currently maintained and updated by the World Health Organization.
The ICD was originally developed in the late 1800s and was known as the Bertillon Classification of Causes of Death, after its developer Jacques Bertillon, and later the International List of Causes of Death. The coding system was designed, in part, to provide a unified way to communicate and track causes of death and was used by a variety of nations. The US began using it in about 1898.
For this reason many official US death certificates after this time include these codes, as do certificates from many other countries at various times. The value to researchers today is that when causes of death are unreadable or confusing on a certificate we can look up the code and find the cause of death in a clearly written database. The information is made freely available online by Wolfbane Cybernetic.
To find the list of codes visit this page and then choose the revision that encompasses the year of your certificate. Because updates were/are made to the database about every 10 years you will need to access the correct revision. Information can change dramatically from revision to revision, so making sure you have the correct one is very important.
Since we want to investigate the code in the death certificate for Daniel Adams above, which was created in 1920, we will need to see which revision was created before this certificate was recorded. Revision 3 was created in 1920, but information from the CDC on the history of the coding system tells us that this revision wasn't released until Oct of that year – so we will use Revision 2 (1909) since Daniel's death happened in July 1920.
18 Billion Genealogy Records Are Free for 2 Weeks
Get two full weeks of free access to more than 18 billion genealogy records right now. You'll also gain access to the MyHeritage discoveries tool that locates information about your ancestors automatically when you upload or create a tree. What will you discover about your family's past?
Upon visiting the page for the 1909 Revision we search for code 126 and find that it corresponds to "Diseases of the prostate," which is very helpful in understanding how this person died.
The number often relates to the contributory cause of death, if one is included. In the example below, this person died from myocarditis, damage to the heart, but code 131 corresponds to "Chronic nephritis." Upon close examination we can see that, in fact, the contributing cause of death was a form of nephritis.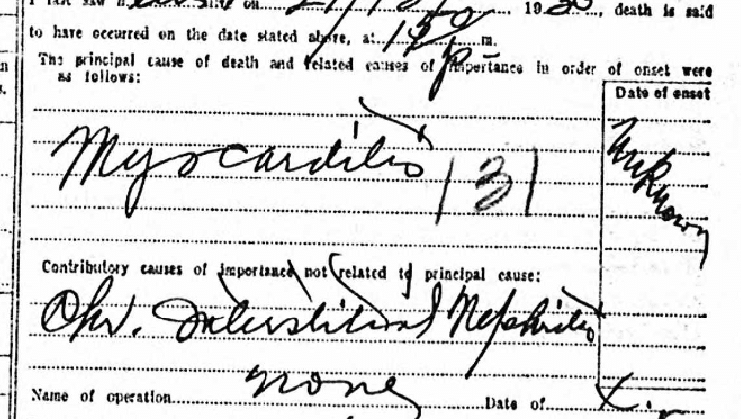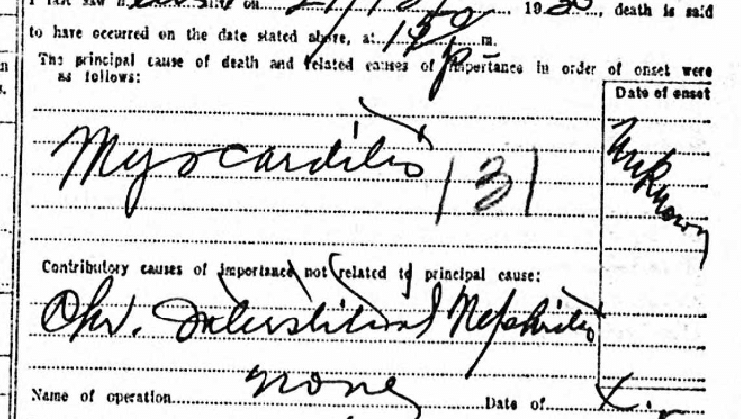 Unfortunately, many death records do not contain this information. Numerous records that researchers have access to are not official certificates of death, were compiled by various religious or military organizations, are collections of information from other sources, or are simply indexes of the certificates themselves and do not contain detailed medical information. It is important to try and gain access to the original death certificate to gather this information.
However, even many official certificates do not make these codes available – and others may contain numbers that are not ICD codes at all. Be careful not to be confused by these. Oftentimes, ICD codes appear directly under or next to the cause of death and are sometimes circled or marked in some other way. Other codes found in this area, or in other locations on the document, many be codes for other information or from another coding system. The best way to know whether a number is an ICD code is to do your best to decipher the cause of death (and any contributing causes) yourself and then look up the code in the database to see if it seems a likely match.
The more recent a death certificate, the more likely that it will contain an ICD code. Often, these codes will appear as a two or three digit number, and on later documents they will often appear with a letter after them or even another number, such as 31a or 11a(2).
Now that you are armed with this information, why not pull out the death certificates you have already collected and check them for these codes? You might find that you are able to decipher a previously unreadable cause of death or gain more insight into those you have already figured out.
And if you're on the lookout for no-cost death certificates online, check out our articles 50 Free Genealogy Sites and Free Genealogy Sites for Every US State for help finding them.
By Melanie Mayo, Family History Daily Editor