Many family historians are not aware of the fact that millions of passport applications were collected by the US Department of State between the years of 1795 and 1925.
These applications are kept by the National Archives and Record Administration (NARA) and are packed full of personal information that can help you in your research – such as birth date and location, name of father or husband, names of children, occupation and much more. In some case, there are even photographs.
Don't think your US ancestor could have applied for a passport? You might be surprised to hear that travel was actually quite common during this time period. The National Archives points out that "Overseas travelers included businessmen, the middle class, and naturalized U.S. citizens who returned to their homelands to visit relatives."
And although 95% of mid-19th century applications went to men, spouses and children were included if they were traveling as well. Because of this, the amount of information to be found in these documents is astounding.
Make Instant Discoveries in Your Family Tree Now
Imagine adding your family tree to a simple website and getting hundreds of new family history discoveries instantly. MyHeritage is offering 2 free weeks of access to their extensive collection of 18 billion historical records, as well as their matching technology that instantly connects you with new information about your ancestors. Sign up using the link below to find out what you can uncover about your family.
The good news is that these records are now available online for free. In partnership with NARA, FamilySearch offers these records directly on their website. The images are currently being indexed so you can not search every single record yet, but you can search through many and others can be accessed through browsing.
Passport Application from 1924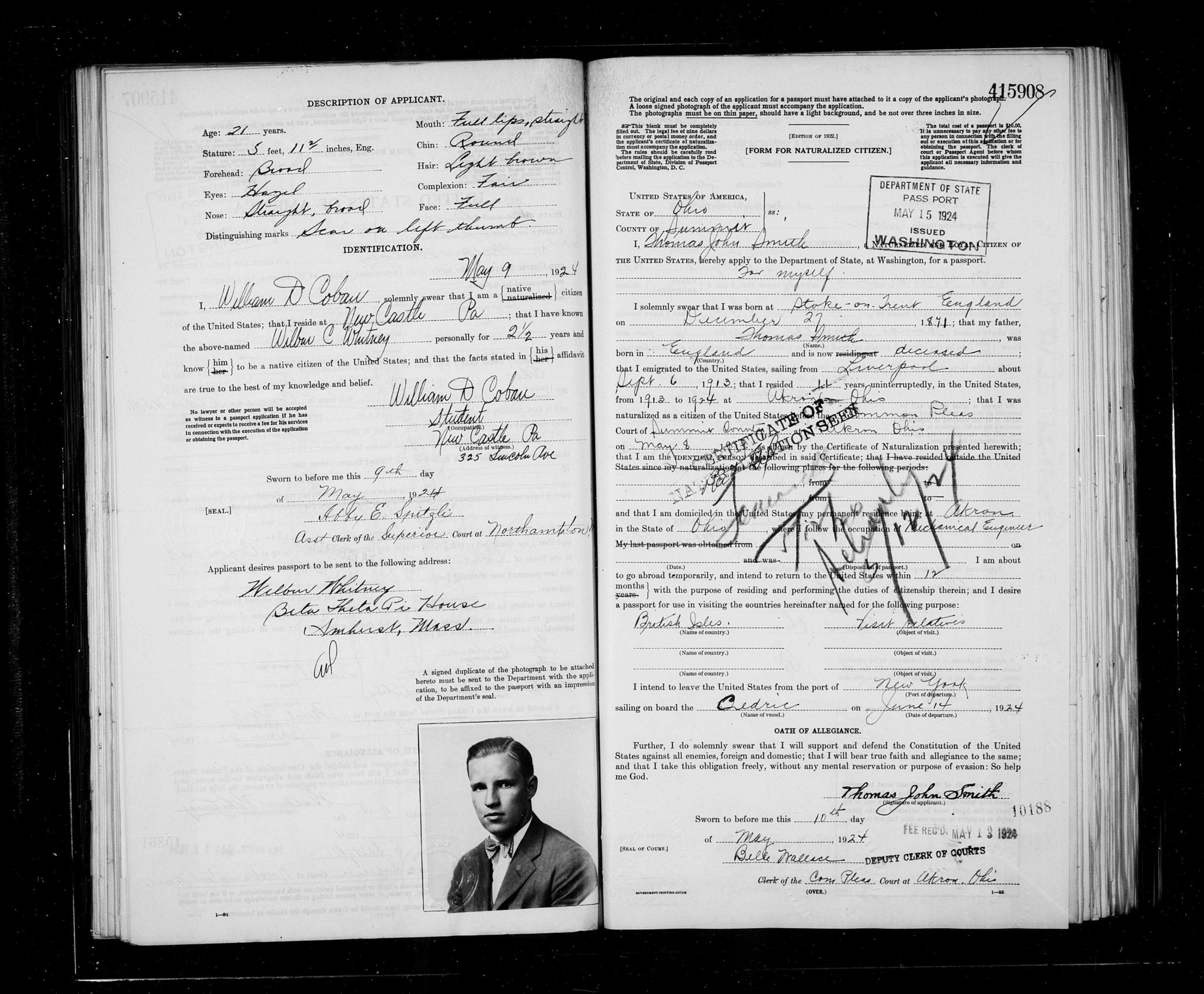 To find the free online collection visit this page on FamilySearch. Use the search boxes first to see if you can locate an ancestor. Remember to search for a husband's name as well if looking for a woman and try many spellings since errors in records of any sort are common.
If you cannot find your ancestors via search you will need to browse the images instead. You can do this by clicking on the "Browse" link on the database's search page or by visiting this link and then selecting a collection by date. Use the FamilySearch info page for this collection for help with browsing information and more details about this database.
For further information, a wonderful breakdown from NARA on how to use these records in your research can be found right here.
And be sure to look for passport applications elsewhere that relate to other locations, dates and purposes. There are a variety of collections available online that may provide valuable data about your ancestors.
By Melanie Mayo, Family History Daily Editor
18 Billion Genealogy Records Are Free for 2 Weeks
Get two full weeks of free access to more than 18 billion genealogy records right now. You'll also gain access to the MyHeritage discoveries tool that locates information about your ancestors automatically when you upload or create a tree. What will you discover about your family's past?
Image: Florida Keys Public Library on Flickr "Sarah E. Miller passport application photo for herself and daughter, Elinor, born 19 April 1906, and son, Perry, born 20 November 1907, both at Port Tampa, Florida."