There are few things more exciting in family history research than stepping beyond names and dates for a moment to record some personal details about an ancestor. Whether it's an employer's name, an unknown detail in a will or a fascinating description of military service, personal details help us better understand the story of our ancestors' lives.
One of the most interesting finds for many researchers is a personal description of an individual — a chance to know what our ancestor looked like. Since most of us will never be lucky enough to collect photographs of all of our ancestors (although we've listed some great places to look for them here), a personal description is the next best thing. And, luckily, there is one set of documents available for free online that provides just this.
Both the WWI and WWII draft cards recorded details about a man's personal appearance, in addition to other important information — such as their birth date and location, employer and closest relation. And even more interesting, men born in the last two decades of the 19th century were most likely recorded in both drafts — assuming that they were living in the US during both draft periods.
WWI Draft Cards
There were three WWI draft registrations that occurred in 1917 and 1918 – the first two registered men between the ages of 21 and 31 and the third, at the end of 1918, recorded men ages 18-45. This means that men born as early as 1873 and as late as 1900 were supposed to be included and should have a record on file.
Make Instant Discoveries in Your Family Tree Now
Imagine adding your family tree to a simple website and getting hundreds of new family history discoveries instantly. MyHeritage is offering 2 free weeks of access to their extensive collection of 18 billion historical records, as well as their matching technology that instantly connects you with new information about your ancestors. Sign up using the link below to find out what you can uncover about your family.
Here's a WWI draft card — notice how eye and hair color are recorded in addition to general height and build. Each registration was a bit different, but all recorded generally the same information.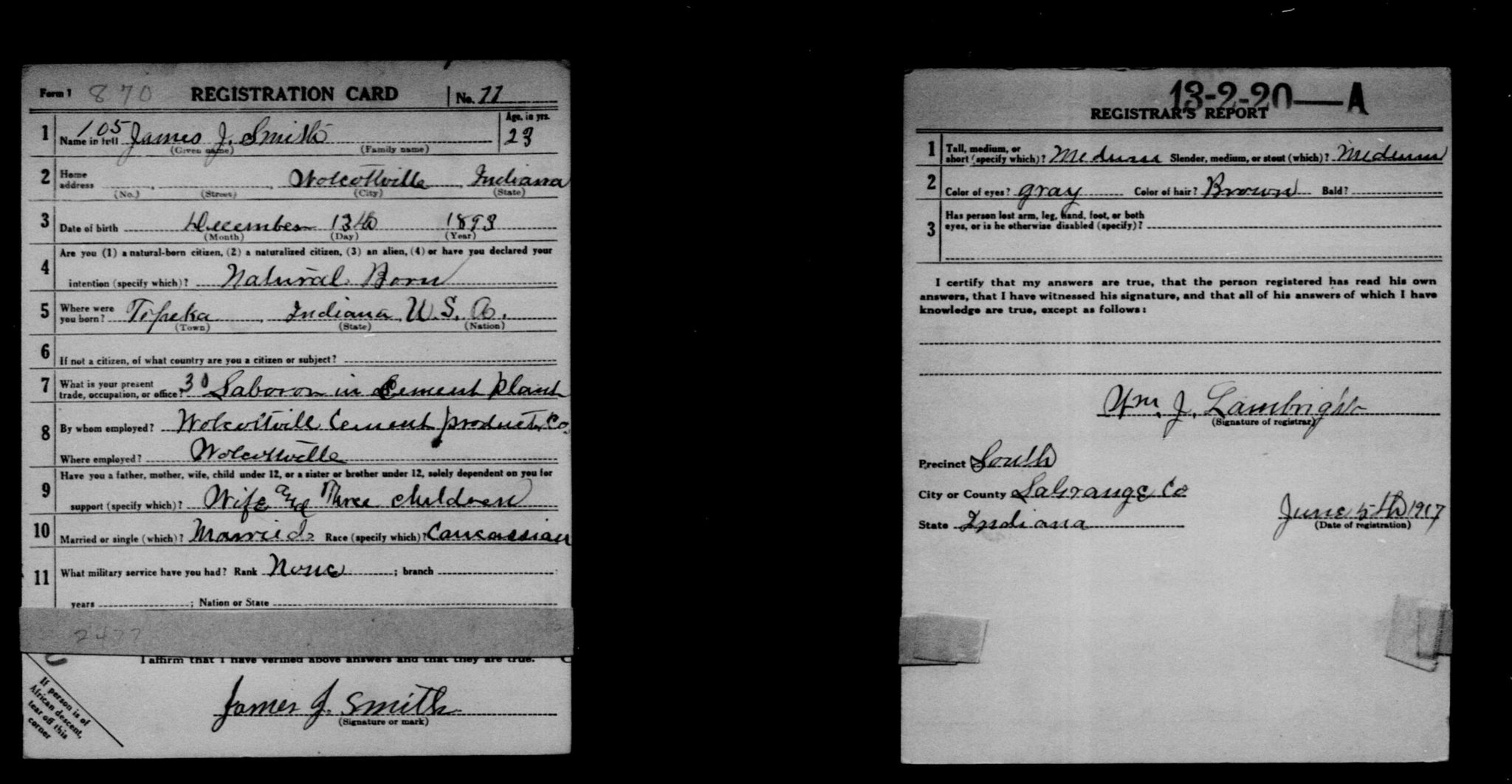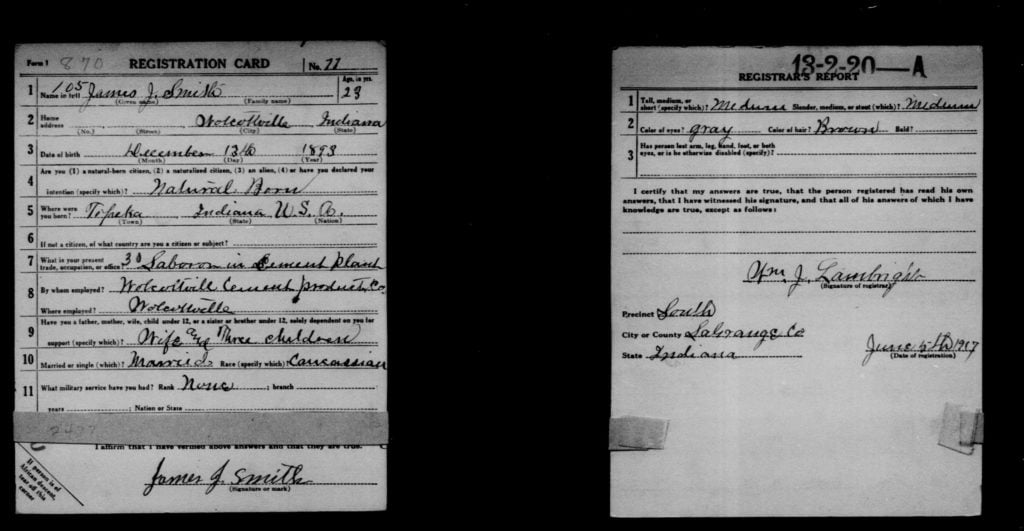 WWII Draft Cards
The WWII draft registered an even larger selection of men in four groups– including those ages 45-64 as part of what is often called the "Old Man's Draft" in 1942. This draft of men had a different purpose than to record those of peak fighting age — as is explained on FamilySearch:
This registration was different from the others conducted by the government.  It's sole purpose was to gather information regarding manpower resources in the United States.  The registration included men born between 27 April 1877 and 16 February 1890 – ages 45 to 64 – and listed their industrial capacity and skills that could be used for military support during World War II.
Right now, this is the only WWII registration freely available online — although Fold3 is currently working on adding the earlier drafts. Some are available on their site now at a cost but they will most likely become more widely available in the future.
Because the 1942 WWII draft covered men born in 1877-1897, many of them were also included in one of the WWI draft registrations.
Here is the same man as is shown in the WWI draft card above — but in the WWII draft. Notice how his exact height and weight as well as eye, hair and skin color are all recorded on the second image — as well as any identifying marks (he didn't have any, and this information seems to be fairly uncommon in both drafts).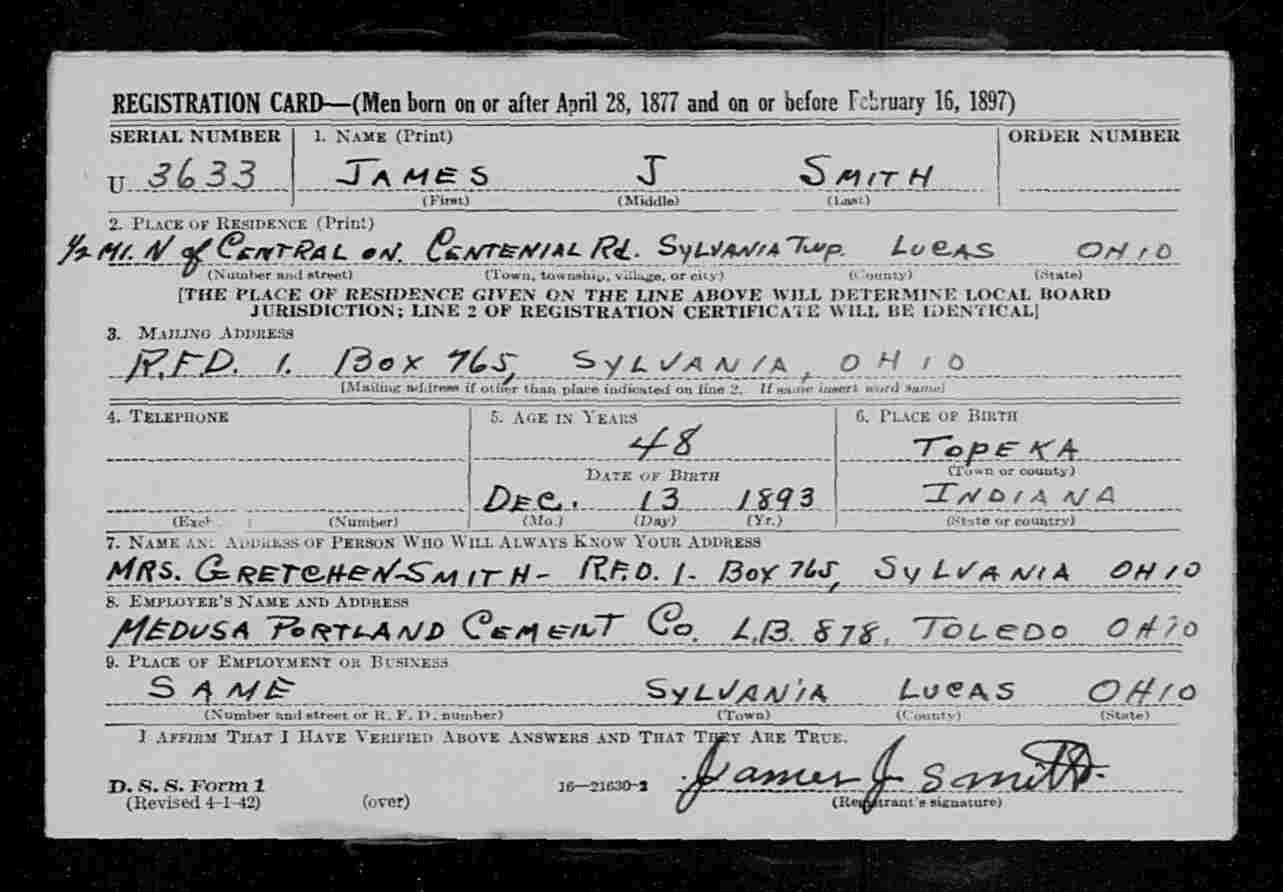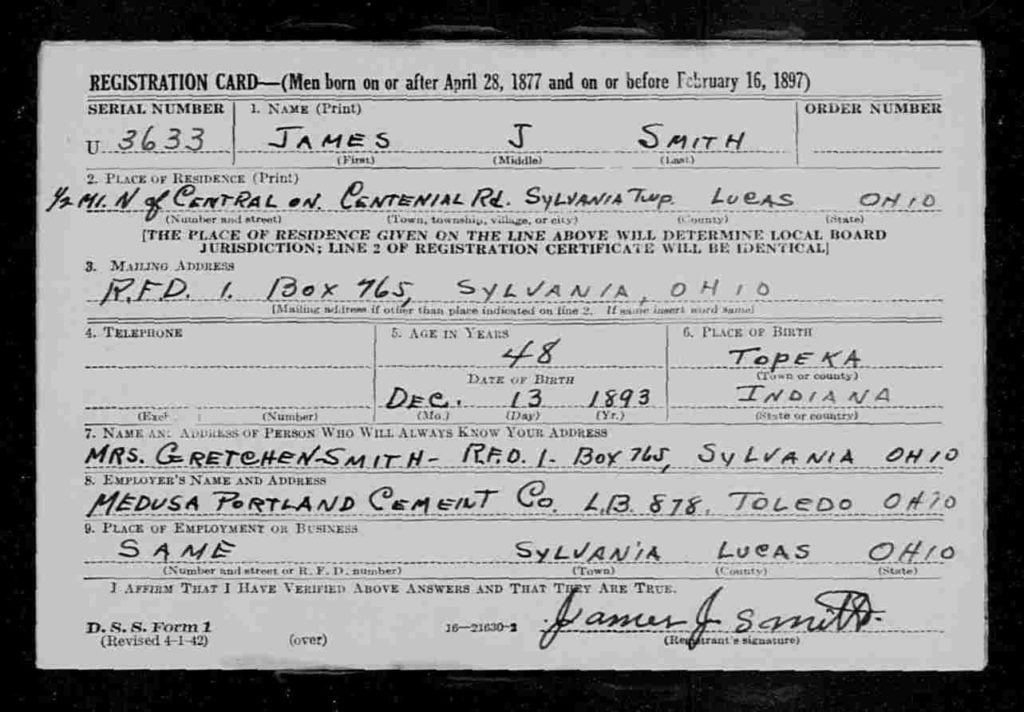 18 Billion Genealogy Records Are Free for 2 Weeks
Get two full weeks of free access to more than 18 billion genealogy records right now. You'll also gain access to the MyHeritage discoveries tool that locates information about your ancestors automatically when you upload or create a tree. What will you discover about your family's past?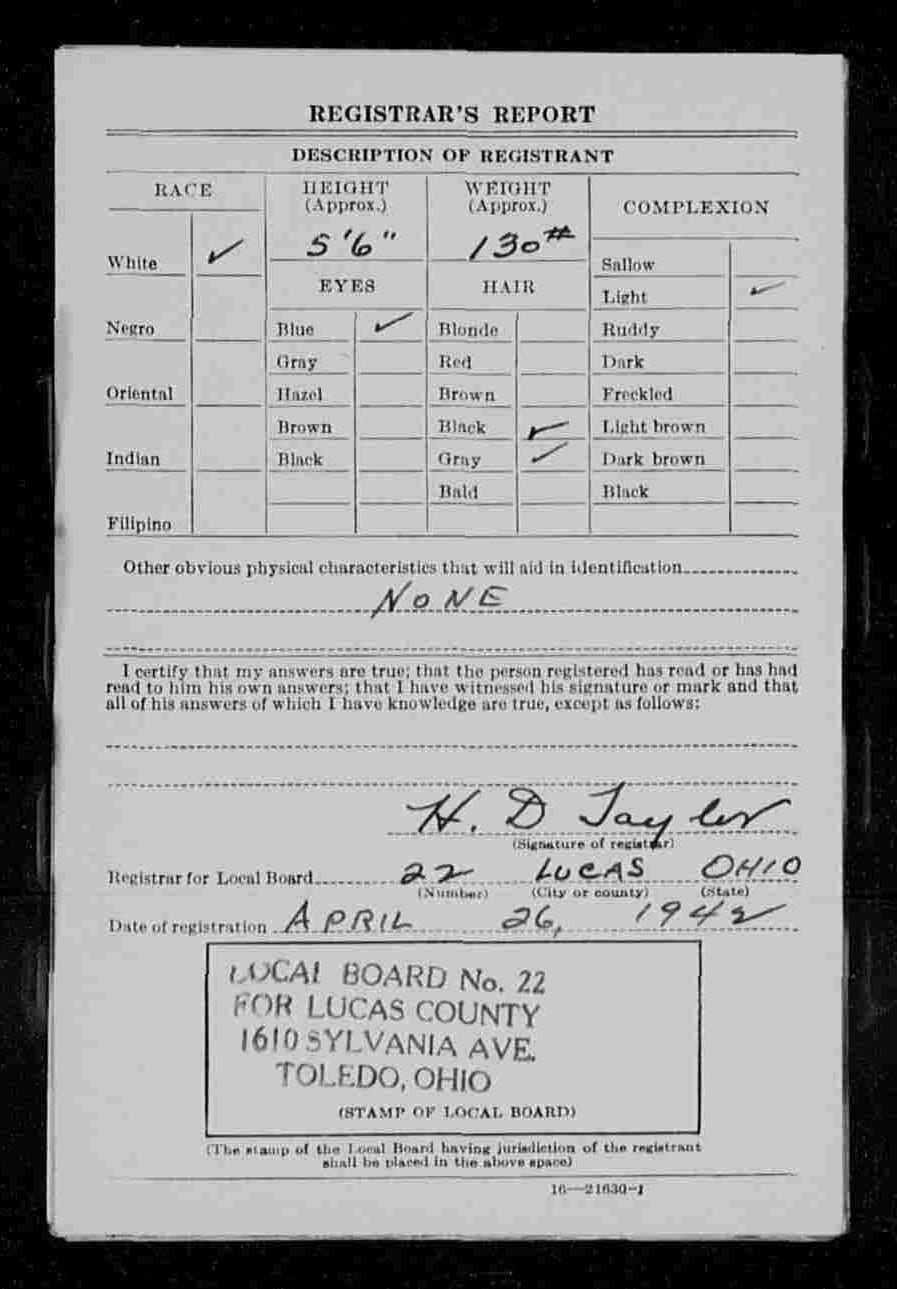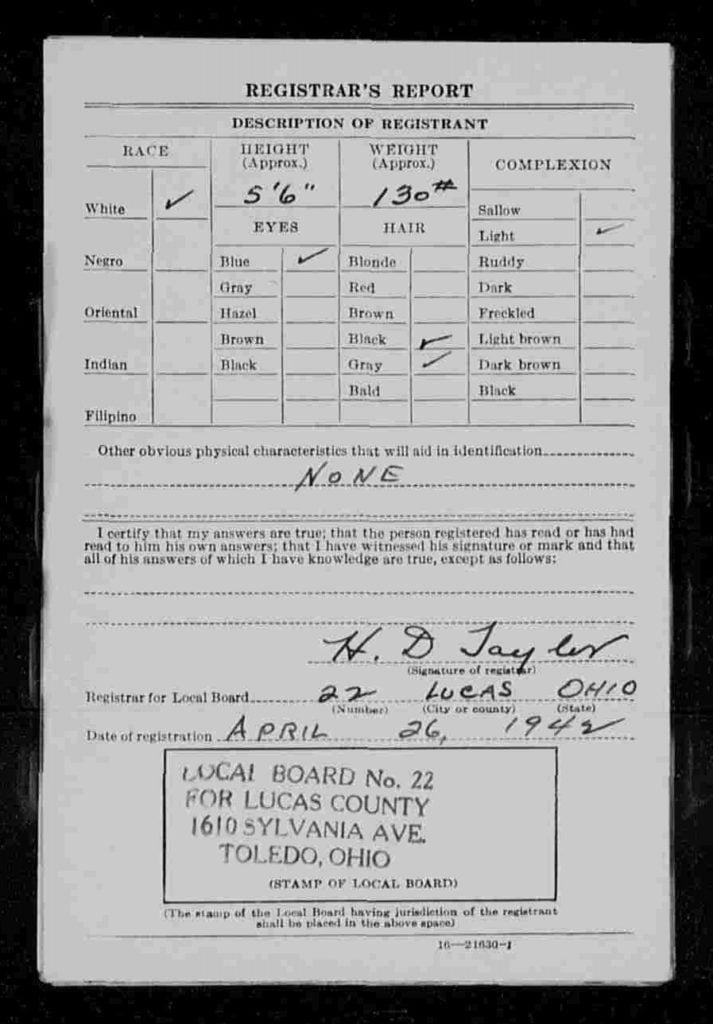 To find the WWI draft registration cards online for free simply visit this page on FamilySearch. More information about this collection can be found here.
For the WWII "Old Man's Draft" visit this page on FamilySearch. When searching this collection make sure you view both images by clicking the next arrow on the image. For more details about this collection visit this page.
Tip: It is very helpful to know your ancestor's birth date and their location during the registration year if he had a common name. Since nearly every able man of appropriate age in the US appears in these databases it can be hard to choose between them if you do not have this information.
Good luck!
Image: WWI Draft Poster. 1917. Library of Congress