By Patricia Hartley
If you're lucky enough to have in your possession an original letter written by one of your ancestors, it's most likely one of your most treasured genealogical belongings. Everything about old letters is fascinating to a family historian. In addition to the content, we love to study the antiquated handwriting and language, the paper quality, and even the way the envelopes are stamped and addressed. Each of these details provides clues to our ancestor's life at that point in time. 
As often happens with genealogy, there's more to the story of our loved ones' letters. Understanding how those letters were sent and received, and how they were handled in between, is an often-overlooked aspect of family history research. Learning more about the history of mail can help us uncover helpful clues and new information about our ancestors.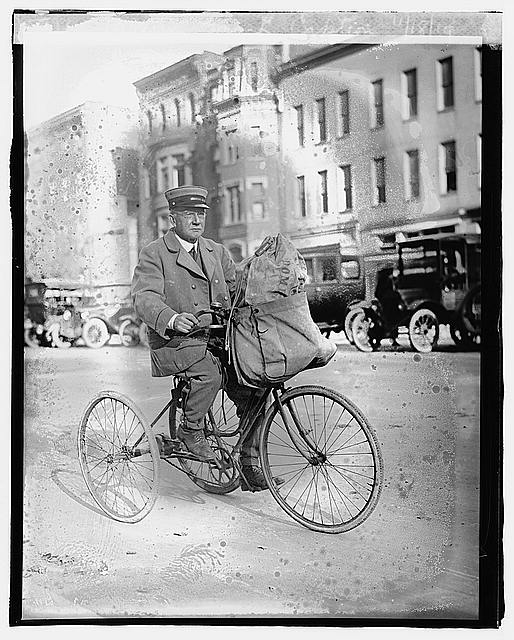 A Quick History of Mail Delivery in America
In the earliest days of colonial America, letters and other correspondence were delivered from the colonies to the European motherlands by ship and to other colonists by horse and rider. To manage the growing volume of incoming and outgoing mail, the first official American mail service was established in 1639 in Boston. Most often, taverns and coffee houses were designated as drop-off and delivery points. 
Make Instant Discoveries in Your Family Tree Now
Imagine adding your family tree to a simple website and getting hundreds of new family history discoveries instantly. MyHeritage is offering 2 free weeks of access to their extensive collection of 18 billion historical records, as well as their matching technology that instantly connects you with new information about your ancestors. Sign up using the link below to find out what you can uncover about your family.
Dedicated post offices began popping up in the late 17th century, but it wasn't until Benjamin Franklin assumed the role of co-postmaster general in 1753 that the colonies saw a truly organized postal service. Franklin created new offices along major roads, added and shortened mail routes, sped up delivery with overnight post riders, and established a regular delivery schedule with posted times.
Although Franklin was briefly removed from his position due to his political leanings, the Continental Congress reappointed him in 1775 as the first United States Postmaster General. According to the official history of the United States Postal Service, today's postal service "descends from the system Franklin placed in operation." 
Stagecoaches largely replaced horseback deliveries in the late 1700s, accompanied by steamboats in the early 1800s. By 1822 it took only 11 days to deliver mail from Washington, D.C. to Nashville, Tennessee. As the country expanded westward, riders were recruited for Pony Express routes, swapping horses every 10 to 15 miles, and mail was delivered from St. Joseph, Missouri to Sacramento, California in just ten days. Railway delivery was added in the 1860s, followed by air and motor vehicle delivery in the early 20th century.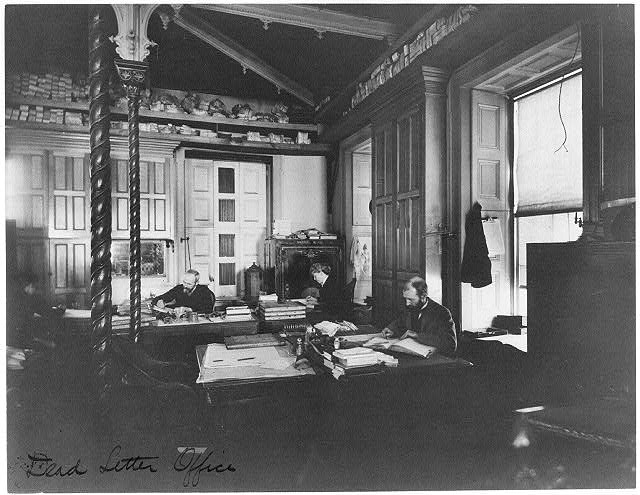 Uncollected Mail and Dead Letters
Before 1863, mail was delivered from post office to post office — not from post office to house — and recipients would have to visit the office and ask if they had any mail waiting for them. Often, mail would remain unclaimed, and the post office would run advertisements in the local newspapers threatening to dispose of these letters within a certain period of time.
In reality, unclaimed mail would be forwarded to a national "dead letter" office where clerks would try to identify or locate the recipient and re-mail the letter. If that was unsuccessful, any valuable items were removed from the piece for resale at auction, and the letter itself was destroyed.
As a family historian, finding your ancestor in a list of dead letters provides valuable clues. First, it establishes that the person was, or at least thought to be, at that particular location at the time the letter was sent.
Searching subsequent editions of the same newspaper will help you determine if the recipient picked up his or her mail by the deadline, which will help to further establish their residency. Additionally, dead letter lists include women's names, and are sometimes separated by male and female addressees — an unusual boon for researchers.
18 Billion Genealogy Records Are Free for 2 Weeks
Get two full weeks of free access to more than 18 billion genealogy records right now. You'll also gain access to the MyHeritage discoveries tool that locates information about your ancestors automatically when you upload or create a tree. What will you discover about your family's past?
Read about how to access U.S. newspapers for free.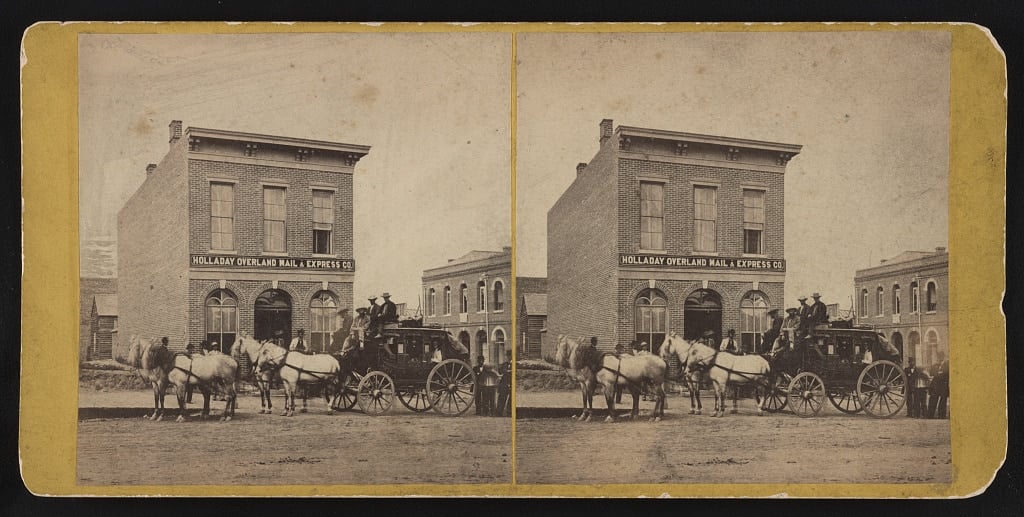 Postal Contractors and Postmasters
From 1814 to 1960, the post office contracted carriers such as stagecoach outfits, steamboat lines, railroad operators, and even motor vehicle drivers to help deliver the mail to rural, or "star" routes. These records, called "Contract Route Registers, 1814 – 1960" are held by the National Archives in Record Group 28 of the Records of the Post Office Department. If your ancestor conducted this type of business, his name may be listed in the register, along with an image of his actual bid for mail delivery.
The most common source of genealogical information in post office records are the Records of Postmaster Appointments. Both men and women were appointed or elected to the position of postmaster for indefinite periods — some held the position for as long as 30 years. Postmasters were required to post a bond and live in the community where the post office was located.
In the mid-1800s, the postmaster's responsibilities included keeping the post office open during normal business hours (even Sundays, when they were required to open for at least an hour, but only after church services concluded). Postmasters often performed their duties in addition to holding a "regular" job, such as a storekeeper or hotelier.
The National Archives holds four rolls of microfilmed registers of postmasters from 1789 to 1832, and a whopping 145 rolls from 1832 to 1971. Ancestry.com offers indexed images of the latter in its Appointments of U.S. Postmasters 1832 – 1971 collection. (Family History Daily is a partner with Ancestry and other genealogy sites and may earn a commission if you follow links on this page.)
Only limited records are available on FamilySearch, including unindexed images of the state of Washington Postmaster Indexes, prior to 1965 listing. Cyndi's List also provides links to various online postmaster lists.
If your ancestor served as a postmaster, you might also find mentions of him or her in the local newspaper. Postmaster was an important position within a community, and often one that was politically charged, as noted in this Carrollton, Alabama newspaper from 1850:
Records of Post Office Crime
Post office bulletin boards have long been associated with criminal "wanted" posters. As the hub of a community, it made sense to post these notices in the place where the most residents were likely to see them. But there's another connection between criminals and post offices that might reveal little-known family history: post office burglars.
Throughout the first few centuries of American mail delivery, mail carriers had to be on the lookout for hijackers who would steal the mail in search of valuables or confidential, sometimes war-related, information. In 1792, Congress imposed the death penalty upon anyone caught stealing mail. After the Civil War, a statute was enacted to combat an outbreak of "swindlers" using the mail system to commit their crimes. 
In the early 20th century, post office robberies, mail fraud, money order forgeries, and other postal crimes were rampant, so much so that in 1916 the Post Office Department published its first volume of Photographs, Descriptions and Records of Persons Charged with Violation of the Postal Laws. 
Although you wouldn't necessarily want to find your ancestor in this booklet, each profile provides a ton of biographical information you wouldn't necessarily find elsewhere.
For more help finding overlooked information about your ancestors, be sure to explore the articles below. Happy searching!
For nearly 30 years Patricia Hartley has researched and written about ancestry. She has a B.S. in Professional Writing and English and an M.A. in English from the University of North Alabama and a M.A. in Public Relations/Mass Communications from Kent State University.