​This deal from Ancestry.com has ended. You can find regular prices and start an Ancestry free trial here instead.
---
Please know that we have partnered with many genealogy organizations, including Ancestry, to bring you help, news and special offers and may earn money to support our work if you choose to take advantage of this deal. ​
Ancestry is following up on the extremely popular 50% off flash sale they ran in November with a similar offer for the New Year. From Dec 29th, 2017 to Jan 7th, 2018 new subscribers can grab a 6 month U.S. Discovery membership for half off and a 6 month World Explorer Membership for 30% off.
Make Instant Discoveries in Your Family Tree Now
Imagine adding your family tree to a simple website and getting hundreds of new family history discoveries instantly. MyHeritage is offering 2 free weeks of access to their extensive collection of 18 billion historical records, as well as their matching technology that instantly connects you with new information about your ancestors. Sign up using the link below to find out what you can uncover about your family.
Unlike the flash sale in November, this offer does not include the All Access Membership (a package that includes Ancestry, Fold3 and Newspapers.com), is only for new subscribers (current members cannot renew at this price, but those with lapsed subscriptions usually can) and is only valid on 6 month memberships.
Still, it is a good deal if you plan to use Ancestry's records for your research this year. Those who purchased Ancestry DNA kits will also benefit greatly from having a record subscription when their results come back, since genealogical research is integral to truly understanding your genetic past.
Here's a breakdown of what is being offered as part of the New Year deal.
U.S. Discovery 50% Off – Includes unlimited access to all U.S. records. This is a good option for those on a tight budget who will be primarily researching their ancestors within the United States. Normally $99 for 6 months, get it for $49 right now.
World Explorer 30% Off – Includes unlimited access to all U.S. and international records. This is the best deal if you have a bit more to spend. Although the percentage saved is not as much as with the U.S. Discovery Membership, you will get access to records from the U.S., Canada, England, Scotland, Wales, Ireland, Australia, Mexico, the Netherlands, Germany, France, Norway, Sweden, Finland, the Dominican Republic, Brazil and many other countries. Normally $149 for 6 months – get it for $99 right now. 
Remember that this discount is only for those without a current subscription. If you have never held a membership, or had a subscription in the past and would like to start your research with Ancestry again, this offer should be available to you.
Need help using Ancestry? Take our unofficial crash course.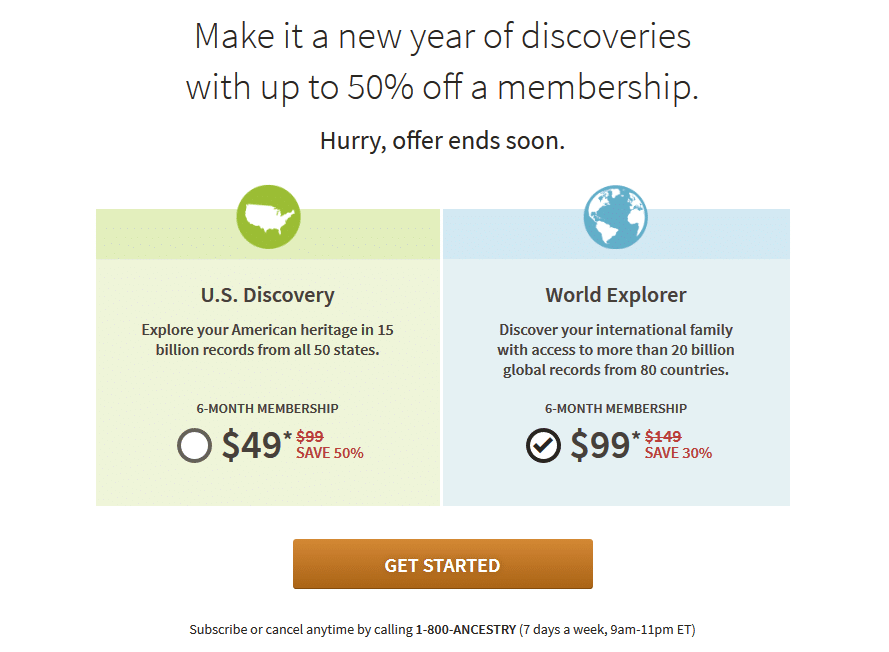 You might also like:
Find the Hidden Original Records for Ancestry's Indexes With This Smart Technique
18 Billion Genealogy Records Are Free for 2 Weeks
Get two full weeks of free access to more than 18 billion genealogy records right now. You'll also gain access to the MyHeritage discoveries tool that locates information about your ancestors automatically when you upload or create a tree. What will you discover about your family's past?
Ancestry.com's "Location Traps" Are Causing Researchers to Miss Important Records
How to View Thousands of Free Records on Ancestry Without a Subscription