The Genealogy Generation Gap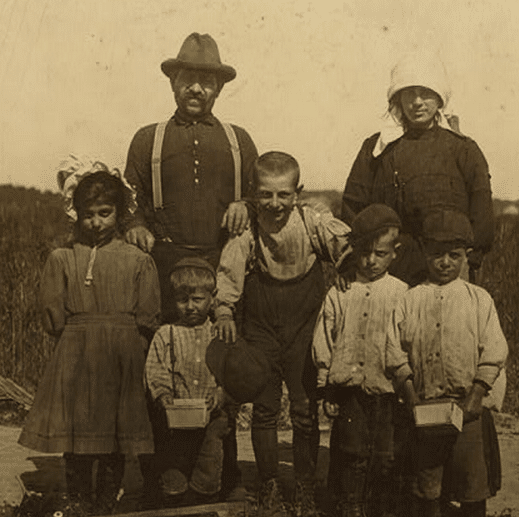 Growing up in a small town in the 1950's, the generation gap meant that old folks didn't understand teenagers.  When I became seriously involved in genealogy research, I realized that some researchers also misunderstand the 'Genealogy Generation Gap'. I asked a genealogical society group this question.
"How many years are in a generation?"
Answers ranged from 20, 25 or 30 years.  The correct answer could be: some, all or none of the above. A generation is the number of years between the ages of a parent and child.
My maternal four-generation pedigree chart covers 170 years.  My paternal line is much closer, where four generations includes only 134 years!
My parents were already grandparents when I was born.  My father was almost 50 and my mother was 41.  They had four boys and five girls in 25 years. Three of my brothers were old enough to be fathers by the time I was born.   My oldest brother already had a son, making me an instant Auntie!   My twin and I called our parents Mama and Papa, because we grew up with their grandchildren, our nieces and nephews.    When we walked to town, the conversation usually included a comment to Mama about her adorable twin grandchildren.
The saga continues in genealogy.  My maternal great great grandfather, the legendary Indian Billy Dragoo, had four children by his Indian wife, and six children by his second wife.  His youngest daughter was born when he was 69. That isn't what made him legendary, although he might have thought so.  He was kidnapped by Indians in Monongalia County, Virginia in 1786 and lived with them for over 20 years before returning to his natural family.  He died in Licking County, Ohio where his legacy of facts and fables live on.
When you are trying to determine family relationships from a pre-1850 census which lists people in five to ten year age brackets, think about the twins who were raised by parents in the grandparent generation. Now that's a real generation gap!
Image: The Arnao family of berry pickers in the fields of Truitt's farm. This is an Italian family coming from Phildelphia and now ready to go to Carmel, N.J. to continue picking. The family consists of: 1 child 3 years of age, 1 child 6 years of age, 2 children 7 years of age, 1 child 9 years of age, 1 child 10 years of age, 1 child 11 years of age. All of whom pick. Location: Cannon, Delaware. | Library of Congress
Vi Parsons has a life-long passion for history, travel and teaching. As a teen, she taught children's classes at church. About that time, she began her pursuit of genealogy, when she questioned her parents about her deceased ancestors. She became seriously involved in family history research with the birth of her first grandchild.. These combined interests merged into a joyful journey of studying and teaching genealogy. She received accreditation from Brigham Young University in Provo, Utah for her studies in Beginning Genealogy. She was awarded a certificate in American Genealogy from the National Genealogical Society of Virginia. Vi volunteered for the Dragoo Family Association for fifteen years. She documented her Dragoo ancestors to France and England in the 1600s, published books on her Dragoo family history, the Dragoo Cemetery of Marion County, West Virginia, and her great great grandfather, The Legendary Indian Billy Dragoo. Vi co-authored Double Take, a book of short stories of childhood memories. Vi and her twin Violet C. Moore are the creators of Carr Twins & Co.