I've loved cemeteries as long as I can remember. I think I became a genealogist just so I would have a good explanation for how often I visited them.  While I go mainly to take photos for Find A Grave or Billion Graves, I find other reasons as well; the calm, the time to think, the sense of history, etc. Over the years I've learned some great lessons while "working the graveyards" as my friend loves me to say. These tips and insights will definitely help new graveyard addicts and might even be useful for those of us who've "gone off the deep end" so to speak 😉
1) Watch out for ant beds! Seriously, how many times do I have to learn this lesson?? With a camera up to your face, moving from stone to stone quickly, it's easy to forget to LOOK before you STEP.
2) Get out of the shot! The first time I took a photo of a lovely and huge headstone for someone I realized that the glossy front of the stone had a perfect reflection of me and my camera captured over the names and dates of their loved ones. Not so cool. So I had to find an angle where I could get a good shot of the stone and not have me plastered in it. It can be a challenge but so worth the effort. Ditto for shadows by the way.
3) Use the sun. Taking shots at a slight angle can often make an unreadable stone suddenly come to life when the shadow cast in the etched names reveals what is hidden when looking directly at it. There are headstones I swear look totally different on cloudy versus sunny days. Vice versa, on cloudy days you can take photos without worry of your shadow being in the shot.
Make Instant Discoveries in Your Family Tree Now
Imagine adding your family tree to a simple website and getting hundreds of new family history discoveries instantly. MyHeritage is offering 2 free weeks of access to their extensive collection of 18 billion historical records, as well as their matching technology that instantly connects you with new information about your ancestors. Sign up using the link below to find out what you can uncover about your family.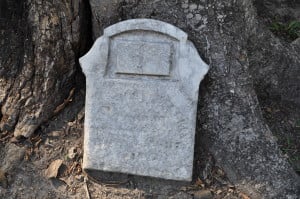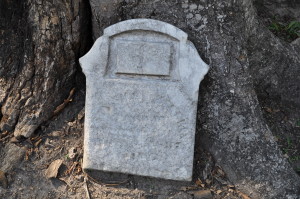 4) Use your fingers. While many if not all cemeteries forbid rubbings I've found my fingers can reveal enough to get a positive ID. It is inevitable that stones will wear from weather over time. Gently tracing the carving with fingertips can sometimes (though not always) give the answers. And while your at it, brush away some dirt/leaves/weeds – whatever you can do to make the picture more complete.
5) Don't disturb too much.  Why cemeteries or funeral homes – I'm not sure which – insist on putting the flower holder right where the name will be blocked when said flowers in place is beyond me. So when I photograph headstones blocked by flowers I first get the full on flower shot (after all it is what the family wanted) and then a close up of the name or date gently holding the flowers aside. Not much I can do, however, when a 15 foot high mausoleum memorial has a blocked view (aka my grandparents!)
6) Focus! I haven't seen this problem too much on Find A Grave but a few of the Billion Graves photos, while readable, are totally out of focus. It doesn't take but a few seconds to stand still enough for the shot. And it will be much appreciated!
7) Quality matters. I use a high resolution for the pictures I take (usually a Large size setting and Fine pixel setting.) If I'm sending a photo to someone directly I want him or her to decide how big they want it and not be limited by my decision to go small. The required size for Find A Grave is great (3MB), but for my personal photos I go even larger.
8) Photograph surrounding graves. This was another hard lesson for me to learn. I was so eager to get in and get a photo sometimes that I wouldn't take the time to look at the surrounding area. Were there other relatives around that I could easily photograph? Were there graves in a similar style that might indicate a relation even if the names were different? I don't miss these now. I've had to go back – even when photographing for my own family – and double check for things I should have looked for the first time.
9) Follow the grounds crews. Depending on where you live the best time of year to take pictures will vary. In Houston spring is actually hard. Weeds and grass are growing out of control and it (usually) rains a ton! So If I know the days the grounds keepers come to mow and clean up I'm there either the same or next day. I won't be pulling the weeds out of the way myself. And sometimes it's nice to have a little company.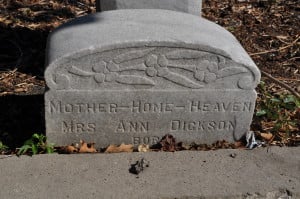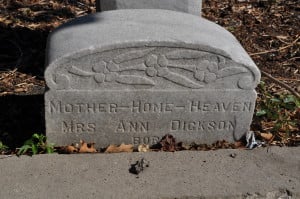 10) Don't put off taking photos too long – things sink! I've been amazed over the few years that I've been documenting one particular cemetery in Houston how much the stones weather or sink in a short period of time. Now, we're in a swamp like environment so not everyone will have the sinking problem. But weather is everywhere and it will affect the stones. Once I realized how quickly it was happening I took advantage of every cool/sunny day (not that often here) that I could to take photos. When it comes to gravestones: A photo today is worth more than a photo tomorrow!
11) Respect the graves. This should really go without saying, and it's something I've tried to teach my kids. They sometimes come with me on my picture taking sprees and my general rules are: don't step or sit on the stones, don't disturb flowers or other mementoes family has left, and walk, don't run, through the cemetery.
18 Billion Genealogy Records Are Free for 2 Weeks
Get two full weeks of free access to more than 18 billion genealogy records right now. You'll also gain access to the MyHeritage discoveries tool that locates information about your ancestors automatically when you upload or create a tree. What will you discover about your family's past?
12) Even non-famous people get buried in famous cemeteries. In early days when I visited cemeteries considered "famous" (like Magnolia Cemetery in Charleston, South Carolina) I wouldn't take many photos. I assumed that since the place was so well known, it must have been thoroughly documented. WRONG! Now, I always take random photos when I visit cemeteries far from home. Knowing that I won't get back anytime soon, I document what I can on the off chance that the photo hasn't been entered online yet. EVERY TIME, no matter how "famous" the cemetery is, I end up adding memorials for stones as yet un-photographed.
13) "Do you ever get creeped out?" This is by far the number one question I get from my non-graveyard obsessed friends. And the answer is yes. I don't think we can help but let our imaginations get away from us occasionally. But it has never stopped me from going – although I did shorten a visit once. What you do need to be aware of in cemeteries is the living. In my urban hood the cemeteries are often in not so great parts of town and tucked out of the way. There are some I won't go to at all without my husband and I generally don't wear my jewelry. While nothing has ever happened to me personally, I know it does happen. Always be aware of your surroundings.
Featured Image: Olivewood Cemetery, Houston, Texas – The self-etched headstones can be particularly hard to read.