Double Wedding Ring: The Story of Rhoda Wyatt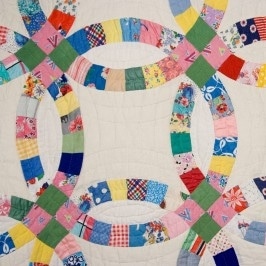 Last year I spent some time researching the family history of my sister-in-law Susie.  Along we way we discovered some memorable stories, including that of Rhoda Wyatt (1830-1910).
Susie's great-great-great-grandfather was William Wyatt (1799-1867), a landowner in Somerset, England in the 1800s.  He had seven children with his first wife, most of whom ended up in America.  One child was Susie's great-great-grandfather Philip Wyatt (1821-1892), a real character who married three women named Elizabeth—the first for love, the second on the rebound, and the third for her money.
Besides those seven, William raised another child named Rhoda Wyatt—an orphan who was adopted by her aunt and uncle and raised as a member of the family.
Rhoda had a happy childhood.  But when her adoptive mother died, Philip brought a new wife into the house, who soon ruled the roost her own way.  Then one of Rhoda's sisters married the man Rhoda was in love with—the local butcher, George Salter—and they moved to America.  Rhoda must have thought her life was over.
She was soon given an unexpected second chance.  Her sister died shortly after having (and losing) George's second son.  The grieving widower wrote a letter to Rhoda's father, asking if one of his other daughters would like to come to America and take her dead sister's place—marrying George and raising their surviving son!  Rhoda quickly accepted, and before long, she was a new bride in America.
But sixteen years and three more children later, she found herself widowed in Chicago, shortly after the Great Fire of 1871.  She longed for the farm life she'd loved as a child—so she decided to pack up her things and buy a dairy farm in Brown County, Wisconsin.   A Civil War veteran named James Black lived nearby—a prosperous farmer who'd never married.  Rhoda's daughter, a young matchmaker if ever there was one, managed to talk her mother into making a quilt for a church fund-raiser, for an anonymous bidder.  She suggested to her mother that "Double Wedding Ring" would be a lovely quilt pattern.  When the quilt was done, and the bachelor neighbor received his quilt, there was much blushing all around at the name of the pattern… but that was followed shortly by a wedding.  Rhoda and James lived happily ever after.
Rhoda left a diary, which was discovered many years later and made into a novel called Double Wedding Ring—now out of print—written by Patricia Wendorf.  (The author changed "Wyatt" to "Graypaull" in her book.)  I picked up a used copy on amazon.com last summer.   It's a wonderful story—all the more so because it's true.
Susan Wallin Mosey is the administrator at an elder law firm in Aurora, Illinois. When she's not at work she likes to do genealogy for fun and profit. Storytelling is one of her favorite aspects of genealogy, as can be seen on her blog, Pages from the Ancestry Binders. Another special interest is Amish genealogy. Sue has been doing genealogy as a hobby for about 20 years and has been putting together ancestry binders for others since 2011. She is a member of the Association of Professional Genealogists and the National Genealogical Society. Sue lives in Yorkville, Illinois with her husband Gary. Her website can be found at www.ancestrybinders.com and she can be reached at swmosey@comcast.net.
Get Family History Daily's Articles by Email Each Week
Stay up to date on our newest articles by subscribing to our free weekly newsletter.