Could You Become a Daughter of the American Revolution? Find Out Here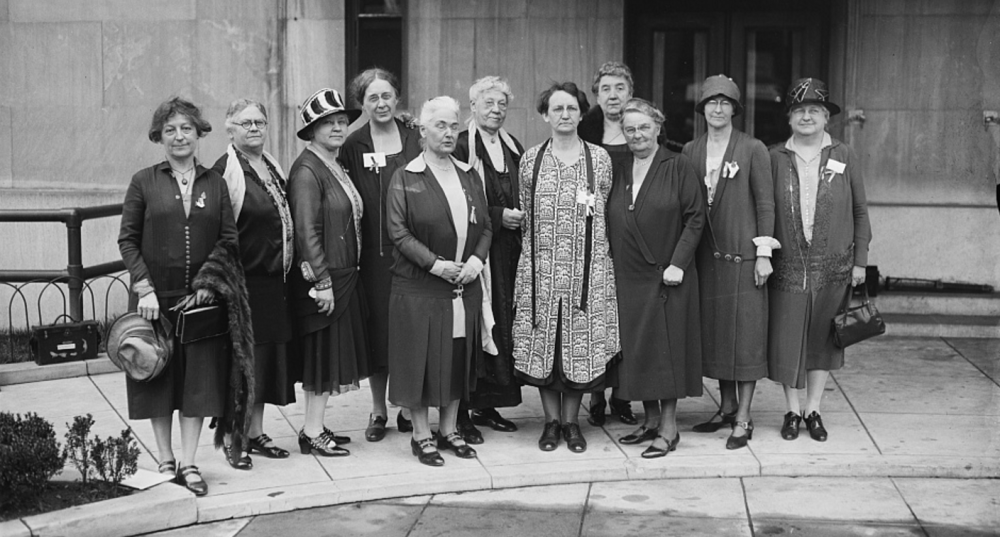 Do you believe that you may have an American Revolutionary War ancestor? Or perhaps you already know you that you do and would like to connect with others who also have Revolutionary Era roots?
If so, you may qualify to become part of one of the most respected membership organizations in the US, The Daughters of the American Revolution.
Started in 1890 as a way for women to showcase their patriotism and serve their country, this lineage-based organization now has nearly 200,000 members who take part in a wide variety of important projects. Members come from many backgrounds, a testament to the rich diversity of our country and its history.
DAR members have access to many special opportunities, but perhaps the most intriguing is the chance to connect their family trees with the detailed, proven lineages that comprise such an important part of America's past. And DAR has made it easy to begin finding such a connection with two free online databases for genealogical research.
If you have already done some research and believe one or more of your ancestors may have served in the Revolutionary War, you can do a search now to see if they, or their descendants, appear in one of these databases.
DAR Ancestors Database – a simple free search for Revolutionary Era ancestors
DAR Descendants Database — free search for known descendants of those who served in the Revolutionary War, over 7 million names
Here's What a Search Result in the DAR Ancestor Database Looks Like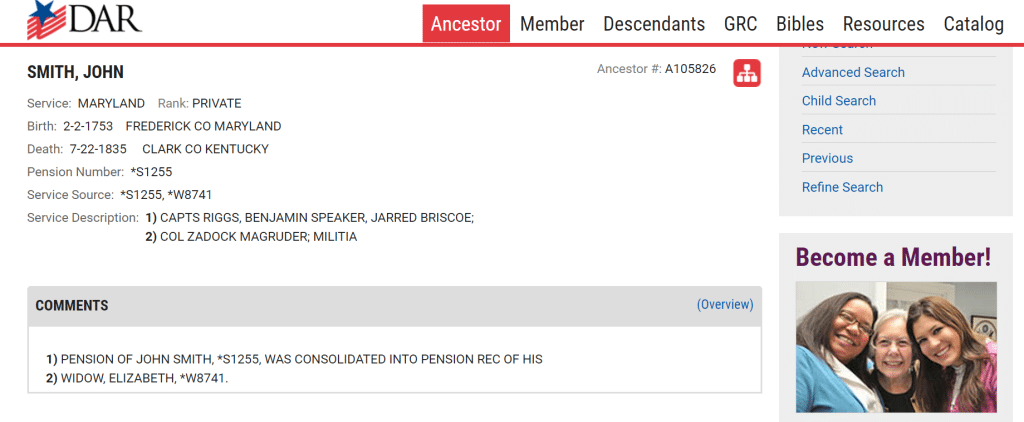 If you have not yet traced your roots back to the Revolutionary period, try searching the descendants database first to find a connection to someone in your tree that you suspect may have a Revolutionary lineage.
Or spend some time building your tree on lines you suspect may be a good match first, and then go back and search on DAR. Find free research resources here.
These two databases are also wonderful tools for anyone researching ancestors during the Revolutionary period in the US, even if you don't intend to apply for membership. In fact, DAR offers many interesting resources for family historians that anyone with early American roots will not want to miss. Find their complete genealogy section here.
Of course, simply finding an ancestor in one of these databases does not secure you a spot in the organization. Membership requires a documented and approved direct lineage.  See DAR's how-to on applying for membership here.
Make Instant Discoveries in Your Family Tree Today
Imagine adding your family history information to a simple program and getting hundreds of new discoveries instantly. MyHeritage is offering 2 free weeks of access right now to their extensive collection of 7.2 billion records, as well as their matching technology that instantly connects you with new information. Simply sign up using the link below to start making new discoveries right now.
Note: DAR is a women's organization. Men with Revolutionary War ancestors can take a look at SAR, Sons of the American Revolution, which also has free research databases.
We'd love to hear if you are currently applying for membership or are a member of DAR. Tell us about it in the comments. 
By Melanie Mayo, Editor of Family History Daily
Image: D.A.R. of Virginia pay tribute to Unknown Soldier of Revolutionary War. 1929. Library of Congress
Get Our Genealogy Articles by Email Each Week
Stay up to date on our newest articles by subscribing to our free weekly newsletter.