Online research is getting better and better every day. With new free websites, databases and research groups popping up everywhere, family historians have a seemingly endless supply of records and resources to help them uncover family details.
But with all of the amazing information now available at our fingertips it can be difficult to keep track of it all. Whether you're on a research site perusing possible record matches, taking a family history course or reading helpful articles, it helps to have a program that can aid you in remembering and storing it all.
Luckily, an improvement to one of Google's best tools just made it one of the simplest solutions for this purpose.
The tool is Keep and it's Google's answer to Evernote or Trello, which are both free and well-respected organizational programs that many family historians use to aid them in their research. We wrote about using Trello for genealogy last year and there is no doubt that this program and Evernote are great ways to stay organized. We use them both for different reasons, and now, we can't help loving the simple, clean and accessible nature of Google Keep as well.
Make Instant Discoveries in Your Family Tree Now
Imagine adding your family tree to a simple website and getting hundreds of new family history discoveries instantly. MyHeritage is offering 2 free weeks of access to their extensive collection of 18 billion historical records, as well as their matching technology that instantly connects you with new information about your ancestors. Sign up using the link below to find out what you can uncover about your family.
This week, a new Chrome extension has been offered for Keep that allows you to add a note from any website with one click – making this already helpful tool more valuable than ever. While looking at records and resources online you can now add a webpage, or part of a webpage (along with a note), to your Keep board without ever leaving the site you're on. Of course, both Evernote and Trello also offer this convenience, but Google Keep's new tool is the cleanest option we've seen.
The best thing is, if you are using Gmail (or another Google service that requires an account) you already have a Keep account. Just visit keep.google.com to find it. And if you don't have a Google account, you can easily get one for free.
Here's How to Use Google Keep for Genealogy Research
Start by getting your Google Keep account. As noted above, if you have a Google account just log in and visit keep.google.com. If you are not already using Google, visit the link and they will prompt you to create a free account. Or you can go to the informational page about this tool here and select "Get Keep" in the upper right hand corner. This will allow you to visit the web version or download an app for Android or iOS.
On the web, your Google Keep account will look like this. The app versions will, of course, appear a bit differently.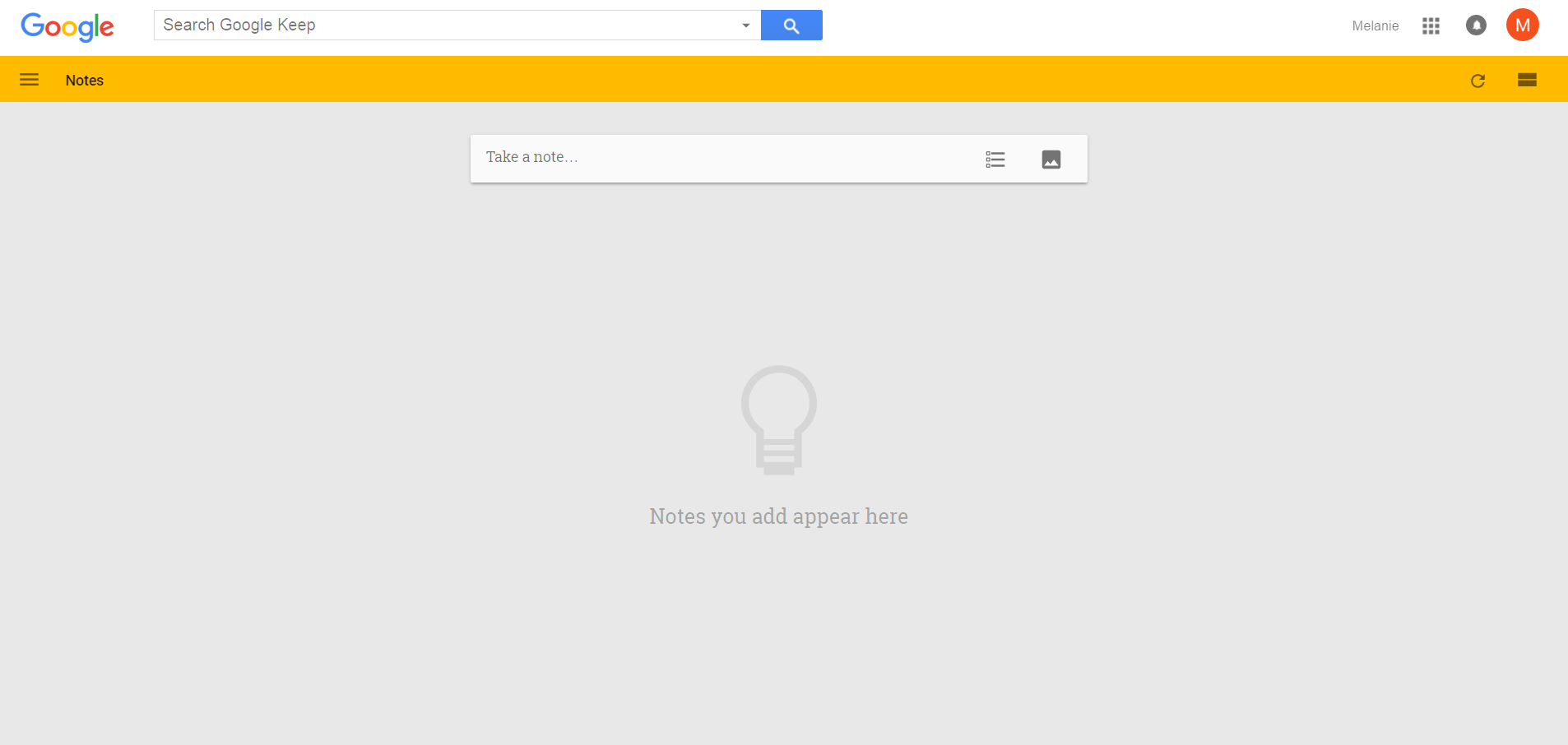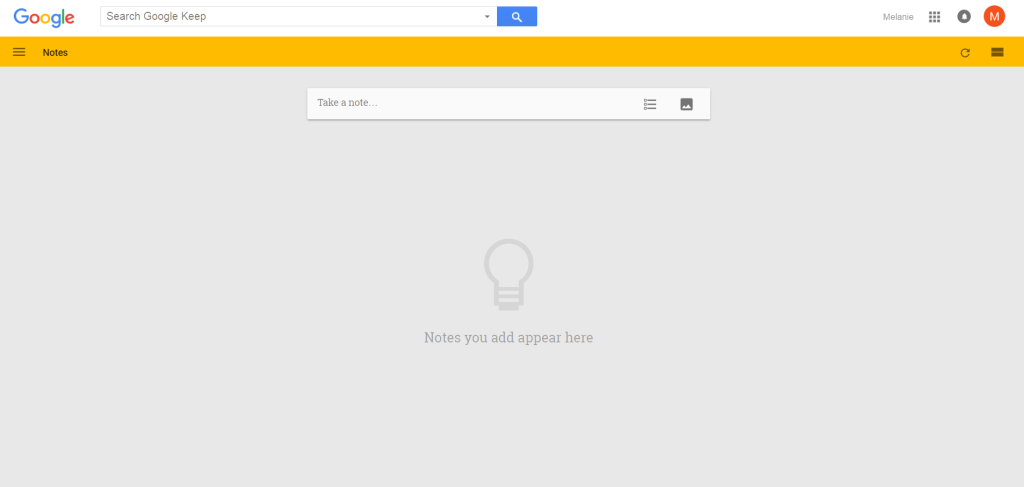 Once you have accessed your main note page, you will now want to install the note taking extension for Chrome. You will be prompted to do this on the main Keep page or you can find it here. Adding the extension takes just a couple of clicks — follow the simple prompts.
Not using Chrome? You can get it here for free.
Now that you have access to your Keep account as well as the extension you're all set to start collecting information from across the web. There are two ways to add notes to your new account.
18 Billion Genealogy Records Are Free for 2 Weeks
Get two full weeks of free access to more than 18 billion genealogy records right now. You'll also gain access to the MyHeritage discoveries tool that locates information about your ancestors automatically when you upload or create a tree. What will you discover about your family's past?
The first way is to do so directly on your main note page. Simply start by typing a note in the box provided. You can add text notes, upload images, add links or create reminders. You will see that there are a variety of options at the bottom of the note to help you with this — including the ability to change a note's color, add a label or share your note with other Google users.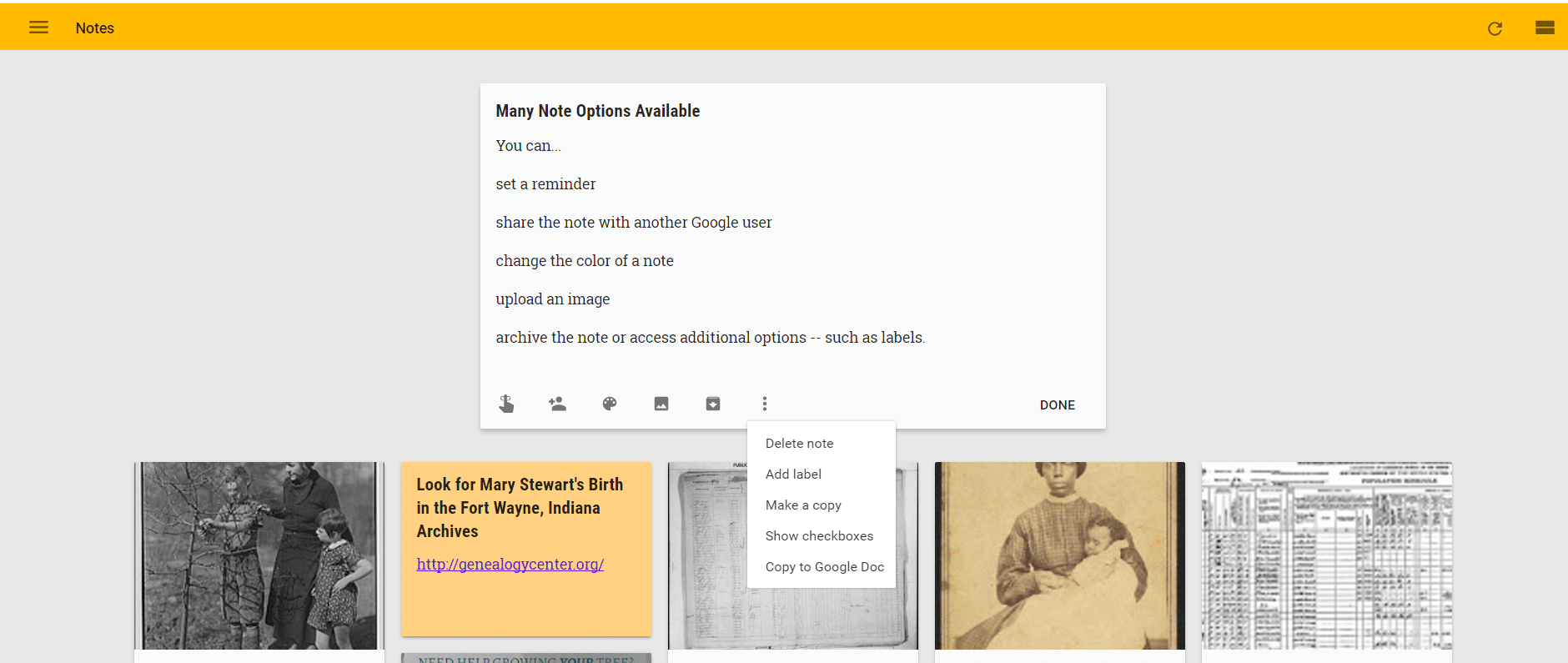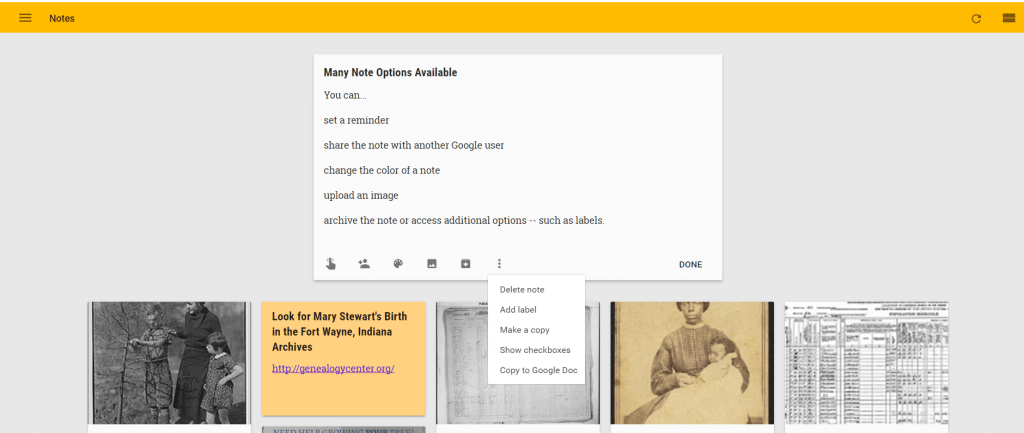 You might want to add copies of records you're currently researching, make a note about a resource you plan to review later, set a reminder to follow up on a research lead, or make a list of goals you want to accomplish. Whatever it is, Keep makes it pretty easy to add it.
In the screenshot below we've added a census record we want to save and a link to where we located it.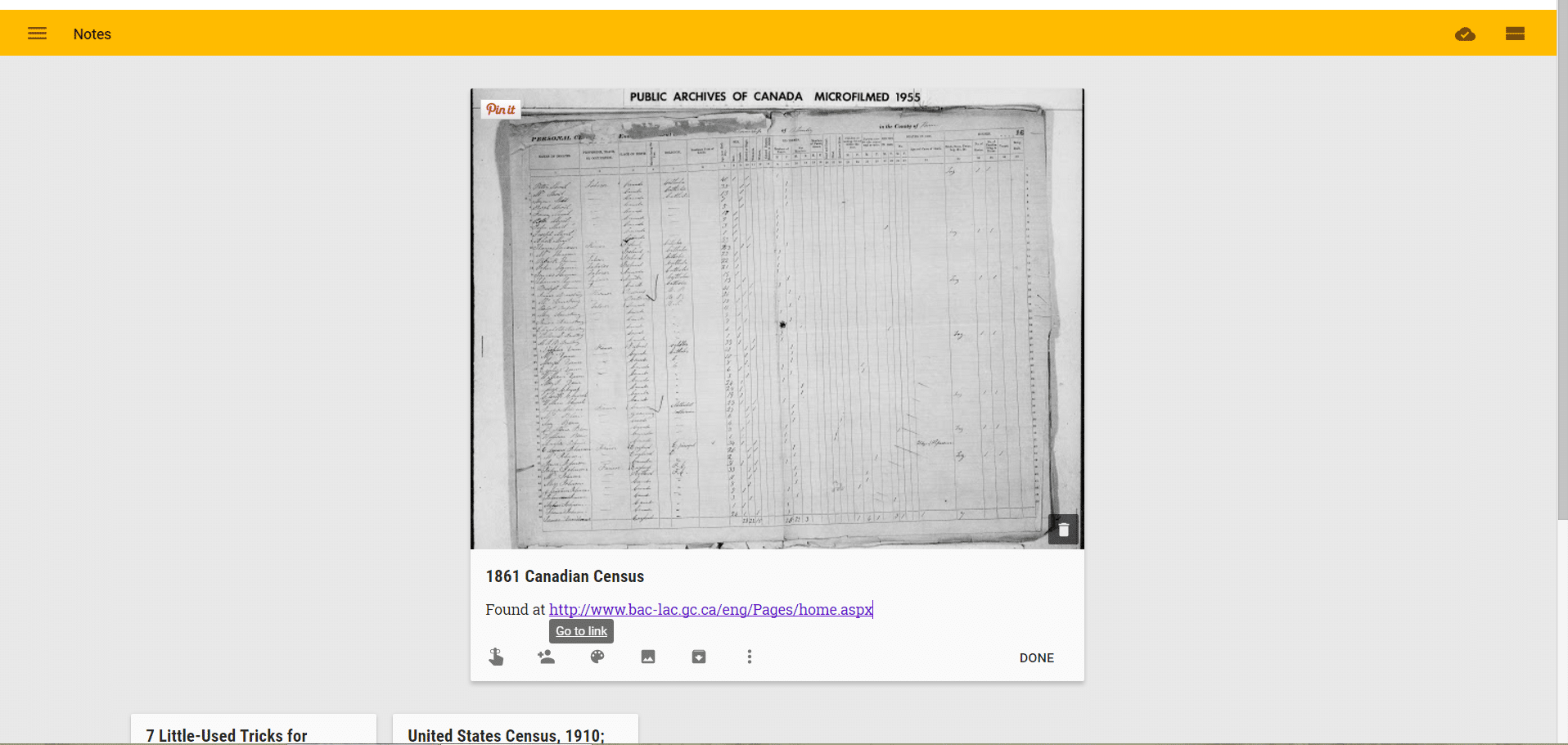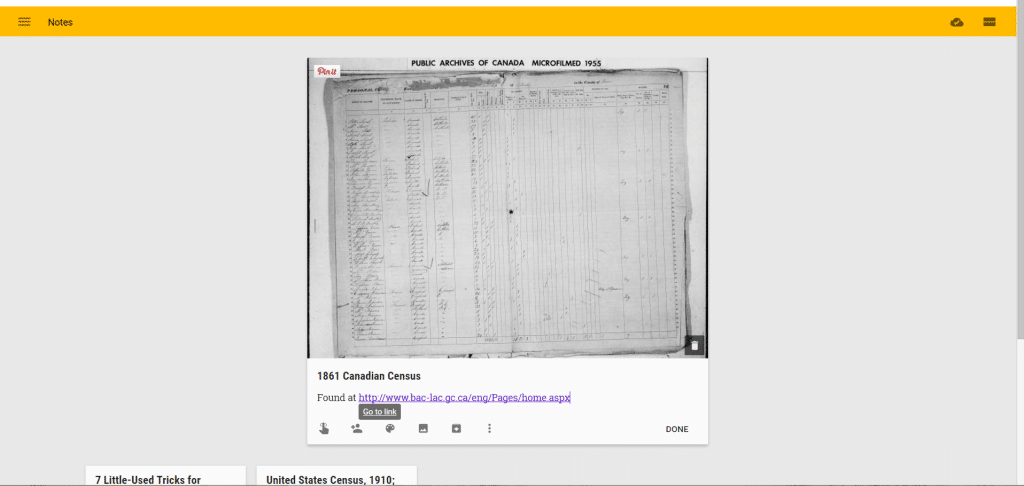 Here's our example account, packed full of genealogy research notes.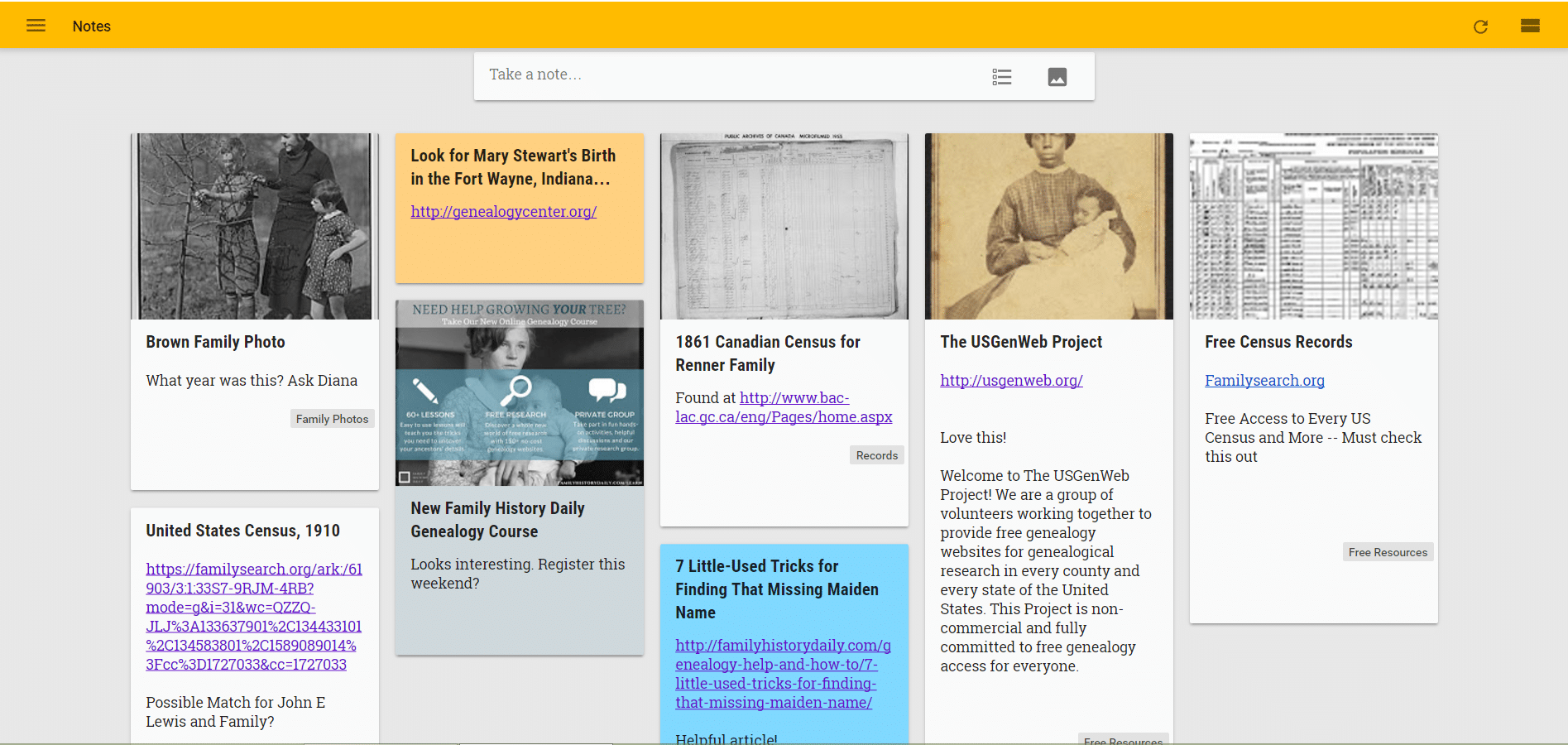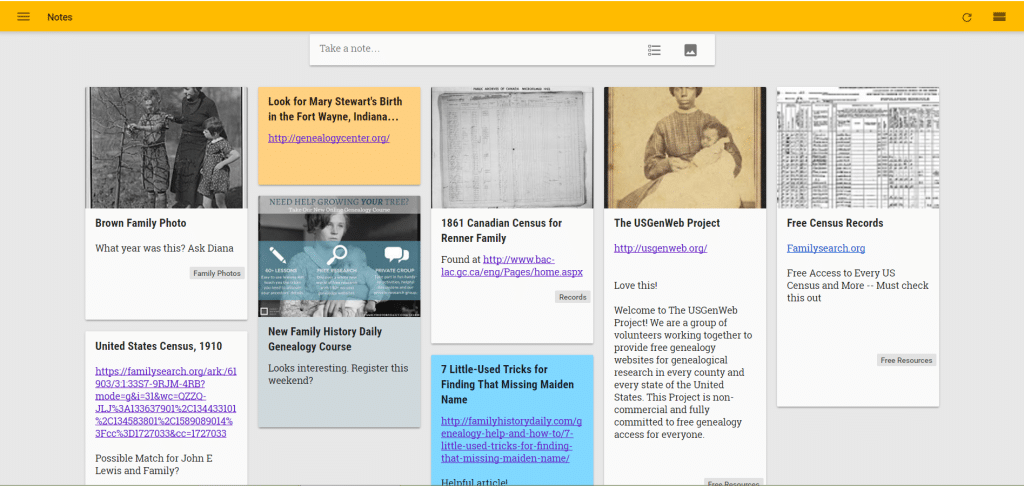 Once you start adding notes, you'll also want to organize them. In Keep, you do that with labels. Click on the drop down dots on any note and select "Add Label" to select a label you've already created, or to create a new one.

Once labels have been added you can click on the label name on any note to view notes only from that label. You can also find all of your current labels in the navigation bar on the left of the screen — select the menu button in the upper left hand corner to view them.
Here's a view of notes from one specific label we created — records.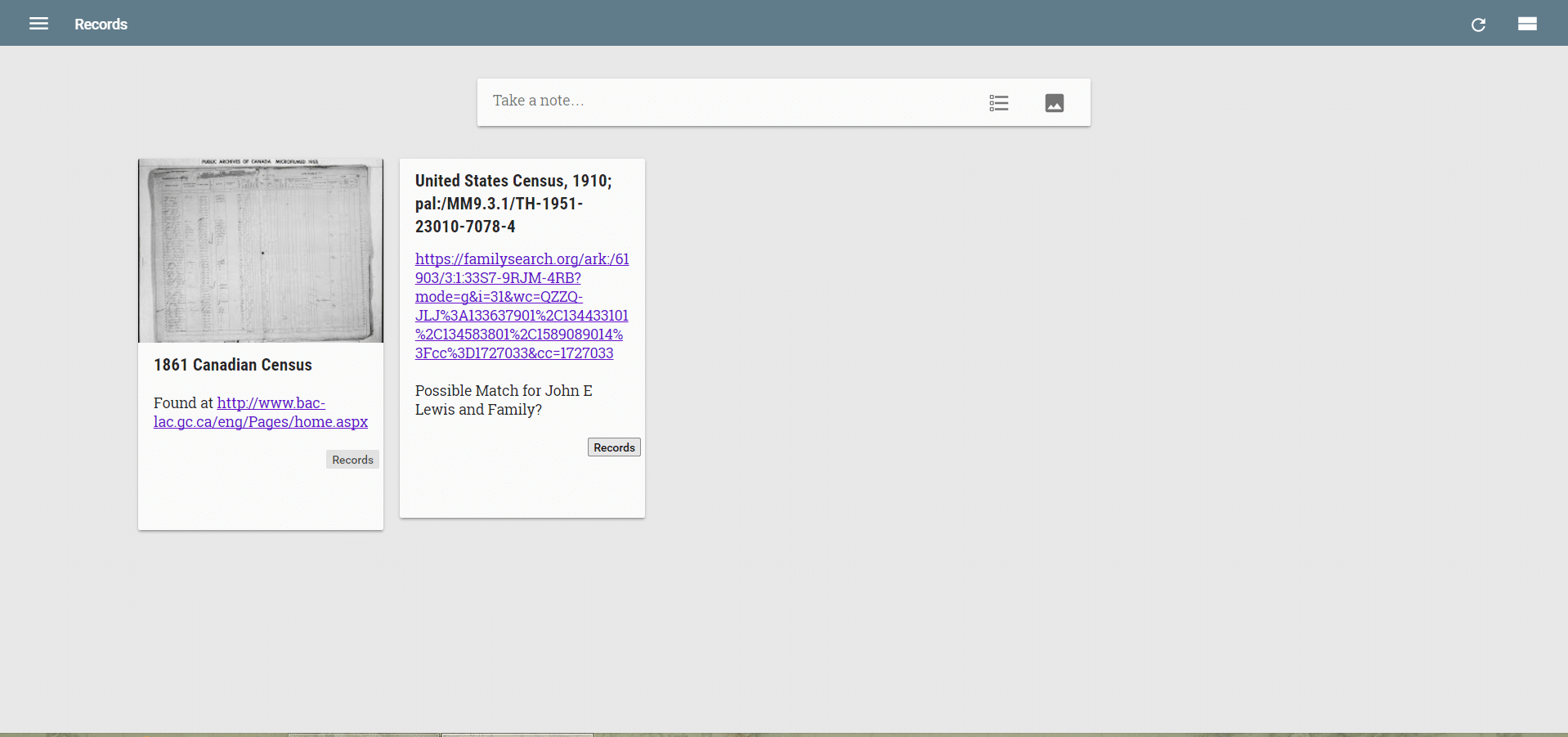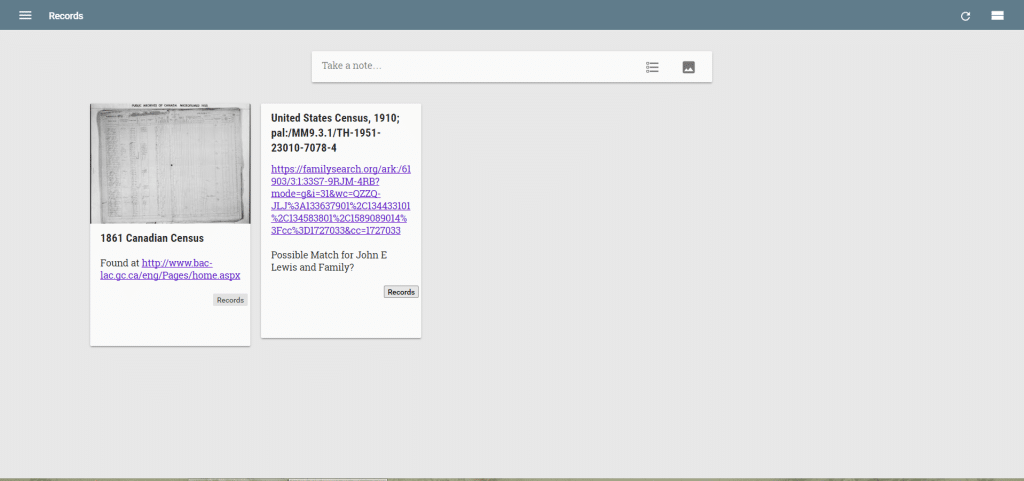 This system makes it incredibly easy to find information you've previously added, and you can organize your notes any way you like. You can create category based labels, as we have done in this example, or create a label for each surname, line in your tree or location. Notes can have multiple labels as well.
As mentioned above, you can also set convenient research reminders for yourself. Just select the little hand on a note to ask Google to remind you to check that note at a later time or date.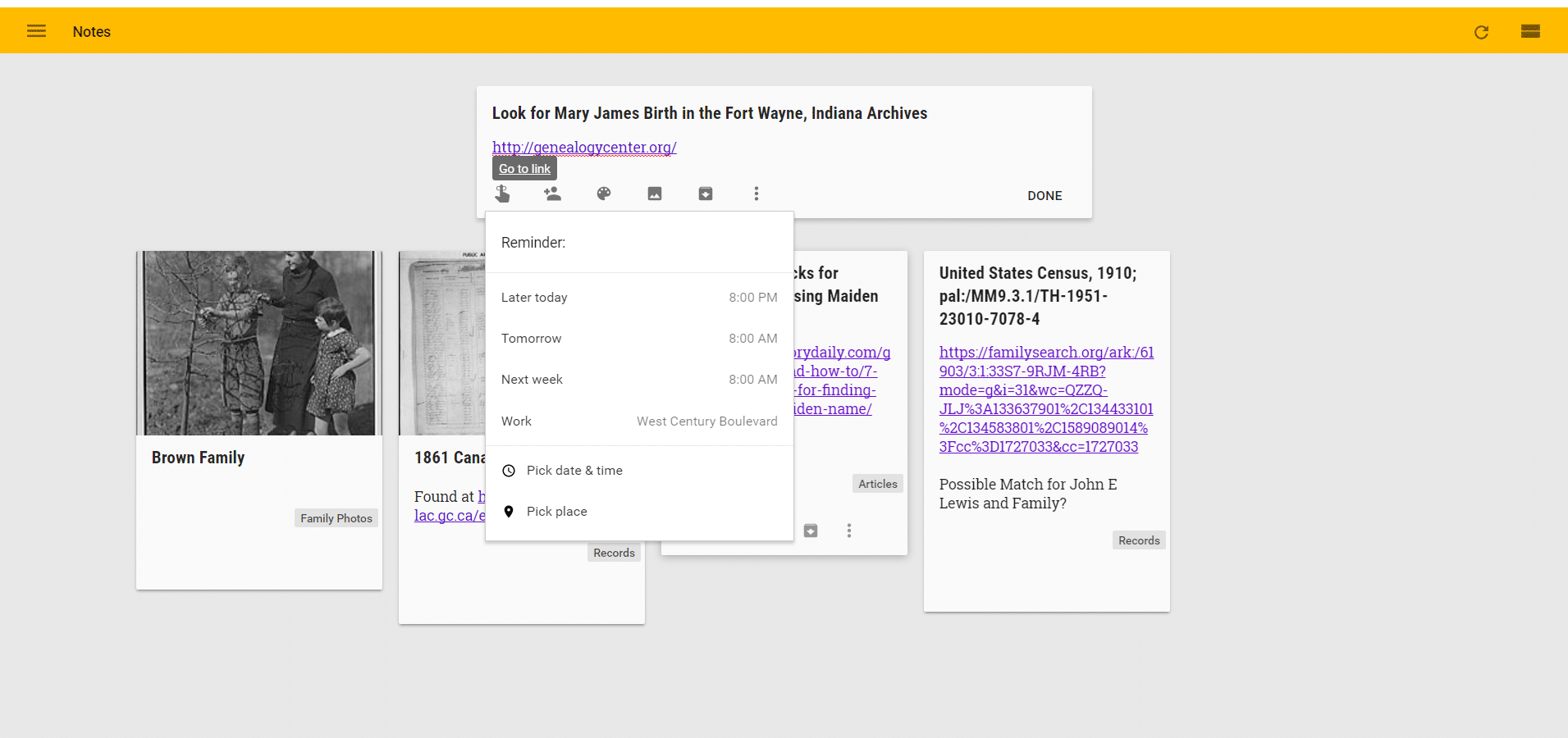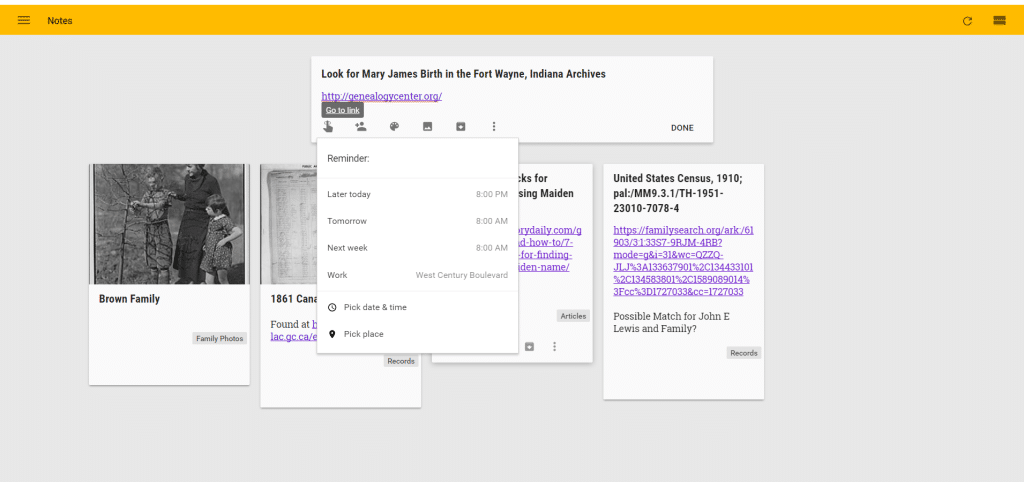 But what about grabbing notes while you're researching? Yes, you can do that too.
If you installed the Chrome extension you will now see a gray light bulb in the upper right hand corner of your browser (which will turn orange when you take a note). To add a note about a webpage to your Keep account, just click on this light bulb icon.
A small gray box will come up as well when you select the light bulb. You can add text, labels or change options right from this panel. You can also clip only parts of pages by highlighting text and then hitting the note button. This text will automatically be added to your note.
Here, we've added an article we want to read later to our notes and added some text.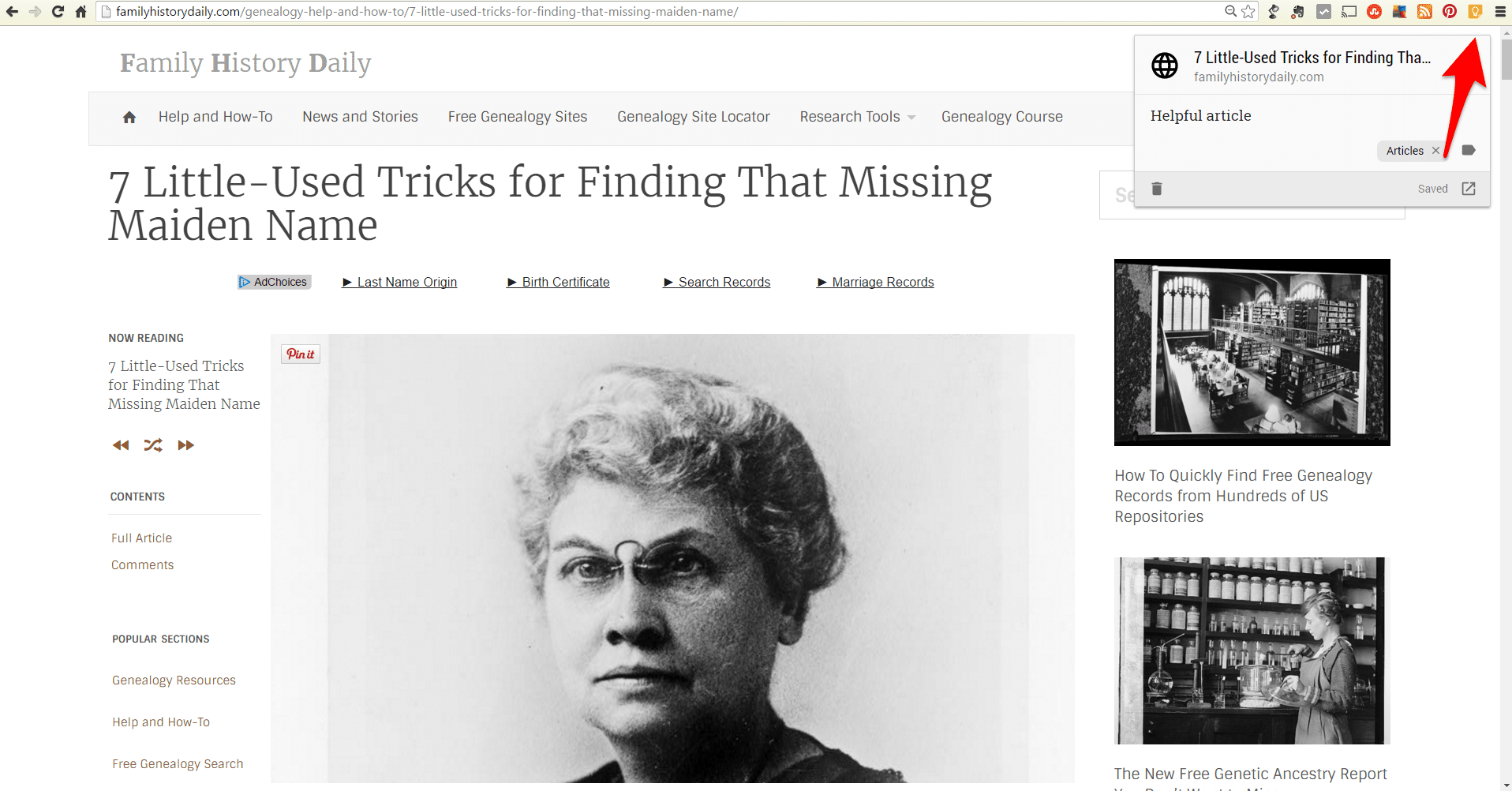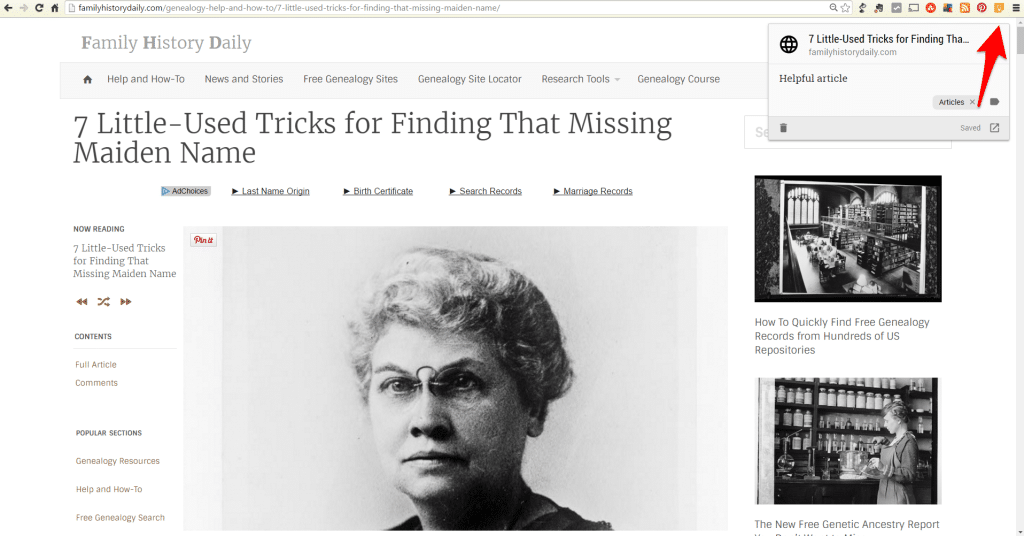 And here we've added a record we don't want to place in our tree right now, but need to save for future reference.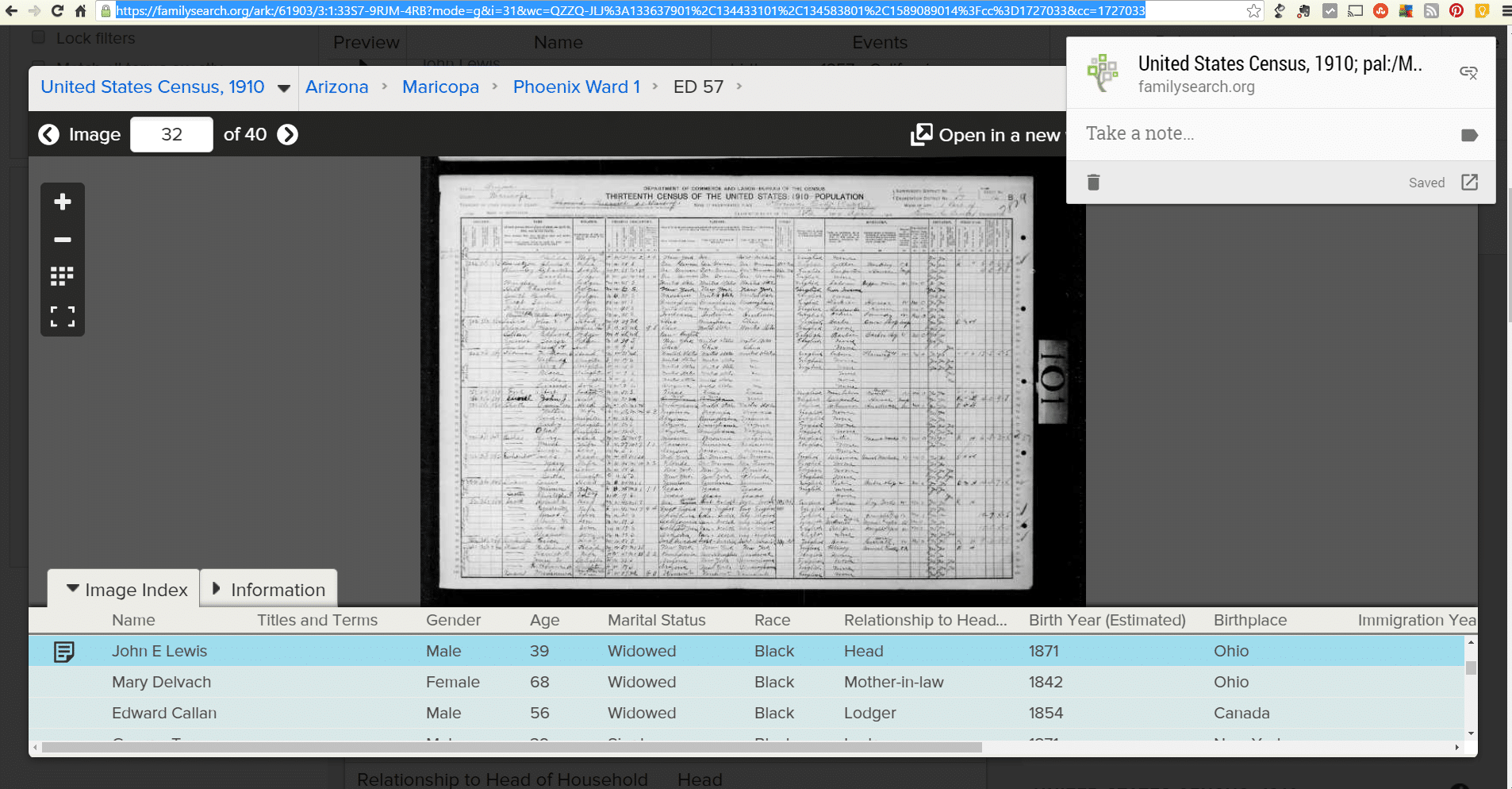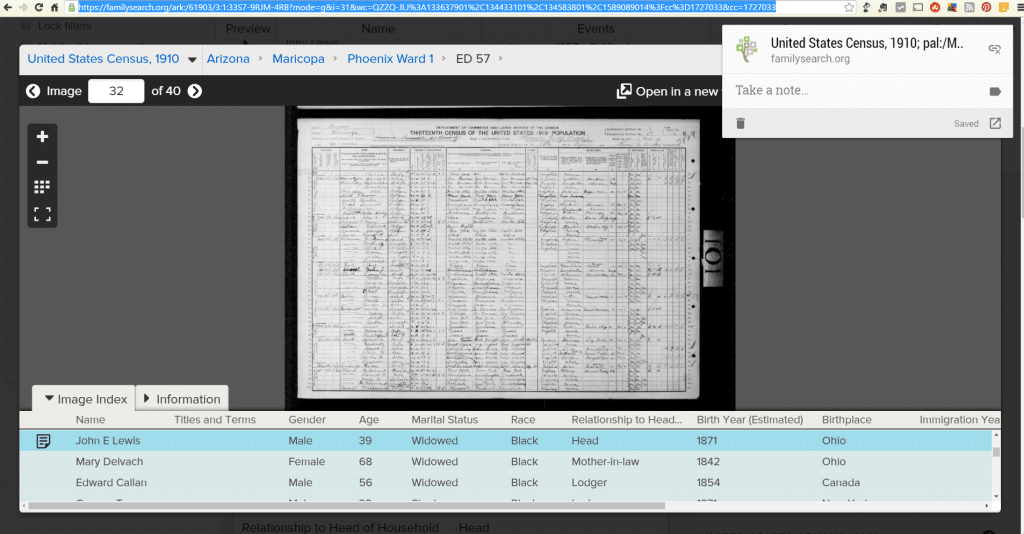 Once you hit the light bulb icon there is no need to save or do anything else, the page is stored in your notes automatically. You can easily delete or edit the note at any time in your main note panel or by clicking the (now orange) light bulb again. Below we are looking at a saved note we made about USGenWeb right from their website. The notes will be there even if you leave and come back.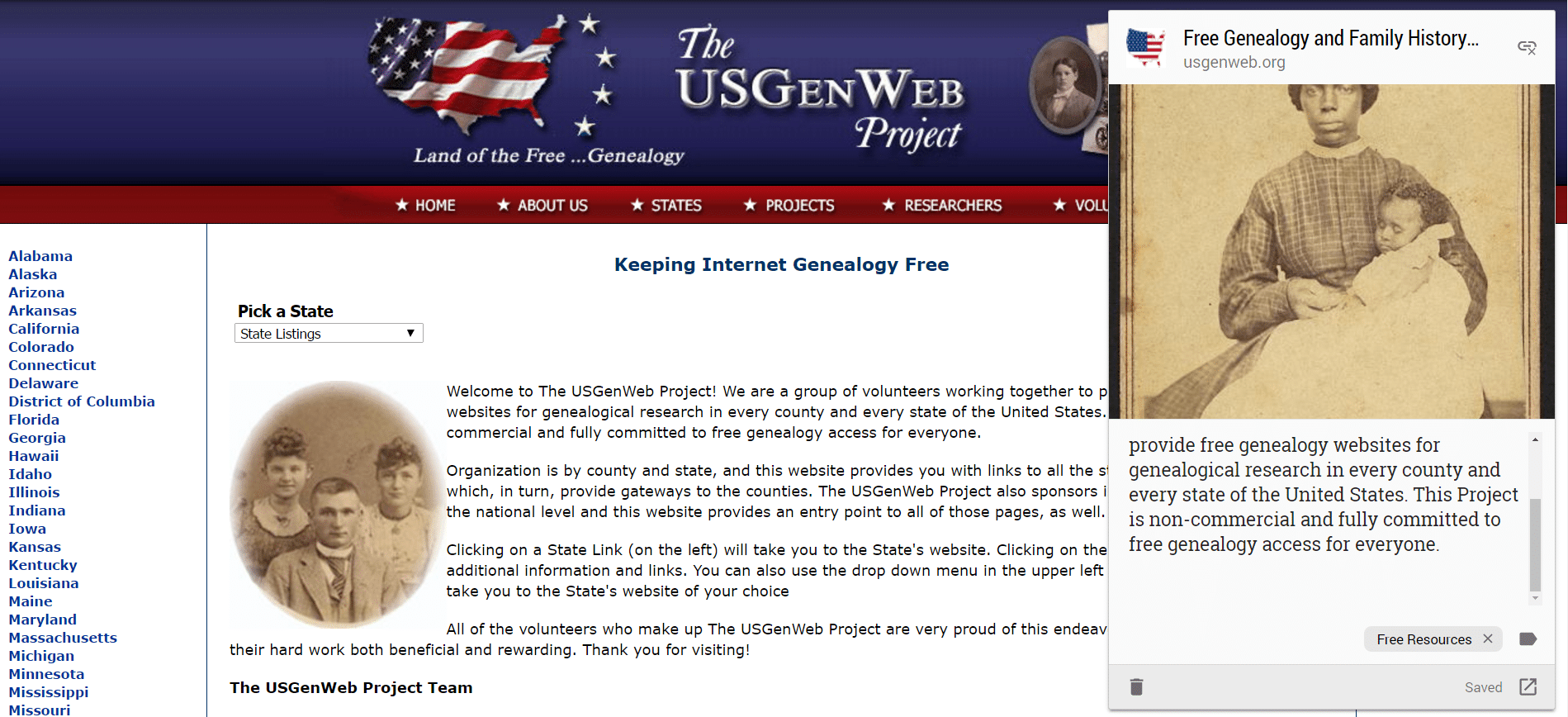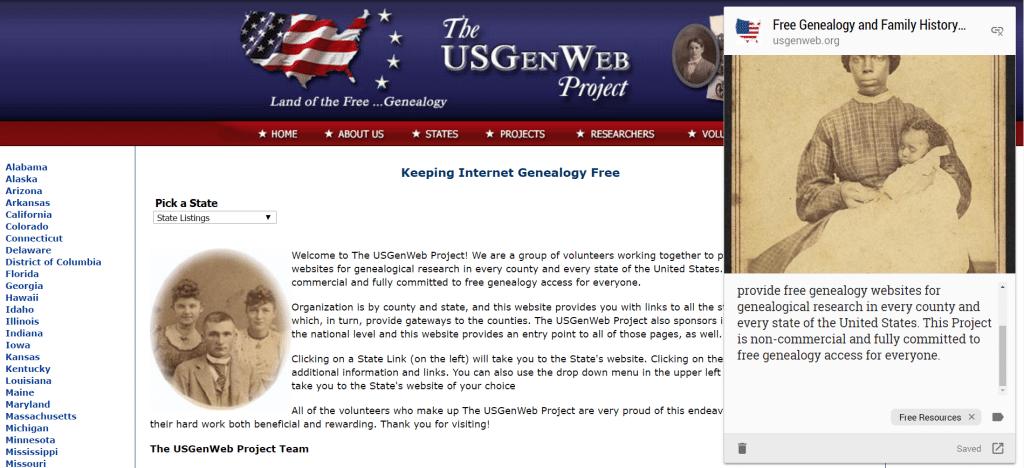 Go ahead and give Google Keep a try. Even if you're already using another note keeping program you might find that this simple but powerful tool helps you track and organize your research more effectively.
Not sure Google Keep is right for you? Read about how to use Evernote for genealogy here.
By Melanie Mayo, Editor of Family History Daily
Image: Steelworker paying dues at steelworkers organizing committee office. Ambridge, Pennsylvania. 1941. Library of Congress