by Marsha Peterson-Maass
If you've never taken the time to track down offline vital records about your ancestors you might be asking yourself two questions right now: "Vital Records?  What are those?" and "Offline? Why would I need a quick guide to finding Vital Records offline when it's so easy to surf for everything online?" But you'll soon discover that adding these offline records to your research is an integral step in understanding your ancestors' lives and building a quality family tree.
This article explains how to find out where offline vital records are stored and how to order them, often online. For even more help with offline genealogy research, read our guide. 
Understanding Offline Vital Records and How to Gain Copies of Them
Vital Records are Birth, Marriage, Divorce and Death records that were created by governmental or other public or private means. They often contain the basic information you need to build an accurate family tree – such as birth, marriage and death dates and locations, addresses, relatives names, cause of death, occupations and more.
Make Instant Discoveries About Your Ancestors Now
MyHeritage is offering 2 free weeks of access to their extensive collection of 18 billion historical records, as well as their matching technology that instantly connects you with new information about your ancestors.
And, of course, most Vital Records are still not online. But, happily, finding Vital Records OFFLINE usually starts with steps you take ONLINE.
Confused yet?  No worries, I promise this quick guide's methodology and process steps are easy to understand and use.
Just to be clear, for our purposes here, when I mention "OFFLINE" records, I'm talking about mostly paper records (and oral records) that have not yet been digitized and placed online for you to find.  I hear many genealogists bandy around estimates of how many U.S. genealogical records are still OFFLINE, and today people are using the 85%-90% range. Many of these are vital records.
Just think about how much of your genealogical research evidence is still waiting for you to find in all of those offline records.
And I'm also hoping that by you acquiring Vital Records OFFLINE you'll help to make a positive difference in the reliability of your genealogical evidence.  How?  By doing what the Board for Certification of Genealogists suggests in the first step of their 5-Step Genealogical Proof Standard . . . to conduct a "Reasonably exhaustive search."
"We [genealogists who follow accredited methods] conduct a reasonably exhaustive search for all information that is or may be pertinent to the identity, relationship, event or situation in question." Obviously, if you only research for documents online you won't be able to achieve a reasonably exhaustive search.  And don't you want to confirm the validity of your evidence and know you're assembling an accurate family history? Of course you do. That's a no-brainer.
So let's concentrate on some of the most important source documents for you to find first when you're trying to establish your ancestor's identity . . . Vital Records. You might see the acronym "BMDD" when you're looking for Vital Records, which stands for Birth-Marriage-Divorce-Death.  You might also see the term "Department or Bureau of Vital Statistics" when looking for Governmental records.  Or when seeking Vital Records indexes and webpages, you'll probably see a category of "Vital Documents and Certificates" which is exactly what you're looking for!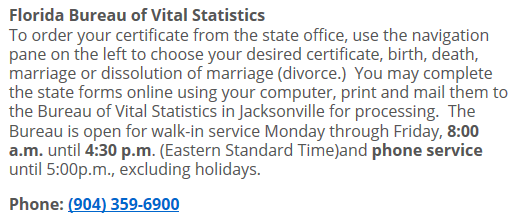 What You Need to Know Before You Begin Your Search for a Vital Record
When you seek OFFLINE Vital Records, you need to know the LOCATION where your ancestor lived and the TIME PERIOD.  Why?  Since most genealogical records were created for our ancestors at the place where they resided and they usually (not always) will still be found there today.  For U.S. locations, Governmental Vital Records are often available at both the state and local levels (depending on the time period). For those in the UK read the Family History Daily guide on the topic.
18 Billion Genealogy Records, Free for 2 Weeks
Get two full weeks of free access to more than 18 billion genealogy records right now. You'll also get the MyHeritage discoveries tool that locates information about your ancestors automatically when you upload or create a tree. What will you discover about your family's past?
A quick aside: A surprising reality for many genealogy newbies is when they discover that most U.S. Governmental Vital Records were not required for most locations until the late 19th and early 20th centuries. So are there any Vital Records for researchers to find before Governmental Vital Records were kept? You bet. Here's a list of some ideas from FamilySearch Wiki: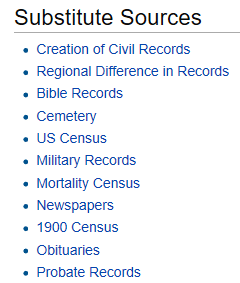 Now that you understand you first need to identify the U.S. location and time period where your ancestor lived, this second step is to check for Vital Records in these three areas:
U.S. Governmental Vital Records at State, County and Town Levels
Other Public Sources Vital Records at State, County and Town Levels
Private Sources Vital Records, mostly at the County and Town Levels
Each of these methods is explained below.
The FamilySearch Wiki says that, "Birth, marriage, divorce, and death records may be obtained by contacting or visiting state offices of vital records or the appropriate clerk's office in a town or county courthouse. Genealogical societies, historical societies, and state archives may also have copies or transcripts. To protect the rights of privacy of living persons, most modern records have restrictions on their use and access."
You'll find that many of these records can be ordered online via websites kept by these entities or through external sources.
Using Governmental Vital Records – State, County And Town Levels
The easiest and most reliable way I've found to identify the state and local level repositories that hold Governmental Vital Records is by looking at the listings on VitalRec.

You'll find separate categories for BMDD listed by state, then by county (and sometimes by parish or town).  I especially like VitalRec as a genealogical researcher because it simply shows you which Governmental body holds the Vital Records along with their contact info.  And for larger municipalities, it gives a grid that displays the available BMDDs, cost, the date each BMDD begins, a link if you click the words "Mail Order" that takes you directly to the Governmental body's website (so you can order directly from that Governmental body) and any general notes.
Remember a couple of things when ordering Governmental Vital Records:
1. There can be protective privacy laws, so make sure to read the restrictions on each Governmental body's webpage and follow their ordering instructions precisely, and;
2. Check the cost and dates available for BMDD certificates at BOTH the state and local levels since quite often costs and the dates of BMDD certificate availability will vary.
BUT BEWARE:  On this same VitalRec grid, you'll see the words "Order Online" that will take you to an external website . . . where this company will do the work of ordering your BMDD certificates for you by charging their service fee + the Governmental body's BMDD certificate fee. But you can save a bundle by doing this yourself.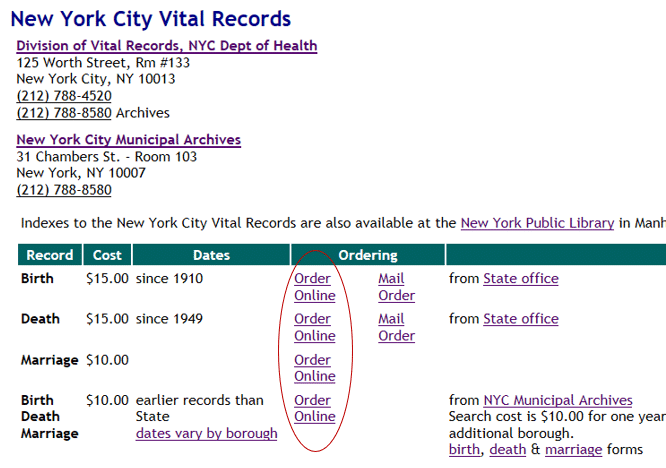 To order records from this page yourself click on the Mail Order link and you will be brought to a page with instructions – which can include submitting a request online, via email or snail mail.
Searching and Ordering Records Through Other Public Vital Records Sources – State And Local Levels
Many genealogists stop here. I recommend that you continue looking for more Public Vital Records Sources, especially trying to identify archives, local genealogical & historical societies, libraries, etc., and whether you can find any online BMDD indexes to search that will lead you to these organization's paper records.  You can often find the records you need quite easily this way.
Family History Daily has an article that lists two online genealogy resources for each U.S. State and many of them offer a way to view an index and order offline records.
The three additional ways I find these resources are:
1. Search FamilySearch Wiki with the words "Vital Records" by location;
2. A Google search of keywords like, "Vital Records" + [location] + "society" or "library" or "index," etc., and; (get tips for better Google searches here)
3. Search CyndisList with the words "Vital Records" by location.
Here are two examples of what you might find: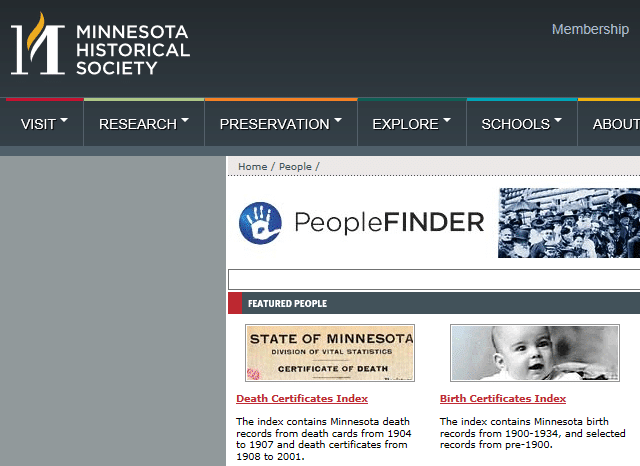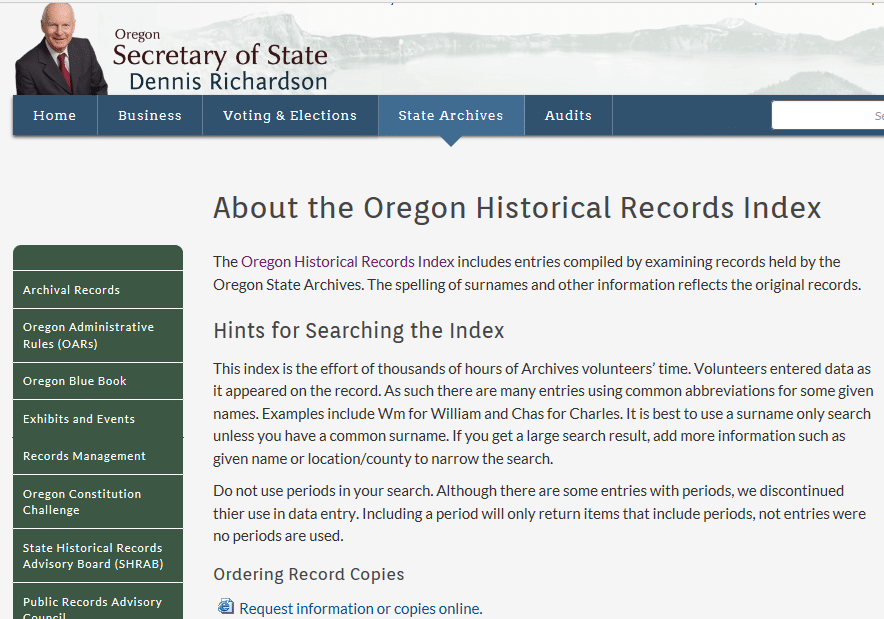 Also, the National Archives and Records Administration gives a wonderful list of website recommendations where you can find Vital Events information that will lead you to even more OFFLINE Vital Records that can be ordered quite easily.  Find the NARA's "Vital Records" webpage here.
Using Private Vital Records Sources – Mostly Local Level
Spend some time searching Google to educate yourself about what private institutions (churches, cemeteries, funeral homes, clubs, local societies etc) may hold records in your location of research and contact them for help gaining access to these records. Many hold a treasure trove of records (including vital records) that can help you.
And never underestimate the power of networking!  Social media has really opened the door to finding and networking with distant cousins and other researchers.  They'll sometimes have and share family records (like funeral programs or birth announcements) or scrapbook items (like newspaper clippings with Vital Event info) or you'll never guess what else.  My favorite way to network today is through Facebook since I've gotten so many incredible, immediate results. Keep an eye out for my upcoming Family History Daily article on using Facebook for genealogy.
Once You've Found Vital Records Info ONLINE, Acquire OFFLINE Vital Records The Easy Way
Just because most of the OFFLINE Vital Records are you're seeking are still in paper form, that doesn't necessarily mean that you have to physically go to that location or write a paper letter with a check enclosed to pay for it.  Much of the time you can find an electronic way to order these OFFLINE Vital Records and accept them as a high quality digital image via email or other methods instead of waiting for a paper photocopy. Each institution has its own policies but many of them are becoming more internet friendly and ordering and receiving records is often simpler than you would expect.
Don't Forget to Look For Vital Records Substitutes
I'd like to share with you something that I recommend for most every genealogical record type…looking for Record Substitutes when the location you're researching has been through a situation that caused their records to be destroyed.  My go-to for Substitute Records suggestions is the free FamilySearch Wiki and CyndisList.  Below is an example for California Record Vital Records Substitutes.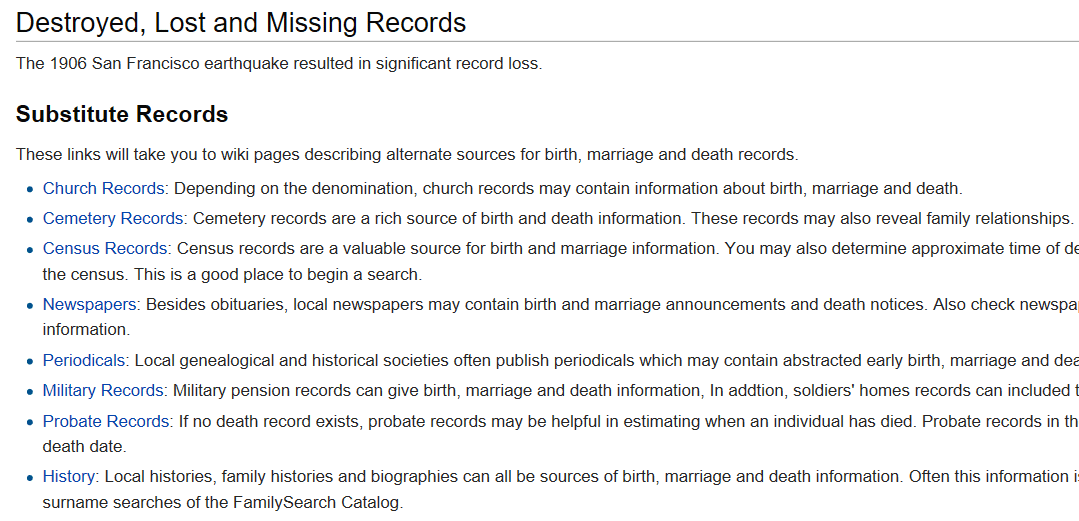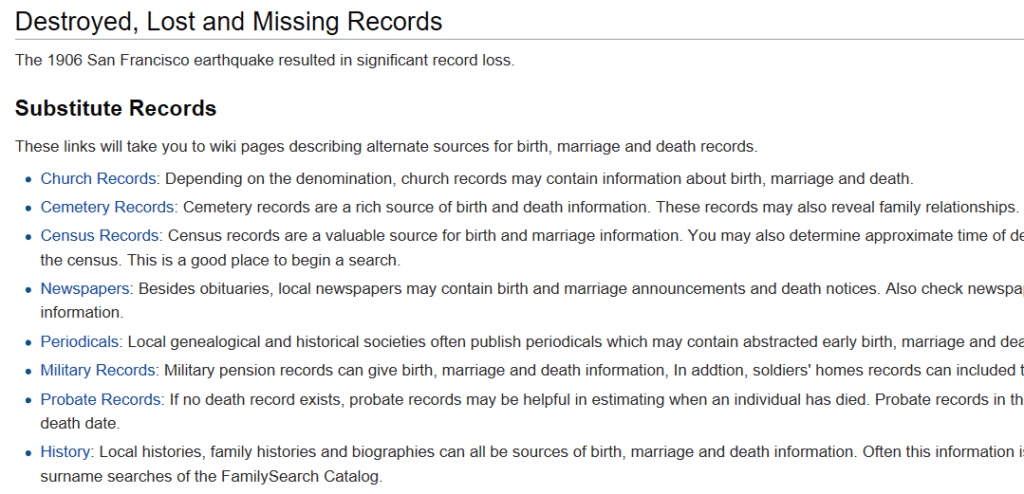 So what do you think?  Do you feel confident that you can find OFFLINE Vital Records?  I hope you do.
Editor's Note: This article does not cover how to use the many online indexes published on Ancestry, MyHeritage, FindMyPast and the many free sites online (including FamilySearch) to locate offline records. When you find information about your ancestor in an online index where the original record is not available take the time to read the information about the source of the index. This will give you clues as to where to find the original. You can often contact the source to order the record. We also offer an article about using Ancestry's indexes to find original sources on FamilySearch or through a local FamilySearch center and an article about how to use ArchiveGrid to find offline sources for your location of research.
And don't forget to read our guide to offline genealogy research.
About the Author: Marsha Peterson-Maass is a contributing writer and lecturer – and author of the Fundamentals of Genealogy® textbook series, including the referenced title, Fundamentals of Genealogy®: The Most Helpful Tools You've Never Used. For an in-depth treatment of this important topic, see Marsha's textbook, Fundamentals of Genealogy®: Basics for Everyone, Chapter 1, "Basic Genealogical Concepts, Kinship Calculator, Charts, DNA Testing & More" and Chapter 2, "Important U.S. Public & Private Sources."
Image at Top: "3 year old spinner in the Belton S.C. Mills. Cornelia and James Wilson are twins. The third pair in family. The mother said the family record was not kept but have heard that they were 12 years old. A question. Father is a farmer. 5 children in the mill. Girl in the middle is Eva McCoy. Family record May 25, 1912. (Said 13 years.) Location: Belton, South Carolina." Library of Congress