Thank you to family history writer Tony Bandy for his hard work making this article possible.
Digital documents form the backbone of modern genealogy research. Whether it's shared family trees, scanned photos, or official documents, there is always new data to be explored.
The hardest part remains, however, in finding free resources. Luckily, many U.S. states have put a good deal of effort into making their records freely accessible online, and some of the best no-cost resources can now be found through state and local agencies. Taking advantage of these wonderful resources can dramatically increase the likelihood of discovering key information about your ancestors.
To help jump-start your own U.S. state-based research, we're sharing the following list of digital resources from across the country. For each state, and the District of Columbia, we've highlighted two of the best online research sites available – 102 in all. All of these resources contain actual records you can search, as well as research guides and more.
Make Instant Discoveries in Your Family Tree Now
Imagine adding your family tree to a simple website and getting hundreds of new family history discoveries instantly. MyHeritage is offering 2 free weeks of access to their extensive collection of 18 billion historical records, as well as their matching technology that instantly connects you with new information about your ancestors. Sign up using the link below to find out what you can uncover about your family.
For more free research sites also check out 50 Free Genealogy Sites to Search Today or the Free Resources section on Family History Daily.
Happy Searching!
Free Genealogy Sites for Every U.S. State
---
Alabama
Alabama Department of Archives and History
With maps, media and more, this is an excellent resource for researching your Alabama ancestors at no cost. Basic and advanced search options, plus plenty of digital records, make this one place you shouldn't overlook.
With plenty of online indexes and methodologies of search, give the Alabama Genealogical Society a try if you're just getting started. From the Loose Records Project and AGS Newsletters, to the digital newsletters, there's a lot to like.
---
Alaska
Oral history, maps, index guides, and more make this an essential stop for looking into your Alaskan relatives. Select an online collection and then limit by basic or advanced search options to quickly get started.
18 Billion Genealogy Records Are Free for 2 Weeks
Get two full weeks of free access to more than 18 billion genealogy records right now. You'll also gain access to the MyHeritage discoveries tool that locates information about your ancestors automatically when you upload or create a tree. What will you discover about your family's past?
While not primarily genealogy or family research oriented, the Alaska State Library does offer some collection guides, indexes and educational resources including funeral records, obituaries, old newspapers, and pioneer biographies.
---
Arizona
Start first with the main site for a quick overview, then head on over to the online archives. A plethora of good family history resources from microfilm and newspapers to oral histories and much more. Plan on spending quite a bit of time looking through these extensive resources.
Talk about a one-stop genealogy shop! With this fabulous resource, you have the key to researching your Arizona genealogy. Maps, media, digital newspapers, and more make this an essential tool for tracking down your family history in this state.
---
Arkansas
Department of Arkansas Heritage
An umbrella site composed of individual smaller agencies and sites, head here first for a roundup of online resources for Arkansas. Then, head on out to sites such as the Arkansas State Archives and others for more detailed researching.
The Encyclopedia of Arkansas History & Culture
Don't let the title fool you, there's plenty of information for family researchers at this location. While a lot of information here is historical, there's also city and county histories, bibliographies and notable persons indexed in this site. When used in conjunction with your other resources, it may prove quite valuable!
---
California
How about a catalog of 24,000+ records? How about digital primary sources and links? If this sounds good to you, head on over to the online home for the California Historical Society and get started with your research! Don't overlook links to the California Newspaper Project and others!
It's massive, all-encompassing, and contains millions of records, digital materials, and more on California history and genealogy. Don't pass up the links to many outbound and related organizations while you search this great archive!
---
Colorado
If your research is Colorado-bound, start here first. You'll find an online search including many (partial) records, plus links and information to more genealogical resources. This is a good jumping off point if you are just getting your research going.
Beyond just the basic information, use this to resources to narrow down additional sites and exciting research tools — and don't forget to check out the link to the Colorado Historic Newspaper Collection.
---
Connecticut
Connecticut State Library Digital Collections: History & Genealogy
This is it! The definitive place to start your Connecticut research! From aerial photos and biographical information to additional archives and indexes, there is a ton to discover here.
Connecticut Historical Society
Start here first for finding links and catalogs, but branch out into important subsets like the Connecticut Images Collection and other library links. Not as comprehensive of a search as some others, but valuable nonetheless for the information presented.
---
Delaware
Delaware Public Archives: Collection Gateway
Lots of helpful records and resources are available here for viewing. Keep in mind, there are some costs if you're looking for copies of original records.
Strictly speaking this is more of historical collection than anything else, but there is direct application to family researchers. You will find sources such as the Delaware Public Archives, university archives and even historical societies listed here.
---
District of Columbia
This site, offered up by the District of Columbia Public Library, is a great place to start searching for family information in the District of Columbia. Don't forget to check out the online maps!
While not strictly on the District of Columbia, use this federal resource to quickly drill down into historical D.C. newspaper resources. Great for obituaries and general information on your ancestors who may have lived here in the past.
---
Florida
Offered by the State Library and Archives of Florida, there's a lot to like about this online portal, especially when it comes to family research! Start first with their collections and then switch to the many media resources for imagery and more!
Florida Division of Library and Information Services
Lots of digital collections and many methods of search make this an easy companion site to the Florida Memory Project mentioned above. Unique features include some passenger lists and prison records.
---
Georgia
Known as the Digital Library of Georgia, this online portal is a true one-stop shop for family research in this state. Search by history, county or time period to begin your investigation or just browse the A-Z listings.
With 40+ digital resources ranging from plat books and maps to deed books, enrollment lists and more, don't overlook this wide-ranging collection as a starting point for your Georgia family research. Easy to use and view, the advanced search and full record tagging makes this resource a joy to use.
---
Hawaii
From original Hawaiian language documents to digital newspapers, genealogy indexes and more, this is an interesting resource full of possibilities. Containing outbound links and additional information on other useful resources, this site can also be viewed in English.
Hawaiian Historical Society Library
With online and offline resources and materials, this collection of Hawaiian history is not as large or extensive as some of our other resources profiled, however, this does not take away from the valuable information one can find here. Give it a try for baseline research or perhaps to uncover that one elusive fact you've been searching for.
---
Idaho
From county images to state documents and even neighborhood information, use this resource to find media-based or textual information on your relatives who might have been in Idaho at some point. Basic or advanced search by individual components of the collections is available.
Idaho State Historical Society
Easy to use and search, try here for several online indexes and aids for family history research, but also check the state archive collection links for additional information.
---
Illinois
Illinois State Archives: Genealogy
Massive collection of links to online Illinois resources and searchable indexes. Includes vital records, information on veterans and access to other institutions with searchable records.
A grouping of collections from various Illinois institutions. Easily searchable and view-able, this online resource also includes digital imagery and many other records.
---
Indiana
A massive online portal for all things historical — and genealogical — as related to Indiana. Online newspapers and collections from all areas of the state make this a must-see for your research!
Indiana State Digital Archives
With over a million searchable records, this is the resource for mapping your family's history in Indiana! Includes records from across the spectrum, ranging from military and court records to naturalization records, and more!
---
Iowa
Featuring indexes and some online collections, the basic information is free but some materials are fee-based. The extensive county guides should prove to be quite helpful in your Iowa-based search.
State Historical Society of Iowa
This online portal offers a plenty of information and resources, including indexes for county and vital records. For family research in Iowa, this site can be a substantial tool.
---
Kansas
From the Kansas Historical Society, there's a lot to gain from this helpful site. Search by county, topic, or collections to quickly get started. The many digital collections and images make this an easy way to fill the gaps in your family research.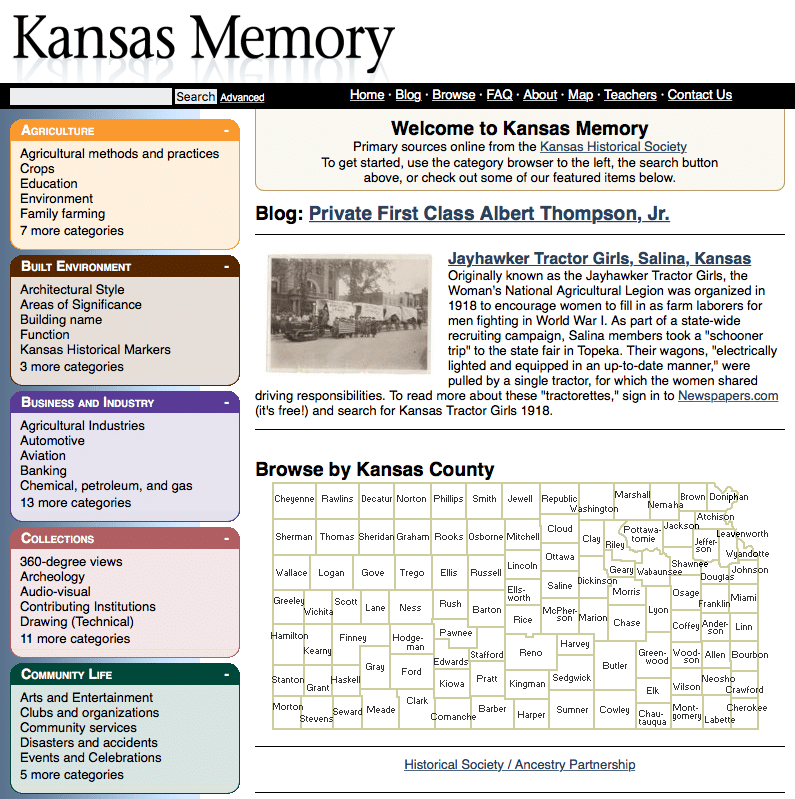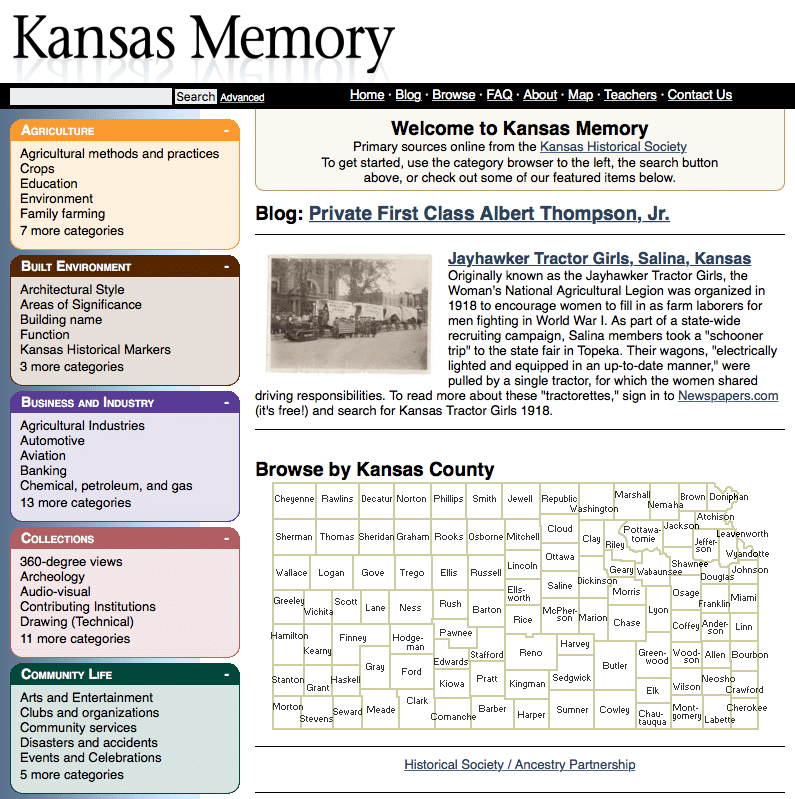 Indexes, newspaper links, and several online catalog options make this a site to consider when looking at your Kansas heritage. Use the free services offered by the society to quickly narrow down your research focus.
---
Kentucky
A comprehensive collection, start here for information on your Kentucky ancestors. Easily browsed and searched, don't overlook the search options on the left of the page by format or repository.
Kentucky Secretary of State: Land Office
Not a traditional genealogical resource, the Kentucky Land Office is valuable for its online databases that could be key to your genealogical research. Records include military information, city history, and several land records sets.
---
Louisiana
With over 144,000 digital documents and materials, put this site at the top of your list for information about family history in Louisiana. The focus is history, but don't overlook the hidden genealogical gems that can be found in the available digitized collections.
While it's technically the home for Louisiana's state library, don't overlook the genealogical and historical resources available through the site. Digital archives are available here, as well as outbound links to other state organizations that might have the family facts or locality information you are looking for.
---
Maine
A part of the Maine State Library, you'll find many good resources here, ranging from registration cards to county maps, and much more.
A comprehensive collection of both genealogical information and history, valuable information on your Maine ancestors might be hiding here. Some of the available information includes tax records, oral history, maps, and more.
---
Maryland
Good resource for your Maryland family research. Start with the overview first and then jump right into the collections as needed.
Bringing together the resources of libraries, archives as well as other historical and cultural sources, this resource may rapidly expedite your historical research for ancestors from Maryland. Not just genealogical, but historical, you'll find digital media options that can be incorporated into your search as well.
---
Massachusetts
Massachusetts Vital Records Search
Looking for online vital records for your family lineage in Massachusetts? This is the place for vital records, passenger manifests and more. Brief records only, but easy to search and use.
Massachusetts Historical Society Digital Collections
With at least 40+ digital collections online, here you'll find maps, military records, some newspapers, and many other resources. Heavy on the history, there are many good family resources to be found at the site, plus outbound links to even more information.
---
Michigan
Family history abounds here, with multiple digital collections ranging from death records and historical documents to oral histories and maps. Take advantage of multiple methods of search for most collections.
Not specifically family research oriented, this is a comprehensive list of archival resources that can be extremely useful to those looking for historical information on Michigan.
---
Minnesota
Easy to use and search, this comprehensive site includes immigration resources, general family research information, plus birth and death records.
For this site, start with the projects page and move to the Primary Source Sets for history and genealogical information, especially with the integration of the Digital Public Library of America.
---
Mississippi
Mississippi Department of Archives & History
If your family history leads you to the state of Mississippi, then here is the place for finding basic and advanced digital collections and information. Many photographs and media archives are available along with oral history, tax roll information, and more.
Lots of good information here, all of which can be easily searched and used. Plenty of state history, leavened with family genealogies and other related information. 150,000 plus items from 30 partner organizations!
---
Missouri
State Historical Society of Missouri
There's a lot here to take in, so plan on spending some serious time here seeing what's available. Helpful digital collections include newspapers, maps and more — but the real power of this site lies in the sheer volume of information it holds for those with Missouri heritage.
Missouri State Genealogical Association
Surname lists and research links can quickly get you started on this site, but don't overlook the free access to the digitized newsletters online which contain even more information and links galore.
---
Montana
A great place to start for history and family research information in Montana. Be sure to utilize the research tab and available collections, including links to Montana Place Names and Digitized Montana Newspapers Online, to name a few.
For genealogical and historical information on Montana and your ancestors who lived there, this site has a lot to offer. The key here is to use the participating institutions and the materials they have placed online. Highlights include many images featuring specific towns and locations, but you will also find good links to documents, maps and other materials/resources.
---
Nebraska
Nebraska State Library & Archives
Lots of online resources and searchable indexes/databases makes this a great place to start for your Nebraska family history needs, then check out these additional databases.
Nebraska State Historical Society
From plat books and prison records to gazetteers, photos and more, there are piles of good materials here to deepen your search.
---
Nevada
Nevada State Library, Archives and Public Records
While this is the main site for the state library, be sure and check out the sections for history and old newspapers. There's tons of value here, though you may have to dig around for a bit to start extracting family information.
Cooperative Libraries Automated Network
Newspapers and yearbooks can be found here, along with other digitized collections from several organizations in Nevada. Items are fully tagged, searchable and quite usable without any special viewing software.
---
New Hampshire
New Hampshire Historical Society
Many good links and information on New Hampshire history and genealogy. The real treat here is access to the New Hampshire History Network, and the list of participating institutions.
New Hampshire Genealogy & History 
From the county listings to the photos, outbound links and more, this site is useful as a one-stop shop for links and outside organizations with information on New Hampshire. When used in conjunction with the New Hampshire Historical Society mentioned above, you can have a good start on your family history in the state.
---
New Jersey
Some good sources here for your New Jersey family research. Start with the main listing for family research for the best results.
New Jersey Dept. of State Genealogical Holdings
This online catalog contains several genealogical collection pathfinders that can help you find information about family history in New Jersey, but the real stars of the show are the online searchable databases, including marriage, birth, death, military, and land records.
---
New Mexico
New Mexico Genealogical Society
Good one-stop resource for several genealogical resources for New Mexico, including many helpful links.
New Mexico State Records Center and Archives
Multiple online collections and advanced search options make this site one you should consider for your family research in New Mexico. Includes links to courthouses, history and imagery.
---
New York
New York Public Library Digital Collections
While the digital collections available from the NYPL encompass a wide variety of resources, history, and more — be sure to take advantage of the local resources such as the Atlases of New York City, the many photograph collections and other important genealogical records regarding the state.
Take a look at the digital collections to get started in your search, but be aware of the many outbound links featured on the site. Plan on taking some time to fully explore all of the resources that are available here.
---
North Carolina
A variety of great resources for North Carolina research are available here. Get started with the Publications, Circulars and Guides section here.
North Carolina Digital Heritage Center
A statewide program offering, this site includes historical and genealogical information from 212 organizations, including museums, libraries, and various archives. Material types include yearbooks, newspapers, city directories and more!
---
North Dakota
This interesting resource is a consortium of several libraries and other North Dakota historical organizations. Browse the various digital collections, but also try the basic or advanced search for additional details and qualifiers. Don't overlook the county and town history book collection, especially if you are just getting started researching your family history in the North Dakota.
State Historical Society of North Dakota
Here is a good overview resource of family history resources and information about North Dakota. Be sure to take advantage of the link to resources at North Dakota State University for several records indexes.
---
Ohio
Multiple free index and database search options are available here but don't forget to search various cemetery options and outbound links to more family information sources. Membership to the society will bring more searchable options, but the free resources alone are quite nice.
Working with the State Library of Ohio, there's a lot to love about the resources found here. Multiple online collections across a wide variety of years and material types makes this a good resource for your Ohio heritage research. Most records are fully tagged and easily searchable.
---
Oklahoma
With images, documents, pension records and even postcards, this online gateway to Oklahoma history might be the ticket to breaking down any brick walls you might be facing when it comes to your Oklahoma ancestors. There's a ton to explore here, so plan on spending some time with these amazing resources.
Tons of listings and index holdings makes this a great resource for family members who lived in Oklahoma in the past. Most are free to search, but for original records there can be some cost.
---
Oregon
With several guides and databases, try this resource for your family history in Oregon. Several of these indexes will give you baseline information on family member's names and record types, but also consider the historical county guides as a good place to start.
With 42,000+ records, special projects and more, this resource is certainly worth checking out if you're investigating family members who may have lived (or still live) in Oregon.
---
Pennsylvania
Includes many governmental and non-governmental records scattered across many different types of indexes and searchable databases. Not all is online, but it's quite possible to find what you need here or perhaps a link to more information.
Power Library: Pennsylvania's Electronic Library
Massive digital resource from all types of Pennsylvania libraries, try out the digital collections to get started with your family research. You will find multiple collections from genealogy to local history.
---
Rhode Island
State of Rhode Island Historical Preservation & Heritage Commission
Not strictly genealogical in nature, use this as baseline information for the state as well as outbound linkages for external resources.
HathiTrust – Rhode Island Search
With this resource, not strictly related to Rhode Island, you can do a quick keyword term for family names or other historical information related to this state and get impressive results. Look for titles such as Proceedings of the Rhode Island Historical Society and Rhode Island Historical Magazine.
---
South Carolina
South Carolina Digital Library
Basic and advanced search options make this online historical portal easy for genealogists of all levels. While there's a lot of history here, you will also find plenty of good information and leads for family research. Browse by county or state map to jump right in, but don't forget the other online collections as well.
South Carolina Department of Archives & History
A smaller archive, these online records are mostly searchable indexes. It's modest size does not take away from the wealth of information you can find here.
---
South Dakota
South Dakota State Historical Society
Once here, try the digital archives link for cross-section information from all record types, including manuscripts, survey notes, photos and more. Basic or advanced search makes quick work of searching and records are fully tagged.
University of South Dakota Archives and Special Collections
While perhaps more historical than genealogical, there are many good resources on South Dakota that can be found here. Multiple collections and search options can perhaps lead you to additional facts about the state's history, cities, counties, and even your ancestors.
---
Tennessee
Tennessee State Library and Archives
One massive portal to Tennessee history and genealogy, start here for resources ranging from maps and images to the Tennessee Virtual Archive. You'll also find county records, details on daily life in the state, and even digital Civil War records.
Tennessee Encyclopedia of History and Culture
While not strictly genealogy orientated, this site can still be valuable for your research. From famous Tennesseans to county and city information, this is good for filling in the history of "how" your Tennessee ancestors lived.
---
Texas
800,00+ items makes this a primary stop for your ancestor research in Texas. Browse by resource type or location or use advanced search options to help zero in quickly on family linkages and new information.
Texas State Library & Archives Commission
Overview resource on all things related to the state of Texas, including archival holdings. This a great jumping off point to discover to other important collections and resources for the state.
---
Utah
A comprehensive listing to all things related to Utah state history, you'll also find family research information including payroll ledgers, multi-media imagery, diaries and much more. There is a lot here, so you will need some time to fully search all the resources included.
Utah Department of Heritage and Arts
While not pertaining to family research alone, this site is still a great resource for the digital collections it contains. From the Markers and Monuments database to the Utah State Cemeteries and Burials database, it's certainly possible to find that one elusive fact you may have been searching for!
---
Vermont
Some of the excellent resources found here include audio, manuscript transcriptions and many other primary source materials — this site's contents will nicely supplement any Vermont family historian's research.
Not strictly historical, yet not only family-oriented, this archives does have information to offer the genealogist. Start here for a comprehensive overview.
---
Virginia
Offered by the Library of Virginia, this online destination offers history and multiple digital collections for you to research. The Civil War Map Project, and several photograph and family registers, make this a collection to investigate further!
For primary source materials related to your family history, this site may be just the ticket. With 30+ institutions ranging from public libraries to colleges, combined with easy-to-use advanced search options, there is certainly a lot to find here.
---
Washington
Washington State Digital Archives
Multiple collections, multiple searches, and many family resources such as divorce records, cemetery directories and birth information, make this a primary stop for your Washington state genealogical investigations.
Washington State Historical Society
500,000 images and 70,000+ artifacts makes this online destination a place to return to again and again. Highlights include multiple search methods and materials such as images, paper ephemera, and more.
---
West Virginia
With images and several digital collections, you'll find a wide variety of resources that can help in your family research. Includes online digital vital record options, too.
This resource has strong features that can be useful to your family research for West Virginia. Use the Guides to Collections to see exactly what resources are available, including titles, personal names, locations and more. Don't overlook this important resource in your search.
---
Wisconsin
Extensive, searchable and very usable, there is a lot of information to help you uncover your Wisconsin heritage. Search directly, but don't overlook county history books for additional details.
University of Wisconsin-Madison Digital Collections
More of a historical collection than strictly genealogical in scope, don't overlook the primary and secondary materials or the many local city collections available for use online. Plan on spending some time at this site to fully explore all your options.
---
Wyoming
Wyoming State Historical Society
While you might think it only historical, look closer. Oral histories and topic search expand the focus of this excellent online resource to family research as well. Check the A-Z listings for articles and links to get started.
With this extensive Wyoming archive portal, there's a lot to gain for the family researcher. Some records are searchable at the site, but also find links to other state governmental records databases and digital collections.
Freelance writer, family researcher, and librarian/historian, Tony Bandy can be found at Adventures in History.
For more free research sites also check out 50 Free Genealogy Sites to Search Today or the Free Resources section on Family History Daily.
You might also like: Find the Best Family Tree Program for You: Top 6 Choices Reviewed