This is the story of my grandma Wallin's oldest sister, Anna Marie Peterson Genoways (1887-1928).  She was a schoolteacher, like I used to be; and she found love later in life, like I did.
Anna was the oldest of eight children, born to Swedish immigrants who farmed on the plains of Nebraska, near the Platte River.  Her childhood and youth were happy, as far as I can tell.  She traveled to Sweden in 1905 with her mother and younger sister Therese.  Anna was a typical oldest child—mature and responsible—and she, like two or three of her sisters, became a schoolteacher.
Her life was first marred by tragedy in 1917.  Her father Charles, by all accounts a wonderful man, died of cancer in a hospital in Chicago.  Not long after, her dear brother Ted, an engineering student at the University of Nebraska, died in an army camp during WWI—like so many others, not in combat, but in the Great Influenza Epidemic.
Anna was now needed to help run the family farm.  By the 1920 census, she is 32 years old and is no longer listed as a schoolteacher as she was in 1910; now she is a "farm manager" with a mother and three younger sisters to support.
Make Instant Discoveries in Your Family Tree Now
Imagine adding your family tree to a simple website and getting hundreds of new family history discoveries instantly. MyHeritage is offering 2 free weeks of access to their extensive collection of 18 billion historical records, as well as their matching technology that instantly connects you with new information about your ancestors. Sign up using the link below to find out what you can uncover about your family.
But her life took a happy turn in 1925, when she married Edwin Genoways at age 37.  They took a year-long honeymoon, traveling all over the west in their brand-new Model T.  They even drove it to the top of Pike's Peak!  A relative told me that Edwin said years later that at times they had to drive it up the mountain in reverse, and at other times they had to push it—but they made it.  A number of photos from that trip have survived, including this one of the happy couple standing in front of their car: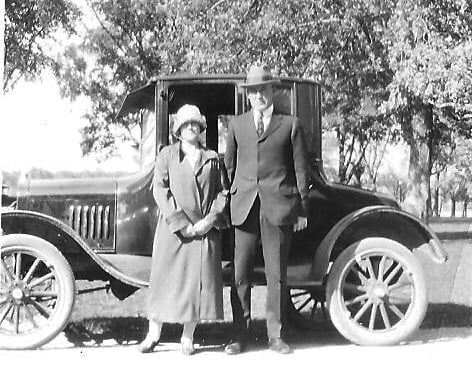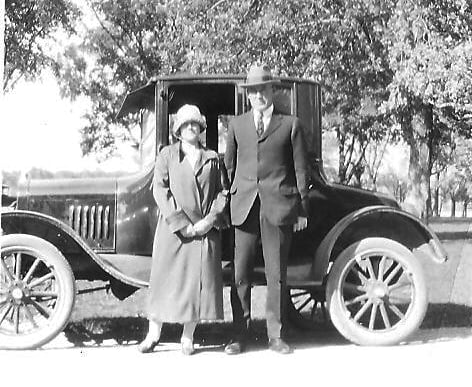 Back home in Nebraska, Edwin and Anna soon had a joyful event—the birth of their son Charles in 1927.  This was followed a year later by the birth of another son, Bruce.  But their time was now running out…  Two weeks after the birth of Bruce, Anna died at age 40.  My father remembers his little cousin Charles tearfully asking for his mother, being too young to realize that she lay dying.
Edwin was now a grieving widower with two young sons.  This picture of the three of them sitting outdoors, Edwin holding little Bruce, always tugs at my heartstrings:
Edwin managed to raise both boys on his own—and they both turned out well.  But he never remarried…  Anna, the wife he loved for so brief and happy a time, was evidently never replaced in his heart.