Image caption: House documents dated from 1910-1924
It was about noon on a typical Houston summer day (Hot!) The kids and I were home, deciding it was just too hot to go to the grocery store – popcorn for lunch would be just fine! We were all startled when the doorbell rang, not because no body ever came over, but because it rarely worked.
At noon on a weekday you're more likely to get a well-intentioned Jehovah's Witness at your door than someone you actually want to talk to. So I sized up the elderly man on the other side of the door with a folder in his hand – thinking, at least I could take him if he was too pushy with whatever he was selling. My escape plan, a quick, polite 'no thank you', quickly close the door, and back to popcorn.
But Frank, as he later told me his name was, wasn't selling salvation. He had something better to offer.
Make Instant Discoveries in Your Family Tree Now
Imagine adding your family tree to a simple website and getting hundreds of new family history discoveries instantly. MyHeritage is offering 2 free weeks of access to their extensive collection of 18 billion historical records, as well as their matching technology that instantly connects you with new information about your ancestors. Sign up using the link below to find out what you can uncover about your family.
"Hello, I'm sorry to bother you. I bought this house in 1960 and I have all these original documents from when the house was built in 1924, and I was just wondering if anyone was interested in having them?"
My knees buckled. Was he kidding? Was I interested? This kind of stuff never really happens! But it did, and I immediately invited Frank in. "Wait," he said handing me the folder, "I've got more in the car."
I love my house, it's the first "old" house I've lived in. I had been thinking that I should do some research on it only about a month before Frank showed up on my doorstep. Now, before you New or Old Englanders start to snicker at the fact that I think 1924 is "old", keep in mind that we Houstonians are notorious for tearing down anything older than 40 years and making a parking lot. Yes, I'm exaggerating. But not my much! Although there are some organizations valiantly trying to preserve history in Houston.
The next hour or so of that hot day was spent with Frank introducing me to my house. It was built by the couple who had built the house next door in the late 1890s. They wanted a place for their unmarried grown children to live. It was originally a duplex for two sisters and a brother. The parent's house (now our neighbor's home) has a steep pitched roof. "You see that roof?" Frank asked. "They moved here from Illinois and built that roof so snow would slide off of it." We both started laughing. Clearly they were new to the humid, swampy environment.
Frank had bought the house from one of the daughters who had lived there all her life. He owned it for almost 30 years, living upstairs and renting out the bottom "apartment." He clearly loved the house and thoroughly enjoyed telling me what each room used to be, even examining crawl spaces! It really was a genealogists dream come true.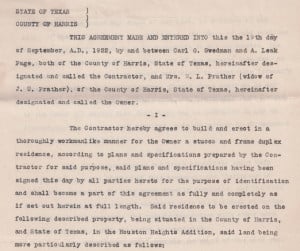 The house was renovated into a single family home in the 1990's but retains most of it's original features (windows, fireplaces, moldings, and more.) I'm pleased to say the kitchen and bathrooms are not original! In it's most recent iteration (before we bought the house in 2009), the lovely old place had been a small (and poorly run) restaurant. It's a colorful history and I treasure these documents that give me insight into where it all started. And I am constantly thankful that it was too hot to go to the grocery store that day!
So, get to know your home, or any place you love. It too has a story to tell, a part to play in understanding how our families lived. I lament that my grandparents house was torn down after 43 years of their life before I appreciated what I do now. If only I had known how much I would miss it, and what questions I should have asked.
18 Billion Genealogy Records Are Free for 2 Weeks
Get two full weeks of free access to more than 18 billion genealogy records right now. You'll also gain access to the MyHeritage discoveries tool that locates information about your ancestors automatically when you upload or create a tree. What will you discover about your family's past?