I am looking for someone.  But this time, for a change, it's not a dead person!
I have been working on a genealogy binder for a client from Florida.  Her grandmother Francis, now deceased, was married for a long time to a man named Joseph Roy Crews.  My client has some things that belonged to Roy, and she would be happy to pass them along to one of his surviving family members, if one can be found.
Some background:
Joseph Roy Crews, who went by "Roy," was born in Devon, England in 1904, son of William Henry Crews and Louisa Jane Rabone Crews.  By the 1911 England census, he lived in the famous orphanage in Bristol, England which was run by George Müller—who during his lifetime, cared for over 10,000 orphans and established 117 schools.
Make Instant Discoveries About Your Ancestors Now
MyHeritage is offering 2 free weeks of access to their extensive collection of 18 billion historical records, as well as their matching technology that instantly connects you with new information about your ancestors.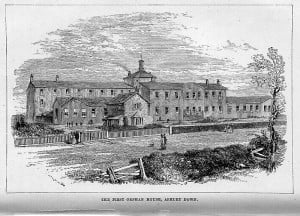 But then things looked up for Joseph; he came to America in 1919 on the ship "Melita."  Records show that he made the border crossing from Canada into the United States in April of that year, and eventually went to live with his mother and stepfather in Yates County, New York.  The 1930 census find him there, living with stepfather Oliver Brown, mother Louise Brown, and siblings Leslie, Cecil, and Doris.
By the 1950s he lived in Florida and worked for Pan American Airways.  He married Francis Norton Phillips in March of 1955 in Miami, Florida, and they lived happily after.  Was this his first marriage?  I don't know.
My client remembers Roy as a beloved step-grandfather.  She says this about him:  "We called Roy "Grandpa" and he adored us, and it was mutual.  There was absolutely nothing that he wouldn't do with us or for us.  He had a hearing aid because while working out on the tarmac for Pan American, he lost most of his hearing—but he had a lot of fun with it.  He showed us that when our grandma would start to fuss, he would just turn down the hearing aid.  He had an incredible sense of humor!"
Roy died in Miami on March 1, 1968 and is buried there with Francis, his wife.  My client is in possession of some of Roy's things—his passport, his citizenship certificate, and some photos, for example.  She would love to find a good home for them with one of Roy's relatives.  Does anyone know of a family member who might be interested in some mementos belonging to Joseph Roy Crews?