My father- and mother-in-law met in an unusual way—through letters.  Their story began in 1944…
War had been declared, and Norman Mosey, a farm boy from Michigan,  was newly drafted into the U.S. Navy.  A reporter for Michigan Farmer magazine did a story about 'our boys in the service" and when he asked Norman, "What can we at home do for our servicemen?" Norman answered, "Write us letters."  Norman had no mother or sisters or girlfriend to write to him, so mail call was probably not his best time of the day.
Donna Garver, working at a factory in Ypsilanti, saw the article.  She and her sister Virginia decided to write to Norman.  Donna told me, "Our theory was, let's both write to this guy and see if he tells both of us the same story!"
I have a copy of the first letter that Norman wrote to Donna—it was found in his desk drawer after his death.  He wrote, "Dear Donna, I received your letter today and was glad to hear from you.  I too am a former farmer.  I lived on a farm near Bad Axe in Huron County…  I am 19 years old, have hazel eyes, brown hair, am 5'7" tall and weigh 170.I have been in the naval reserve since February 21, 1944…  I have three brothers. One is at home on the farm with Father, as my mother died when I was four years old.  Well, I guess I'll close now.  Hope to hear from you soon."
Make Instant Discoveries in Your Family Tree Now
Imagine adding your family tree to a simple website and getting hundreds of new family history discoveries instantly. MyHeritage is offering 2 free weeks of access to their extensive collection of 18 billion historical records, as well as their matching technology that instantly connects you with new information about your ancestors. Sign up using the link below to find out what you can uncover about your family.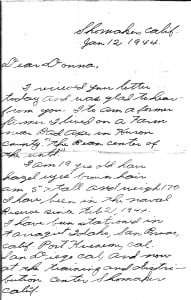 Over time, Norman's correspondence with Donna had staying power.  Soon he was writing to her nearly every day.  Near the end of the war he was sent home on a 30-day leave, due to the death of his father.  So Norman went home to Bad Axe in February 1946, borrowed a car from his brother, and drove to Ypsilanti to meet Donna.  They got to know each other in person at last—and by the time he went back to finish his stint in the Navy, they had decided they belonged together.  They were married in November of 1946.  Norman was a hard-working and faithful husband to Donna for the rest of his life.
When Norman died in November 2008, he and Donna were just two days short of their 62nd anniversary.  In a quiet moment that week, Donna asked us, "Do you think Norman loved me?  He didn't say so, not in words…"  And all of us answered without hesitation, "Yes, Donna, we know he loved you—there can be no doubt of that."  Norman was of that generation of men who didn't believe in talking about their feelings.  But he lived them out every day—his love for God, for his country, and for Donna.