By Patricia Hartley
Abbreviations are nothing new and you've no doubt come across several in your genealogical research. Throughout the centuries, enumerators have abbreviated given names in the federal census, clerks have abbreviated common legal terms in court records, and genealogists have used abbreviations to succinctly notate relationships and research results.
But they can also lead to a world of confusion. That's that we've gathered together a list of more than 300, from Ad inf to yt, that you're likely to encounter in your research – as well as a selection of common abbreviations for names. 
Please remember that some of these selections can have more than one possible meaning so it's important to take the entire sentence, or the type of document, into context to best determine what the author meant. The most probable and common meanings are included here.
Make Instant Discoveries in Your Family Tree Now
Imagine adding your family tree to a simple website and getting hundreds of new family history discoveries instantly. MyHeritage is offering 2 free weeks of access to their extensive collection of 18 billion historical records, as well as their matching technology that instantly connects you with new information about your ancestors. Sign up using the link below to find out what you can uncover about your family.
Abbreviations That You'll Commonly Find in Your Family History Research, and Their Meanings
For more help with your family history research, explore our online courses and family history workbook.
---
A
ad inf ~ ad infinitum (to infinity)

ad init ~ ad initium (at the beginning)

ad int ~ ad interim (in the meantime)

admix or admx ~ administratrix/female administrator

admr ~ administrator

afft ~ affidavit

agmt ~ agreement

agt ~ agent

agy ~ agency

ahl ~ ad hoc locum (to this place)

ano ~ annus (year) or another

appc ~ apprentice

appt ~ appointment

app't ~ appointed

a quo ~ from whom

asr ~ assessor

at lge ~ at large

a/v ~ ad valorem (tax on goods)
B
Bas ~ bastard

b.h. ~ boarding house

bien ~ biennial (taking place every other year)

bns ~ banns (marriage)

b/o ~ brother of 

Bur Gr ~ burying ground
C
c. ~ baptized

ca. ~ circa

Cha ~ chambermaid

chan ~ chancel or chancery

chd ~ child

chh ~ church

ch/o or c/o ~ child of

chr ~ churches

civ ~ civil

Cl ~ child

cl cts ~ clerk of courts

cntb ~ constable

co/m ~ colored male

con/o ~ consent (of)

cons/o ~ consort (wife, husband, or companion) of

contl ~ continental

C

t

~ court

cty ~ county
D
d.s.p. ~ died without issue

dau/o or d/o ~ daughter of

db ~ deed book

dc ~ deceased, docket, or death certificate

demi/dem/di/d ~ one-half or smaller than

dft ~ defendant

dg ~ degree of gift or deed of gift

Dm ~ domestic

do/do

o

~ ditto (the same, or same as above)

dt ~ deed of trust

dom ~ date of marriage or domicile

dom svt ~ domestic servant

ds ~ deserted, died single, or document signed

dto ~ ditto

dum ~ died unmarried

dy ~ died young

E
Ecc

lia

~ church

ecux ~ a female executor of probate

e.g. ~ exampli gratia (for example)

ehel/ehl ~ ehelich (legitimate)

eld ~ elder or eldest

emig ~ emigrant, emigrated, or emigration

eno ~ enough

et. al. ~ et alii (and others, usually at least two others)

et. seq. ~ et sequentes (and the following)

et ux ~ and wife or one other

ex/exec/exc'r ~ executor

exit. atta ~ attachment was signed and issued by the court

exon/excn/exec/execn ~ executed, as in a legal document
F
fa/o or f/o ~ father of

fc ~ federal census

fdry ~ foundry

feu ~ late (deceased)

ff ~ and the following or following pages

fgr ~ family group record

filia ~ daughter

filius ~ son
G
gb ~ guardian bond

gdn ~ guardian

gds ~ goods or guards

gt ~ great

guar ~ guarantee or guardianship
H
hds ~ hands

hic jacet ~ here lies

hic sit ~ here is buried

hls ~ hoc loco situs (laid in this place)

hjs ~ hic jacet sepultus (here lies buried)

hm ~ hoc mense (in this month)

ht ~ height or hoc tempore (in this time)

hy ~ heavy
I
i.a. ~ in absentia

ibid ~ ibidem (in the same place or the same)

i/c ~ in charge of 

id ~ idem (the same)

I.e. ~ Id est (that is)

ih ~ iacet hic (here lies)

Il/Ille/illg/illeg~ illegitimate

in loco ~ in place of

in loc citata ~ in the place cited

in pr ~ in principio (in the beginning)

inq ~ inquest or inquiry

ipso facto ~ by the act itself

iq ~ idem quod (the same as)

IRL ~ Ireland

it. ~ item
J
J.u. ~ jure uxoris (right of wife)

jur ~ juratum (it has been sworn), juror, jury, or jurisprudence
K
kh ~ keeping house

ki ~ killed by Indians

km ~ murdered
L
lab ~ laborer

led ~ ledig (unmarried)

lg ~ letters of guardianship

liv ~ livery

l/o ~ late of

loc cit ~ loco citato (in the place cited)

ltd ~ limited

lvg ~ living
M
malls ~ measles

mb ~ marriage book

mbn ~ marriage banns

mcd ~ married contrary to discipline

Mdn ~ maiden

mdse ~ merchandise

Messrs ~ Messieurs (plural of Mr./Mister)

Middx ~ Middlesex (county)
mlle ~ mademoiselle

Mme ~ Madam

moiety ~ one-half

mors ~ death or corpse

mris ~ mistress

mv ~ more vetere (in the old way)

N
nat ~ natural/illegitimate

nc ~ name change

ncm ~ non compos mentis (mental unsoundness)

nd/ndt ~ no date

né ~ original, former, or legal name of a man

née ~ as born, precedes maiden name of a married woman

nfi ~ no further information

nfk ~ nothing further known

nil ~ nothing found, no information located

n/m ~ not married

nmi ~ no middle initial

nmn ~ no middle name

noia ~ nomina (names)

noie ~ nomine (by name)

nois ~ nominis (of the name)

non copos mentis ~ not sound of mind

non obs ~ non obstante (notwithstanding)

non seq ~ non sequitur (it does not follow)

ntop ~ not of this parish

npn ~ no page number

nunc ~ nuncupative (unwritten, an oral will)

NXN/nxn ~ no Christian name
O
o/oe/oi/oy/oye/oey ~ grandson or nephew (Scottish)

ob inf ~ obit infantia (died in infancy)

ob inf set ~ died whilst still a minor

Obk ~ order book

o.s.p. ~ died without issue

ob unm ~ obit (died unmarried)

ofc ~ office

oft ~ often

orp ~ orphan

Orph Ct ~ Orphans Court

otp ~ of this parish or of this place

Overs ~ overseer

o.v.m. ~ obiit vita matris (died in lifetime of mother)

ovp ~ obiit vita patris (died in lifetime of father)

owb ~ old will book
P
penult ~ penultimate, last but one

p.m. ~ postmaster

Pp ~ pauper

P&P ~ past and present

ppa ~ per power of attorney

pro tem ~ pro tempore (for the time being)

prox ~ proximo (next month)

prvd/pvd ~ proved

pty ~ proprietary

pw ~ per week

py ~ per year
Q
qaly ~ qualifying

q c ~ quit claim

qv ~ quod vide (refer to, which see)
R
rcd/rec ~ record or recorded

rcp ~ Roman Catholic priest

rcpt ~ receipt

re: ~ regarding

rec

d

~ received or recorded

relecta ~ widow

relectus ~ widower

rel/o ~ relict of (widow of)

req ~ request or requested

rmt ~ reported married to

rol ~ received on letter

rolf ~ received on letter from

Rot. ~ rotalus (roll or rolls, as in a collection of records)

Ry ~ railway
S
s-a ~ twice annually

s/b ~ stillborn

sch ~ school or schedule

sci. fa. ~ scire facias (and it is ordered that)

sd/s

d

~ said or sine die (without setting a date for reconvening)

sgd ~ signed

shef ~ sheriff

sh. sh. ~ sharpshooter

sic ~ written thus, as copied, or as shown in the original

sine ~ without

sine die ~ without delay, indefinitely

s.l.p. ~ sine legitima prole (died without issue)

s-m ~ twice monthly

Smn ~ seaman

s.n. ~ sine nomen (infant who died without being given a name)

spl ~ special or sine prole legitima (without legitimate issue)

spm ~ sine prole macula (without male issue)

sps ~ sine prole supersite (without surviving issue)

spur ~ spurious, spuria (illegitimate)

Sra ~ Señora

strs ~ seamstress

suo juris ~ in his (or her) right

sv ~ sub verbo, sub voce (under the word)
T
T/A ~ trading as

testr ~ testator

tn ~ tenant, toon, town, or township

t & p ~ true and perfect

tw ~ tri-weekly
U
u.d. ~ ultimo die (final day)

ult ~ ultimo (last, a date last month)

usw ~ und so weiter (and so forth)

ut sup ~ ut supra (as above)

ux/uxor/uz ~ Mrs. or wife
V
v.d. ~ various dates

ve/vve ~ widow

verch ~ daughter

verh. ~ verheiratet (married)

verl. ~ verlobt (engaged)

vid. ~ viduus, vidua (widower, widow)

vide ~ see

vix ~ lived

viz. ~ namely

v.m. ~ vita matris (during mother's life)

vp ~ vita  patris (in the father's lifetime)

vv ~ vice versa
W
wag ~ wagoner

wdr ~ widower

wds ~ wounds

wi ~ witness

wp ~ will proved

w/pwr ~ with power

wt/wth ~ with

wtn ~ witness

wwr ~ widower
Y
ye ~ the, you, or your

y

ere

~ there

y

is

~ this

ym ~ them

yst ~ youngest

yt ~ that or yet
Common Name Abbreviations
Ada ~ Adelaide

Ar ~ Arthur

Bertie/Berty ~ Albert, Alberta, Bertha, Herbert, Robert, or Roberta

Brid ~ Bridget

Bx ~ Beatrix

Car ~ Charles

Chas ~ Charles

Cis/Cissie/Cissy ~ Cecelia

Dan

l

~ Daniel

Eben

r

~ Ebenezer

Edw ~ Edward

El/Elis/Eliz/Eliz

th

/Eliza ~ Elizabeth

Eli ~ Elijah or Elisha

Ell ~ Ellen

Ella ~ Eleanor, Elinor, or Isabella

Ellie ~ Alice

Elnr ~ Eleanor

Elsb ~ Elsbeth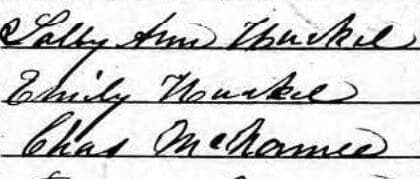 Elsie ~ Alice, Elisabeth, Elisa, or Elizabeth

Em

l

~ Emaline, Emeline

Ez ~ Ezra or Ezekiel

Gail ~ Abigail

Geo/Ge

o

~ George

Gert/Gertie/Trudy ~ Gertrude

Gottf ~ Gottfried

Gottl ~ Gottlieb

Guliel/Gul ~ William

Gus ~ Augustus or Gustave

Hank ~ Henry

Hans ~ Johann or John (in German)

Hattie ~ Harriett

Ioh ~ John (I interchangeable with J)

Isa/Isab/Isb ~ Isabel or Isabella

Jas/Ja

s

~ James 

Jb ~ Jacob or Jakob

Jenny/Jennie ~ Jane, Jean, or Jennifer

Jer/Jer

a

/Jere/Jerm

a

~ Jeremiah

J Jb ~ Johann Jacob or Johann Jakob

Jos ~ Joseph, Josephine, Josiah

Jos

h

~ Josiah

Josie/Josy ~ Josephine

Jr

o

~ Jerome

J Rud ~ Johann Rudolf

Jud ~ Judith

Kit ~ Christopher, Catherine, Katherine, or Katharine

Lawr/Laur/Laurie ~ Lawrence or Laurence

Leo/Len

d

~ Leonard

Lk ~ Luke

Ma ~ Maria

Mab ~ Mabel

Madge ~ Margaret

Mag

d

~ Magdalena

Mat/Matty/Mattie ~ Martha, Matilda, or Matthew

May ~ Maria, Marie, or Mary

Meta ~ Margaret

Mgy ~ Margery

Ph/Phil ~ Phillip

Polly ~ Mary

Rb/Rob/Robt/Bobby ~ Robert

Sal/Sallie/Sally ~ Sarah

Thos/Tom ~ Thomas

Wm/Will/Willie/Willy ~ William

Winnie/Winny ~ Winifred

Xper/Xr ~ Christopher
Want more help? Check out our online courses or join our online genealogy club.
For nearly 30 years Patricia Hartley has researched and written about the ancestry and/or descendancy of her personal family lines, those of her extended family and friends, and of historical figures in her community. She has a B.S. in Professional Writing and English and an M.A. in English from the University of North Alabama in Florence, Alabama, as well as an M.A. in Public Relations/Mass Communications from Kent State University. She's a member of the Alabama Genealogical Society, Association of Professional Genealogists, National Genealogical Society, International Society of Family History Writers, Tennessee Valley Genealogical Society, Natchez Trace Genealogical Society and the International Institute for Reminiscence and Life Review. 
18 Billion Genealogy Records Are Free for 2 Weeks
Get two full weeks of free access to more than 18 billion genealogy records right now. You'll also gain access to the MyHeritage discoveries tool that locates information about your ancestors automatically when you upload or create a tree. What will you discover about your family's past?