Do you have a Dad or Granddad in your life that absolutely loves family history in all of its forms? Why not celebrate him with a truly unique gift this Father's Day?
If you're stumped about what kind of gift would be a hit with a genealogist, or you're shopping for a guy who seems like he has everything, we've got you covered. From sweet and simple to a little bit crazy – these ten unique Father's Day gifts are perfect for the genealogy buff in your family. 
Please note that some of the links on this page are from companies we have an affiliate partnership with. We may earn a fee to support our work if you choose to buy from these companies. 
10 Unique Genealogy Gifts for Father's Day
1. Antique Maps
Make Instant Discoveries in Your Family Tree Now
Imagine adding your family tree to a simple website and getting hundreds of new family history discoveries instantly. MyHeritage is offering 2 free weeks of access to their extensive collection of 18 billion historical records, as well as their matching technology that instantly connects you with new information about your ancestors. Sign up using the link below to find out what you can uncover about your family.
Not only can antique or vintage maps be a great tool for getting to know our ancestors' hometowns or their movements over time – they're also a simple yet gorgeous way to honor those who came before us.
Old Maps and Prints has a wide variety of original antique maps (not reproductions), most of which are well over 100 years old while Genealogical Surveyor makes high-quality prints of antique maps. Simply add a frame and you have the perfect keepsake for that special family historian.
For a Father's Day gift with some serious wow factor, a genealogy DNA test is a great choice. Why? Because a DNA test can reveal new information to help your dad understand his family's past, expand his family tree, and get in touch with his genetic heritage.
There are four main companies to choose from and they each have their pluses and minuses – although they all provide the ethnicity reports most people are after. They are Ancestry.com, MyHeritage, Family Tree DNA, 23andMe or Living DNA. Read our detailed comparison guide to DNA tests for a complete breakdown of each test or see sample results from each one here.
If the Dad you are buying for has been into family history for some time he may already have tested but, luckily, many people like to test with multiple companies. Just make sure you find out which company he's already sent his sample to.
He may also enjoy a Y-DNA test from Family Tree DNA. This will tell him the genetic ancestry of his father's, father's line back through time!
18 Billion Genealogy Records Are Free for 2 Weeks
Get two full weeks of free access to more than 18 billion genealogy records right now. You'll also gain access to the MyHeritage discoveries tool that locates information about your ancestors automatically when you upload or create a tree. What will you discover about your family's past?
See the best deals on DNA kits for Father's Day here.
A family tree is a genealogist's pride and joy, so what better Father's Day gift than a beautiful print of this work of art?
While there are almost endless designs to choose from when it comes to having your family tree professionally printed, this family tree 'blueprint' from GenesWork is both clever and nice to look at. Looking for something more traditional? Check out this beautiful family tree print. 
If you don't have access to your father's tree, you can get him a gift card from Etsy (where the above gifts can be found) so that he can order one himself.
Does your dad have a serious funny bone? Does he like to show off his love for genealogy research? Then you'd better try and crack him up a little this year. The good news is there are plenty of options to choose from when it comes to comical family history gear.
This silly shirt from MUGversity pretty much sums up the plight of the family historian – plus it comes in a variety of sizes and colors. Or how about this funny mug from Fuzzy Ink Prints?
If the dad on your list is new to genealogy research or simply needs a better way to build his family tree, why not consider gifting him with a feature-packed downloadable family tree software program? From integrated hints to a plethora of printables, desktop family tree software provides a ton of value for the genealogy enthusiast. Even better – most will sync with an existing online tree.
Look here for a guide to choosing the best family tree software or consider Legacy Family Tree – one favorite among family historians.
6. Genealogy Research Subscription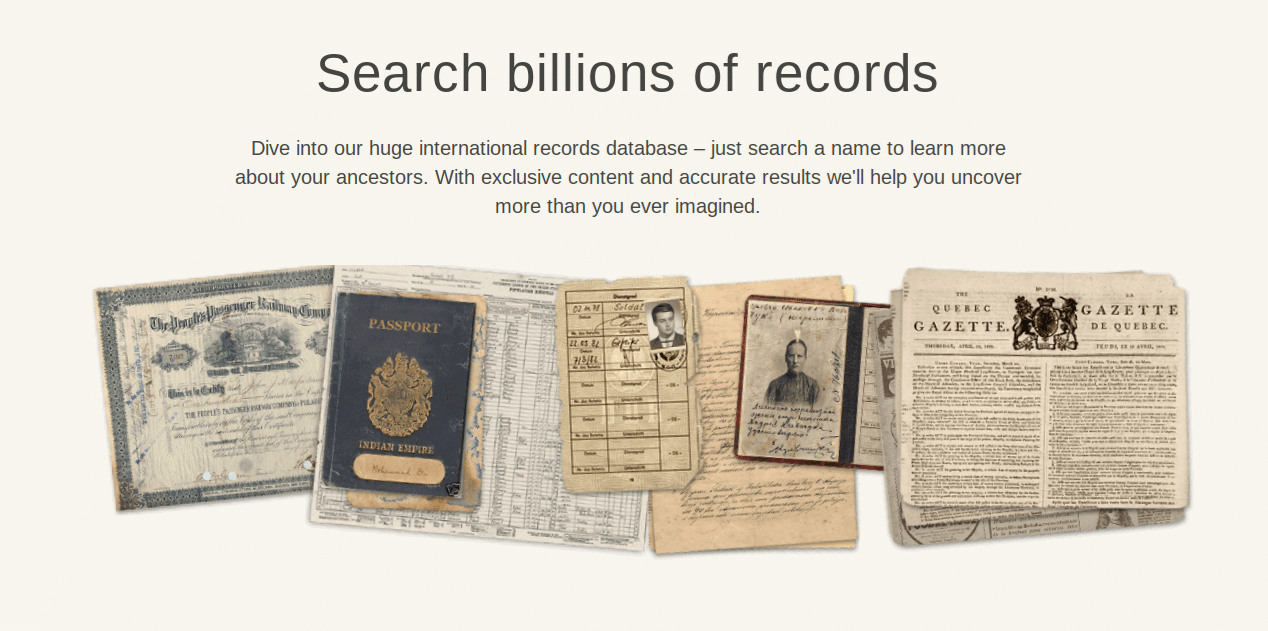 The dad in your life may love free genealogy resources (who doesn't?) but a subscription to a research site like MyHeritage, Ancestry or Findmypast might be just the ticket – especially if he's recently hit a brickwall in his research. 
Look out for deals on a gift subscription from one of the larger genealogy research sites linked above – or if he already subscribes to the big names, consider a subscription to a smaller, more focused site like American Ancestors.
7. Handmade Gifts
Nothing says "I love you" like a hand-crafted gift from a child (or a grown-up!), so why not go the homemade route this Father's Day? 
A Father's Day handprint 'family tree' would be a sweet nod to a dad or grandpa's love of family history. Get started with this free printable.
Or, for a template you can fill in, try these adorable family tree templates that are just right for kids or crafters.
Feeling a little more ambitious? Repurpose an old fishing pole into a family photo holder like the one shown above and combine his treasured old photos with his (or a special family member's) love of fishing.
8. Personalized Family History Binder
If the dad (or grandad) you have in mind uses his filing cabinet more than his Evernote account, a personalized family history binder could really come in handy.
This attractive binder from The Tree of Life comes in a variety of sizes and colors – plus the text on the cover and the spine are both fully customizable.
Does your dad (aka family history fanatic) have it all? Subscriptions: check. DNA test: check. Everything else: check. Maybe it's time to go big – crazy big.
Family heritage tours and vacations are becoming more and more popular. Whether it's visiting an ancestors old hometown on the other side of the country or their burial site half a world away, a genealogy trip can truly be life-changing.
So, if you've got it in the budget, why not make it the best Father's Day ever? Here are some places that offer these tours.
This is perhaps the simplest – and most heartfelt – gift you could give to the dad(s) in your life.
Does he have a treasured multi-generation family photo or another really special old photo? Sneak it away for long enough to have it professionally enlarged, add a vintage-looking wooden or pewter picture frame and you're all set. This is one gift he is sure to love!
Happy Father's Day!
You might also like:
4 Unique Family Tree Templates for Genealogy, Craft or School Projects
Why You Should Start Using Pinterest for Genealogy Right Now (and How to Do It)