DNA testing for ancestry is becoming incredibly popular. More than 10 million people have tested with the top genetic companies alone – the majority of them in the last couple of years. And testers are increasingly choosing to compare and test with multiple companies in an attempt to better understand their ancestral past.
If you've ever hoped that you could see actual example ancestry reports from these DNA companies before you purchased a kit or uploaded your raw data, you're in luck. Today, in an effort to help you better understand how different results compare from test to test for one individual, we are going to show you screenshots of ethnicity reports from each of the top four kits side by side.
This article does not compare the tests themselves or break down the different features. For that, you will need to read our Detailed Guide to the Best DNA Test where we go over every element.
You will also want to read our recent article Why You Might Be Reading Your DNA Results All Wrong for help understanding why these test results appear to be so different from one another and how you can better understand your own results.
Make Instant Discoveries About Your Ancestors Now
MyHeritage is offering 2 free weeks of access to their extensive collection of 18 billion historical records, as well as their matching technology that instantly connects you with new information about your ancestors.
Some of the example reports shown below can only be had by purchasing a new test kit from the company, others can be viewed by uploading your raw DNA from another company for free or at a low cost. Of course, you will have to have taken a test in the past if you want to choose the latter option. The second half of this article provides more details on how that works. We have also noted this information and provided links to purchase and upload pages below.
We are affiliate partners with all of the companies on this page and will earn a commission to support our work if you choose to make a purchase after clicking on a link.
FTDNA, MyHeritage DNA, Ancestry and 23andMe Sample Ancestry Results Compared
This article shows example ethnicity results provided by the four most popular DNA tests on the market – AncestryDNA, MyHeritage DNA, Family Tree DNA and 23andMe – for the same person. These reports, generated on 5/17/18, come from an actual individual who tested with all four companies and are provided to give you a sample of what you can expect in your own report. Your own results will vary.
We have not shown or discussed cousin matching or analysis tools here. Read our detailed DNA guide for help with these features.
Example Ethnicity Estimate Report from AncestryDNA
If you decide to buy a kit from Ancestry this is the "Ethnicity Estimate" that you will receive from them. This report shows the regions and populations your DNA matches most closely, according to Ancestry's data and calculations.
As shown above, the results are displayed as a percentage breakdown as well as on a map – the colored circles being the regions your DNA matches.
Clicking on a region will highlight it and provide you additional information about what the region/population means.
18 Billion Genealogy Records, Free for 2 Weeks
Get two full weeks of free access to more than 18 billion genealogy records right now. You'll also get the MyHeritage discoveries tool that locates information about your ancestors automatically when you upload or create a tree. What will you discover about your family's past?
Ancestry also provides an interesting feature called migrations which tries to use your results to match you with specific historical groups and their movements. These insights provide a small amount of addition data to help you put your genetic heritage into context. You can find this at the very bottom of your ethnicity breakdown.
Testing with Ancestry can only be done by purchasing a test kit, providing a saliva sample and mailing it back. Ancestry is one of the two tests on this list that also offers genealogy records so you can combine your genetic and family history research on-site.
Example Ethnicity Estimate Report from MyHeritage DNA
MyHeritage DNA also provides a percentage breakdown of regions and populations that you match genetically.
You'll notice by comparing the example above to that of Ancestry's report that the information is similar but not the same. This is not because one test is more accurate than the other, but rather because the data used to compare your DNA is different – as is the software being used to analyze it.
We encourage you to never take your results from any DNA test at face value. Read more about how to best interpret them here.
Clicking on any one of the matching populations zooms into that area and provides you with details about that population.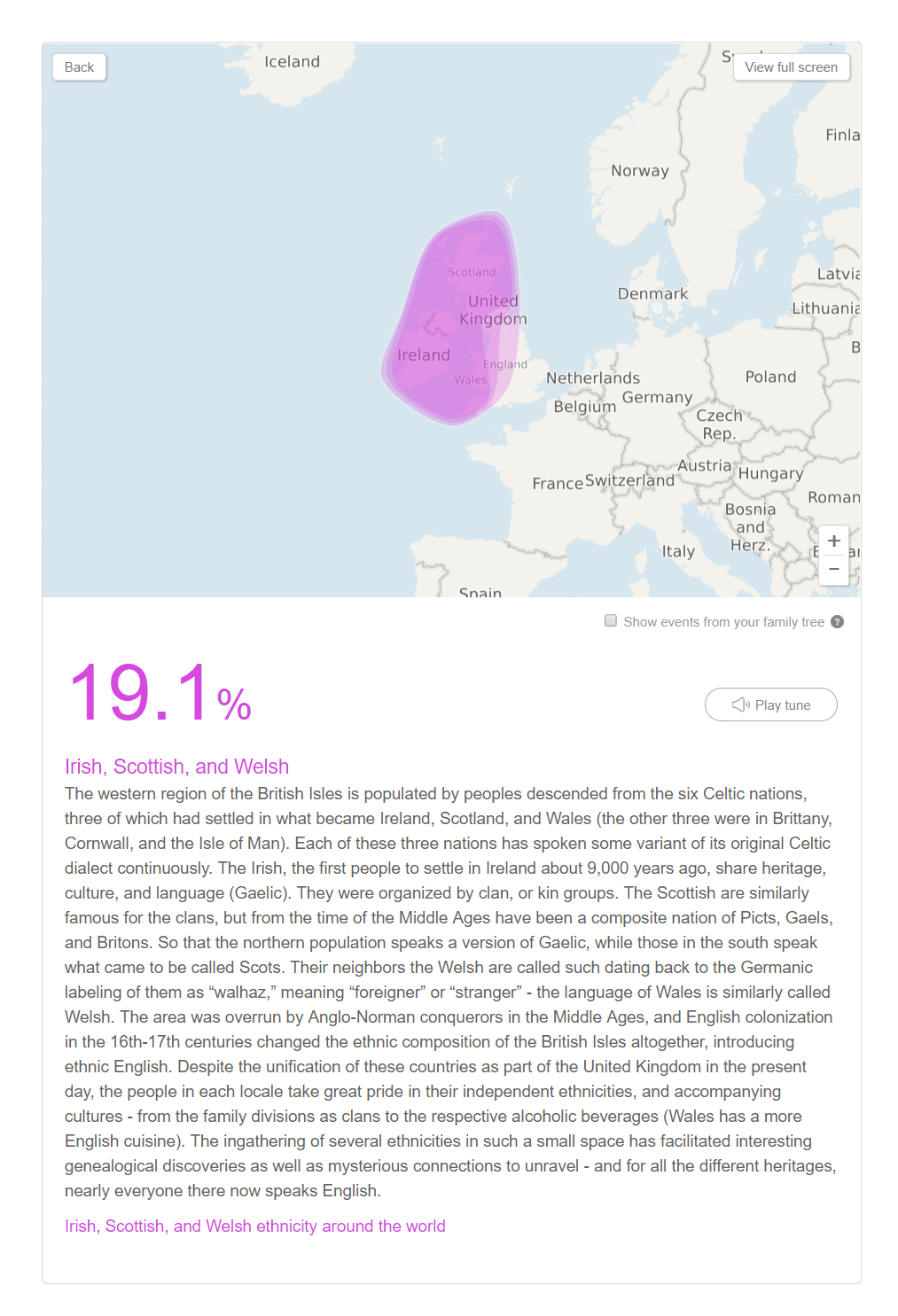 MyHeritage provides some unique tools for applying these results to your genealogy research. We did a walk-through of their DNA system that you can read here. As with Ancestry, they also provide record subscriptions for family history research.
You can get the MyHeritage Ethnicity Estimate by purchasing one of their kits or by uploading your raw DNA from another testing company free of charge. The above walk-through will show you how to upload results or you can simply visit this page.
Family Tree DNA Sample MyOrigins Ancestry Report
As with the other testing companies, FTDNA provides an easy-to-read numerical breakdown of your genetic ancestry based on their own data.
When initially logging in to view results you are presented with a quick overview and a map. Clicking on the overview will show all percentages, including trace results, and detailed breakdowns of regions.
Clicking on the provided map will bring you to the main report – with a colorful visual display of your genetic heritage.
You can now click on a region/population to view more details about it.
Family Tree DNA is the oldest of the four testing companies on this list and offers many advanced tools for analyzing your results once they come in.
You can either purchase a test kit directly from them and provide a DNA sample, or you can upload your raw DNA from another company. Uploading your results is free but the MyOrigins report shown above will cost you $19.
Sample 23andMe Ancestry Composition Report
23andMe provides the same type of clear, visual results as the other tests on this page. You'll see a simple percentage breakdown of populations and regions you match, as well as a map.
Clicking on a specific population expands the list to provide more information and highlights the area.
23andMe has the second largest tester database, next to Ancestry, which is helpful for connecting with genetic cousins. Cousin matching shows you who you are related to in the database and each of the companies on this page offers it as part of the package. Find out more about it here.
They also provide a health + ancestry option for those interested in using their test to better understand their health but it doubles the cost.
Although 23andMe did offer a one day free upload event, and may do so again, normally you can only get results by buying one of their test kits.
After reading through these example results you are likely to have noticed some big differences in the percentages presented. You might be asking yourself, "Which of these DNA tests is most accurate?" or "Which one should I choose?"
To better understand why each of these reports shows different numbers, and why it is best to interpret your results within the context of your genealogical research and additional genetic analysis, please read our article Why You Might Be Reading Your DNA Results All Wrong.
For help choosing the right test for you look here.
You might also enjoy these related reads:
By Melanie Mayo, Family History Daily Editor