If your family history research leads you back to England or Wales, the records kept by the General Register Office (GRO), and the GRO Index online, should absolutely be on your short list of amazing resources. The GRO has been recording vital information for the populations of both England and Wales since 1837. Nearly every birth, marriage, and death that has occurred there in the last 180 years has been recorded and indexed by the GRO.
Whether you're just starting to conduct Welsh or English genealogy research, or you're diligently hunting down a distant, elusive relative, this huge collection of data is certainly one of the most helpful resources out there. But where can you find it?
Well, if you're looking to access the index for free (who isn't?) then you have two options to choose from – each of which may provide different benefits and drawbacks, depending on your needs.
Here's how you can take advantage of the GRO index of birth, death, and marriage records for free right now.
First of all, the General Register Office does offer direct access to their index for free, but there are some things you should be aware of before setting out to view it directly through their site.
Make Instant Discoveries in Your Family Tree Now
Imagine adding your family tree to a simple website and getting hundreds of new family history discoveries instantly. MyHeritage is offering 2 free weeks of access to their extensive collection of 18 billion historical records, as well as their matching technology that instantly connects you with new information about your ancestors. Sign up using the link below to find out what you can uncover about your family.
The most important thing to know is that, while the index of these records is free to use, you can only view only a portion of the index covering registered births from 1837-1915 and deaths from 1837-1957.
Unfortunately, this version of the index – which was released to the public late last year – doesn't include any of the marriage records found in the complete index, and likely won't anytime soon. The GRO had this to say regarding their future plans to digitize records:
"Completing the digitisation of records would require significant investment and there are no current plans to resume this work but we continue to monitor the scope for future opportunities to complete the digitisation of all birth, death and marriage records."
In order to access the index through the GRO website, you must first create an account here. You should begin on a page that looks like this:
This registration is a little more involved than your standard account set-up, as you must provide your full name, postal address, as well as payment information and some limited facts about the type of records you are looking to access. This is because you will use this same account to purchase copies of certificates from the GRO, if you so choose. Note: viewing the index is completely free, your card will only be charged if you purchase a copy of a certificate.
Once your account is set up you will be able to log in and view the birth and death index as it exists on their site, as well as order copies of certificates from them quickly and easily. Read more about how to make the most of your searches on the GRO site here.
One major positive about viewing the index through the General Register Office directly is an exciting fact they've shared on their extensive FAQ page:
18 Billion Genealogy Records Are Free for 2 Weeks
Get two full weeks of free access to more than 18 billion genealogy records right now. You'll also gain access to the MyHeritage discoveries tool that locates information about your ancestors automatically when you upload or create a tree. What will you discover about your family's past?
"The new index will contain additional data fields to those which are already available and this will assist family historians to identify the correct record. In addition, the index is created from the digitised records and is not a copy of the existing index which is already made available by third party organisations."
This means you may be able to obtain additional information or corrections about your English or Welsh ancestors even if you have already viewed other copies of the index online.
Another plus? If you do choose to order an actual certificate the leap from viewing the GRO index entry to ordering it is totally streamlined. That's the real benefit of going through their detailed account creation process: once you're ready to order, it's a matter of a few clicks to finish the process and receive your certificate in the mail within a few business days.
So, if the purpose of viewing the GRO index, for you, is to obtain complete birth or death certificates for your ancestors (and you're not bothered by the missing marriage records) then accessing this index directly from the source is the way to go. After all, having copies of these certificates will provide a great deal of additional information.
But what if you're not ready to start ordering certificates? Or maybe you're looking for an English birth that took place after 1915? Or perhaps it's strictly Welsh marriage records you're after?
Here's where the other option for viewing this index comes in: FreeBMD
The FreeBMD database also holds the GRO index, also known as Civil Registration index, and includes entries from 1837-1983. Transcribed by a large pool of volunteers, this huge database provides free access to a searchable index of over 250 million Welsh and English birth, death and marriage records. FreeBMD is a project of Free UK Genealogy, a CIO that also includes the free U.K. census database, FreeCEN and the free parish registers database, FreeREG – all of which we have mentioned previously in our 50 Free Genealogy Sites list and in our online genealogy course.
Start here to begin searching the GRO index through FreeBMD, the page will look like this: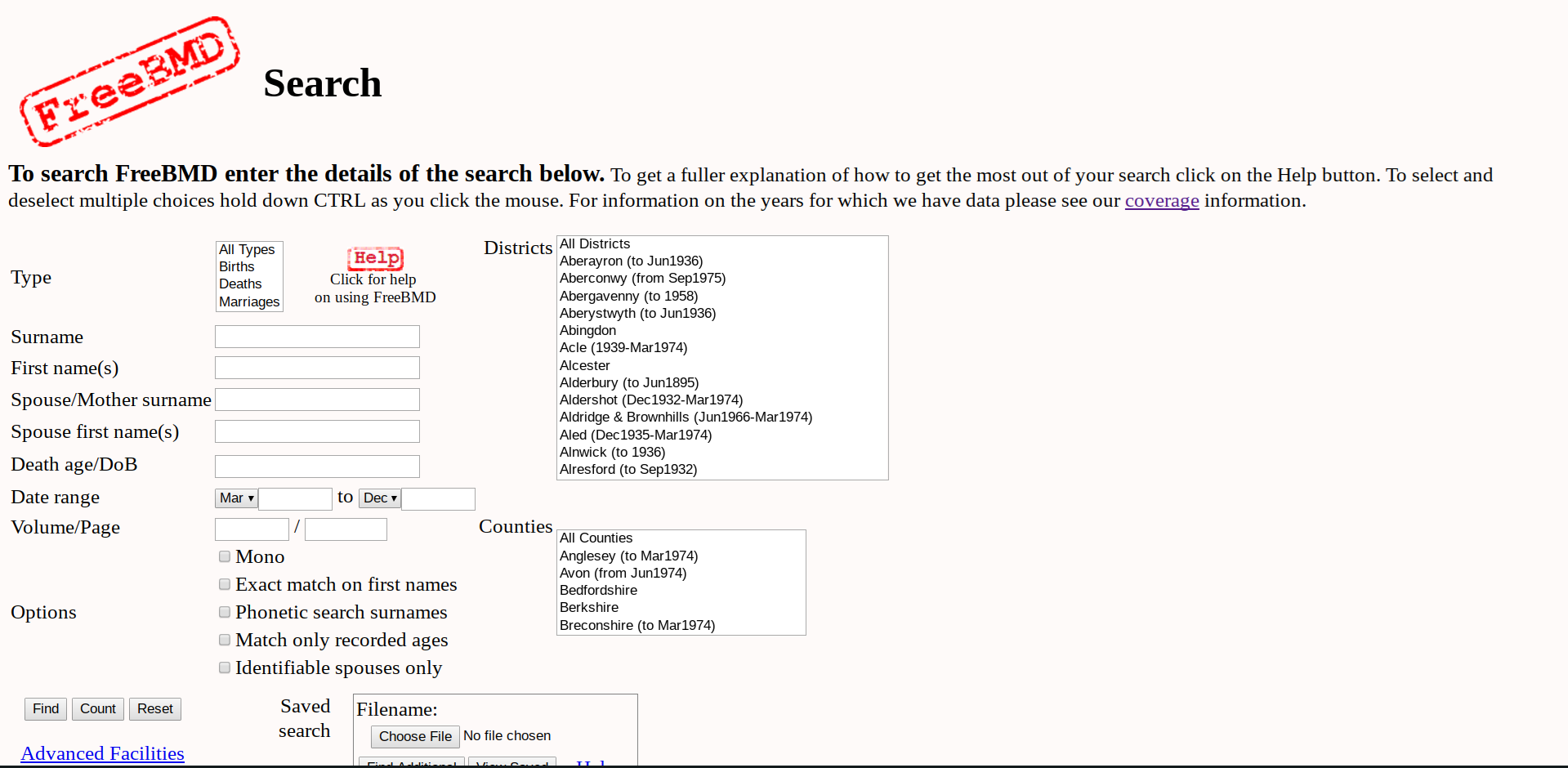 There are only two mandatory fields in FreeBMD's search: surname and type of record (birth, death, marriage or all types). If the individual whose record you are looking for has a very uncommon name, you may be able to get away with a very broad search using only those parameters, but more than likely your search will return a message saying the results have exceeded the max return of 3,000 records.
At this point, you will need to narrow down your search. You can easily do this by adding a first name but take care in checking the "exact match on first names" box as errors in the original index, as well as in the transcriptions, are relatively common.
Another simple way to zero in on your desired results? Add a date range to your search. The information in the GRO index is divided into quarters: March, June, September, and December. This means you can't search for an event by individual month, but instead by groups of three months, for example: the March quarter includes January, February, and March.
It is important to keep in mind that the event you are searching for wasn't necessarily recorded in the quarter in which the event occurred (this is especially true for births). So let's say an individual was born late in the June quarter of a certain year, their birth may not have been recorded in the index until the September, or even as late as the December, quarter.
While FreeBMD does allow you to add as wide or narrow of a date range as you choose, you may come up empty-handed if you are limiting your search to just one or two quarters, so keep your range on the wider side and narrow down as needed.
As you can see, there are a variety of other fields that you use can narrow your search. However, some will only be relevant when searching for records after a certain date including: death age/DOB and spouse/mother surname fields.
This is because some information was added to the index in later years, so a search including these parameters before the date they were added would yield no results. See below for a breakdown of when these additional facts were added:

After you have added enough specifics to return a list of results, which may take a few tries (remember, we're dealing with tens of millions of English and Welsh records here), you should end up on a page with results like those shown below.
To see the entry, click on the red info button. You may also go directly to a scan of the index page by selecting the glasses symbol: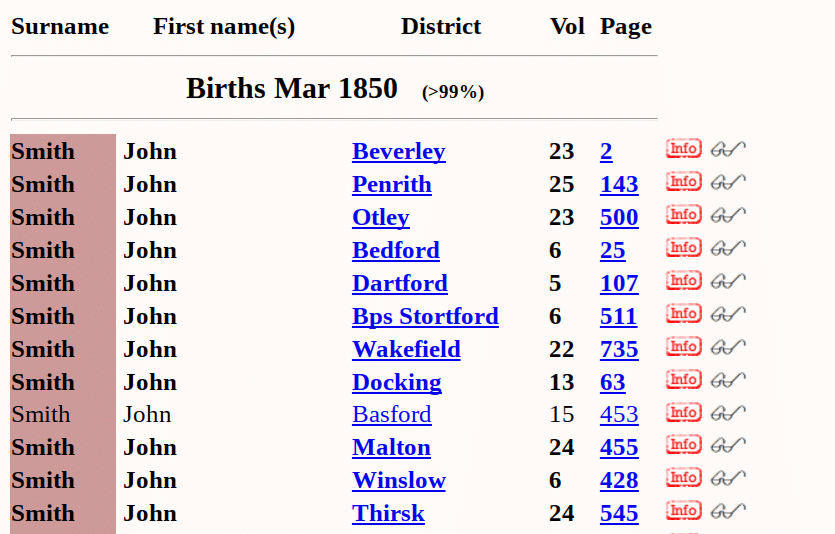 Once you have chosen an entry you will land on a page like the one below. All entries will contain the first and last name of the individual, the district where the event took place, the volume (which is a numeric representation of the district), and the index page number.
Other entries may contain additional information – like mother's maiden name or DOB, depending on the year and type of record you're viewing.
From this page, you can also scroll down to view the original index page (which will either be handwritten or in type, depending on how old the record is). You will need to first choose a format on the right-hand side of the page shown above, then select "view the original" on the left and the file will be downloaded to your device:
Remember, the "original" in this case is the page of the GRO index where the listing is found, not the actual record itself.
Of course, once you locate your ancestor in the index, you may find yourself longing for the entire record in order to learn more about the lives they lived, as an actual certificate will contain a plethora of important facts not included in the index. Take a look at this example marriage certificate from the GRO's Guide to Certificates page:
If you do decide that you're ready to order a copy of a birth, death or marriage certificate, the information found in the entries on FreeBMD will make up your GRO index reference number – a specific number that's used to assist GRO in quickly locating the correct certificate.
The reference should not be confused with the certificate's serial or application number and, bear in mind, it is not a single number found somewhere on the index entry. Instead, it is a collection of the quarter, year, volume number and page number found within the index entry. So, for the index entry shown above, the reference number would be 'March 1850 XXIII 2'.
You will want to make note of this number before you try to purchase a copy of a certificate from the GRO site (which you can do by completing the same registration process outlined earlier) because you can use this number to greatly reduce the time it takes to receive a record by mail, from several weeks to a couple of business days. You can find more information about GRO reference numbers here.
However you choose to access this extensive, century-spanning index, you are likely to come back to it again and again. So get in there and start digging!
A quick note: If you're looking for records of events that happened outside of England and Wales, but which involved British citizens, you may not find them in the databases highlighted above. While the GRO did keep information on citizens living abroad these records are not exhaustive and many of the events were recorded in the index several years after they occurred. Nonetheless, many records of this kind do exist, including:
Vital records of Army members and their families, since 1881
Army chaplain returns from 1796-1880
Army Regimental records from 1761-1924
Births and deaths at sea, since 1837
Consular records since 1849
Death records for personnel who served in WWl, WWll and the Boer War
FamilySearch has compiled a list of various digital locations (some free and some not) where indexes which may include birth, death and marriage records of British citizens living abroad can be viewed. 
By Kate Jackson, Associate Editor, Family History Daily
You might also like:
Have European Ancestry? Here are 30 Free Genealogy Sites to Search
Free Genealogy Sites for Researching Ancestors in England, Scotland, Wales and Ireland