by Kate Jackson
If you've been itching to dig out those dusty old shoeboxes and piles of inherited photo albums but you're just not sure where to start – read on. It's time to think outside the frame and discover some new and exciting ways to display old family photos around your home.
From photo-based keepsakes perfect for celebrating the holidays to artful creations you can display all year long – we've put together a collection of unique ideas for showing off your family tree in photos.
Let's get right to it!
Make Instant Discoveries in Your Family Tree Now
Imagine adding your family tree to a simple website and getting hundreds of new family history discoveries instantly. MyHeritage is offering 2 free weeks of access to their extensive collection of 18 billion historical records, as well as their matching technology that instantly connects you with new information about your ancestors. Sign up using the link below to find out what you can uncover about your family.
But first, an important reminder…
Old photographs can be very delicate and, as they are irreplaceable, please remember the best practices for preserving your heirlooms – you can read them here. Because most of these projects should be done using copies of your special photos (for the sake of preserving the originals), you'll want to scan any photos you will be using ahead of time, whether your project requires a printed photo or a digital copy of the image.
And, if you want to learn more about how to easily scan and digitize your old family photos, we've listed some resources from Family History Daily below:
14 Ways to Show Off Your Old Family Photos
Please note that some of the links in this article point to products. If you choose to purchase these products Family History Daily may earn a commission to support our site. 
1. Old Family Photo Ornaments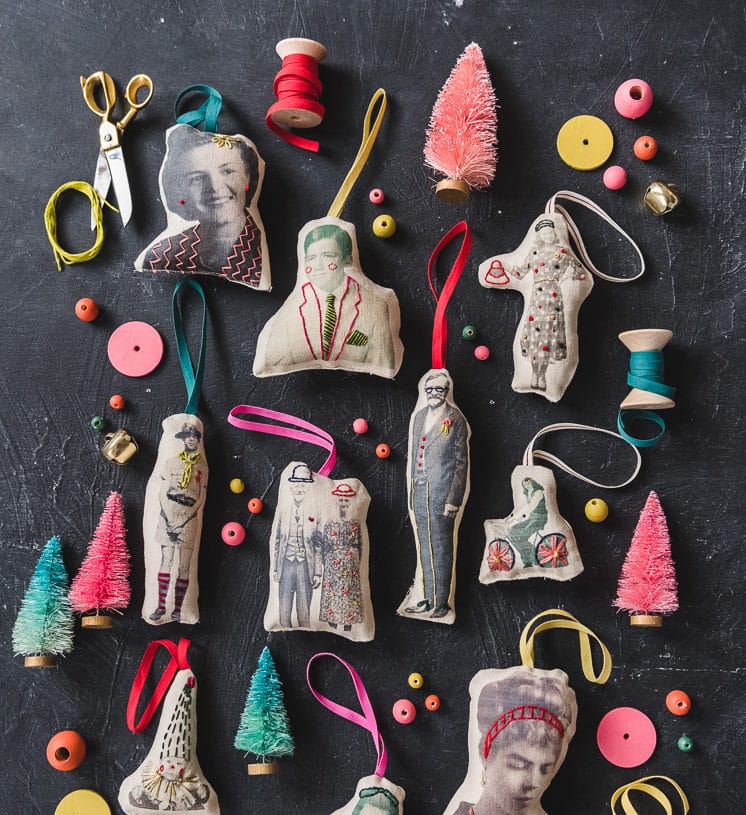 There are many different ways to use your old family photos to create Christmas ornaments or other holiday decorations. From enclosing the photo in a clear plastic ball, or simply hanging a photo mounted on burlap or pretty paper, most of these crafts are pretty basic.
However, if you're looking to get invested in something a little more complicated – and impressive – you could try your hand at making your own family photo heirloom ornaments, shown above, to hang on the tree this year or display in other ways if you don't celebrate Christmas. 
Find the step-by-step tutorial at The House That Lars Built. 
18 Billion Genealogy Records Are Free for 2 Weeks
Get two full weeks of free access to more than 18 billion genealogy records right now. You'll also gain access to the MyHeritage discoveries tool that locates information about your ancestors automatically when you upload or create a tree. What will you discover about your family's past?
2. Easy Family Tree Photo Album
What's the easiest way to bring along all your favorite family tree photos without the worry of them getting damaged or misplaced? A photo book, of course!
We've mentioned photo books before as a great way to create a keepsake family recipe book, but they're perfect for creating the ultimate old family photo album, too! 
Simply upload your scanned images into the photo book creator, customize your size, binding and layout – and you're done! 
And, just as a bonus, you can choose a special photo to go on the cover of your book and put it on display when you're not toting it around to your next family gathering or genealogy club meeting!
Get started with your favorite photo album site – we like Amazon Prints or Google Photos.
3. Family Photo Wreath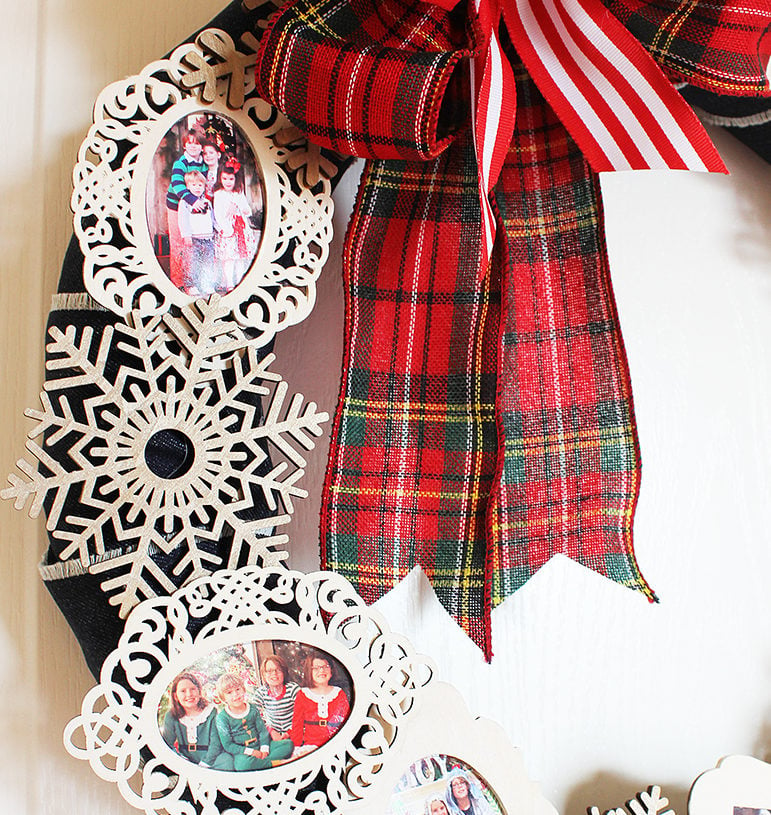 A photo wreath is just what it sounds like: a decorative wreath featuring an array of old family photos. Photo wreaths can be done in a variety of styles or sizes and can be used as seasonal or year-round decor. 
The tutorial below features a holiday-themed family photo wreath – but you can customize the details to make any kind of wreath you desire.
Here are the instructions from Positively Splendid.
4. Decoupaged Ancestor Table
Want a really unique way to display your old family photos?
Create a one-of-a-kind furniture piece that honors your ancestry. Simply make copies of old family photos, and then decoupage them on to a small tabletop or another piece of furniture (do NOT use originals). The results are sure to be a great conversation starter! 
Learn how to prepare a piece of furniture for decoupage from Mod Podge Rocks.
5. Old Photos on a Clothesline
Here's a super easy and creative way to showcase your old family photos. Simply hang a length of yarn or twine between two points on your wall (make sure the line is relatively tight) and simply hang our old photos using clothespins or binder clips. 
Plus, there are hundreds of ways to customize this idea to fit your space and decor. Or, pick up a ready-made clothesline photo display, like the one shown above, right here.
6. Family Tree Collage
This simple idea involves choosing multiple old family photos and arranging them together in one large photo frame.
While it's a quick and easy to pull together, a collage will allow you to display many members of your family tree, or a variety of photos of the same ancestor, in a unique and creative way. 
7. Family Tree Wall Decal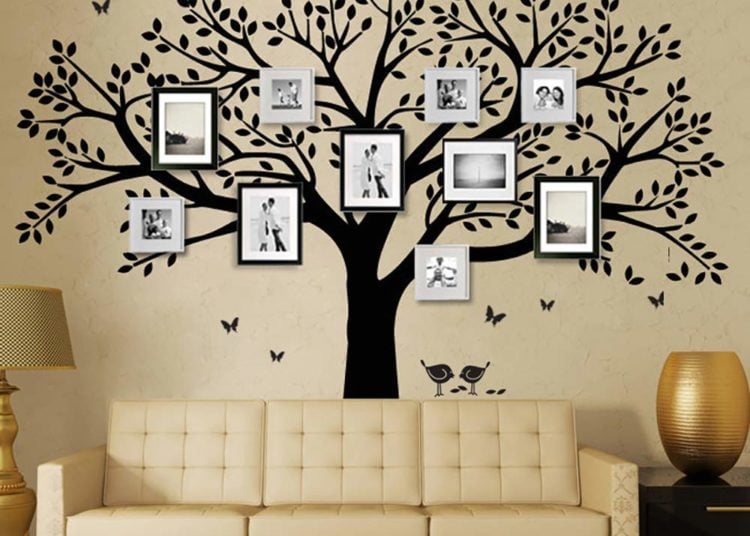 Peel and stick family tree wall decals can be the perfect backdrop for a collection of family photos. This is a great way to include the kids or grandkids in your photo display by placing the younger ones toward the bottom and working your way up the tree and backward in time. 
Like the family tree pictured above? Find it here.
8. Gallery Wall With Antique Frames
Add a vintage touch to a simple framed photo of your ancestor by placing it in a beautiful antique frame.
Up the wow factor by grouping many old photos together, each in a one-of-a-kind frame dug up at a local antique store or thrift shop, to create an impressive gallery wall dedicated to your ancestry. 
9. Glass Cloche Photo or Keepsake Display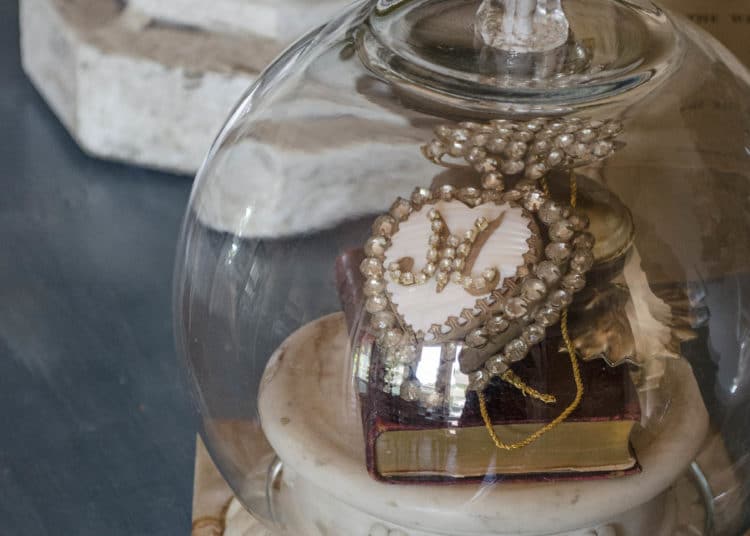 Using a glass cloche to show off a precious original family photo or other keepsake is always an artful choice. Whether you use an antique glass cloche or a more modern one, the results are likely to be quite lovely. 
You'll find that the really fun thing about displaying your family photos and heirlooms under a cloche is how customizable it is! 
Feeling extra creative? Learn how to make your own glass cloche with this tutorial from Cedar Hill Farmhouse.
10. Ancestors On Stretched Canvas
Creating a stretched canvas of a special old family photo is a quick task and what you'll get is a keepsake quality piece that will look amazing anywhere in your home.
Choose from framed or frameless and a variety of sizes. Get started at Google Photos or Amazon Prints.
11. Vintage Windows as Frames
Have a worn-out old window gathering dust in the garage or basement? Harness its vintage charm by using the grid pattern of the window to frame one or more family tree photos. 
If the window glass is in good shape, place the old family photos (copies of originals) on the backside of the window – if the glass isn't perfectly clear, simply apply them to the front of the window. Then go ahead and hang your creation for all to see – it's that easy!
12. Old Family Photo Collage Wallpaper
Want to create a true feature wall devoted to your ancestry? Photo wallpaper is the perfect way to bring the images of your family tree together in one place.
Easily create your custom photo collage, choose your size, colors, and select from traditional or repositionable wallpaper.
Check out all the options from My Heart Wall on Etsy.
13. Old Glass Bottle Photo Holders
This unique method uses an old clear glass bottle to enclose your special old photograph in a unique and lasting way.
Start by hunting down some vintage glass bottles at the thrift or antique store. The best bottles are ones that are clear, wide, and have a large enough opening to insert a rolled-up print of your old photo. 
Once you've inserted your photo, use a pencil or a small stick to position it correctly and there you have it!
14. Handmade Family Photo Magnets
Put your family tree to work by transforming your old photos into one-of-a-kind magnets. Using easy-to-find tools and supplies, you can adorn your fridge or genealogy filing cabinet with these super useful, extra special magnets.
Want to give this one a try? Here's the tutorial from Crafty Journal.
What should I do with old family photos no one wants?
Please do not throw them away, old family photos are a treasure. If you have photos from your own family that you do not have room for, spend some time trying to find someone who does. Ask relatives first as there will often be someone in the family who has an interest in taking them off your hands.
If you have no luck locating a good home for them among people you know, look for individuals online (Facebook family history or surname groups are a good place to start) that may be related to you and could have an interest in taking care of them. If you have photos of another person's family, you can also spend time investigating online to see if you can locate a person who would like them.
If you cannot fine someone interested in the photos you have, consider digitizing them to make room in your home. A simple, clear picture or scan of each works well. Record any text on the back in the title or comment of each. You can then store them in your photo backup area – such as Google or Amazon Photos – or in something like Dropbox. This will at least preserve the images in case you or someone else has an interest in them in the future.
Either way, you can then donate the originals to a local library or archive. Or even bring them to an antiques store to ensure they are not destroyed.
Need more ideas for displaying your old family photos around your home? Don't forget to check out Pinterest for tons of genealogy and family tree crafting ideas!
All images in this article are copyrighted by their respective owners, whose site links are included in the descriptions of each craft project. 
You may also like: