It's no secret that we love free genealogy sites here at Family History Daily. But, we have to admit, we also like Ancestry.com. Next to FamilySearch.org, you're not going to find a larger, more diverse genealogy website, and many of us are willing to pay their subscription fees for that reason alone.
But we also like Ancestry for the convenient free family tree they offer. It's easy to get started with, maintain and share (or keep private). Plus, they've made it extremely convenient to add records from Ancestry's databases. A couple of clicks and you can easily attach any number of sources, or names, to your tree (although we could tell you why that's generally a bad idea).
But it's this very convenience that poses a serious problem for many family historians.
Most people who keep their trees on Ancestry.com probably regularly attach records to individuals using the 'Save This Record' or 'Save to My Tree" function as seen in the screen captures below.
Make Instant Discoveries About Your Ancestors Now
MyHeritage is offering 2 free weeks of access to their extensive collection of 18 billion historical records, as well as their matching technology that instantly connects you with new information about your ancestors.
Here's what it looks like when you add a record to a person in your tree.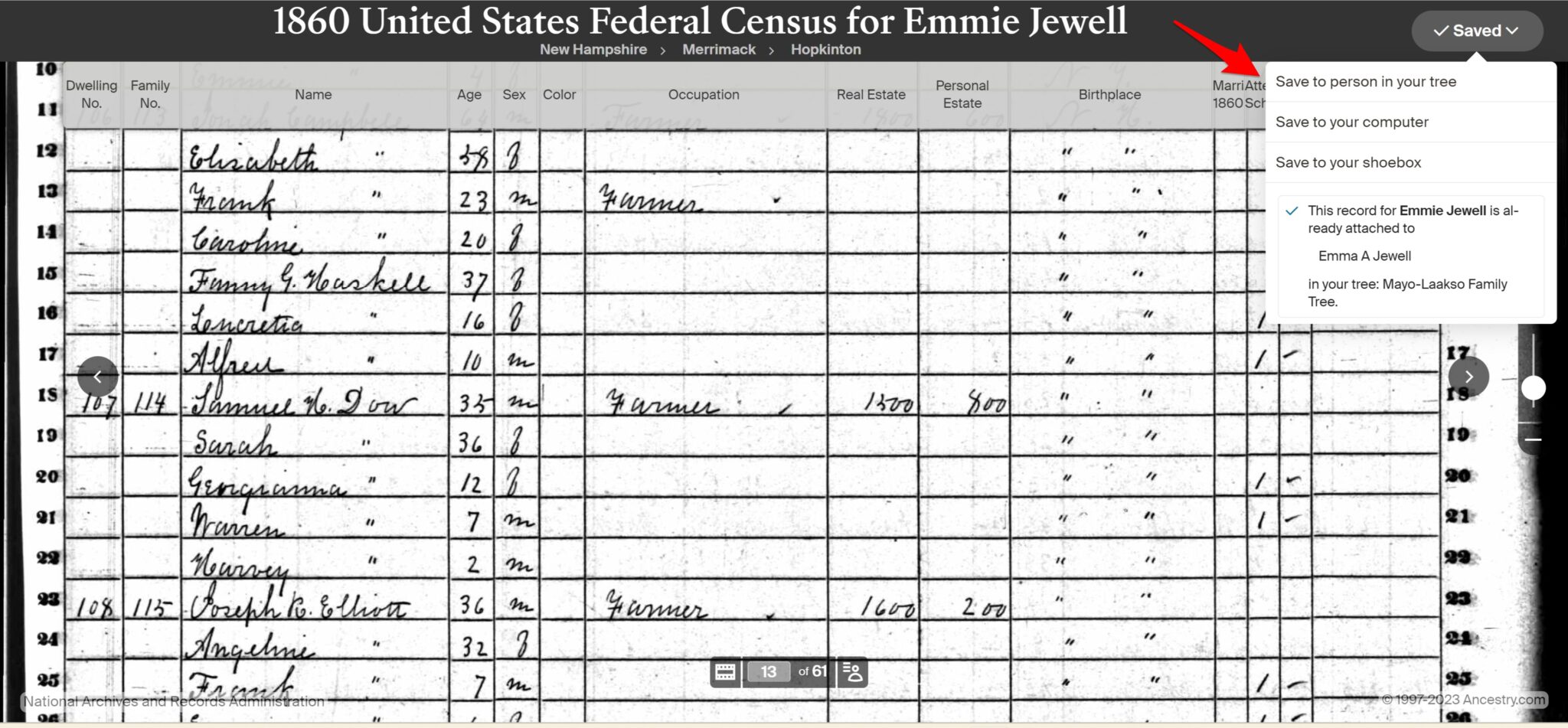 Here is what this feature looks like when adding a record via hints.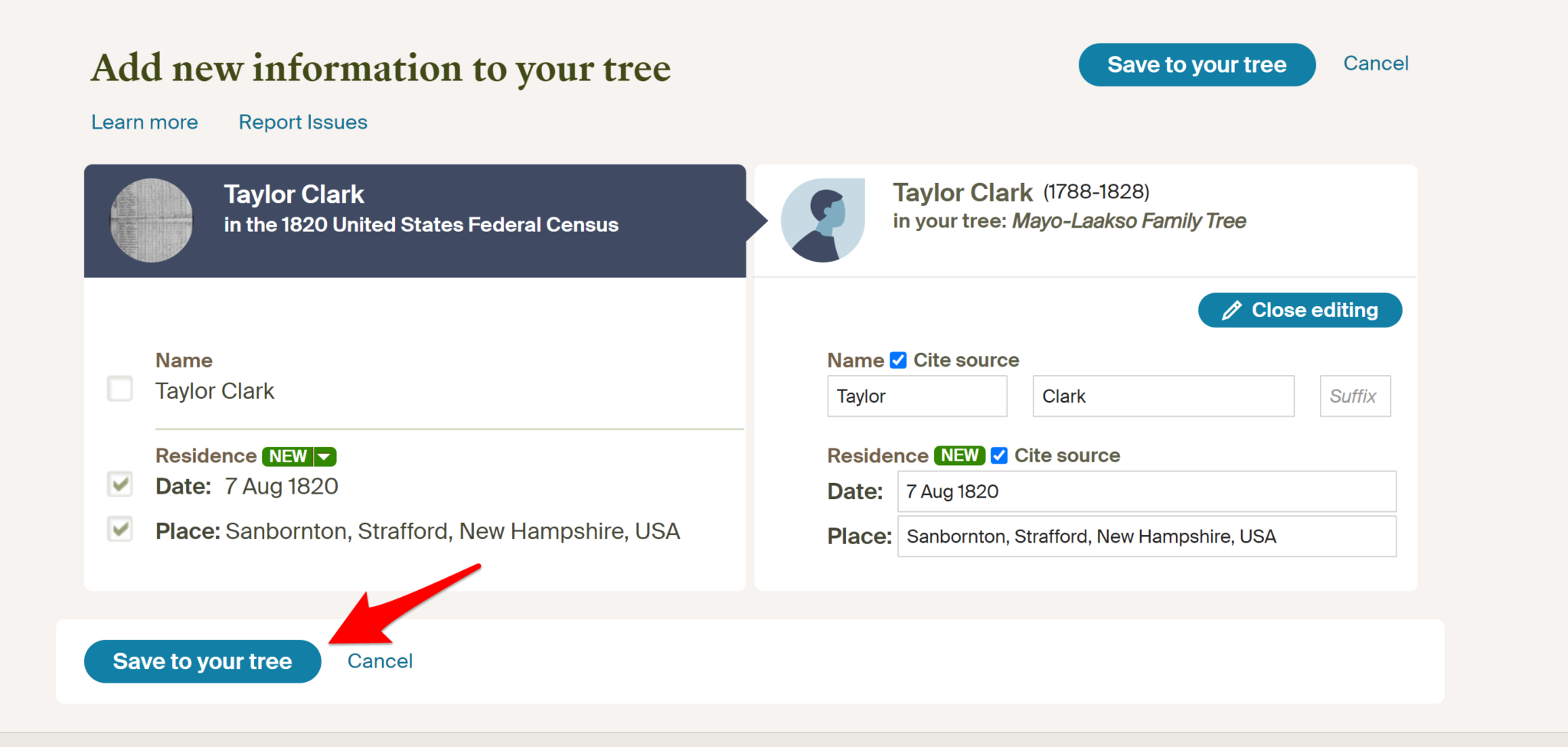 At first, this seems like a quick and easy way to attach relevant records to people in your tree – and it is. The problem lies in the fact that when you 'save' a record this way, you are not really saving it at all. Instead, Ancestry is simply linking that record to the correct fact.
This causes two vital problems:
1. If you decide you want to download your tree as a GEDCOM and import the data into another family tree program (other than Family Tree Maker) you will not have any copies of these files.
2. If you stop subscribing to records on Ancestry, or access records during the a trial subscription and then don't subscribe, you will no longer have access to these records if they were in a paid database, which most are. You will need to resubscribe to access these records. This is true even if you currently have a paid subscription that doesn't cover the record you want to view (such as having a US only subscription when trying to view a record from England). You can read Ancestry's statement about what happens when you cancel a subscription here.
18 Billion Genealogy Records, Free for 2 Weeks
Get two full weeks of free access to more than 18 billion genealogy records right now. You'll also get the MyHeritage discoveries tool that locates information about your ancestors automatically when you upload or create a tree. What will you discover about your family's past?
If you have been using Ancestry for awhile you may already be aware of this and have taken actions to secure these documents. But it can be surprisingly easy to overlook this fact and be left wondering why you no longer have access to a record you saved to your tree. We respect that Ancestry has to support their site by limiting access to records, but we wish this fact was clearer to subscribers.
How to Maintain Access to Ancestry Records When Cancelling Your Subscription
Luckily, there are two main ways to maintain access to the records you've added to your tree.
Option 1: Use Preserve My Tree from Ancestry
In late 2023, Ancestry started rolling out a new feature called Preserve My Tree to some members. The feature is in beta and so it is only being offered to select subscribers at this time. The $5 a month memberships allows you to maintain access to the records you've attached to your tree, but does not allow you to research or access paid records you have not previously added.
For those who have are offered this membership, this could be a convenient way to still be able to view and download the records added to the facts in your tree. However, this does mean continuing to pay Ancestry for access to records you really already paid for and it is not available to everyone. That's why we encourage you to take the time to back up your records manually instead.
Option 2: Download Records to Your Own Computer
By downloading the records you have added to your tree you will ensure access to them in the future, no matter your subscription status. Here's how to download your records.
1. When viewing the record's landing page, as seen in the first screen capture above, click on the image to view it.
2. Now look for the green 'Save' button and click on that. There are several options, one of them says 'Save to Your Computer' – this is what you want.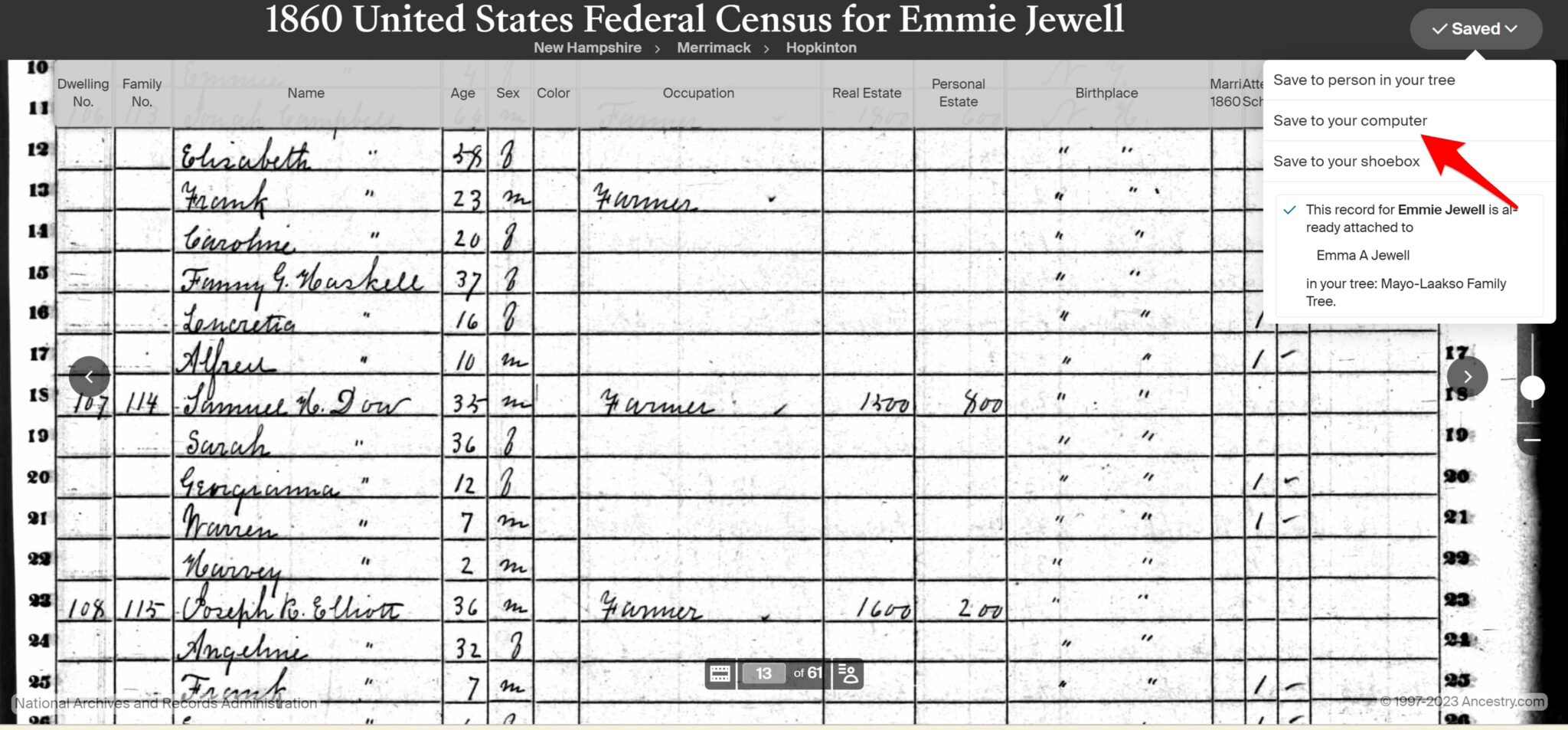 3. After you select this option Ancestry will likely just download the file to your default download location (usually your 'downloads' folder or your desktop). You will now need to find the file and rename it something you will recognize later, since the file name is usually a string of numbers. Once you do that you should move it to a folder on your computer for these files specifically.
Of course, you can also print files.
You should save every single record you attach to your tree on Ancestry and any record you want to view later that you have not attached. Adding records to your 'Shoebox' for later review is easy but, again, you will have no access to these files later if you end your subscription.
We recommend that you create a section on your computer for your downloaded records, and then create folders for each surname or line for easy reference later. You can also upload these files manually one by one back in to your tree so that you can view them later in context, since manually uploaded media files continue to be accessible after a subscription ends.
Taking these steps is no big deal for a few records, or when doing so one by one as you research, but what if you've already linked many records to a current tree?
You have a couple of options in this case, but neither one is ideal:
1. The first is to simply go through and manually download, one by one, each record as outlined above. Work on it little by little everyday in order of importance so it does not become overwhelming. Make sure to rename each file for easy organizing and place it in a safe location on your computer where you can find it later. This takes a long time for large trees but is worth it if you want permanent access to these files.
2. If you already use Family Tree Maker, or plan to, then you can download all of your media files quickly by syncing the program to your online tree. Unfortunately, it is another expense if you don't already have a copy, but if you cancel your subscription to Ancestry all of the media files you downloaded to Family Tree Maker will still be available. This makes the purchase price of this software reasonable if you have many records to download, plan to hold a subscription to Ancestry only for a short time, or want to try their free trial and download many records to use later.
Dec 1, 2023 Update: Ancestry added Preserve My Tree membership
March, 2017 Update: TreeSync from Ancestry has now been discontinued and replaced with FamilySync in the new FTM. See this article for more information.
Feb, 2016 Update: In late 2015, Ancestry announced that it would discontinue Family Tree Maker and no longer offer updates or support for it after 2016. However, on Feb 2nd Ancestry has stated that Software MacKiev, the company that has developed FTM Mac for Ancestry for 6 years, will continue to offer the program as well as updates and new versions. This is great news for FTM users. They also announced that Rootsmagic, another respected genealogy program, will be working to connect their program with Ancestry by the end of 2016. This may offer a new way to easily back up and save your records. You can read all about it here.
Backup Your Ancestry Tree Data Too
And while we're talking about backing up, you should download your Ancestry tree gedcom regularly as well, even though you will still have access to your tree data if you end a subscription. The gedcom does not contain actual images of records you have attached, so it can't be used to save those, but it is always good to have a backup of your other data. To download this, go to your tree, click the 'tree pages' dropdown, select 'tree settings' and the look for the green 'export' button on the right sidebar of the setting page. Find our tutorial here.
Backup All of Your Data Somewhere Safe
We also highly recommend that you backup all of your genealogy data to a second computer, thumb drive, respected online storage site Amazon Cloud, or some other safe location — you don't want to spend hundreds of hours researching only to lose all of your files. It happens more often than you think.
By Melanie Mayo, Family History Daily Editor
Also read: Why You Need to Quit Attaching Records to Your Family Tree, and What to Do Instead
Image: Chinese ambassador gives latest war news to newspapermen. Washington, D.C., Sept. 25, 1937. Library of Congress