Public or private? This is one of the first decisions Ancestry.com asks you to make when you create your family tree. Indicating your preferred sharing status is as simple as checking a box, but it's not a trivial decision.
Should my Ancestry family tree be public or private?
There are very good reasons to consider both public and private options. Your decision should be based on your own personal preferences and situation. The good news is, you'll always be able to switch your tree's status from public to private (or vice versa) in the future if you change your mind – but let's take a moment to dive into each of the available options so that you can make the best choice for your tree.
The argument for going public
As you walk through the steps to create a new family tree on Ancestry, the system asks you to check a box next to the statement, "Allow others to view this tree (people marked "living" are hidden)." By default, this box is checked, meaning if you don't uncheck it, your tree will be public. But what does that mean, exactly?
Make Instant Discoveries in Your Family Tree Now
Imagine adding your family tree to a simple website and getting hundreds of new family history discoveries instantly. MyHeritage is offering 2 free weeks of access to their extensive collection of 18 billion historical records, as well as their matching technology that instantly connects you with new information about your ancestors. Sign up using the link below to find out what you can uncover about your family.
Public trees on Ancestry are just that — open to the public for viewing. This means that anyone who logs into Ancestry and comes across your tree can see the deceased individuals you've included, along with all of the information you've entered and documents or photos you've attached. As the Ancestry disclaimer says, anyone you've marked as "living" in your tree will be hidden, and their information will not appear in searches. Additionally, anything you've added to an individual's "Notes" section will also be hidden from view. 
It's also good to know that if you haven't marked someone as "living" or "deceased" in your tree (for example, if you've uploaded your tree from a GEDCOM file or a software program that doesn't have this setting), and have also not included a death date in the appropriate spot, Ancestry will consider those folks "living" if they are younger than 100 years old. 
Ancestry reports that of its 100 million-plus online trees, most are public. By far, the biggest benefit of having a public tree is the opportunity to find and collaborate with other people who are researching your family. Personally, I greatly appreciate public trees — especially when I'm reviewing AncestryDNA matches. So many of my matches either haven't attached their DNA results to a tree or their tree is marked as private so it's difficult to tell through which ancestors we might be related.
Do remember though – public trees can help you further your research if they're used correctly. But, as we've shared here before, other people's trees are not valid sources for your own tree. The information in another person's public tree could be inaccurate so simply copying it can endanger the reliability of your own tree. If you're using Ancestry trees in your research please take the time to learn to use the responsibly. Family History Daily offers numerous articles that may help, as well as a course dedicated to Ancestry.com. 
When should I stay private?
Although public trees are wonderful for collaboration (especially in AncestryDNA matches!), there are valid reasons some folks choose to keep their trees private. For example, some people, including some professional genealogists, will create Ancestry trees to be works-in-progress, meaning that the information they add to a tree may be a placeholder until further research either proves or disproves the fact. These owners wouldn't want someone to find the tree and copy details that haven't been fully researched (and as we said earlier, this happens way too often).
Others keep their trees private and non-searchable because they don't want other people to save the photos or documents they've uploaded to their tree. Or because they do not want people copying their work in any form (whether complete or in progress and likely to change).
I use my Ancestry tree as my main repository for documents and images, and I have to admit that it's sometimes unsettling at first to see my dad's fourth-grade school picture show up in my hints because someone else has copied it. But, hey, collaboration is part of the fun, right?
18 Billion Genealogy Records Are Free for 2 Weeks
Get two full weeks of free access to more than 18 billion genealogy records right now. You'll also gain access to the MyHeritage discoveries tool that locates information about your ancestors automatically when you upload or create a tree. What will you discover about your family's past?
Some Ancestry users have shifted their trees from public to private simply because they don't want to be contacted. One user posted on a genealogy forum that a distant DNA match reached out initially in a friendly way, but her messages quickly grew more frequent, which annoyed the user. This isn't a common occurrence, though. Most family historians are kind, generous, and not at all annoying!
Of course, it's always your choice — and no one else's — whether to keep your family tree public or private. Some of us have, um, let's just say complicated family trees, with relationships that might not have been shared with other family members. If you have any qualms about sharing the relationships in your tree with others, consider setting your tree's status to private.
Pro tip: If you'd like for your Ancestry family tree to remain public, but want to hide specific individuals from public view, you could mark their status as "living" and their information will be hidden. However, if inaccuracies (like a 150-year-old "living" person in your tree) drive you nuts, this might not be your best option!
What's 'private, but searchable?'
Private, searchable Ancestry trees will still show up in searches, but only with limited information (as the example below shows), and no one can view the actual tree without the owner's permission. Also, if you want to reach out to the owner of a private tree for more information on a particular ancestor, Ancestry offers a secure messaging service for that purpose.
"Private, but searchable" status offers the best of both worlds — the opportunity to selectively collaborate while keeping the information in your tree protected.
How do I change the privacy of my tree on Ancestry.com? 
Throughout the life of our Ancestry trees, we may go through phases where we'd prefer one privacy status over another — and then change our minds. If you already have an Ancestry tree set up, it's easy to change your status from private to public or public to private and back again!
First, from within your tree view, click the dropdown where your tree name appears, and choose Tree Settings.
Next, select Privacy Settings.
Lastly, choose your preferred setting of Public or Private. If you'd live for your Private tree to be searchable, click the box in the Private Tree section that says, "Also prevent your tree from being found in searches."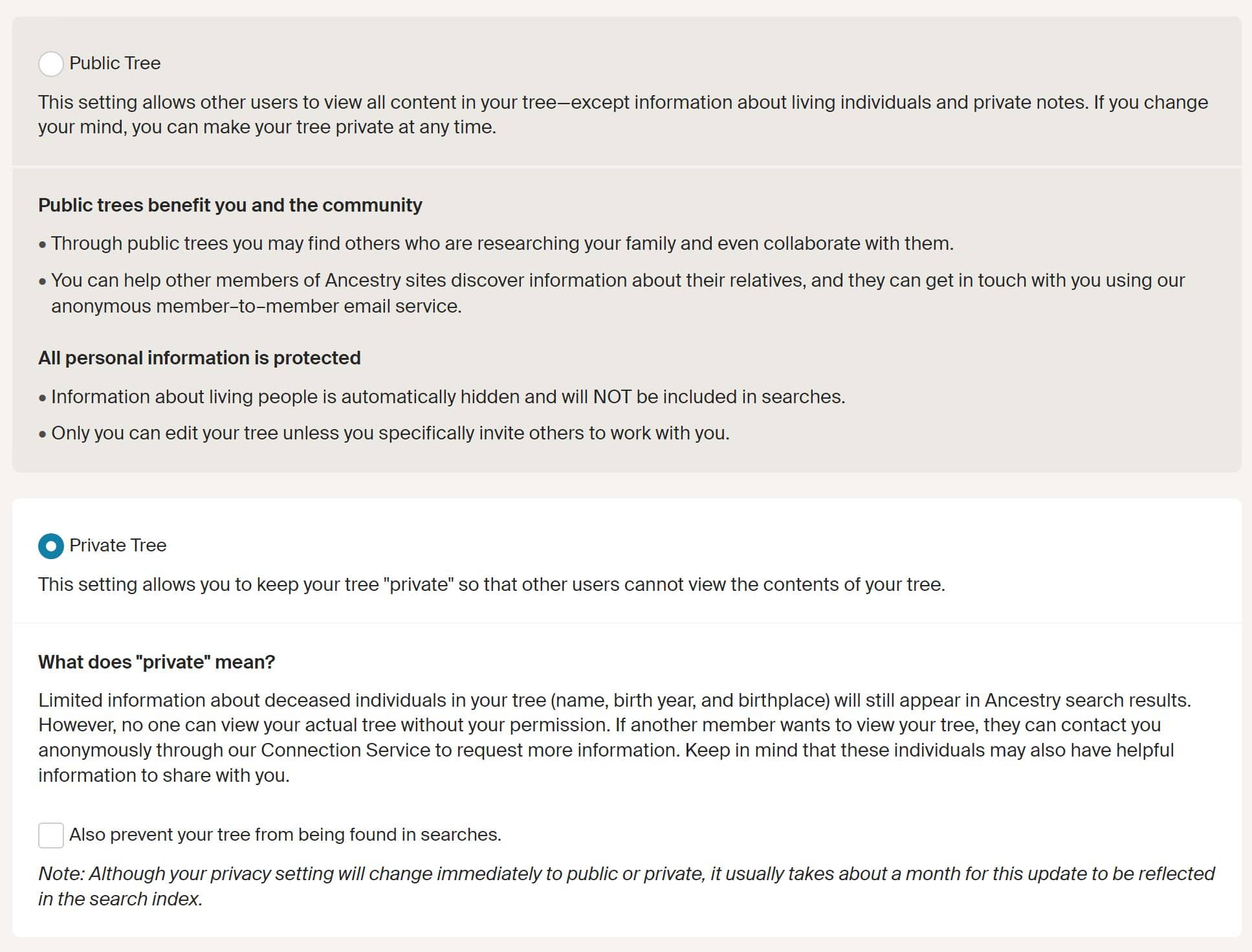 As the disclaimer at the bottom of this page reflects, it may take about a month for your status to change within the search index, so your tree and its contents will still show up in searches during that time.
One last thing …
If you'd like to share your tree — and information about everyone in it, living or deceased — with someone, you can elect to let them see living people by clicking the toggle in your invitation (see below).
Read more Ancestry help guides here or check out our 21 day Ancestry Crash Course for fun lessons, helpful hands-on activities, quizzes and more to improve your research.