Did you know that you can upload your raw DNA file (which you receive after taking a test with Ancestry, FamilyTreeDNA, 23andMe or LivingDNA) to MyHeritage to get an ethnicity report and cousin matches? Well, you can – and it's easy to do. Read on for complete instructions.
Please note that in October of 2018 MyHeritage stopped providing ethnicity reports for free. You can still receive matches at no cost and purchase an ethnicity report for a fee.
We have partnered with every DNA service listed in this article to bring you updates about their services. We may earn a fee to support our work if you choose to use these services after following a link on our pages. 
If the purpose of DNA testing for you is to connect with genetic matches and use that information to discover new ancestors, uploading your results to the MyHeritage system is going to be well worth your time. The same is true if you are just interested in getting a new take on your genetic ancestry since MyHeritage's 42 population Ethnicity Estimate is definitely worth a look.
Make Instant Discoveries in Your Family Tree Now
Imagine adding your family tree to a simple website and getting hundreds of new family history discoveries instantly. MyHeritage is offering 2 free weeks of access to their extensive collection of 18 billion historical records, as well as their matching technology that instantly connects you with new information about your ancestors. Sign up using the link below to find out what you can uncover about your family.
With a clear emphasis on helping everyday researchers make the most of their DNA results to grow and validate their family tree, MyHeritage has provided a very compelling setup. This makes sense from a company with nearly 9 billion historical records and hundreds of millions of family trees – but I was surprised that a company so new to DNA testing has taken the time to put such thoughtful offerings in place. And since solving the mysteries in a family tree is always a challenge, these tools are more than welcome.
While MyHeritage does not yet offer all of the same advanced genetic analysis tools as Family Tree DNA, or the potential to connect with as many testers as you might find at Ancestry, the genealogy research tools they provide are truly unique. And their matches databases is growing rapidly.
And in case you're worried about how your uploaded data will be used you should know that MyHeritage is allowing uploaders to opt in or out of 3rd party sharing and research. Unlike some other testing companies, they are giving people a choice about how their data will be handled now and in the future – you have to like that. Read our article about the free upload offer for more information on this.
How to upload your raw DNA data to MyHeritage and what you can expect once you do.
Remember, you will need to have already completed a DNA test at one of the other top testing companies before you can upload your results to MyHeritage for free. If you have not yet taken a DNA test you can purchase a test directly from MyHeritage (you'll get the same Ethnicity Estimate and matches as with an upload) or you can read our detailed guide to choosing the best test for you.
Step 1. Upload Your Raw DNA to MyHeritage
If you've taken a DNA test through any of the other top DNA testing companies, such as FTDNA, Ancestry or 23andMe, you can download your data from your account and upload it to MyHeritage. MyHeritage has provided instructions for how to obtain this raw data from each testing company.
To find these instructions and upload your data head over to the upload page here.
18 Billion Genealogy Records Are Free for 2 Weeks
Get two full weeks of free access to more than 18 billion genealogy records right now. You'll also gain access to the MyHeritage discoveries tool that locates information about your ancestors automatically when you upload or create a tree. What will you discover about your family's past?
Log in to your current account if you have one or create a quick free account and then move to the next page where you can upload.
You can now upload DNA for yourself or any number of kits that you manage (with permission of course). If you choose to upload someone else's DNA MyHeritage will automatically begin to search your family tree (if you have one on MyHeritage) so that they can connect your uploaded kit with that person in your tree. If you have just created a free account and do not have a tree on MyHeritage never fear – you can easily upload a tree and connect DNA kits to it after you're done uploading.
Do take notice of the MyHeritage Service Terms and Consent Agreement before uploading. Read them both carefully before clicking on the check boxes. As mentioned above, you can choose to not to check the box next to the Consent Agreement (which primarily deals with 3rd party sharing and research).
Once you select the upload button you will need to find your raw DNA file on your computer and upload. After this is complete your ethnicity report and matches will show up in your account within about 48 hours.
Step 2: View Your Ethnicity Estimate
Once you upload your DNA you will be brought to your account where you can access your Ethnicity Report and DNA Matches from the top menu. As mentioned, they will not be available for about 48 hours. Once they are, simply roll over "DNA" in the menu and then click on "Ethnicity Estimate" or "DNA Matches."
When viewing the ethnicity report you will be presented with a percentage breakdown of populations you match from the 42 included populations in the report – as well as a visual map of these regions.
Clicking on any estimate will bring up a description of the population.
MyHeritage also connects your family tree information to this map when you select the check box "show events from your family tree" on the bottom (as seen in the screenshot below). This will place your family tree events over top of your DNA regions to give you a better idea of where they match up. Click on any event to show details about it.
If you have not uploaded a tree this may be the time to do it. You can find the upload area under the "Family Tree" > "Upload a GEDCOM" area in the menu. Please see our article here for information about using the records and tree feature on MyHeritage. Uploading a tree is free, as are tree-DNA matching features, but accessing their 7+ billion records and some other features requires a subscription. The monthly price for MyHeritage is reasonable compared to other research sites, and they offer 2 free weeks of access to see if it is worth it to you, but whether you want to take advantage of this part of their service is up to you.
I won't go into too many details about the Ethnicity Estimate here. Suffice it to say that MyHeritage has provided as good an estimate as any and it is certainly a fun report to view. It is important to remember that the percentages provided are estimates and the report (and all ethnicity reports) are limited in their accuracy by current genetic knowledge, availability of data, the selection and arrangement of populations groups and analysis tools. You must look at your results loosely and combine them with your genealogy research to make sense of them.
Step 3: View Your MyHeritage DNA Matches
The real value in using MyHeritage DNA for many researchers is in their DNA matching tools. DNA matching, vs genetic ancestry reports, is a much more accurate way to explore and understand your genetic past. It takes more time and effort but MyHeritage has provided some easy-to-use tools for this purpose for those who upload their data for free or buy a test.
MyHeritage provides a very straightforward, yet detailed, method for seeing how you are connected to your matches genealogically. The system they provide focuses on the family tree and they have obviously put a lot of effort into helping researchers make meaningful connections this way. Recent improvements have even increased the number and accuracy of matches and added a simple chromosome browser to each match page.
Select "DNA Matches" from the DNA dropdown in the top menu and you will be presented with a screen that includes all of the kits you manage. The fact that you can view results from every kit you manage in one account and in one area is very convenient. This is also true in the Ethnicity Estimate area.
Remember that you can assign the kits you manage to people in your tree to make your research easier. Do this in the "Manage DNA Kits" area in the DNA dropdown.
Once you start to scroll through matches you will see that quite a bit of information is provided on each match's "card." This information includes the percentage of shared DNA and the total cMs (or centimorgans), the number of shared segments and the largest shared segment. All of this information can be used to help you determine how closely related you are to your match. We explain this in the DNA section of our course.
You'll also see your estimated relationship and, to the right, information about whether or not this person manages a family tree on MyHeritage. Although there are certainly many people who do not have a family tree – a good portion do seem to have one. This is very refreshing. I also like the little flag denoting the country your match lives in – it gives a nice, quick look at where your matches are from. (Names have been blurred out in the following screenshots for privacy reasons)
You can go straight to viewing the match's tree from here or select "Review Match" where you will find some great tools for figuring out how you are connected. MyHeritage uses the review match page to reiterate the details found on the matches page, and adds a list of last names from your tree and the tree of your match, pointing out whether you have shared surnames.
They also include a list of shared matches between you and your current target match on this page – a very useful feature for determining how you are related to someone. By clicking on a name from this list and viewing the tree from one or multiple shared matches you can much more easily zero in on a shared ancestor between all of these people.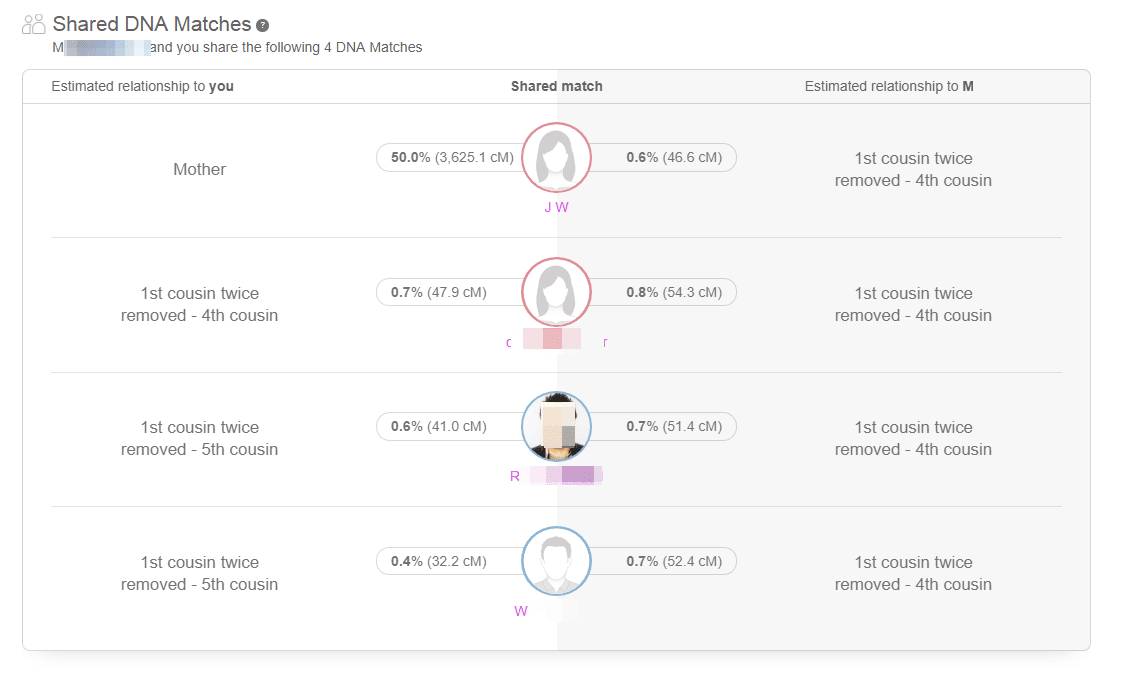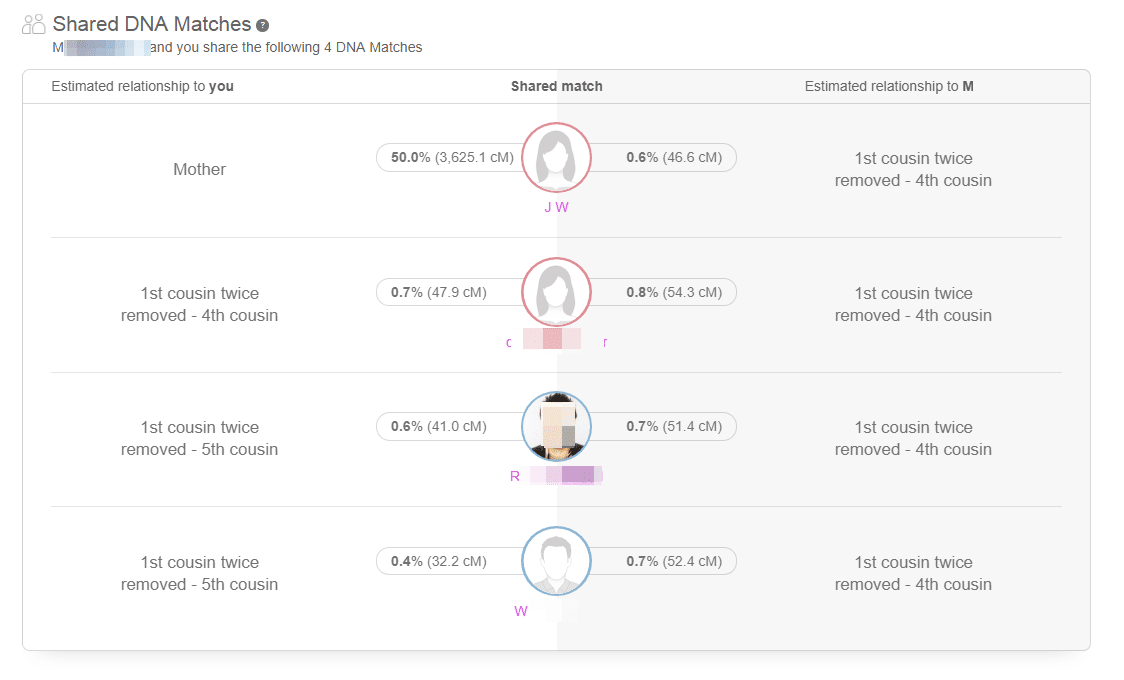 The more recent addition of shared ethnicities and a chromosome browser only further enhance the experience and make it easier than ever to discover how you are related to someone.
Each person you match with is unique, with some showing more or less shared data and matches. Because not everyone uploads a family tree, or an extensive tree, many matches do not have shared ancestral surnames – but this feature can really shine when they are present. The following match in my father's profile demonstrates this. Three surnames are shared.
Rolling over these surnames provides some details as to where the surname appears in each tree, or you can view them on the Review Match screen. Exact names, separated by surname group, are given here to help you locate a match between the two trees. This is a wonderful feature that can be incredibly useful in determining how you are related to a match.
MyHeritage also shows Smart Matches you share with your DNA "cousins." This even more advanced feature attempts to show you exactly how two family trees are connected by displaying details on potential matches.
Clicking on Review Match in this section allows you to examine the match and add it to your tree. We encourage not to do this. Just because you have a DNA match with a person and have (potentially) shared ancestors does not mean that these ancestors are where your connection is.
Take some time to examine each potential person match and both trees carefully before making a decision. After careful research, and if you do decide that you have found a connecting point, work with your match to swap information one detail at a time. Make sure that each new piece of information from another person's tree is backed up with a valid and reliable source document. Avoid simply copying from another tree – instead add each detail and source individually to ensure accuracy and new chances to learn about your family. MyHeritage has a built-in messaging system for this purpose.
Honestly, if every person on MyHeritage added their family tree the value of this system would be enormous. Unfortunately, too many people have not taken the time to do this or have uploaded only limited trees – making strong connections like the one above rare. I hope that will change in the future.
Despite this, MyHeritage has certainly put the work in to create a powerful genealogy-DNA research engine and they are improving all of the time.
More and more people are uploading their raw genetic data from other testing companies to MyHeritage as they see the value in this kind of genetic genealogy research and programs, such as this, that help everyday researchers make sense of all of the data. As the MyHeritage DNA database continues to grow the usefulness of the system they have created will only increase. And they have promised even more tools in the future. I'm looking forward to that.
Considering that they allow DNA uploads, matches, reports and family trees for free – the value is hard to argue with. If you haven't already, you can upload your DNA here for free. If you do, please consider also uploading your family tree so that everyone has a better chance of discovering shared ancestors.
One final note, MyHeritage offers many privacy and sharing settings in your account. You'll want to review these to make sure you are comfortable with how your information is shared with others in the system. You'll find these options by rolling over your name when logged in.
By Melanie Mayo, Family History Daily Editor
Originally published July 2017. Updated Sept 2018.