By Amanda Sullivan
If you're not sure what a family group sheet is, or you've never gotten around to using one in your genealogy research, you're not alone. While the concept of a family group sheet is about as basic as it gets, not every family historian out there has had the chance to embrace this clever method of research and organization.
A family group sheet (or family unit chart), at its most basic, is a form where you fill in the names of two parents and their children. This is just the beginning, of course, as most family group sheets also include birth, marriage and death information, the names of children's spouses and a whole lot more.
You can create them by hand, as I have below, or use the ones generated in your family tree program. For more help with where to find them see the end of this article.
Make Instant Discoveries in Your Family Tree Now
Imagine adding your family tree to a simple website and getting hundreds of new family history discoveries instantly. MyHeritage is offering 2 free weeks of access to their extensive collection of 18 billion historical records, as well as their matching technology that instantly connects you with new information about your ancestors. Sign up using the link below to find out what you can uncover about your family.
Read on to learn why you should start using family group sheets as part of your family history research.
Five Ways a Family Group Sheet Could Help You Make Your Next Research Breakthrough
Please note that Family History Daily provides classic and flexible family group sheets that you can fill out on your computer or print in our new Family History Workbook. You may learn more about the workbook in our Learning Center.
1. It Will Make the Puzzle Pieces Fit Together More Easily
My father's memory is notoriously atrocious. He also never really cared to ask about his family's history and his mother was the first branch to be pruned from our tree.
Therefore, I had very little information with which to start my research. Tensions between my dad's family and my mom also made me embarrassed to ask questions, but to leave a quarter of my family tree willfully blank was abhorrent to me. So, I asked.
Dad knew his grandmother and shared a few family memories about her canning her own jams in upstate New York and about her jokes on passing gas. Her name was Florence Sohl, but he didn't know her maiden name. His grandfather passed away before he was old enough to remember him, but the name "George" rang a bell. That was enough for me to start my search.
I had already tried to find my grandmother, Elaine Sohl, on the 1940 census, but I had no idea where she grew up. So, I searched for George Sohl and his wife Florence. I found them in Montana! George Sohl married Florence Fox on 5 July 1930. Montana didn't sound quite right, but I had only recently found out that my dad's other grandparents were from Minnesota and moved to Washington. I guess Montana was reasonable.
There was a problem, however. No Elaine Sohl in Montana with George and Florence. Not even in George Sohl's obituary, which states that his wife, Florence Fox, died in 1962! How could my dad spend quality time with a woman who died when he was 3?
18 Billion Genealogy Records Are Free for 2 Weeks
Get two full weeks of free access to more than 18 billion genealogy records right now. You'll also gain access to the MyHeritage discoveries tool that locates information about your ancestors automatically when you upload or create a tree. What will you discover about your family's past?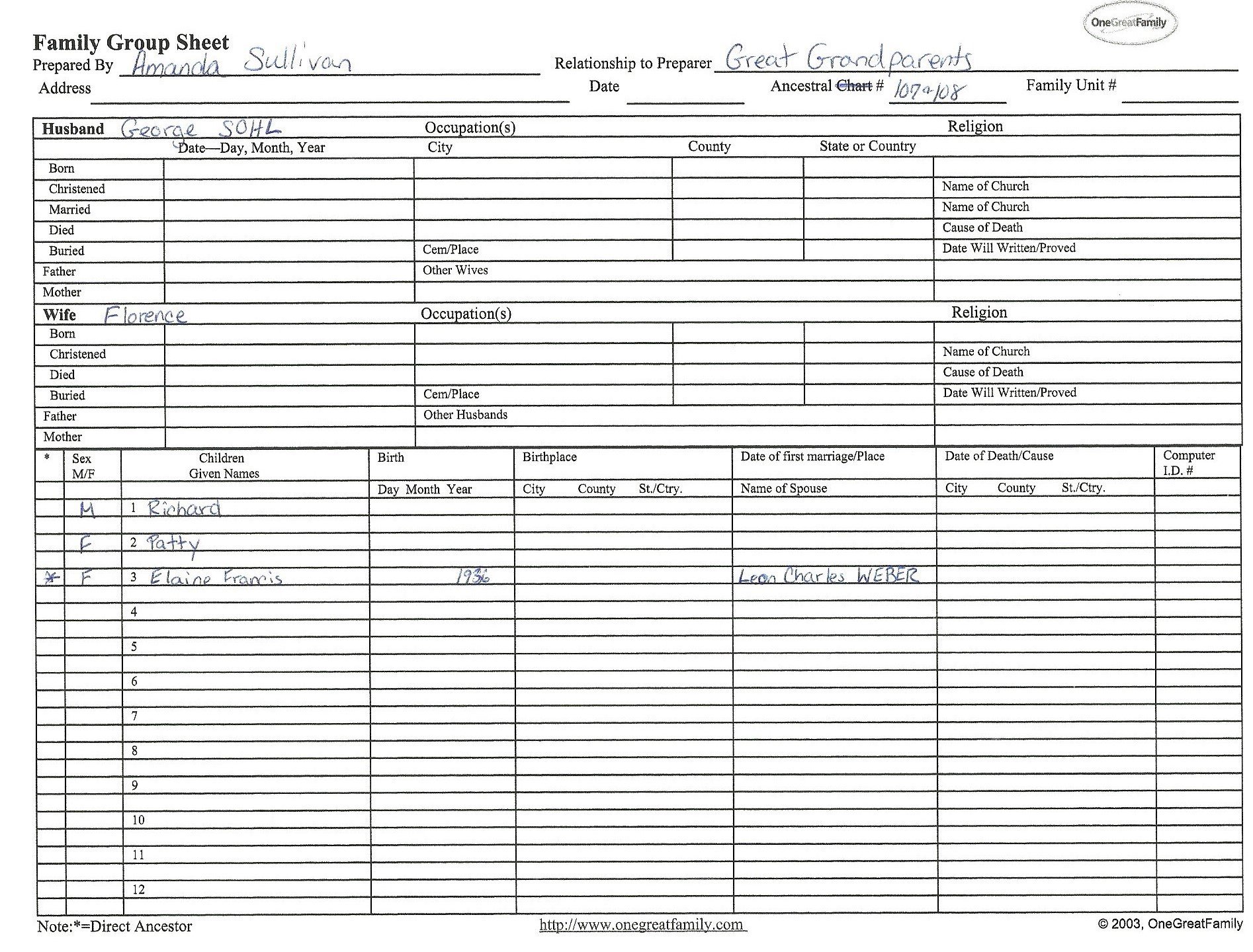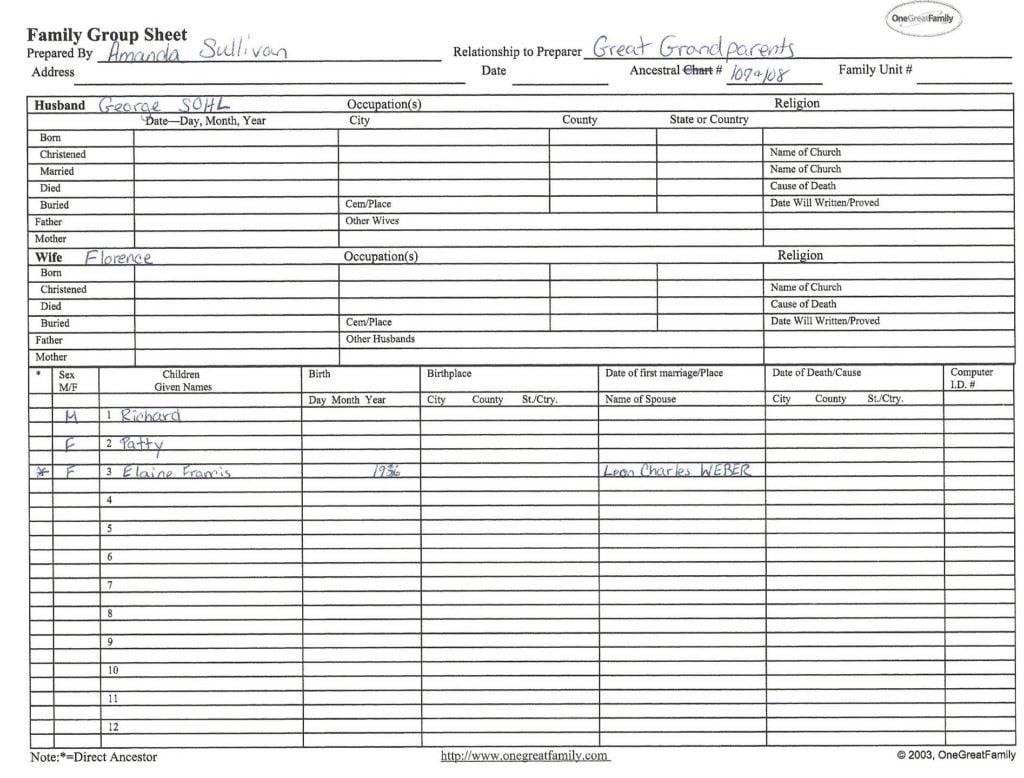 So, I wrote out a family group sheet with all of the information I knew which, as you can see above, was not much at all.
I tried every variant of Sohl that I could think of: Sole, Sol, Sowl, Soel… nothing. The third little pig could only dream of a brick wall this good. I stared at my family group sheet until I realized what it was. These people were individuals, but they were also a group!
I wasn't too sure about exact ages, but I knew my grandmother had two older siblings, Richard and Pat. Look at what I found when I searched for Elaine Sohl with Richard and Pat as "others."


A stray line caused the "S" to be indexed as an "H." Elaine Sohl was hiding as Elaine F Hohl, Pat now has gender and a full name, and George didn't exist.
They were not in Montana. They were in Queens, New York, the same state in which both of my parents were born. The same state where my dad made his memories with his grandma. The family group sheet saved the day.
2. It Will Make You Take a Good Look at Your Sources Again
Looking back at your original sources is always a good idea when you've hit a brick wall. When you have to look at the source to fill in the form, you may spot a piece of information you missed.
For instance, you knew your grandfather was in the navy. You are double checking his obituary and grave marker for a death date and notice that his tombstone provides his rate and rank at discharge.
Another example is when two children seem to have sources that overlap each other or have vague dates. The missing 1890 census caused this problem for me. In 1880, there is Sarah. In 1900 there is Sadie.
Every source I have for Sarah and Sadie puts their birth years between 1876 and 1888 and no source has the same year twice. Along comes a husband who should be Sarah's according to the marriage license, but says his wife is Sadie on the census.
This starts a google search and I learn that Sadie is a common nickname for Sarah during that era. Couple this with not finding any sources yet containing both Sarah and Sadie, and I start to believe it is just one person who keeps making herself "younger" throughout her years. I still have a long way to go to prove one way or the other but, without filling out family group sheets, the possibility may not have occurred to me.
Related: Why You Should Stop Your Research and Reexamine Every Single Genealogy Record You Have
3. It Will Help to Bring Back Memories
Hopefully, you won't let another family gathering go by without asking your elder relatives about their own relatives or cousins. Show Great Aunt Suzie a family group sheet with her on it. She may remember when your great grandfather died, or that so-and-so had a twin.
Having a simple, easy to read collection of information will spark more memories than trying to show off the entirety of your research at once (which can be quite overwhelming and confusing for anyone).
Ask your older relatives about one person at a time, but leave some time in between for memories about the people they knew to pop up. Just seeing a name or a date can trigger a story and stories are genealogical gems with shining facets of personality and context.
4. It Can Be Used As a Quick Reference
Everyone has at least one ancestor with a very common name. The problem with common names is that there is likely to be a doppelganger or two for your ancestor born around the same time. If you are lucky, there will be a sibling with a slightly more unusual name to guide you. If you are less lucky, you still have the names and birth order/birth years as points of reference.
How would you be able to tell the difference between John and Mary Sullivan of 4th street and John and Mary Sullivan of 3rd avenue? By having their ages, and the names and ages of their children, handy on a family group sheet.
As an example, my great great grandfather's name was John Peter Darragh and he was born in 1878. But there is more than one Peter Darragh born around that time in the same location.
So, which census contains my ancestor? The census with the correct middle initial and age (as seen in the first example below) or the census with the correct kids and wife with the age two years off (the second example)?
As seasoned researchers know, ages on the census are notoriously incorrect. But finding my g g grandfather with his wife and children is a dead giveaway that it is him.
The nice thing about the family group sheet is that I had all of that information in front of me while I was examining the census. I was able to quickly verify the names and ages of his family members and, for this reason, I was able to verify that the second census entry was him.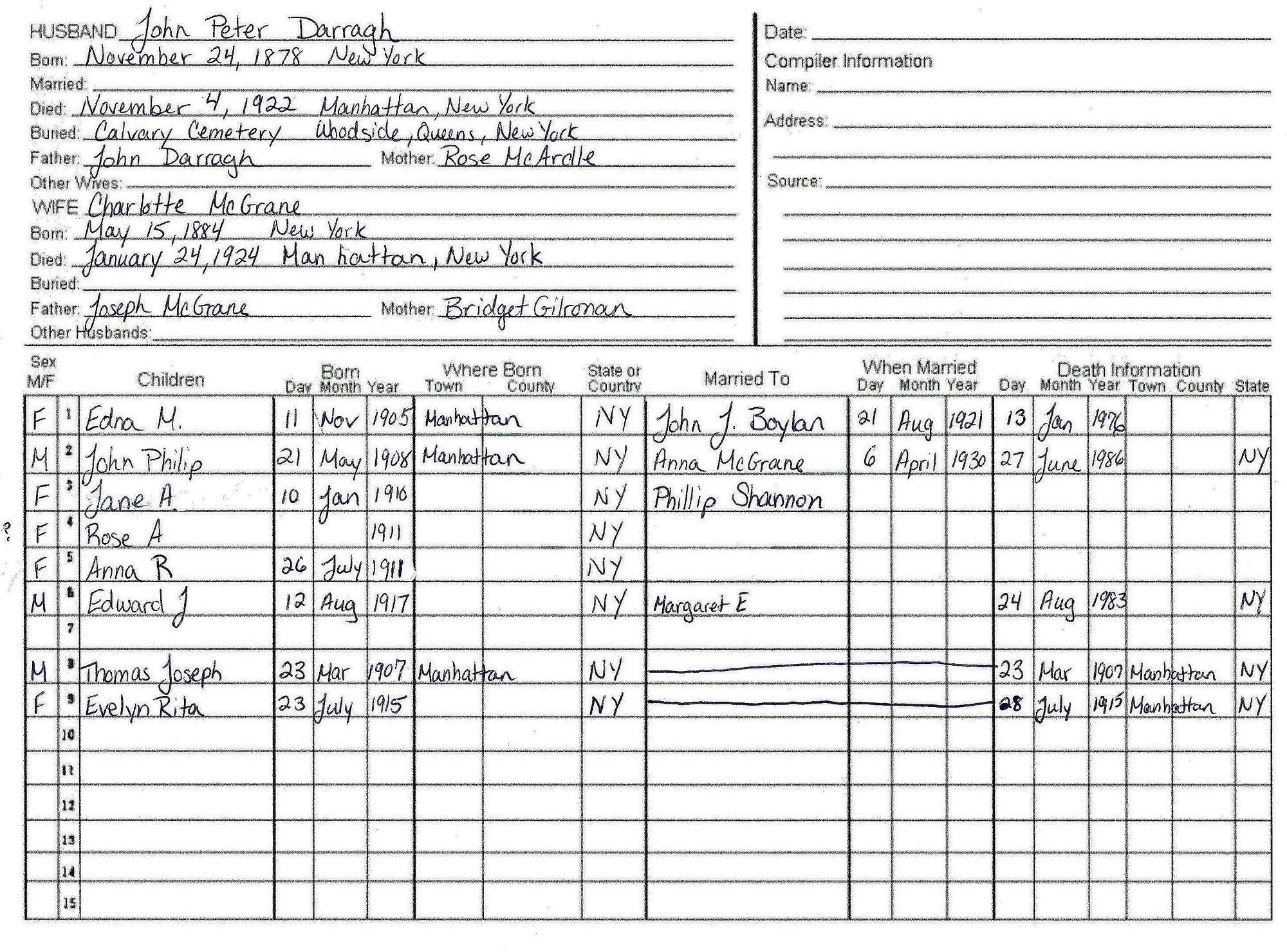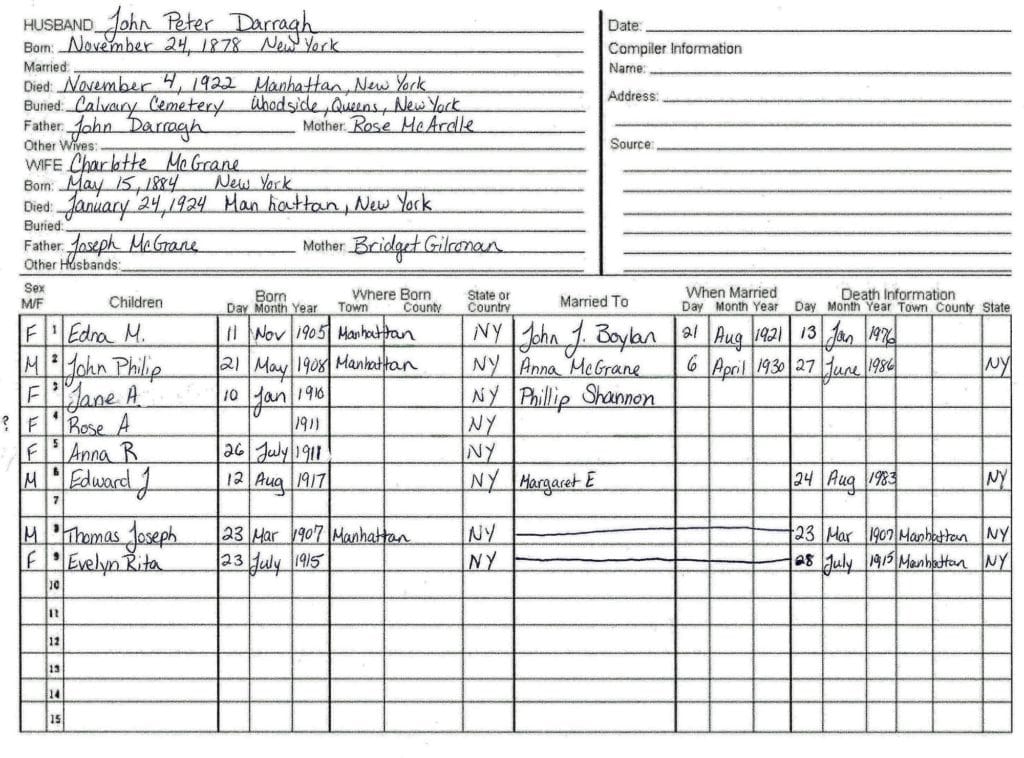 5. It Opens Doors to New Organizational Opportunities
Imagine having all of your sources for an individual family unit stored together, in one file folder, instead of by surname only. I keep my documents sorted this way, with my family group sheets as dividers (and some individual worksheets as sub-dividers, also).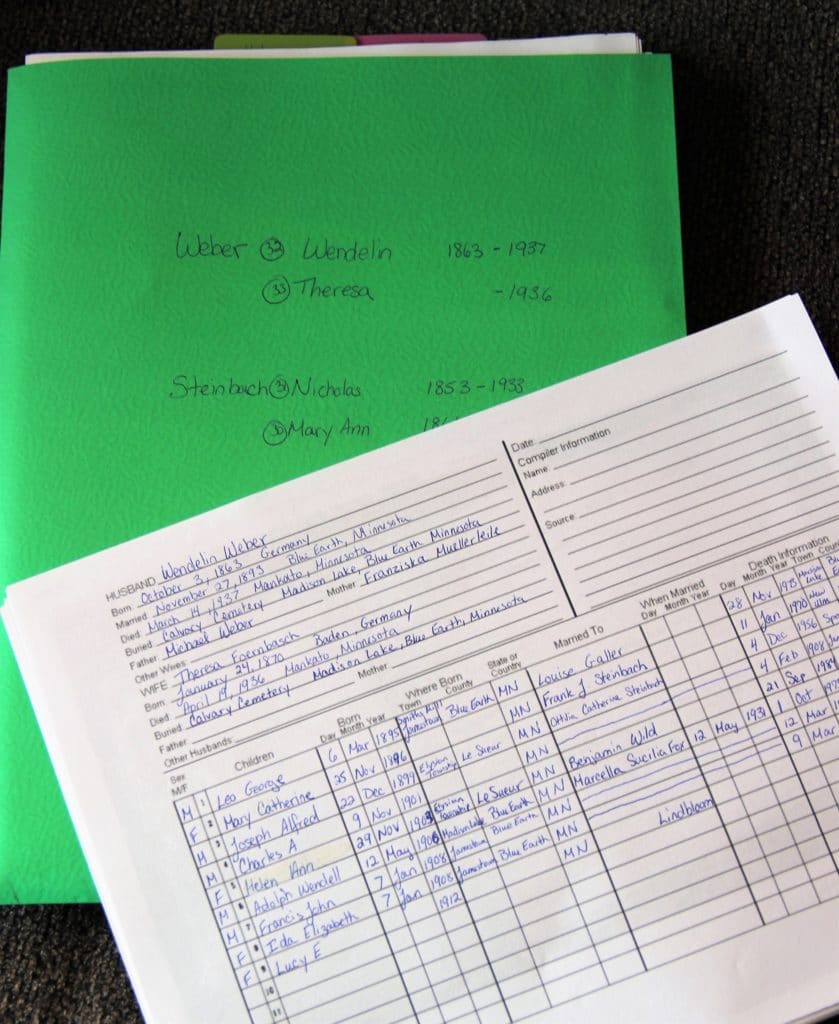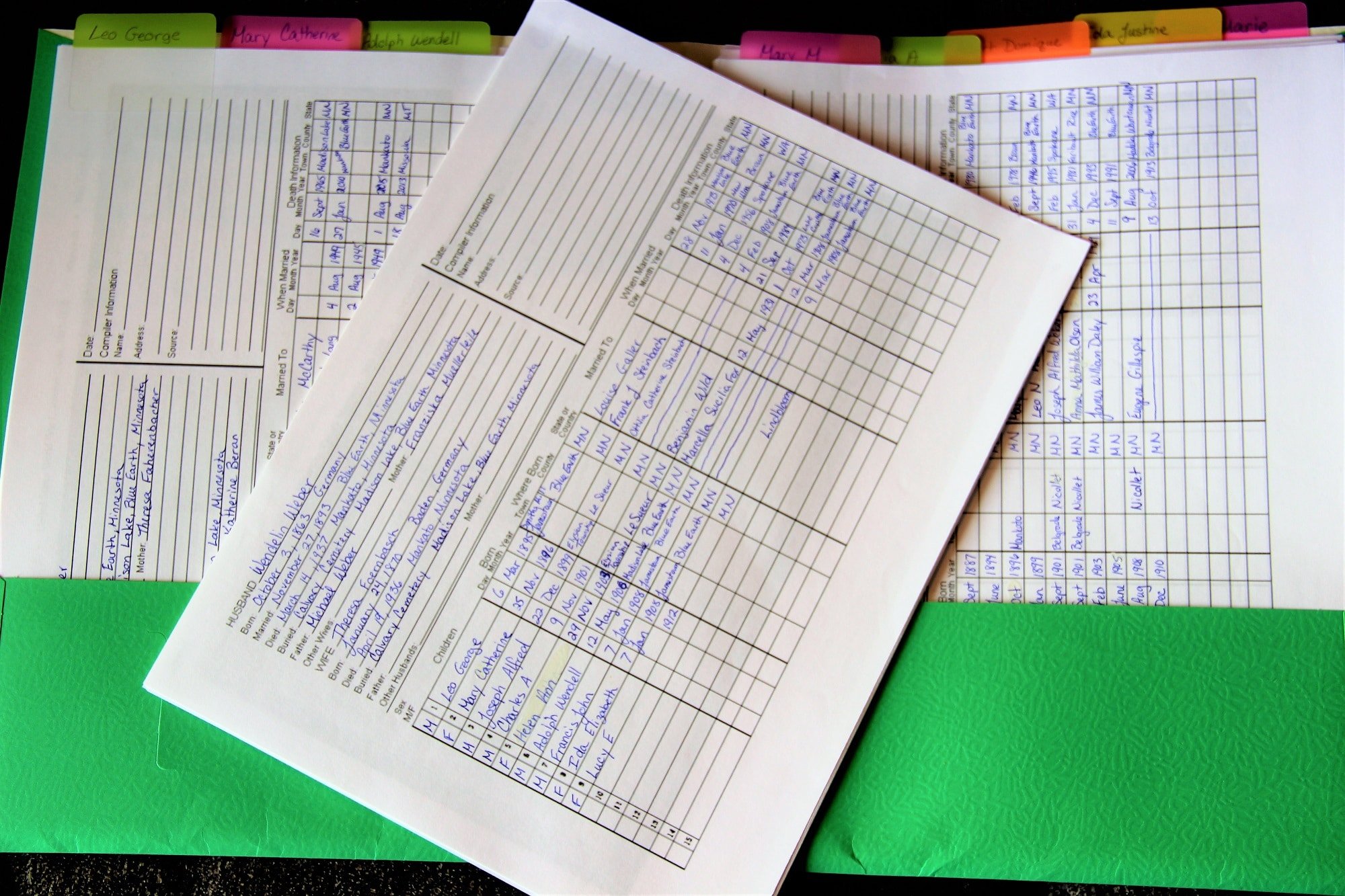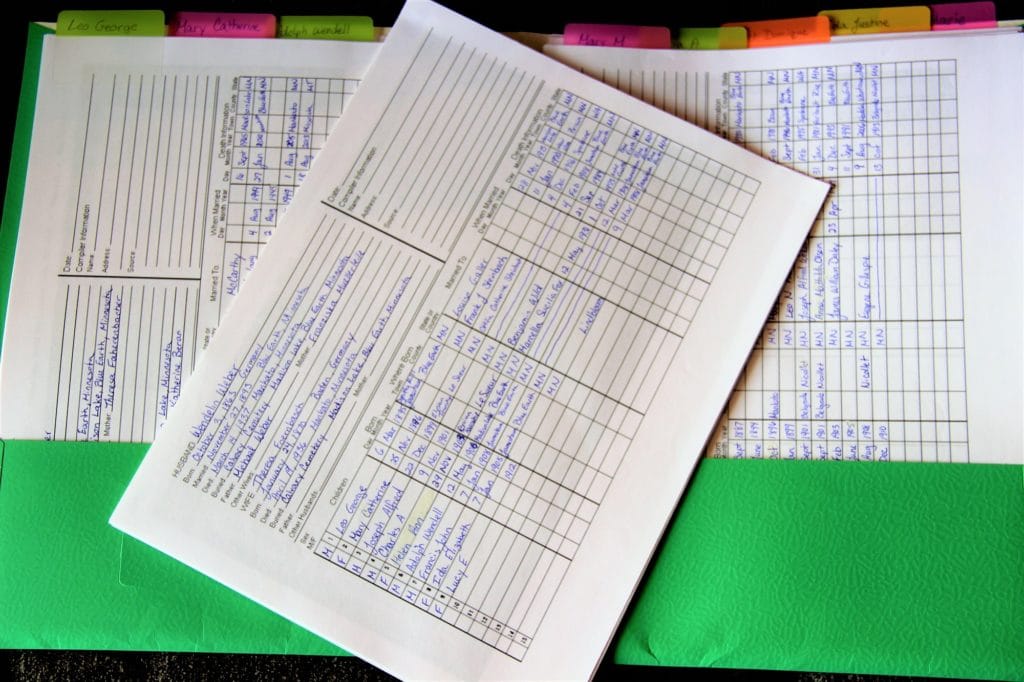 Organizational techniques are very personal, as they must work with how your mind works. My organizational system also helps me find loose stones in my brick walls by having all nearby relatives in one place. This works for me because I can see how the sources I find for one person may lead to the same type of source for a sibling, parent, or child.
If I found a transcription of a record that had information missing, I can immediately check the documents for a sibling because I already have the folder open. I might see the family's surname misspelled on a distant cousin's birth certificate and realize that I haven't tried that variant whilst searching for a great grandfather yet.
Related: Are You Making the Direct-Line Mistake in Your Family Tree?
Where to Find Family Group Sheets
Family History Daily offers family group sheets that you can fill out on your computer (or print) in our Family History Workbook. You can find the workbook in our Learning Center.
What new details about your tree will a family group sheet help you uncover? Find out by filling out your own now. Find a free, printable, blank family group template here or use a fillable family group sheet here.
Many family tree programs also offer sheets created from information found in your tree. This includes Ancestry's tree (find out how to use it here) and MyHeritage's free Family Tree Builder. Please note that Family History Daily may receive a commission to support our work if you choose to download Family Tree Builder.
Of course, you could always just draw one out by hand.
For more help with family group sheets, charting, organization and genealogy research take an online course from Family History Daily.
Also Read:
How to Turn Your Research Into Beautiful (Free!) Family Tree Charts in Just a Few Clicks
This Straightforward Technique Will Help You Uncover Missed Facts About Your Ancestors
Why You Should Stop Your Research and Reexamine Every Single Genealogy Record You Have
Amanda Sullivan is a 2009 graduate of Penn State University with a Bachelor of Science in Music Education. She has spent years doing family research for her own enjoyment and compiling family histories as gifts for her nieces, nephews, and her two beautiful daughters.
Image: Family in Southern Pines, NC, c1914. Library of Congress