by Donna Streetenberger
Have you ever come across information on Ancestry.com, or another genealogy site, that was clearly incorrect –  either because the record itself contained errors or because the information was transcribed incorrectly? Did you take the time to correct it? 
When conducting research, avid family historians regularly encounter errors. This often occurs in the spelling of a first or last name on records like the census, where the enumerator was not careful to verify spelling. Or it may happen during transcription from documents with sloppy or excessively cursive handwriting.
Erroneous information on genealogical records, or in their indexes, has an impact on us all. Not only does it limit the chance that the record will be easily discoverable by those looking for it – but it increases the chance that incorrect information will be copied and spread by others. And that is always bad for the genealogical community. That's why it is so important that we all take a moment to correct misinformation when we find it.
Make Instant Discoveries in Your Family Tree Now
Imagine adding your family tree to a simple website and getting hundreds of new family history discoveries instantly. MyHeritage is offering 2 free weeks of access to their extensive collection of 18 billion historical records, as well as their matching technology that instantly connects you with new information about your ancestors. Sign up using the link below to find out what you can uncover about your family.
While it can be very difficult to submit corrected information to websites (since many do not have a clear way to do so), sites like Ancestry and MyHeritage make it quite easy to correct errors. This article focuses on making changes on Ancestry.com and covers, in detail, why you might find incorrect records and how to go about submitting changes. To find out how to submit corrections to MyHeritage please read about it on on their blog.
Family History Daily is an affiliate partner of Ancestry.com and, while this does not impact the information in this article, we may earn a commission to support our work if you follow a link to their site from this page and make a purchase.
The Top Reasons for Misinformation on Ancestry.com
Incorrect Transcriptions
One of the top reasons for misinformation is an incorrect transcription. Many online records were indexed (or completely transcribed) by dedicated volunteers and mistakes do happen, especially with poor and archaic handwriting, disintegrating documents, or faded text.
Below is an incorrect transcription found on Ancestry.com. In this example, research was being conducted for an ancestor named Corrine. After searching the 1920 U.S. Census, it was found that she was incorrectly listed as "Carmine" on this record summary page.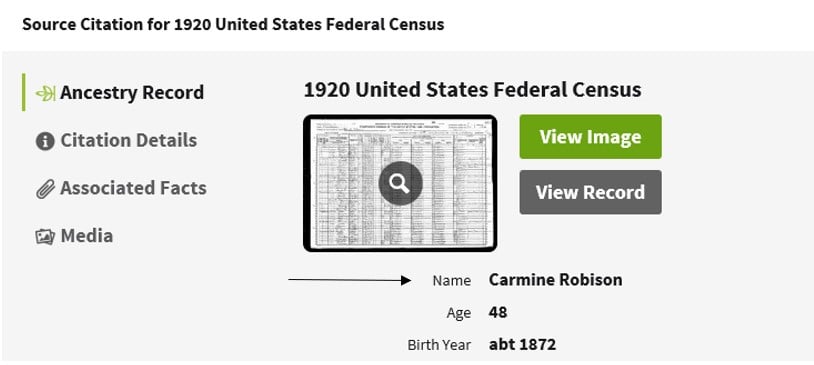 We know this is an error in transcription because when viewing the original, handwritten 1920 census record, she was listed – correctly – as "Corrine" by the census taker. Still, you can see how this mistake could have happened.


Incorrect Original Records
Another common reason for incorrect records is original document being wrong. This is seen in everything from birth and death records, to census records, and even on some tombstones.
Census takers were the most notorious for this. Oftentimes, enumerators would record names phonetically — the way they sounded to them — sometimes misspelling a name so badly that it ended up having no resemblance to the real name at all.
In further research in Corrine's family, her oldest daughter, Zoline (age 16, on the 1920 U.S. Census above) was married by age 18, so a search of the 1930 U.S. Census was done under her married name of Zoline Rachal.
18 Billion Genealogy Records Are Free for 2 Weeks
Get two full weeks of free access to more than 18 billion genealogy records right now. You'll also gain access to the MyHeritage discoveries tool that locates information about your ancestors automatically when you upload or create a tree. What will you discover about your family's past?
Unfortunately, no 1930 census record for Zoline was immediately found. Additional research had to be conducted to search for any known relatives of Zoline who would have been of the age to show up on the 1930 census along with her. 
Once the 1930 U.S. Census Record was finally located for Zoline's family, it was discovered that Zoline's name was incorrectly recorded by the census taker as "Oreline."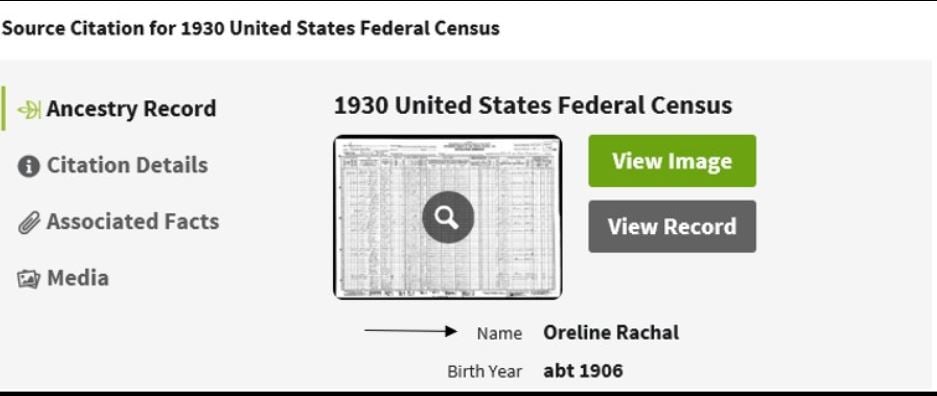 In this example for Zoline, the Ancestry.com record summary transcription is correct because it was transcribed exactly as the original record was written. It was the original record that was wrong.

How To Make Corrections to Records on Ancestry.com
Ancestry.com gives you the ability to correct mistakes in records quite easily. Below are the steps to include alternate information for a record found on their site.
Select "Add alternate information" on the record's summary page
Choose the type of information you intend to correct, such as "name" or "birthplace"
Choose the reason for the correction from the list of options
Type the correct information and select "Submit Alternate"
This information will soon be added to the site and become searchable to all. It will not replace the original information, but will be added as an alternative.
We have covered this process in detail, with screenshots, below.
Once you have located a record on Ancestry with incorrect information, please follow these steps to add a correct alternative.
Locate the record which needs to be corrected and click on it.

The record summary page will be displayed. Click "Add alternate information."
The following box will be displayed. Click on the drop-down arrow to choose the alternate information.
Under "Reason", select the reason for the correction.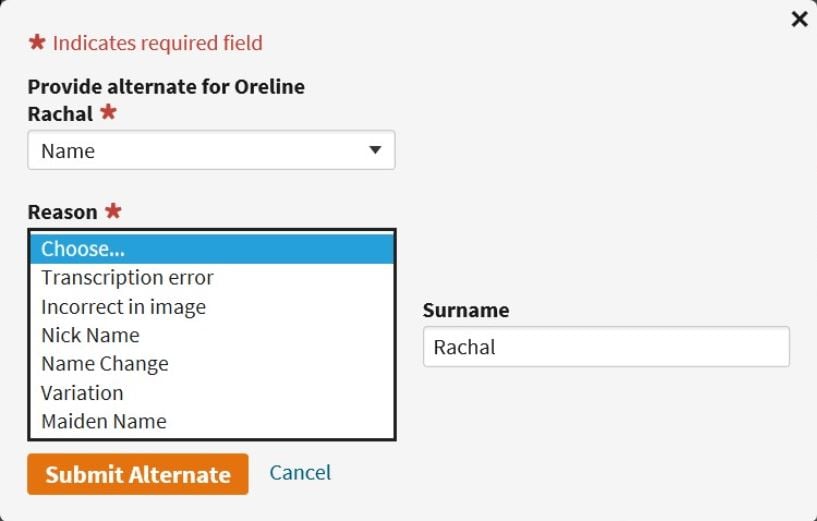 Type in the correct information.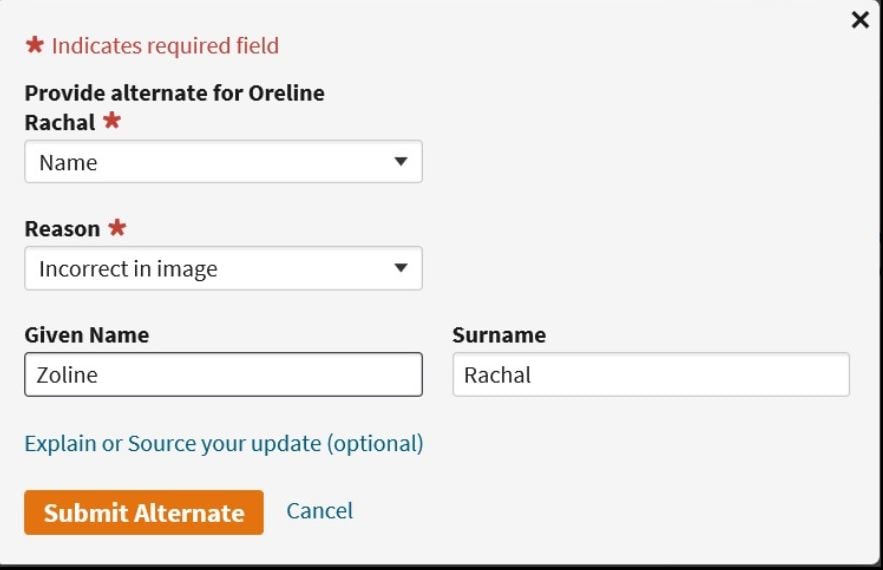 Click "Explain or Source your update" – this is an optional field but is highly recommended to provide good source data for the correction and explain why your information is correct.
Click "Submit Alternate" and you will see the screen shown below.
Click Close. When you go back into the record summary page, instead of "Add alternate information," the record will show "View/Add alternate info." Click this and the alternate info screen (shown above) will be displayed.
Note: Ancestry will take the alternate information you submit and add it to the record citation. It will also be indexed, so the alternate information will show up when searching for the correct name. Note that this is not done immediately after you correct the record, but it will be done after by Ancestry so future researchers can locate the information quickly.
Here's an example. The incorrect transcription for Zoline's mother, Corrine, was previously corrected and has already been indexed by Ancestry. It now shows the following:
If you place your cursor over the corrected (or "alternate") name "Corrine Robison", the following message is displayed: "This value was member-submitted. Click to see details."
Drawbacks to Member Submitted Corrections on Ancestry
It's important to keep in mind that some Ancestry users may submit alternate information which is wrong. However, Ancestry has adjusted for that over the past few years by allowing a collaboration of sorts to ensure family members and researchers can end up with the best possible information.
When you click to see the details of any member submitted information, you will see the following: "This is what other Ancestry members have added to this record. If you have something to add, click on 'Add your own' and tell us what you know."
If you see that the alternate information added by another user is wrong, it can be corrected quickly by clicking the "Add your own" button and then following the steps listed above.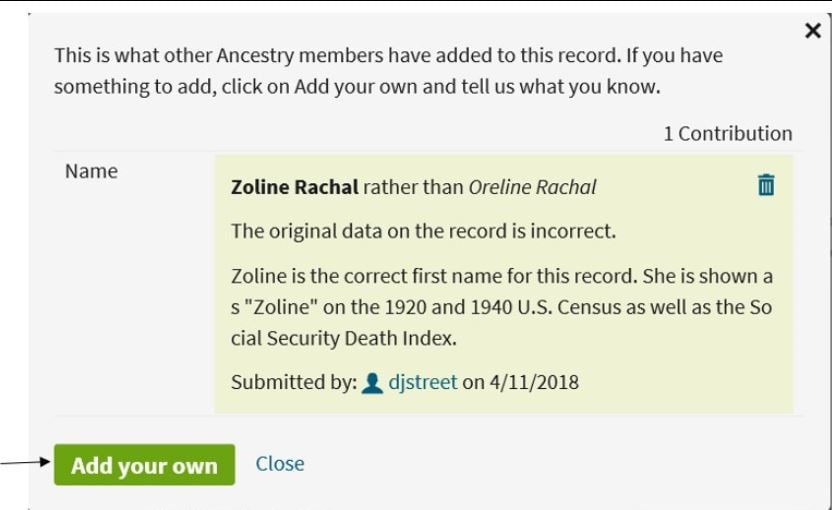 When you take the time to submit a correction you are making a lasting contribution to the research of future generations. It can mean the difference between a researcher spending a few minutes trying to find what they're looking for versus searching for a record for years, or never finding it at all.
And some ancestors may not have very many records available – so it's important that any, and all, records that are available are as accurate as possible.
You might also like:
Ancestry Has Thousands of "Invisible" Records You Can't Find With a Search
Find the Hidden Original Records for Ancestry's Indexes With This Smart Technique
Donna Streetenberger is a professional genealogist and freelance writer. She has enjoyed helping people find their elusive ancestors for over twenty years. With a background in technical writing, she enjoys old world genealogy research coupled with new technology. She has published numerous articles, online and in print, about genealogy research and history. Find her at www.researchingancestry.com.