By Marsha Peterson-Maass
I'd like to share a miraculous family story with you that ultimately led me to a rewarding volunteer position where I use my genealogical skill set to help others. I'll also give you some ideas for how you can help others with your genealogical skills, as well as point you to some helpful further reading in my textbook, Fundamentals of Genealogy®: The Most Helpful Tools You've Never Used.
The Repatriation Of My WWII Cousin's Remains
In 2012, my family received an incredible gift with the repatriation of my WWII cousin's remains from the South Pacific back to Illinois, 68 years later. (Read about the soldiers who never came home here.) There were hundreds of people involved in this process and our family benefited by receiving so much comfort, new friends, and a closer relationship with each other.
We also gained a better understanding of what our family sacrificed at the time, a biographical tour of the wonderful person who my cousin was and our profound appreciation to all of these many strangers who helped us in this way without asking for anything in return.
Make Instant Discoveries in Your Family Tree Now
Imagine adding your family tree to a simple website and getting hundreds of new family history discoveries instantly. MyHeritage is offering 2 free weeks of access to their extensive collection of 18 billion historical records, as well as their matching technology that instantly connects you with new information about your ancestors. Sign up using the link below to find out what you can uncover about your family.
It was a blessing. A refreshing blessing, especially in today's society where we often feel like it's difficult to receive others' gifts. This gift was so positive and affirming in so many ways and, although the repatriation was 68 years in the making, it confirmed to us that no man is forgotten, no man is left behind.
2012 Group Burial Repatriation at Arlington National Cemetery [Photo by Marsha Peterson-Maass]
My Desire To Pay This Debt Forward
As a genealogist, I was deeply touched. Of all people for this repatriation to happen to: I'm a professional genealogist who's had some training in forensic techniques, including DNA and repatriation, both of which were part of the process to get our cousin's remains back home.
I really wanted to pay this debt forward and keep this positive, affirming energy flowing. I wanted to be the stranger who helped other families benefit by reuniting them with something precious that belonged to their loved one. And I knew that I had a valuable genealogical skill set that I could use toward that end.
But how would I help others?
How I Found My Volunteering Opportunity
Beginning in 2014, I could find several hours a week to volunteer but what organization could use my genealogical talents and my desire to help in this very specific way? At that point in time, my father encouraged me by saying, "Just put it out there, look around and the right opportunity will find you." I kept my ears open, talked to fellow genealogists, attended genealogical conferences in my interest area and sure enough, it did.
18 Billion Genealogy Records Are Free for 2 Weeks
Get two full weeks of free access to more than 18 billion genealogy records right now. You'll also gain access to the MyHeritage discoveries tool that locates information about your ancestors automatically when you upload or create a tree. What will you discover about your family's past?
I discovered the charitable foundation, Purple Hearts Reunited, Inc. while attending a forensic genealogy conference. This organization was started by Major Zachariah Fike (a purple heart recipient himself) when he discovered that there was no U.S. government agency where people could send "lost purple heart medals" in order to have them reunited with the veterans or their families.
Purple Hearts Reunited was a new organization that was looking for genealogical researchers with a special skill set in forensic genealogy. These volunteer researchers would conduct the first step of many that would ultimately reunite lost purple heart medals with the veterans or families.
"WOW-WEE!" Could there be a better fit for my heartfelt desire to help? Could I actually be a part of the process of reuniting other families with their loved ones' lost purple heart medals? You bet! I contacted the organization, presented my genealogical skill set, researched a sample case and it was a perfect fit for both Purple Hearts Reunited and me. As usual, Dad was right!
Use These Four Steps To Learn How You Can Help Others, Too
If you'd like to help others with what you've learned in your genealogical project work but aren't really sure where to start, here are a few things to consider to help you decide what kind of "helping direction" is right for you. Begin by following these four steps outlined below.
#1 – Assess Your Genealogical Skill Set
In our genealogical pursuit using accredited methods[1], we acquire an amazing array of skills that I'll refer to here as your "genealogical skill set."
Which of the skill areas outlined below do you possess?
Analysis of Records and Research Methodology
Corresponding with Individuals and Organizations
Digitizing Records
Indexing Record Collections (the entire genealogy community says, "THANK YOU!")
Special Knowledge (of history, local genealogical resources, culture, ethnic traditions, local customs, and events)
Organizational Skills
Preservation (especially with paper materials)
People Skills
Research (spanning a wide area of experience and expertise)
Transcribing Records
Begin compiling a quick list of the genealogical skill areas you have experience in. You might realize that you possess even more skills than what's outlined here! Now be honest about your expertise in each one and put your greatest strengths at the top of the list. Do you like doing these things? That's really the point here: identifying your strengths and asking yourself whether you enjoy them.
If the answer is yes you could easily use these skills in a volunteering opportunity. There are so many organizations that could use your time and talents – maybe you can even find paid projects or an employed position using your genealogical skill set.
If you're not sure about how best to help others with your genealogical skill set, try this "30-Second Elevator Speech."
Let's pretend that I met you in an elevator and you have 30 seconds of my time. Quick – without thinking about it – answer my question, "My society works with genealogists in about every way imaginable. What would you like to do most to help us?"
Don't think, just answer! What did you just say? Did you just impress me and possibly yourself? (I hope so!) You might have just found "the answer" for what you'd like to do to help others.
#2 – Determining Your Time Commitment
Now add to the list the kind of time commitment you can realistically make.
Are you available 24/7, on short notice, only on weekends, etc.? And how much of your time are you willing to commit each week or month?
#3 – Assess Your Availability To Help In Person, Virtually Or Both
Next, do you want to get out of the house or do you like helping others by using your computer? Are you open to both? Does your special area of interest require you to be physically present? Add your answer to the list.
#4 – Identify Your Special Interest Areas
Last, ask yourself if you have an area of special interest where you'd like to help make a difference? Do you have a pet peeve where your volunteering might really help make something better?  Is your heart invested in an area where you'd like to pay something forward like with my example of reuniting a loved one's lost possession with a family?
Write down these special areas, then put it all together: you've found your "helping direction"!
Now Seek The Right Opportunity Or Organization
Let's go back to the "30-Second Elevator Speech," but this time, let's turn it on its head. Give yourself as much time as you need to think about your answer to this important question, "I'm your Genealogy Magic Genie and I can find the perfect opportunity or organization where you can achieve your 'helping direction' goal. What opportunity or organization can I find for you?"
Think long and hard about your answer, since this is one of the keys to ultimately finding the right helping opportunity! You might come up with an answer like, "I'd like for you to find an organization where I can sit at my computer for about two hours each week and transcribe handwritten records about my interest area of the U.S. Civil War."
That wasn't so hard, was it? Now, since I'm your Genealogy Magic Genie, I'm going to bestow you with the power to find your own perfect opportunity or organization.
Here's how:
Help the Society you already belong to. Do you already belong to a local genealogical or historical society? Have you checked their newsletters, website or spoken to members about your society's volunteering opportunities?
Support organizations that are important to you. What are your favorite museums, libraries (archival, public, private, etc.), local records repositories, genealogical societies and historical societies? Are there any that correspond with your special area of interest? Need more ideas for organizations? Find them in my textbook, Fundamentals of Genealogy®: Basics for Everyone.
Search the FGS Directory. In the U.S., many large genealogical societies are members of the Federation of Genealogical Societies (FGS). You can locate them online via the FGS Member Directory. From there, find each society's website, familiarize yourself with them (especially if they have volunteer projects), email any questions and consider becoming a member.
Do a Google Advanced Search. Remember the example of how you told your Genealogy Magic Genie you wanted to find an opportunity where you could sit at your computer for about two hours each week? I just went to Google Advanced Search (find out how to use it for genealogy research here) and had a successful time. Here's what I did:
After typing in my keywords, "transcribing" and "Civil War" into the advanced search, here are the results I got:
The first two results were interesting:
#1 – A Smithsonian Magazine article telling of an online citizen volunteer transcribing opportunity from The Huntington Library, Art Collections, and Botanical Gardens called "Decoding The Civil War."
#2 – The Newberry Library's "The Civil War in Letters: A Newberry Library Transcription Project" (where the transcription project is now complete).
Then, a few results down the list I spotted this entry:


Which led me to this page from The University of Iowa Libraries: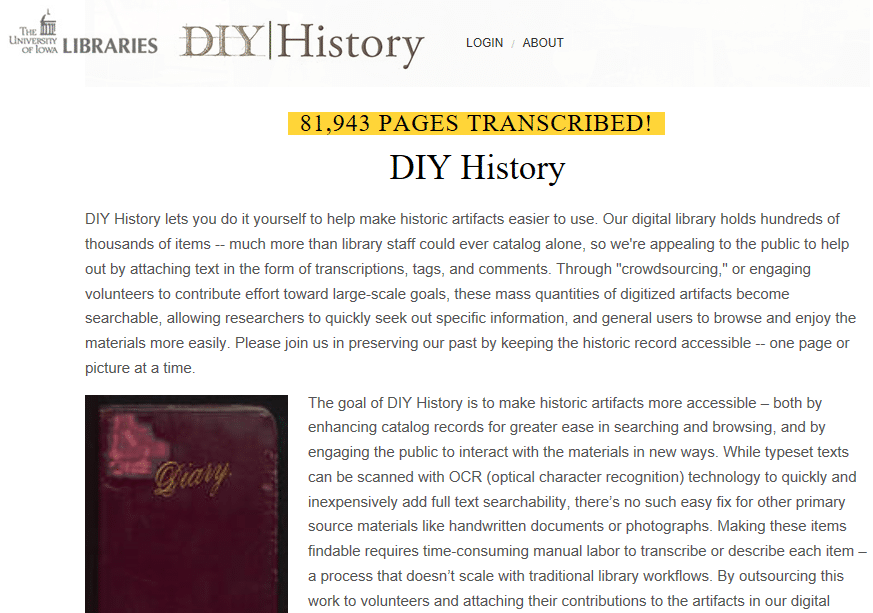 There were even more interesting results in that very basic Google search! But even if you had a successful search on the first try, I would encourage you to continue trying more searches with different keywords and phrases so you can identify a greater scope of possibilities.
Talk to other genealogists. Seriously, we genealogists are a wonderful resource for helping each other. Many of us are well informed about the genealogy community and in my experience, we are some of the kindest and most generous people I've ever met.
Build it and they will come. Do what you're good at, then find an organization that will back your vision and hard work. They may even help to make your work accessible to others! For example, at a recent genealogy conference, I spoke to a woman who was interested in honoring the WWII veterans from her county. Beginning many years ago, she began memorializing these heroes by doing something she really loved: reading the local newspaper. Whenever she came across an article about one of these WWII veterans, she literally kept a source-cited paper clipping of each article and filed each in a paper manila folder she created for each veteran. After many years, she had amassed a large treasure trove of articles. Recently she contacted her county's local historical society and together they are now making plans to digitize all of her work to ultimately make it available to researchers, relatives, and the community.
Benefits, Benefits, Benefits
I love WIN-WIN situations. Finding the right opportunity to help others can bring many benefits for yourself and others. Along with those nice warm fuzzies, your volunteering could lead you to important new people, organizations, ideas, knowledge, experience, skills and opportunities. It can take you in directions that you couldn't even conceive of before the experience!
Of course, volunteering is like many other aspects of life – some projects are a perfect fit while many aren't. I encourage you to be honest and KIND if the project you volunteer for isn't right for you, or if for some reason your time commitment can't be maintained, or whatever the circumstance. Your upfront attitude might lead to a better project with the same organization.
I hope this inspires to you find just the right opportunity using your genealogical skill set to help others!
You Might Also Like:
The 2 Minute Cyndi's List Experiment That Helped Me Find My Elusive Ancestor
The Huge Genealogy Mistake We All Need to Stop Making Now
By Marsha Peterson-Maass, contributing writer, lecturer, and author of the Fundamentals of Genealogy® textbook series, including the referenced titles, Fundamentals of Genealogy®: The Most Helpful Tools You've Never Used and Fundamentals of Genealogy®: Basics for Everyone.
[1] As standardized by The Board for Certification of Genealogists.
Image: By Beverly & Pack, Flickr Commons, "Taps is played on the bugle in the winter snow at Arlington National Cemetery."