One of the most powerful tools modern family historians have at their disposal is a Google search. A search for our ancestors through Google is one of the best ways to discover new records that exist outside of the genealogy research sites we use regularly. From turning up entries in old books or newspapers, to revealing the archives of small repositories – Google can be a powerful friend.
However, there is a big difference between turning up a lot of pages in Google, and turning up the results we actually need. With so many possible results available, how can we find the information we're looking for? How can we dig deeper and reveal records that often hide when we do a simple search?
We answered these questions in our article, 6 'Secret' Google Search Tricks for Genealogy, and the methods explained in that article are still the most effective way to make use of Google for research. But there is one trick that few family historians are using that makes applying these advanced methods extremely simple.
We're talking about Google Advanced Search – and switching over to it will change the way you use Google forever. Many people are unaware that Google even provides an advanced search form, one that goes well beyond what the standard search box is designed for.
Make Instant Discoveries in Your Family Tree Now
Imagine adding your family tree to a simple website and getting hundreds of new family history discoveries instantly. MyHeritage is offering 2 free weeks of access to their extensive collection of 18 billion historical records, as well as their matching technology that instantly connects you with new information about your ancestors. Sign up using the link below to find out what you can uncover about your family.
This advanced search will allow you to use most of the tricks we mention in our Google search tricks for genealogy article, without having to remember the search operators.
There are some things advanced search won't do on its own (such as limit a search by a date range), so it is still important to take the time to learn how to use the operators themselves, but the ease of use of the advanced search form makes it a no-brainer for daily advanced genealogy research.
Let's take a look at how to access the Google Advanced Search tool and how it can greatly improve your genealogy searches.
To find the advanced search, go to Google and look for the "Settings" link on the upper right hand side of the menu. Click on this link and select "Advanced Search" from the dropdown menu.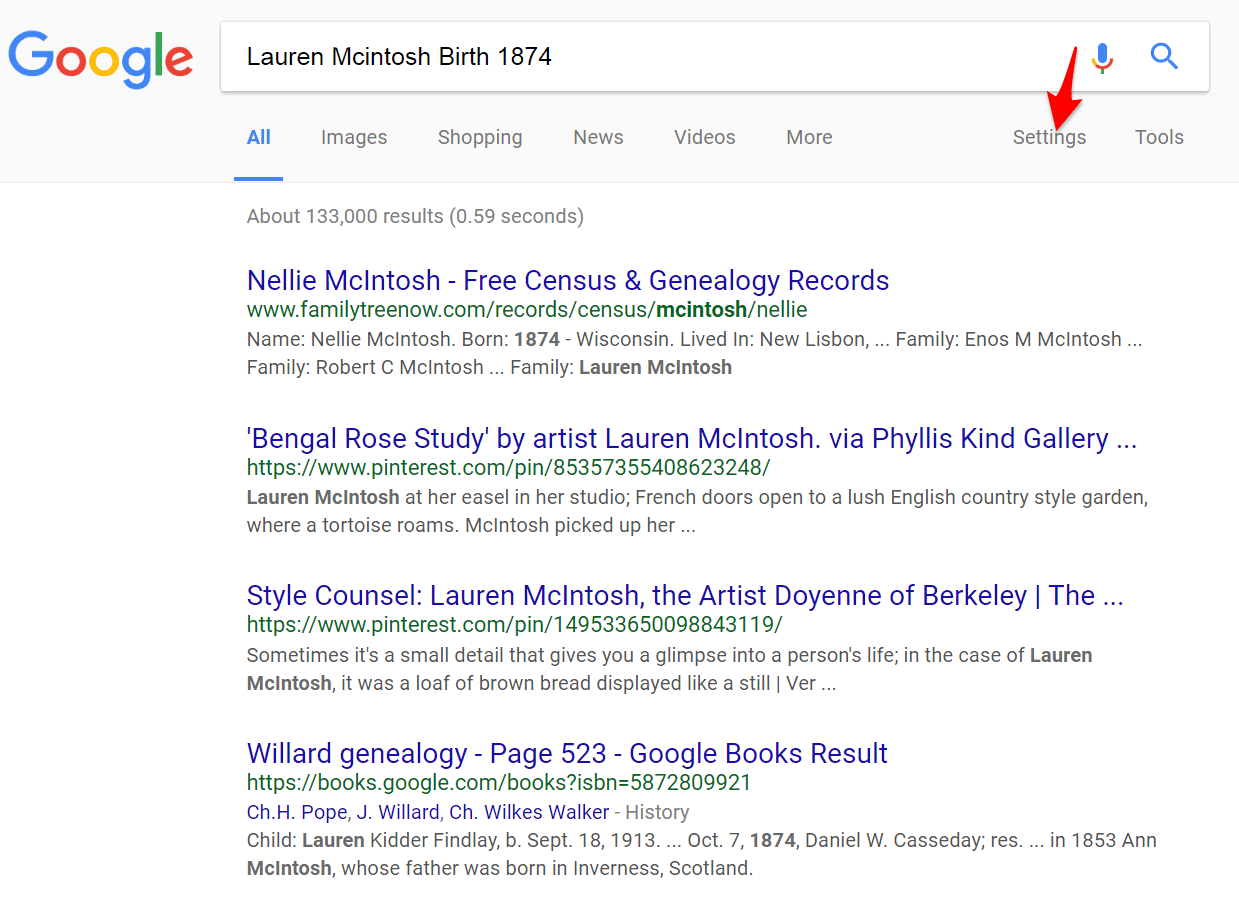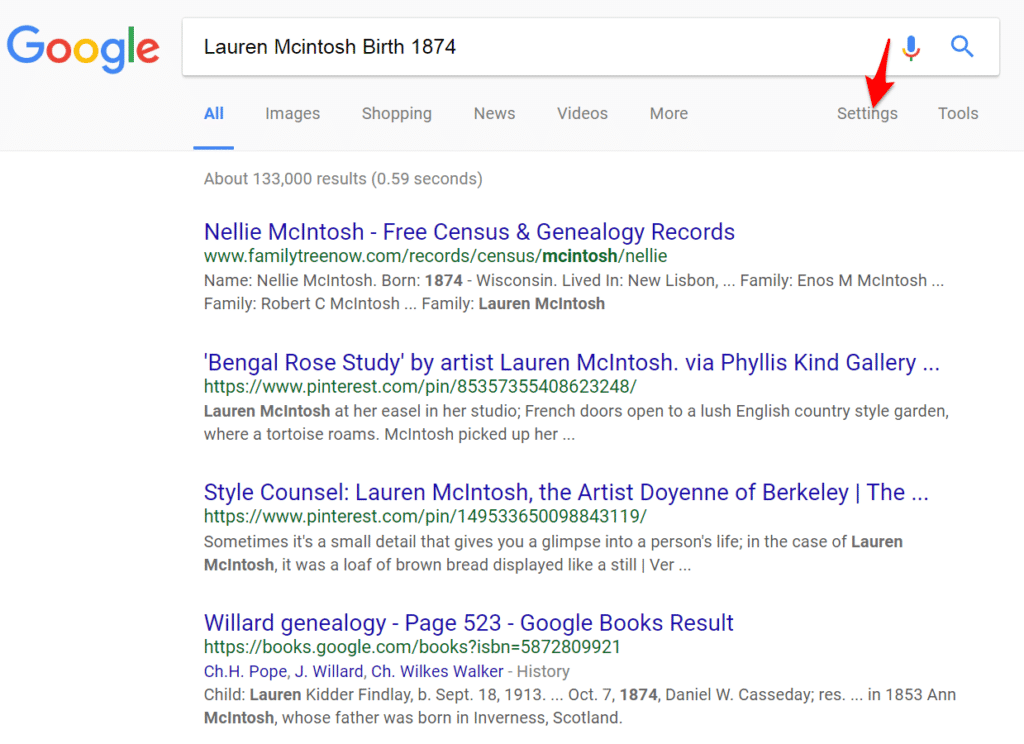 This option does not seem to be available in some mobile views, so if you're not on a laptop or desktop you may need to go directly to the Google advanced search page here. Of course, you can also simply bookmark this link on your computer or phone or search for "Advanced Search" to pull up the page.
Once you have accessed the advanced search page you will be presented with a wide variety of options. We love how Google has taken the time to explain how to use each of these functions in the standard search box. It is a great way to learn how to conduct an advanced search in any Google box you encounter — such as this one for finding free genealogy records that we put together.
The form may seem a bit overwhelming at first, but each available box allows you to perform a different action. Paired together they can be very powerful.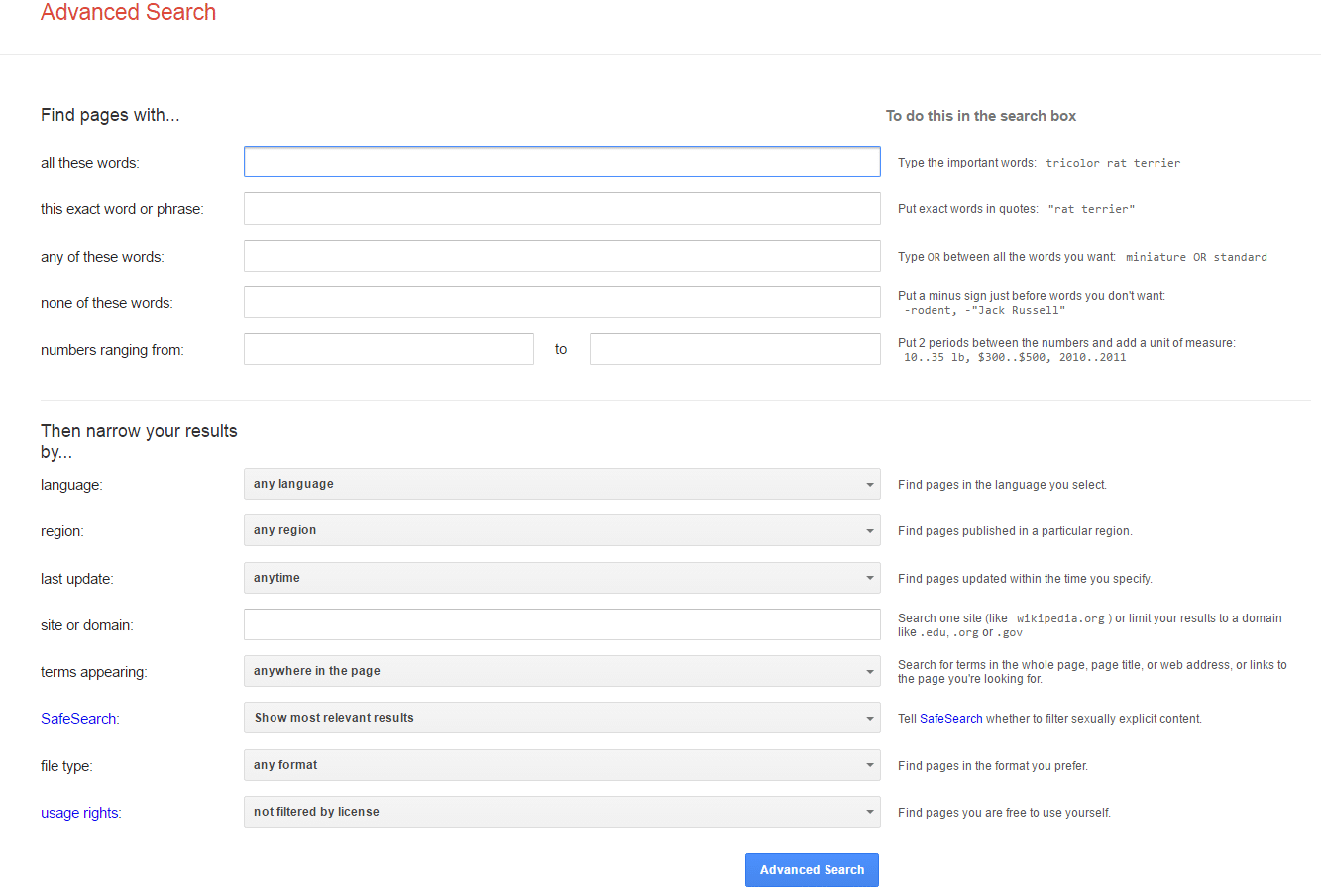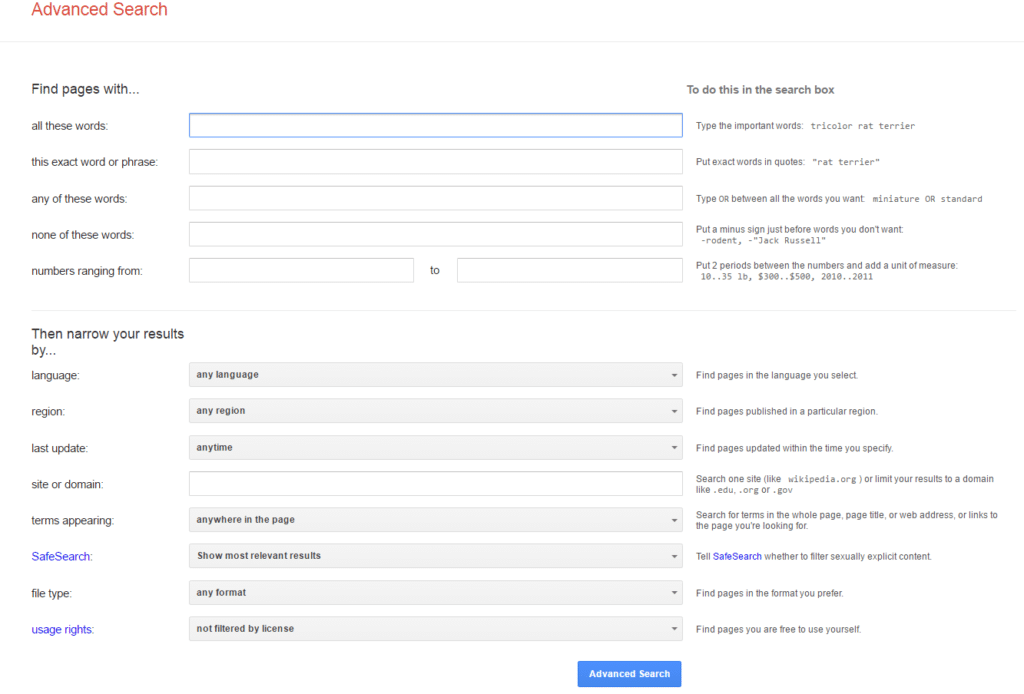 18 Billion Genealogy Records Are Free for 2 Weeks
Get two full weeks of free access to more than 18 billion genealogy records right now. You'll also gain access to the MyHeritage discoveries tool that locates information about your ancestors automatically when you upload or create a tree. What will you discover about your family's past?
Here are a few of the most useful advanced search options for genealogy.
1. All these words: When using this box, Google will try to only return pages where every word appears on the page, but not necessarily in any particular order.


2. This exact word or phrase:  Only pages that contain the exact phrase will appear. Be careful with this one, a search for Mary Andrews, for instance, could exclude pages that contain Mary Ann Andrews, Andrew, Mary and other variations of your ancestor's name.


3, Any of these words: Will show pages that contain any word in the box. This is most helpful when you want to add terms to look for, but do not require them — such as a birth date or location.


4. None of these words: This is probably one of the most useful options. Here you can easily exclude results that you do not want to view. This might be results that are returned for a similarly named individual that is not your ancestor, or from an entire site. For instance, you may be looking for results for a Mary Andrews that lived in Liverpool, but not for the Mary Andrews that lived in Indianapolis. By typing Indianapolis into this box, you can exclude pages that include that location. You may also want to filter out a website, such as Pinterest, or a paid site you don't have access to. You can type pinterest or pinterest.com here.


5. Language: Searching for non English pages can help you locate many new records about your ancestors who lived in foreign countries. For instance, an ancestor who lived in the Netherlands may appear on many Dutch pages. Try limiting your search to Dutch results and use Google's Translate tool for help reading them.


6. Region: Another way to search records from other countries is to filter by region. This can be a great way to locate English records hiding on foreign sites. In the example below we have filtered for the Netherlands and the English language.


7. File Type: Although Google will show results of many file types in a standard search, it can be useful to search only certain kinds — especially PDFs. A good deal of family history information is stored as a PDF online and searching only this file type can turn up some neat stuff. Try it for one of your ancestors and see what you find.


8. Site or Domain:  If you discover a site we want to search exclusively, you can also search only that site using the advanced search form. In the example below we have searched for an ancestor on BillionGraves, a free research site. This technique is incredibly helpful when the search function on a site is not as advanced as we would like, or does not display the results we were hoping for.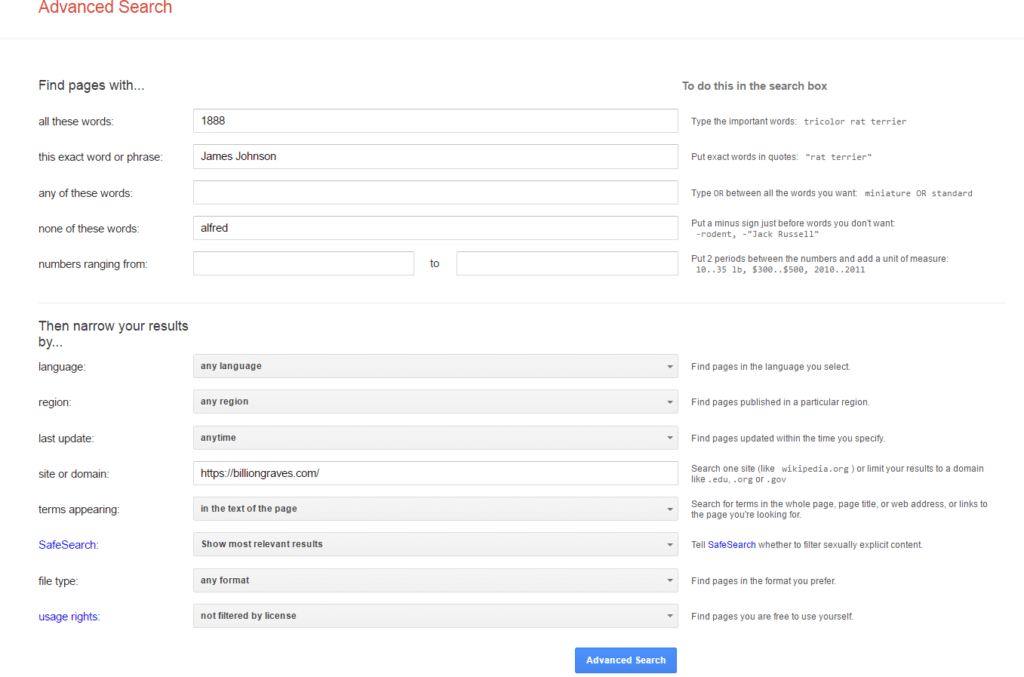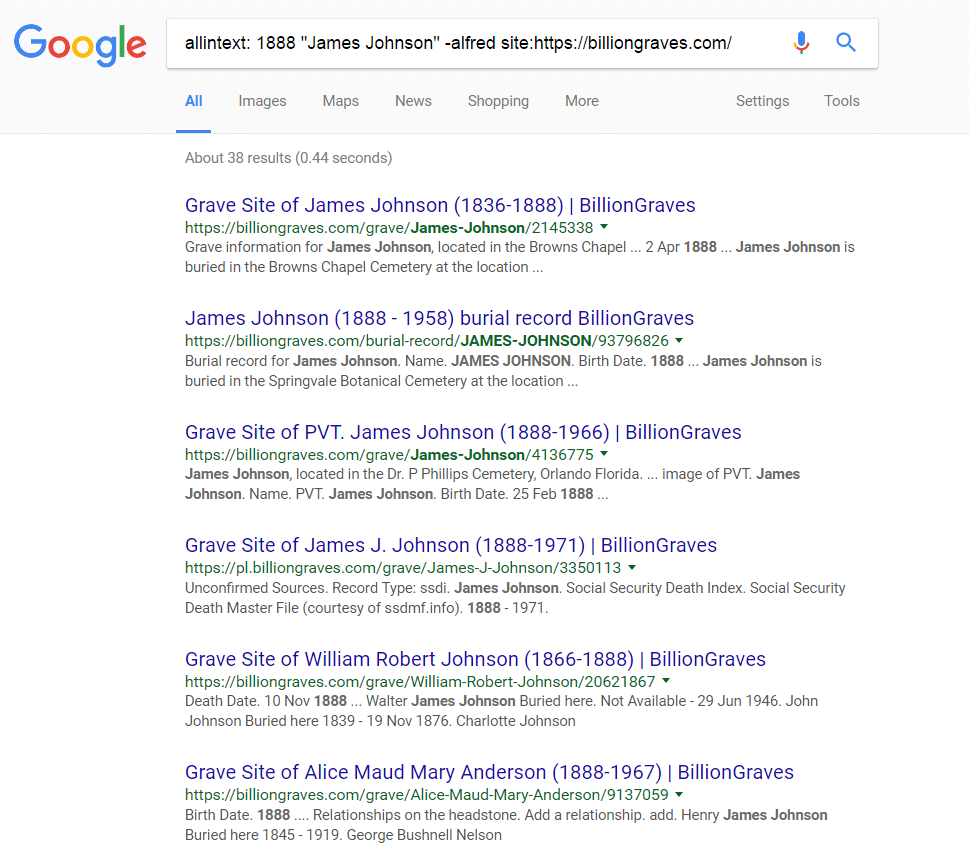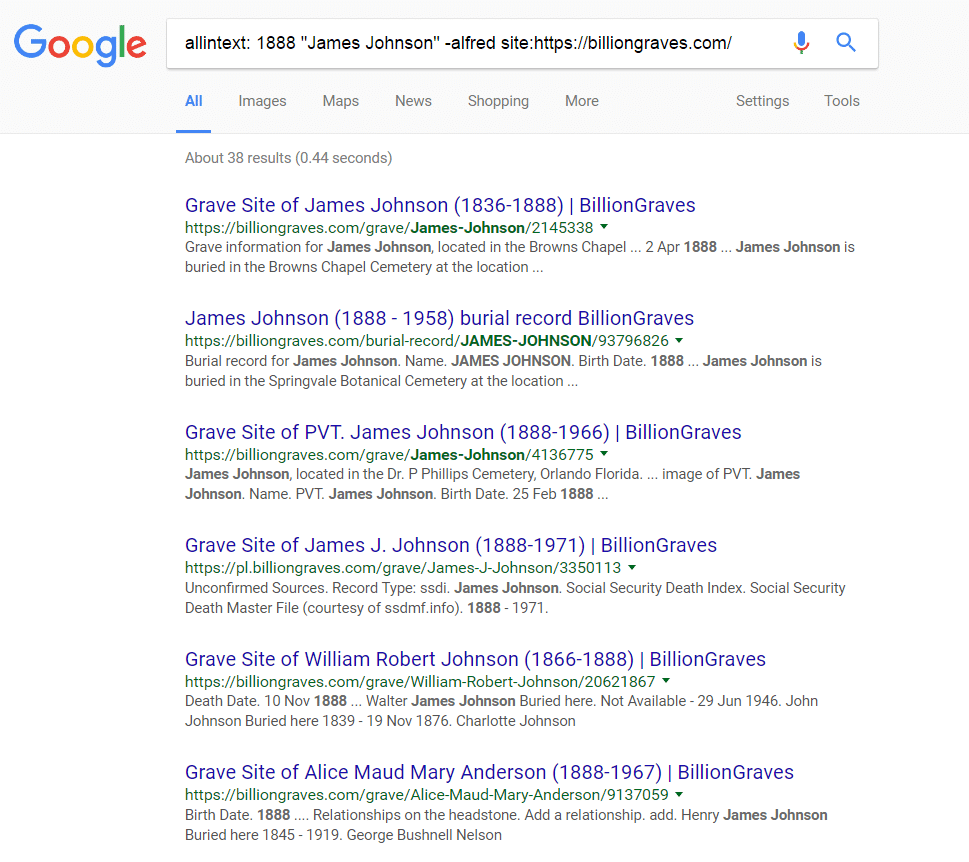 Below is a look at how advanced search can help you uncover new records.
Take a look at the results we received when we conducted a simple search in Google for an ancestor we are researching.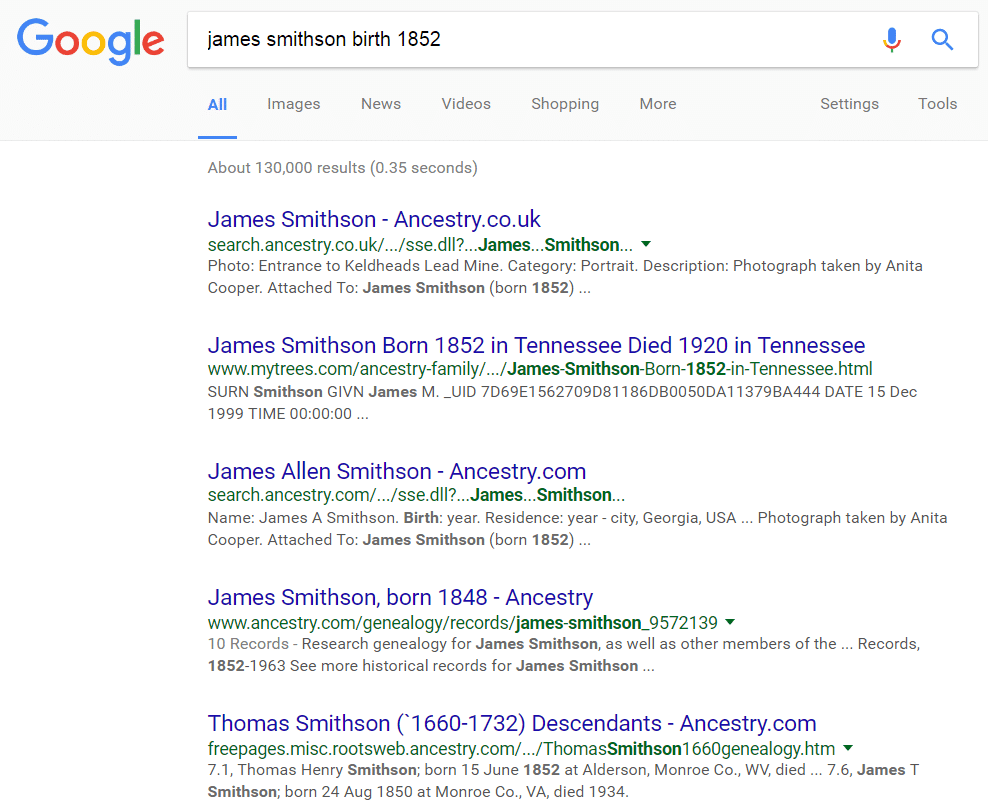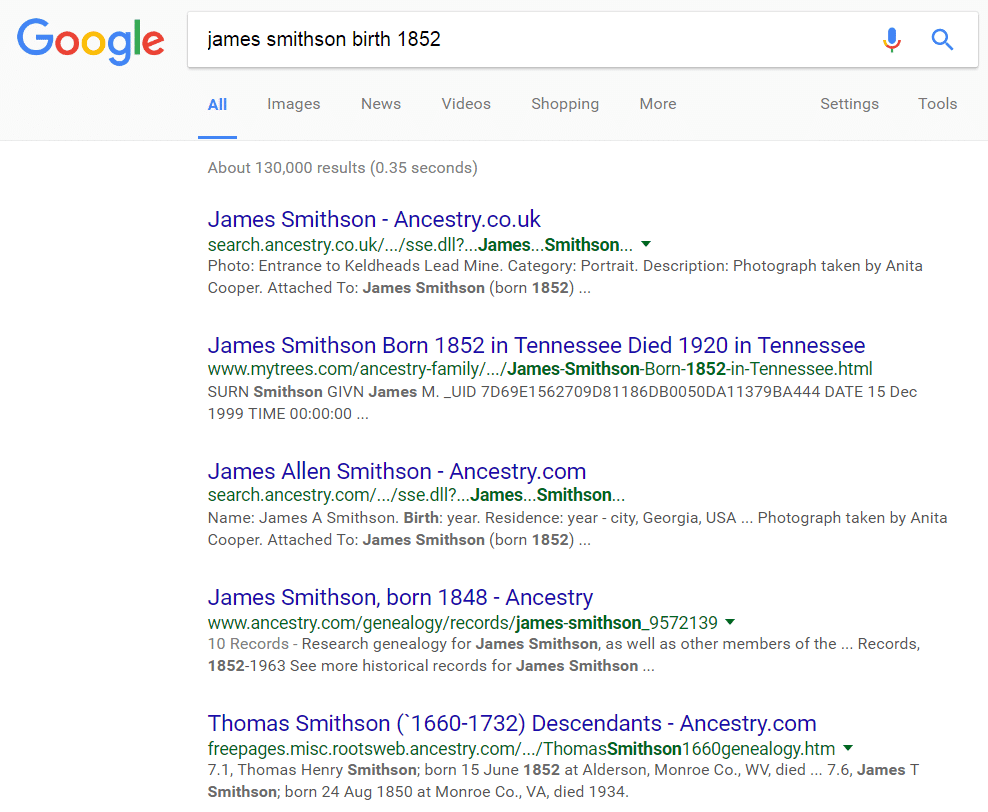 Now compare that to the results from the advanced search we were able to easily conduct using only the form Google provides. The first screenshot below shows the options we used and the second image shows the new results.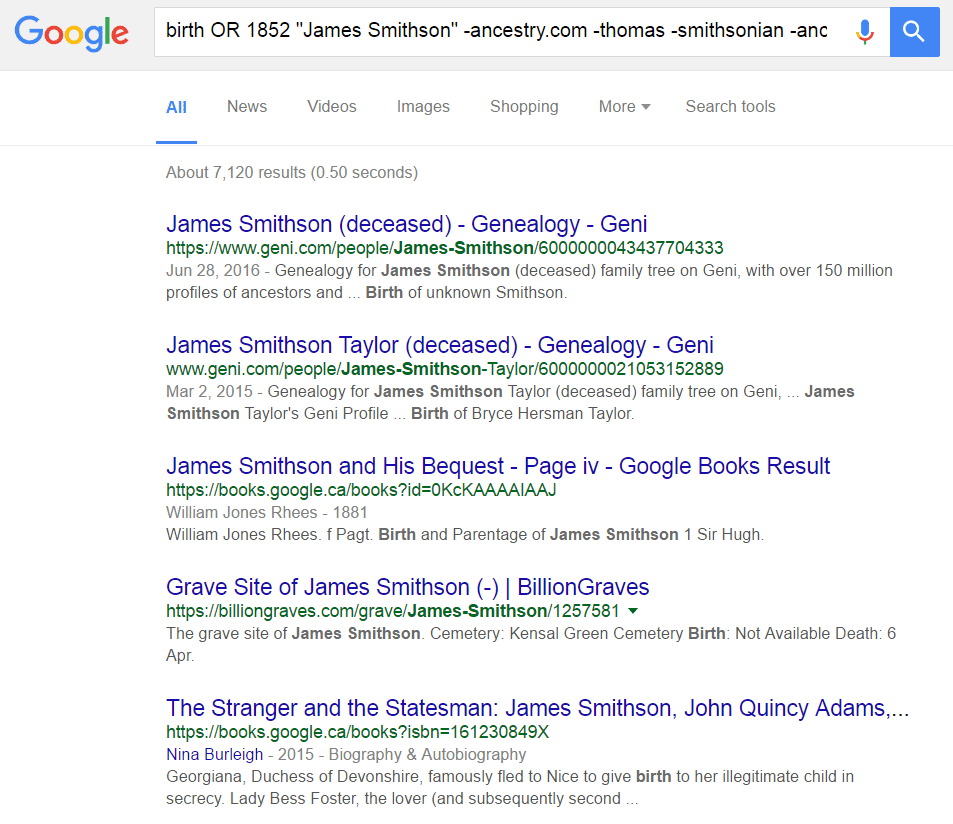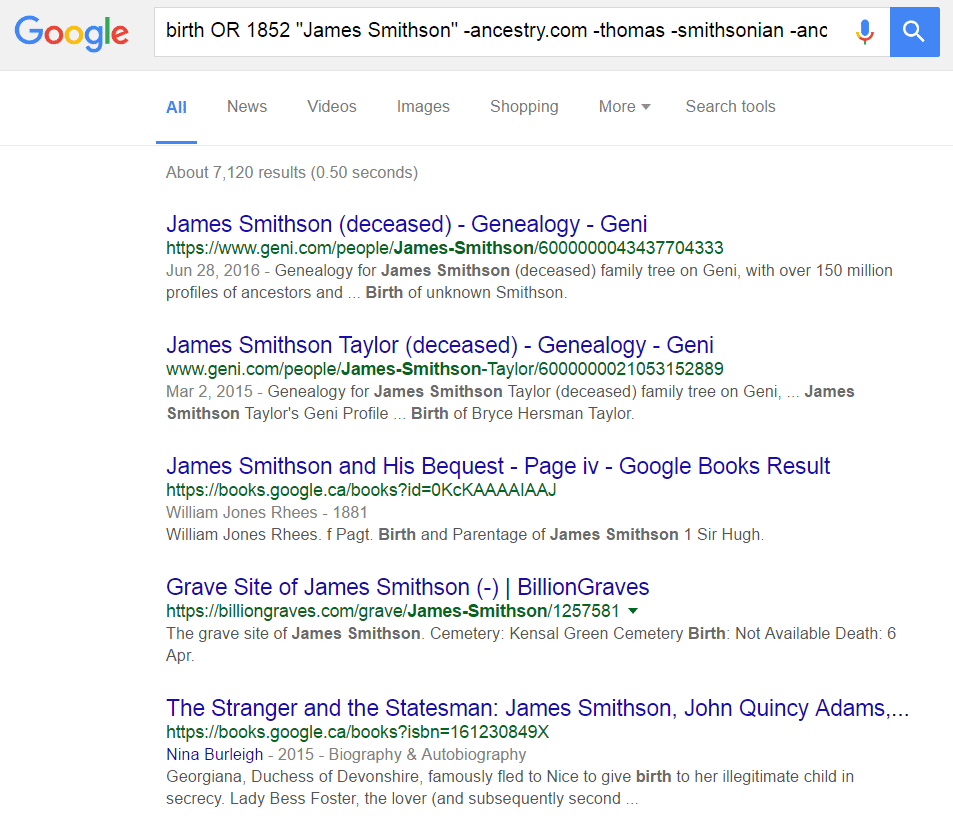 As you can see, we asked Google to return only pages where our ancestor's name appears and excluded several sites and terms we did not want to see results from. These simple changes allowed a whole new group of sites to be presented, where new records can be found.
We encourage you to take the time to explore the advanced search page and see how it can help you dig deeper into search results to uncover new information about your ancestors. You may need to do some experimenting to turn up the best results, but the effort is worth it.
For even more detailed help on using Google for genealogy, you may also want to consider our online genealogy course where we dive into using the search engine for research.
One note of caution: When you use the advanced operators explained in our Google search tricks for genealogy article or use the Advanced Search page, Google may ask you to verify that you are a person (and not a computer) by entering in a CAPTCHA on some searches. 🙂
Happy Researching!
You may also like: