Is it time that you put your family history research on a blog of your own? Here's how to do it easily.
Perhaps you've been doing research for months or years and you have a lot of wonderful information you'd like to share? Or maybe you just want a place to record your research progress and keep better track of what you're working on? Why not start a blog to get organized, share your research with family, or bring it to fellow researchers across the world?
Don't think you have the computer skills to do this? Well you do!  If you can do online genealogy research, you can create a blog. We'll show you how in this super simple, step-by-step guide with straightforward instructions and helpful images. Just follow along and in no time you'll have your own family history blog up and running, and know how to use it too!
Disclosure: Family History Daily may receive compensation if you choose BlueHost as your web host. This helps us support the site and keep it running. However, all of our opinions here are our own. We have used BlueHost ourselves — it is a very reliable service, has been around for many years, and is trusted by many websites.
Make Instant Discoveries in Your Family Tree Now
Imagine adding your family tree to a simple website and getting hundreds of new family history discoveries instantly. MyHeritage is offering 2 free weeks of access to their extensive collection of 18 billion historical records, as well as their matching technology that instantly connects you with new information about your ancestors. Sign up using the link below to find out what you can uncover about your family.
5 Steps to Creating a Genealogy Blog
Step 1 – Sign up for an inexpensive, reliable blog host here. For step-by-step instructions on how to do this scroll down on this page and we'll walk you through it. You might also want to check out Geneabloggers for many great family history blog examples!
Step 2 – Get Your Blog Set Up!
Step 3 – Make Your Blog Your Own
Step 4 – Add Important Plugins
Step 5 – Create Your First Post!
What is a family history blog and why would I want to start one?

There's a reason so many family historians are starting blogs. It's a great way to store and organize research that you can access later, and the perfect way to share it with others. Here are the most common options for family history research blogs.
Private Family History Blog: This means only you can view what you enter. It's like keeping a journal of your research, but online. It's a wonderful way to keep track of what you are working on, store photos and documents, create person or surname specific articles, store family photos and stories and so much more.
18 Billion Genealogy Records Are Free for 2 Weeks
Get two full weeks of free access to more than 18 billion genealogy records right now. You'll also gain access to the MyHeritage discoveries tool that locates information about your ancestors automatically when you upload or create a tree. What will you discover about your family's past?
Semi-Private Blog: This is the best option if you want to share your research and updates with only certain individuals or groups.
Public Family History Blog: What to share your research with the world? Connect with other family historians? Have a one-stop location you can point other researchers to when you want to share what you've collected? If the answer is yes, then this is the best option for you.
Creating a family history blog is so much more worthwhile than only placing your information in an online family tree or on Facebook.  It's a great way to record your research and ensure that you'll be able to look back on your genealogy journey at any time. Instead of the details and information you've collected being lost in the shuffle, you'll be able to find them easily now and in the future.
The most important thing about having a blog for your research is that YOU control and own the content, not some other company, social media site or genealogy website. YOU can decide what to add, who to share it with, easily make changes to content and remove items that may have become irrelevant.
You can also easily search all of your posts by keyword, add or delete details, update information at any time and easily back things up.
Plus, it's just a whole lot of fun! 
This blog post will take you step-by-step through setting up an easy to use and manage blog for your family history research in 5 super simple steps. It will tell you how to do everything mentioned above and it's a lot easier than you think!
And, YES, you'll be able to manage and keep track of your blog after it's set up because we're going to use the easiest and most robust blog platform available. 
We have set this post up in multiple parts to make it easier to navigate. Start by completing the first step and then clicking on Step 2 at the end. You will be led through each step this way. Or you may return to this original post at any time and access all of the steps at the bottom.
Step 1 – Set Up the Host for Your Genealogy Blog
First, you'll need place for your blog to live. That means you'll need a web host. Wait, don't leave. This sounds complicated, but it's very easy.
What's a web host? A web host is the company responsible for storing your blog and all of its data. That's why you'll want to choose a respectable company that you can trust long term. It's a must.
For this tutorial we've used BlueHost. They have been around forever, offer amazing rates, and you get a free domain name when you sign up. This is big, because domain names can easily cost $10-$25 otherwise.
What's a domain name you ask? That's the web address you'll use to access and share your blog. FamilyHistoryDaily.com is the domain name for this site.
The price for the plan you'll need is $4.95 per month if you choose a 12 month option. This is the lowest priced choice. Considering the free domain, this is by far one of the best hosting deals we've heard of. Especially from a trusted brand.
Are there free options for web hosting? Yes, there are some great free blog hosting platforms. You can certainly choose this option and, if you do, we recommend WordPress.org. However, for the purposes of starting a genealogy blog to store and organize important data many people prefer a self hosted blog service like Bluehost because you will have more control over your site, more storage space for your uploaded photos and documents and the peace of mind knowing you are paying for a solid, reliable service.
OK, back to getting your blog set up. Let's get started!
Head over to BlueHost through this link (to get the $4.95 price with the included domain) and click on Get Started Now. 
Note how this page says the price is $3.95 a month, or you may see the $3.49 price advertised elsewhere, this is only if you choose to pay for 36 months at once. You will likely want to pay annually so you will actually pay $4.95 per month ($59.40 for one year). This is a good deal for a host and it's less than you would pay for cloud storage in many cases.
Now take a look at the plans they offer. You most likely will only need the 'Starter' plan. This includes everything a Family History blogger would ever use and you can always upgrade later.
The next section asks you to choose your domain name. This is the time to think of the name you'll use to access and share your site (ie MyAndersonFamilyHistory.com). Obviously, many names have already been chosen so you might have to get creative.
Note: You will see a dropdown next to the domain name box. This is preset to '.com' – we suggest you leave it as such since '.com' is the easiest extension to remember. '.net' or would be your second best bet. Example: yourdomain.com vs yourdomain.net.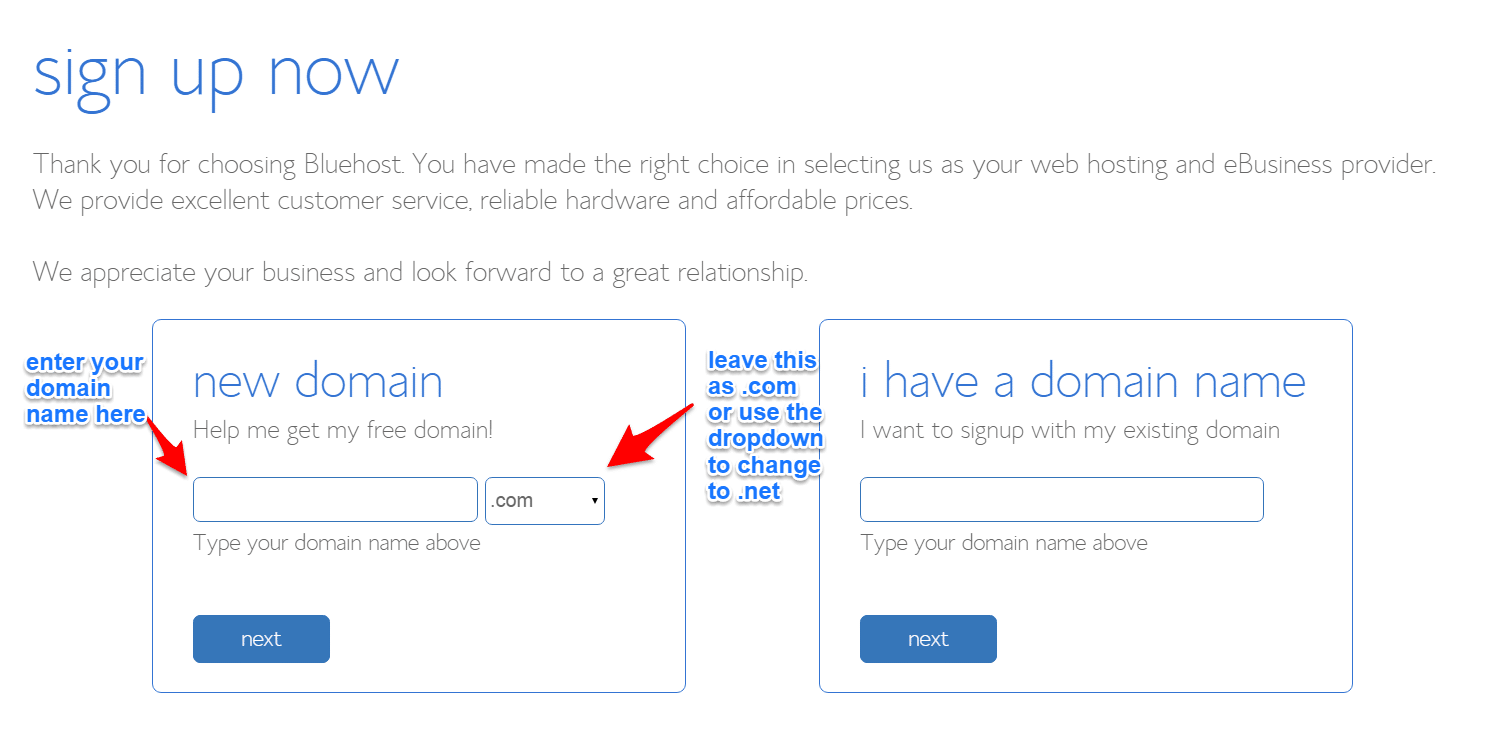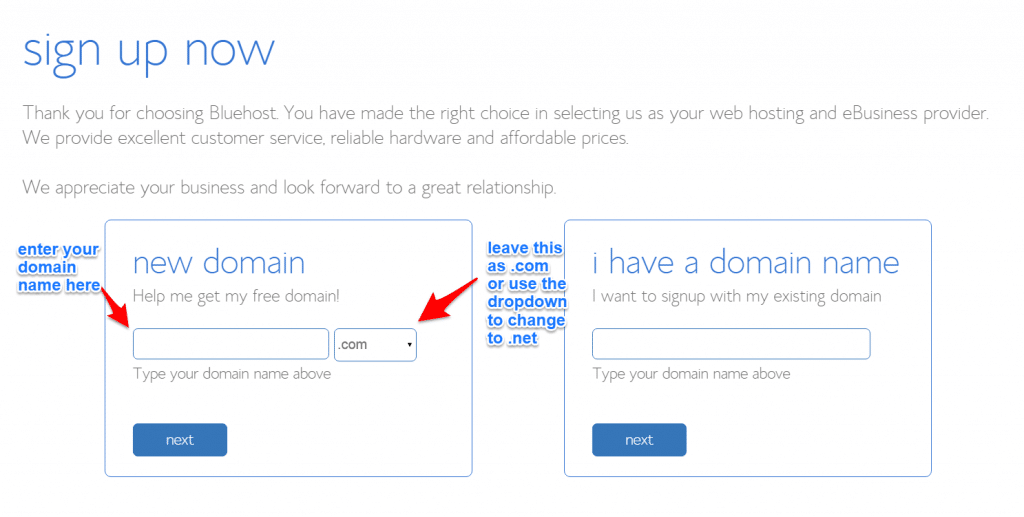 Once you enter your domain name hit 'next.' If the name is taken they will tell you and suggest alternatives. You can choose one of these options or go back and try again.
Here is the screen you will see if the name is taken.
And here is the screen you will see if the domain name is available (yay!). For this tutorial we are registering the domain 'freegenealogysite.com.' — but of course you'll be getting your very own, specialized name.
This landing page is also where you sign up for your account. It's a pretty simple page where they will ask you for your basic information, plan choice confirmation and credit card details.
Tip: Make sure your domain name is spelled the way you would like before continuing!
For the plan choices, you will save money if you pay for a longer period at a time. For instance, 36 months instead of 12 months.  We assume you'll be doing the 12 month plan since you're just starting out. This will allow you to get started affordably and have the confidence of knowing your site is fully paid up for a year. If you would rather do a longer stretch to save the money that is fine too.
We suggest you uncheck every single one of the boxes underneath the plan selection area (see below). You do not want to be charged these extra fees. None of these will be needed.
The only one to consider would be Domain Privacy Protection. For an additional $12 per year this will stop your name and address from being shown publicly if someone searches for the owner of your domain. If you feel uncomfortable with the possibility (however unlikely) of people being able to gather your name and address this way, you may want to opt in to that option
Complete this page and hit Submit. And you're on your way to having your very own family history blog. 
Once you have completed this page you're on to the next step! Good job!! This is where it gets fun.
Other Steps
Step 3 – Make Your Blog Your Own
Step 4 – Add Important Plugins
Step 5 – Create Your First Post!
---
Don't forget to share your genealogy blog in the comments! We'd love to see it.
Image: Rachel Johnson