Genealogy was quite a bit different when I began working on my family tree in 1990. Email and the Internet weren't available, and home computers were big, bulky, and too expensive for this newlywed. Instead, I relied on my local library, the kindness of others, and the services of the postal system for records and information to enhance my ongoing research.
So I'll never forget my excitement when I received an envelope with the return address of a large library in Tennessee that year. I had written a few weeks earlier, detailing my hypothesis that my grandfather may have lived in Nashville in 1920, and if this was true, would it be possible to get a copy of the census record showing his household?
I eagerly but carefully opened that envelope, my heart raced as I withdrew and unfolded a black-and-white photocopy of the 1920 Nashville census printed on slick 16 x 20 paper. 
Ordering Offline Genealogy Records: Bring Back That (Record) Lovin' Feeling
That's the feeling I still get when I see an envelope from a state's health department, a newly-discovered cousin, or an out-of-town archive. I think it's a combination of built-up anticipation of the item's delivery, the possibility of finding a new clue in the record or letter, and the genealogist's innate thrill of holding an original source in our hands.
Make Instant Discoveries in Your Family Tree Now
Imagine adding your family tree to a simple website and getting hundreds of new family history discoveries instantly. MyHeritage is offering 2 free weeks of access to their extensive collection of 18 billion historical records, as well as their matching technology that instantly connects you with new information about your ancestors. Sign up using the link below to find out what you can uncover about your family.
The Internet and email may have replaced anticipation with instant gratification, and of course, we can't physically handle the records we find unless we print a copy, and what's the fun (or sense) in that? However, online genealogy has made family historians out of millions of people.
But did you know that an estimated 90% of all genealogy records are still OFFLINE? Yes, offline, meaning not on the Internet. Many of these records are hidden away in archives, libraries, and courthouses, waiting to be digitized. Others fall into the category of vital records, which are held by government entities and include documents related to birth, marriage, death, and divorce (BMDD, for short).
Luckily, there are ways to get your genealogical hands on both of these types of records without leaving the comfort and safety of your home, or at least without traveling outside your own county.
How to Order Vital Records
Vital records are issued by the state, county, or local government entity where the event occurred, and in most cases, those are the same offices you'd contact for copies. Some areas of the United States began keeping vital records voluntarily as early as the 1600s; many of these older records (and some as recent as the 1940s) are available online or can be obtained through an archive or local library. 
By the 1920s most states had enacted birth and death registration laws. These laws required local entities to file birth and death certificates on the state level instead of (or in addition to) their local or county office recordkeeping. Although there are some exceptions, most marriage and divorce records are available from the county, city, or town where the marriage was recorded or the divorce was filed.
Because which vital records are available from what date and from where varies so greatly from state to state, your very first step in ordering a vital record should always be to verify that the record exists and that you're able to access a copy.
My go-to place for this information is the Centers for Disease Control & Prevention National Center for Health Statistics site "Where to Write for Vital Records." The CDC's website offers a clickable map of the United States and its territories as well as an alphabetical listing and a drop-down selector.
18 Billion Genealogy Records Are Free for 2 Weeks
Get two full weeks of free access to more than 18 billion genealogy records right now. You'll also gain access to the MyHeritage discoveries tool that locates information about your ancestors automatically when you upload or create a tree. What will you discover about your family's past?
When you click into the appropriate state, the site provides you with details about which BMDD records are available, where they are held, what they cost, who is allowed to have them, and how to order them. Most listings also include links to the state's websites to download order forms for mailing or complete and submit them online.
Here's an example of record information for Missouri:
In general, here's what you can expect from most states:
Fees: Expect to pay $5 to $30 per certified or photostatic copy of record, with most states in the $12 – $15 range. Some offices will charge this "non-refundable search fee" even if they don't locate the record. Be aware that there may be extra fees for using a credit or debit card, especially if the office uses a third party service to process online orders.
Wait time: Depending on how easy it is to locate the record, you can usually expect a written response from a mail-in request within three to four weeks. Some states allow you to request records at your county health department, even if the event didn't occur in that county. Walk-in requests may be available within hours.
What you need to provide: You'll need to know as much information about the individual or couple whose record you're requesting, including full names and dates and place of the event. With mail-in orders, you may have to include a self-addressed stamped envelope along with your check or money order. 
Who can access: In addition to your name and contact number, you'll have to provide your purpose for requesting the record (I usually write "Genealogy" or "Family History"), and your relationship to the individual(s).
This may require a photo ID, having your signature notarized, or providing a power of attorney if you're not immediate family (check the fine print on the order form for these requirements before you send it off!). These records are considered legally confidential for a certain period of time (usually 50 to 100 years), so access may be limited to immediate family unless you have proper authorization.
Requesting Other Genealogy Records That Are Not Online
Birth, marriage, deaths and divorces aren't the only records that aren't available online — by any stretch of the imagination. Local and state libraries, archives, and genealogical societies hold millions of books, microfilm images, newspapers, family group records, maps, and other resources that have never been digitized or added to an online database of any kind. The problem, though, is that many (if not most) of our ancestors' records reside in a city or state that isn't convenient to visit.
That's where the kindness of others, and in some cases a small donation for time, effort, and paper copies, come into play. Genealogists are collaborators by nature, and many of the folks who staff these archives and societies love genealogy as much as we do. I've personally never run across anyone who wasn't kind and willing to go out of their way to help with my research requests, whether in-person or online.
Of course, before you submit a formal request or even a casual email for a record, you'll want to have a good idea of what the repository holds and the specific records you need. Please don't call a librarian and ask for "everything you have on the Smith family." Librarians and archive staff may love family history, but they're simply not able to do your research for you. 
Instead, try these options:
Submit a research request to a repository online
Most state and local archive or larger historical society websites will include instructions on how to submit a research request, either by online form, mail, or telephone, as well as information on what to expect as to fees and response time.
Here's one from the Washington State Historical Society: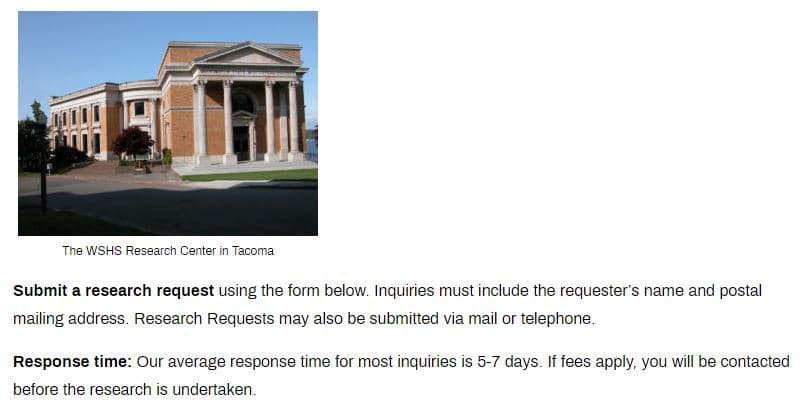 The Alabama Department of Archives and History has a similar process, but includes more form options based on residency and the type of information you'd like to be researched.
In both cases you can expect to pay a small fee, but you will know ahead of time what you will get for your money. Family History Daily has gathered a comprehensive list of two of the best online repositories for each state in the US — 102 in all to help you find these. Most of these include options for requesting research, so this list is a great place to start.
Reach out to a library or historical society
Smaller organizations like local libraries and historical societies may or may not have a website you can visit, but a quick Google search should provide a phone number or email address. Another resource for identifying local repositories is the FamilySearch wiki for the county. These pages include lots of details about individual U.S. counties as well as known contact information for local libraries or historical societies.
An online search for "_____ County, __(state)____ Genealogy" usually pulls up the county's FamilySearch wiki page as one of the first results, but you can add the words "FamilySearch wiki" to land on the right page more quickly.  Each county page includes sections for Research Facilities, Libraries, Museums, and Societies, like this entry for Lapeer County, Michigan:
If you're able to speak with someone at one of these organizations, ask if they know of anyone willing to conduct an onsite search for a particular document or set of documents (again, unless you're asking for a referral to a professional genealogist, don't ask someone to "research my family"). 
For those without a website, phone number, or email address, consider sending an old-fashioned letter with your specific request and your contact information. Be sure to indicate that you will be happy to reimburse the organization for any fees incurred. You'll be pleasantly surprised at what you might receive in return!
Ask a fellow family historian who lives in the area where your offline record resides
Many offline materials reside in local courthouses, government building basements, or dark, creepy annexes, and retrieving records for genealogists is usually not within a government employee's job description.
However, it's very likely that local family historians are very familiar with the records housed in government collections, and would be happy to find and copy them for you — sometimes without a fee. There are several places to find kind genealogists who live in the area you're researching and are willing to do a record look-up for a like-minded soul:
Ancestry Message Boards: Ancestry's message boards are the equivalent of an old-school bulletin board. Each board is dedicated to a particular subject, including those that are geographically-focused. People who live in an area as well as those researching the area are active on the boards. If you drill down to a particular county, you can post a request for someone willing to find a record for you at a courthouse or local repository.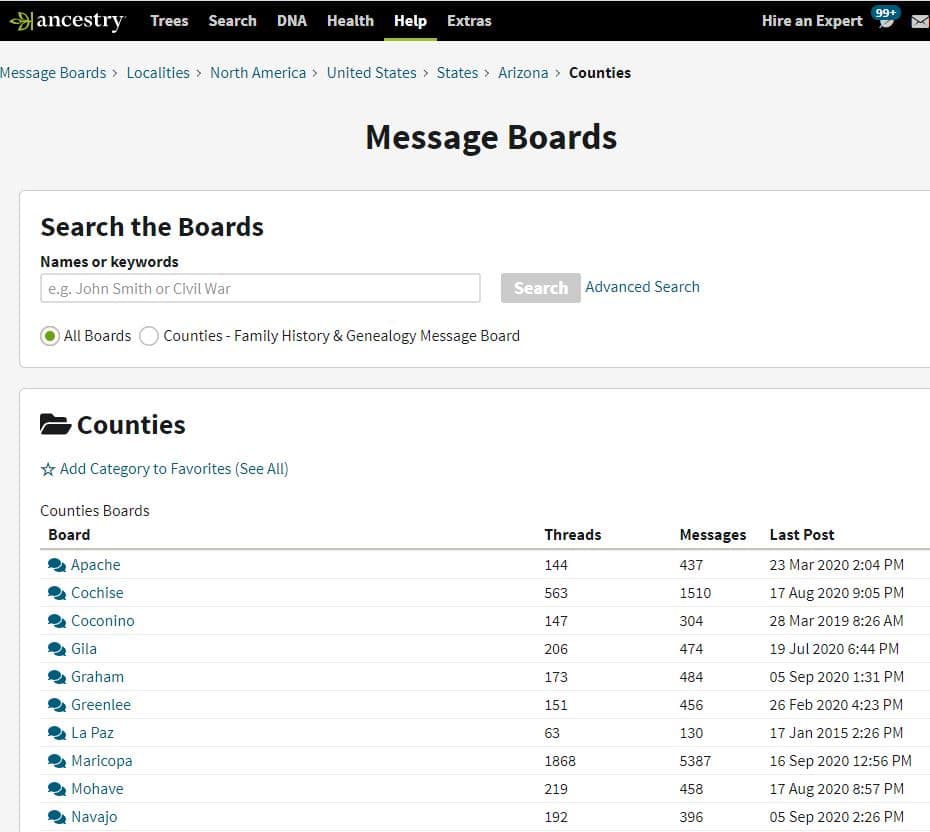 Random Acts of Genealogical Kindness: This organization bills itself as a "global volunteer organization" with the sole purpose of helping others "obtain copies of documents, pictures of tombstones, etc. that cannot be obtained easily by those who do not live in the area of their ancestors." RAOGK has an easy-to-navigate website as well as an extremely active Facebook page, and the volume of kindness of volunteers on both is truly overwhelming.
Ask librarians, archivists, and government office employees for names of volunteers: Even though the genealogical community is massive and growing everyday, it's still a close-knit group. In smaller cities and towns, people who manage records know the names of the folks who visit often or would be willing to help someone with a records search. Asking someone at one of these repositories for the name of a local family historian is a great way to begin a rewarding collaboration!
These tips should give you a great starting point for retrieving offline records and making that walk to your mailbox everyday just a little more exciting as you anticipate the family finds that might be inside!
Article by Patricia Hartley. Patricia has been researching family history for over 30 years and has an M.A. in Public Relations/Mass Communications from Kent State University.