If you're a beginner to genealogy research and want to know build a family tree and find your ancestors you're no doubt asking yourself, "where should I start?"  From choosing the right family tree program to gathering facts from family members to verifying your data – there's a lot to take in.
This easy beginner's guide will take the stress out of getting started on the path to family history research with five quick steps that you can follow right now. By the end, you will be well on your way to finding your own ancestors and adding them to a family tree.
How to Build a Family Tree
Choose the best family tree program for you
Interview family members for names, dates and details
Carefully record this information in your new tree
Verify these facts with records and cite sources
Use online research to discover new details and people
This quick-start guide will show you how to do it all. After exploring each step you can easily dive even deeper by reading more of Family History Daily's other guides or taking one of our online courses.
At no cost to you, Family History Daily may earn a fee to support our work if you choose to take advantage of subscriptions or free trials linked to from this page. We only recommend products we love and use ourselves. 
Make Instant Discoveries in Your Family Tree Now
Imagine adding your family tree to a simple website and getting hundreds of new family history discoveries instantly. MyHeritage is offering 2 free weeks of access to their extensive collection of 18 billion historical records, as well as their matching technology that instantly connects you with new information about your ancestors. Sign up using the link below to find out what you can uncover about your family.
1. Find a Good Family Tree Program
You will need a family tree program to store all of the information you are going to collect in your research. This may be a software program you download to your computer or it may be an online tree. Online options are the most popular because users can access information across all devices in real time – although most downloadable trees sync with online versions as well. 
Having a quality tree program will help you stay organized and on top of all of the information you collect during your genealogy research. In it, you will add the names of your ancestors as well as their birth, marriage and death dates and locations, their occupations, relationships and so much more.
You will find this information in various records (online and offline) and then attach those records to your tree so that you (and others) know where the details you have collected came from. This is very important and you will want a program that makes this process easy. 
Here is an example of a family tree on Ancestry.com, one of the more popular online options: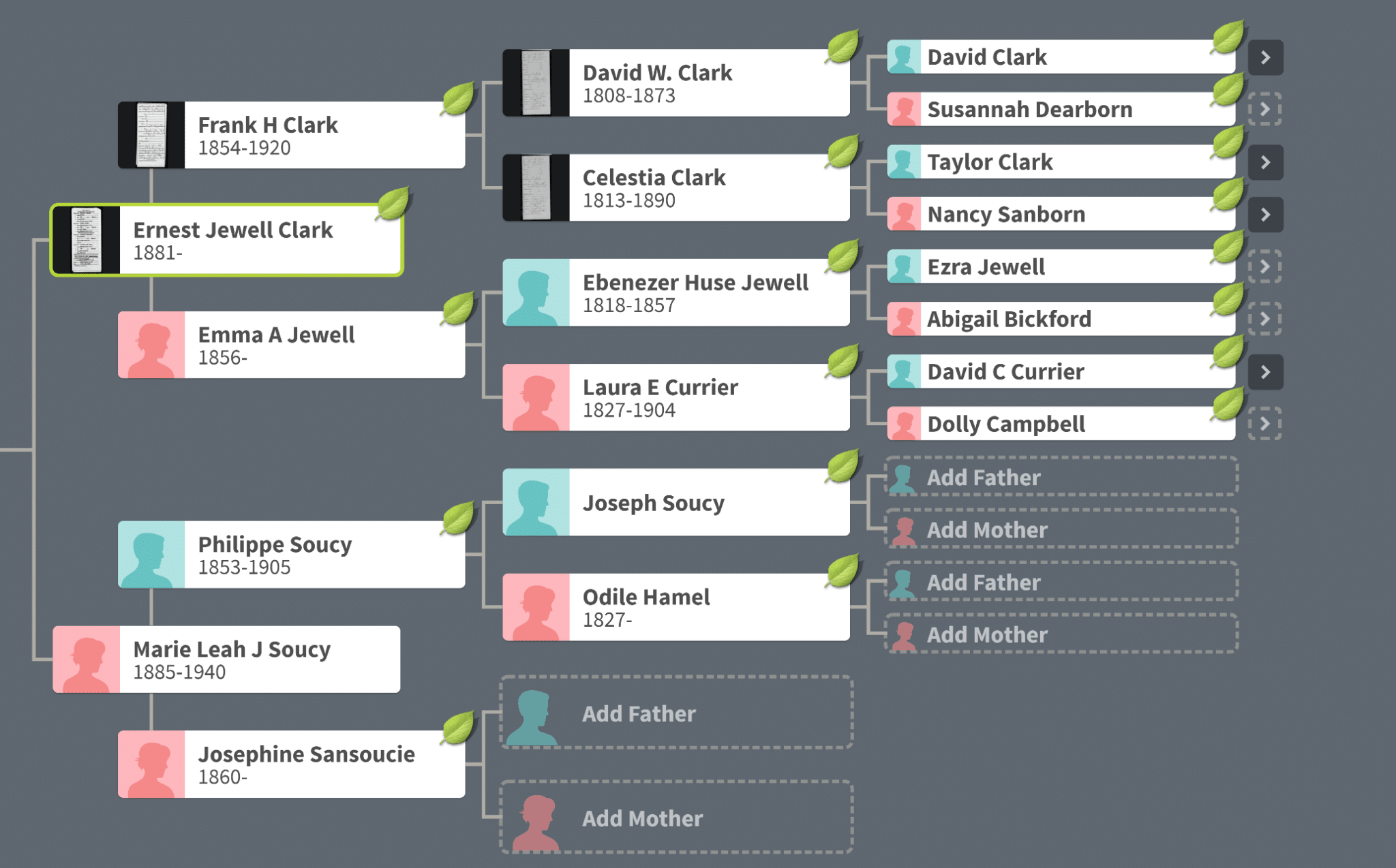 There are many family tree programs and online options, but because most programs offer similar features it's really a matter of preference as to which one will work best for you. Family History Daily offers an in-depth guide on choosing the best family tree program here. We encourage you to read it before deciding.
Our Downloadable Family Tree Favorites Include:
RootsMagic Essentials and Legacy Family Tree Standard are both great free options that have been around for a long time. Both companies also offer upgrades with more features at a reasonable price.
MyHeritage offers a completely free and robust downloadable program as well and an online version to sync it to. Just remember that trees associated with large paid sites will always try to convince you to sign up for their services, even if their tree is free. This is true for Ancestry's popular tree as well. Try MyHeritage's records and their tree at no cost here or find just the tree on their homepage by signing up for a free account. 
18 Billion Genealogy Records Are Free for 2 Weeks
Get two full weeks of free access to more than 18 billion genealogy records right now. You'll also gain access to the MyHeritage discoveries tool that locates information about your ancestors automatically when you upload or create a tree. What will you discover about your family's past?
For Online Trees We Recommend:
If you would rather host your tree online we love RootsFinder (now owned by Findmypast), which is free for most features. Only the pro version allows you to keep your research private, however, at $35 per year. See our review of RootsFinder here.
If you plan to do a lot of research on Ancestry.com (a site that offers many genealogy records at a monthly price), you should consider their tree. You can make it private, or share it easily with others. Our Ancestry Crash Course offers full lessons on setting up an Ancestry tree and making the most of it.
We also love MyHeritage's online tree, as mentioned above.
Just remember to take a look at the terms and conditions and privacy settings on any site you choose before entering your information. When you choose to enter your information online you are granting the website certain rights to your tree, so please take the time to understand these before proceeding.
More Help for Finding the Right Family Tree for You:
2. Talk To Your Family and Record What You Know
If you are lucky enough to have relatives that may be able to help you find your ancestors, talk to them now. Grandparents, aunts or uncles, cousins, and close family friends are all good people to ask.
Get a notebook or tape recorder – or a handy app like this one – and visit them in person, if possible. Once the information is gone, it is gone forever, so taking the time to record it is very important.
Check out this collection of 100 family interview questions for help getting started.
Carefully record names (and proper spellings), dates, relationships, facts, and stories. If you cannot visit in person, a phone call or email is a wonderful way to gather information and connect with family.
Don't be afraid to ask questions and gather as many details as possible. Ask about your family members' occupations, relationships, children, education, travel, unique experiences, and important life events. Write it all down and inquire about family documents that you can copy. 
When asking for old photos, or copies of old photos, record the names of the people in the photos carefully for your records. Scan or photograph vital records, such as birth, marriage and death certificates, baptismal records, etc, if available. 
Many people feel cautious about asking too many questions, but most people are happy to share and talk about their loved ones and their lives.  Always be respectful, however, to those who do not feel comfortable talking about the past. Oftentimes an indirect and gentle approach is best.
If you have no one to ask about your family's history, start by writing down what you already know and proceed. 
More Help for Finding Your Ancestors Online:
3. Add Information About Your Ancestors to Your New Family Tree
Add every name, date and detail you have collected to your family tree program, as well as any photos and documents. Attach documents to the correct fact in your tree as the source for that fact. If you need help with how to add information properly to the tree program you are using, you can look for the help documentation provided by the tree service – every program or online service has a how-to available for users. 
You can also find more information on this, and a lot more, in our Ancestry Crash Course and Genealogy Research Course. 
Remember that family information about ancestors (especially distant ones) can be inaccurate so be prepared to spend some time verifying anything you add that does not have a supporting document. There are many, many free research sites and databases listed below, and in our Free Genealogy Sites section, that will help you.
Be cautious when adding living individuals to your tree. Most online programs will automatically limit public information about these individuals, but you should always get permission from relatives before uploading their information online.
And always remember that it is better to do your own research from scratch than to borrow information from another person's tree. If you do decide to use information from a tree you find online always make sure that every single fact has at least one source and read through the details so you can determine if it is accurate based on what you know. Never take anything at face value and take the time to examine every detail individually yourself. Otherwise, you may simply end up with a fictitious tree.
Keep Learning:
4 & 5. Verify Facts About Your Ancestors and Grow Your Tree
After you have started entering information into your tree, spend some time collecting supporting documentation for the data before expanding on what you know. As mentioned, every fact in your tree should have a reliable source. Do not build a tree without proper records to back up every fact – it's the only way to ensure accuracy. After all, you want to be sure that every ancestor you add to your tree in actually related to you. 
You can find new record sources on many genealogy research sites online. We offer many articles on locating no-cost sites where you can search for your ancestors and find good sources. You may want to review some of these resources before beginning your searches.
Of course, you can also choose to use paid sites like Ancestry, MyHeritage or Findmypast. We compare them here. There are benefits to these sites but they are NOT required to find your ancestors online. You can simply get a free tree, as explained above, and use free records to start. 
To get started verifying information about your ancestors that you collected from family, simply choose a person of interest in your tree (such as your great-grandmother) and begin researching the details you have collected by typing in her name and basic details into a genealogy research site you have chosen.
Alter your searches as necessary to locate records that can provide evidence for her life facts (such as a birth certificate for her birth date).
When you're analyzing the information you've gathered from family, be willing to alter "facts" based on the new documents you find. When you encounter a document that offers different information from what you have been told by a family member, you must consider which information is likely to be more accurate. 
Remember to use your best judgement and consider the sources. Documents are usually more reliable than memory and no fact in your tree is truly a fact without a record source. Although, you can expect names to be misspelled quite often, so be flexible when analyzing data. You will learn over time how to determine whether a document is a match or not. 
If you make a change to your tree it's a good idea to record a note for yourself that you have done so, so that you will have access to that information later if you encounter more conflicting information. 
Naturally, as you add sources to the facts in your tree, you will come across new information. Add this information as you discover it and attach the proper sources to those facts as well. For instance, when verifying the marriage details for grandparents you will likely come across their parents names and even occupations. Add these details, using that record as your first source, and then find new records (such a birth or death certificates for these individuals).
Every new record you discover will increase the amount of information and, often, individuals in your tree. Deciding how much time you want to put into recording facts for siblings (see why this is a good idea) and other relations will help you limit your research and stay focused on what is most important to you. 
If you need help discovering new records, understanding which records are most available and accurate, or citing sources Family History Daily offers many more resources, guides, and tips throughout the site as well as easy-to-use, online courses. 
Keep Learning: